It would be fair to describe Melt Shop founder and CEO Spencer Rubin as a meticulous person. After setting his sights on a career in the restaurant industry as a child, he has spent much of his life building the skills necessary to be a success.
"I decided at the age of 8 years old I wanted to own my own restaurant for some reason," says Melt Shop founder and CEO Spencer Rubin. "I was super into cooking and food. I wanted to be a chef. After talking to my uncle, he suggested I go to Cornell and study hospitality and work to become a restaurateur."
That's exactly what Rubin did, enrolling in 2004. The timing was important. At that point, Chipotle was emerging as a major force in the restaurant industry, making it a hot topic of conversation and study in his classes.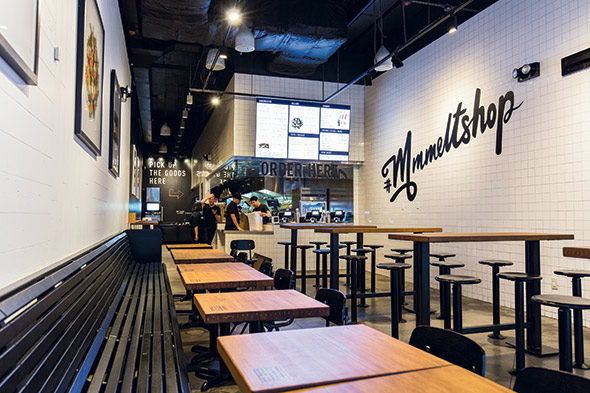 Retrofits of older inline stores now reflect the chain's newest look. Design elements include glazed white brick tile, black seating and tables made from reclaimed bowling alley wood.
This, says Rubin, led him to become obsessed with the fast-casual format. While he entered college thinking he'd work in full-service restaurants and maybe attend culinary school, he left with the goal to become a multi-unit fast-casual operator.
No matter how good the education, that's not your typical first job out of college. What Rubin did next, though, wasn't a first job for most aspiring restaurateurs either: Instead of getting a job with a restaurant operator, he took a job in restaurant design and construction. The real-world education he would get there, Rubin reasoned, could help him avoid the pitfalls that ruin so many operations.
"Throughout college, any time I heard anyone talk about the restaurant business, they'd always talk about how hard it is to be successful and how many people close their doors," Rubin recalls. "The more research I did and the more people I spoke with, it usually came down to people closing because they were undercapitalized and they were usually undercapitalized because they spent too much money during construction. There were time delays or they overspent on the buildouts — whatever it may be. I thought it would be wise to learn that side of the business and understand what it takes to get something truly built from scratch."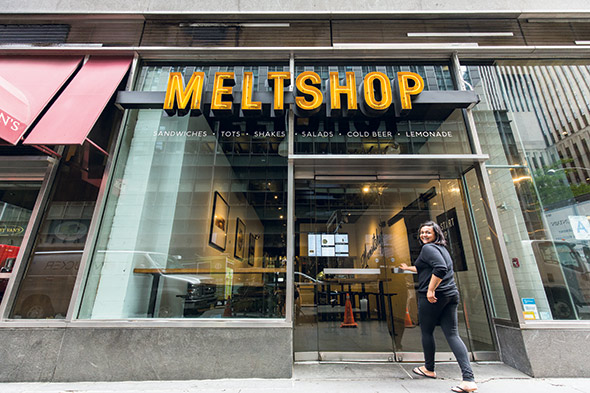 Most of Melt Shop's locations are in the New York City area, where its inline stores hover around 1,600 square feet.
Rubin spent about three years learning the ropes: design, development, real estate, permitting, construction — basically everything it takes to go from an idea to a working restaurant. During these three years, the itch to start his own operation never really left. He spent months shopping concepts. The idea of a grilled cheese concept stood out the most.
"No one was actually growing or scaling a grilled cheese concept at the time," Rubin says. "I thought it was a big opportunity because it wasn't some super exotic food that no one's heard of before. It was really approachable, really familiar and gave you a lot of opportunity for variation."
With his focus on buildout costs, Rubin spent some time looking for a good place to test his concept. He found one in a walk-up window-style space in a plaza surrounded by office buildings in Manhattan. Not only did it offer plenty of foot traffic, the space had previously been occupied by another concept. Its existing infrastructure drove down the buildout price for the first Melt Shop to just $200,000.
That first store, says Rubin, validated the concept, but the operational side showed room for improvement. The chain relied on a simple flattop grill to cook its sandwiches. While this approach put out a quality product, ticket times regularly hit 15 minutes. Over the next several years, the chain opened new stores with new cooking platforms. Only recently did Melt Shop hit upon the kitchen package that Rubin believes will propel the brand from a handful of stores to triple-digit locations.
Hot Side Hunt
Shelving and storage largely shield the production kitchen from customers' sightlines. Melt Shop operates an open kitchen that sits just behind the restaurant's POS counter.
After customers place orders, the kitchen display system sends those orders to the production area. Sandwich assembly starts on the cold line, where a team member (facing the dining area) assembles ingredients from a repurposed pizza table. These ingredients include buttered bread, cheeses and roasted vegetables. Rubin chose the pizza table instead of a sandwich table, because it offers a larger staging area for pans.
Proteins include sirloin steak, whole turkey breasts and chicken breasts. Staff reheat proteins using the sous vide method, then slice proteins in-house.
After assembly, staff plate the sandwich open-faced on a metal plate (to give each piece of bread the grilled cheese look and taste) and send it through a double-stacked electric conveyor oven.
The oven that Melt Shop uses today is the culmination of years of testing by Rubin and his team. Melt Shop's first concept, a walk-up window, used a simple flattop, resulting in long ticket times. The next location relied on a high-end panini grill/microwave combination. Rubin, however, felt product quality suffered with this piece. What's more, he felt that unit actually lengthened the ticket times.
"Even though on a one-to-one basis the panini was good and you could get it out the door quickly, when we had a line out the door we were running crazy cooking times. It just couldn't keep up," Rubin says. "You can put 15 sandwiches on a grill. Even though you have a longer ticket time for an individual order, the overall ticket time went down, especially during our peak hours." While fine for a restaurant with a broader menu, Rubin felt the panini equipment simply couldn't keep up with a grilled cheese concept.
The chain's current double-stacked conveyor oven can cook up to four sandwiches at a time (two side-by-side on each belt) in just 1 minute, 45 seconds. By "blasting" the bottom air jets and easing up on the top, it also produces a high-quality sandwich similar to what's produced on a flattop.
Once sandwiches come out of the oven, staff typically add additional ingredients. These can include burgers or fried buffalo chicken made in-house.
A double-stacked conveyor oven anchors Melt Shop's hot line, which also includes a flattop, and fryers.Burgers cook on a 24-inch gas-fired flattop grill that sits next to the conveyor oven on top of a simple equipment stand. Raw patties are held in an undercounter unit one step down the line, below the chicken breading station.
This setup marks a recent change in Melt Shop's kitchen design. Up until a few months ago, the chain had an undercounter refrigerator below the flattop. The operations team realized this unit wasn't necessary since the unit below the breading station had enough capacity for beef and chicken. Since a single staffer cooks both chicken and burgers, using one refrigerator instead of two just made sense, Rubin says.
"It's helped us shave a few bucks on the equipment side of things and it's helped us shave a few bucks on the utility side of things. Operationally we haven't had any issues with it, so it seems like it's working really well."
Two fryers follow the breading station: one for chicken and one for tater tots (cooked separately to avoid cross contamination). Next to the fryers (and no longer under the hood) sit the restaurant's fry dump station. Beneath the dump station resides an undercounter freezer that stores tater tots.
If a sandwich gets a burger patty or fried chicken, staff add that protein to the order as soon as it leaves the oven. All sandwiches then go back to the cold line, where a staffer at a second table adds ingredients that aren't meant for heating, such as arugula house-made sauces (which get runny when heated up).
The only other piece on the cold line is a soft-serve shake machine, along with pumps and dispensers for flavorings and toppings.
While Melt Shop has an efficient food production area, the back of the house is just as tight. It features a single work table for prep; a floor mixer for making sauces like buffalo, Russian and black pepper and truffle oil; and smaller equipment like a food processor and an immersion blender.
The rather sparse back-of-the-house storage space includes a small walk-in cooler, a reach-in freezer and five 48-inch shelving units. This storage setup complements the chain's commitment to serve fresh ingredients and, in turn, receive multiple small shipments each week from its broadline distributor, Rubin says. "Any shelf that doesn't have a purpose usually collects product or dust that shouldn't be there. Our whole approach has been build what you need, nothing more, nothing less. Keep it minimal."
Stylized Approachability
While Melt Shop has gone minimal with operations, it's taken a different approach to its dining area and customer touch points.
The chain, Rubin says, strives for an appearance that's "cool, but family friendly. We like to call it 'stylized approachability.' It's something that is cool and hip and fun, but also a place that's meant for all ages, all walks of life."
The chain achieves this, Rubin says, by balancing one material with another. The best examples of this exist in Melt Shop's newest locations, most of which reside in mall food courts in the greater New York City area.
In these stores, the ordering counter face consists of a sleek, glazed black brick tile. The countertop was made using reclaimed wood from a bowling alley; the rich, warm brown makes the counter more approachable.
The area behind the ordering counter, meanwhile, is made with glazed white brick tile outlined with thick black grout lines, creating an eye-catching pattern that elevates the look beyond typical food court operations.
A handful of the chain's existing inline stores have been retrofitted with this general design, "without breaking the bank," Rubin says. Tabletops are made of the same reclaimed bowling alley material as the ordering counters in mall-format stores, chairs are black to match the black glazed bricks, and brick walls are painted white to match the white glazed bricks.
Set for Growth
With its new equipment package and redesigned front of the house/customer facing area, Melt Shop is now set up for expansion. While it has 11 stores now (eight in the Northeast, one in Minnesota's Mall of America and two overseas), it expects to hit 15 stores this year, then open an additional 15 in 2019.
While that's an ambitious goal, Rubin believes it's achievable through continued international growth, as well as new corporate and franchised stores in the United States.
The near-term focus for new corporate stores will be on malls, particularly in the greater tri-state area, Rubin says.
Rubin's focus on the basics — real estate, market demand, franchise partners with operational experience — should come as no surprise. After all, he structured much of his career around building a concept that would last and has spent years fine-tuning that concept. Now, he's ready to take the leap.
"We really want to have 100 open locations in 5 years' time. That's a really ambitious goal but we feel with the product and processes we have in place, our brand and our prototype, that we can make that happen."
Melt Shop at a Glance
Key Players: Spencer Rubin, founder and CEO; Josh Morgan, chief operating officer
Interior Designer: Whitney Clark, Maker
Kitchen Design Consultant: Johnson-Lancaster and Associates Inc.
Equipment Dealer: Johnson-Lancaster and Associates Inc.
Facts of Note
Chain Headquarters: New York
Year Founded: 2011
Signature Menu Items: Fried Chicken Melt, Roasted Veggies Melt, Burger Melt, Truffle Melt, Loaded Tots
Number of Units: 11
Unit Size: 450-1600 sq. ft.; ideal back of the house, 550 sq. ft.; ideal front of the house, 600-700 sq. ft.
Seats per Unit: Prototype 40
Location Type: Inline, endcap, food court
Unit Growth Projections: 4 more locations in 2018. 15 locations in 2019.
Check Average: $12
Equipment Package Cost: $110,000 - $165,000