For years, Bennigan's served as the model for casual-dining restaurants. But since 2008, when the chain entered and then exited bankruptcy, ?it hasn't made much noise. Now, new leadership has built a new ?prototype, new menu and new franchise system that could make ?Bennigan's great once again.
Before there was Applebee's, Outback or Olive Garden, there was Bennigan's. This pioneer of the casual-dining space was founded back in 1976 by Norman Brinker, the man widely credited with inventing the casual-dining segment. With a full beer menu, fun atmosphere and often indulgent food — remember the Monte Cristo sandwich? — Bennigan's would go on to become both a trendsetter and a giant of the sector.
While the all-new prototypes will each feature a bar running the length of the restaurant, the first new style store, in Santa Clara, Calif., was a redesign. As such, the bar kept its "U" shape, but the comfortable chairs and welcoming feel remain evident.Success, naturally, can lead to external competition and, unfortunately, internal stagnation. Bennigan's became a victim of both. After a great run, the chain (then owned by ?Metromedia Restaurant Group) declared bankruptcy in 2008. It was bought out of Chapter 7 that year by private equity firm Fortress Investment Group. While about 80 units worldwide have remained operational, Bennigan's simply hasn't been a player in casual dining over the past few years.
The chain's president and CEO, Paul Mangiamele, and his "Bleeding Green Dream Team" are out to change that. You might call it a revival, renewal, reemergence or any number of other words that start with "re," but it all comes down to one thing: Mangiamele is leading an effort to make Bennigan's a star once again.
A Victim of "Brand Drift"
To bring Bennigan's back, Mangiamele — a 35-year veteran of the hospitality industry — took a good look at the chain to find out why it had failed in the first place. His verdict: over the years, the chain's different owners and leaders had allowed Bennigan's to become a victim of "brand drift."
According to Mangiamele, Bennigan's moved away from providing a great experience to customers. The energy, the focus on creating a fun vibe and the top-notch service all ?disappeared. The menu didn't evolve, and there wasn't enough reinvestment in elements like trade dress and decor. In short, the restaurant got stale.
Bennigan's redesign included a logo makeover. While the green script is gone from the outside, it's tiled into the entryway floor as a nod to the chain's heritage. To make Bennigan's fresh again, Mangiamele and his team undertook a "360-degree review" of the concept's entire operation, including construction, design, front-of-house decor, kitchen layout and efficiencies, menu offerings, marketing — basically everything about the chain was put under the microscope.
The result of this effort is a new prototype Bennigan's with a new look and an updated menu, the first of which opened last November in Santa Clara, Calif. As a conversion of an existing unit, says Mangiamele, this location embodies about 90 percent of what a prototype created from the ground up would offer.
A New Look for a Classic Concept
One important fact about this new prototype is that many different iterations are possible. The chain's leadership team selected different finishes, fixtures and so on at different price points in order to accommodate franchisees' differing budgets.
No matter how much the company or franchisee invests into a unit, though, the new Bennigan's prototype looks strikingly different from the older units. One of the most obvious differences is simply a brighter appearance. While previous stores have used mostly dark wood tones and lower lighting, the new prototype employs some lighter colors and higher, though certainly not blinding, lighting levels. The floors are a durable, high-quality laminate with distinct patterns of dark and light wood tones. The tables and chairs are made of dark woods, and all have a solid, substantial feel, connoting a higher-end environment.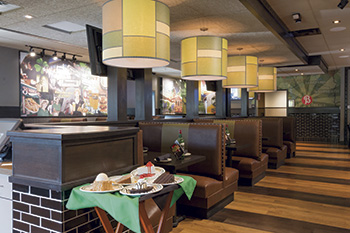 Bennigan's new prototype offers more booth seating than older units.Walking into the new prototype, customers will first see the old Bennigan's logo tiled into the entryway, one of the new prototype's many nods to the chain's rich history. Upon entering the front of the house, patrons find the bar running all the way down one side of the restaurant. The bar is backlit in Bennigan's green, while the bar top itself can be made of several different materials, including wood and granite. To encourage customers to linger, the bar's design includes comfortable chairs and hooks for purses on the bar itself.
While the bar accommodates 30 to 40 people, the dining area seats about 70. Recognizing customers' seating preferences, the new design features far more booths than tables. While the old Tiffany-style lamps are out, the chain again recognizes its history with large lighting fixtures with a Tiffany-style color pattern.
A similar pattern appears against the back wall of the dining area, where translucent colored panels separate the front of the house from the back. These panels, says Mangiamele, only partially expose the work going on in the kitchen, an intentional choice.
Smaller Menu, Smaller Kitchen
The semi-exposed kitchen, along with what goes on within it, has also changed in the new prototype.
At the expediting station, team members take dishes prepared on the line, assemble trays and pass them to servers.Many of these changes start with Bennigan's revised menu. According to the chain's vice president of operations, Shawn Finn, while the older menu approached 70 items, the newer one has closer to 50 offerings. The team, he says, eliminated many poor sellers that didn't add to the chain's product mix. They also added some fun new offerings, like Irish coffee with whipped cream made tableside, and cottage pie, a mix of mashed potatoes, carrots and a beef/sausage blend served in a skillet.
For customers, this smaller menu means shorter ticket times. It also offers important benefits that may not be so obvious to diners but will make a huge difference to operators. "In general, all areas of the kitchen are smaller now due to the size of the menu, including all storage areas. Smaller menu, fewer products, less space needed," Finn says.
The smaller space allows the chain to dedicate more space to the revenue-generating front of the house. It also means the cookline can be run with just one to three staffers during slow periods, offering a significant reduction in labor costs. The cooking area itself has three main stations, each with hot equipment on one side of a walkway. On the other side sits a refrigerated worktable used for garnishing and plating dishes, along with steam tables for hot sides.
The grill station comes first. ?Culinary staff use a 48-inch chargrill to cook chicken breasts for sandwiches and entrees, burgers, steaks and ribs. Next to the chargrill resides a 36-inch griddle that staff use to make items like quesadillas and grilled sandwiches. Both sit on undercounter refrigerators with doors, where raw proteins are held. At the end of the grill station is a two-eye burner for pasta and soups.
After cooking a grill item, kitchen staff either turn around during slow periods to plate and garnish it on the refrigerated worktable, or during high-volume times, hand it to a partner on the station, who finishes the dish. The refrigerated worktables on all three stations have cold wells on top for sauces, produce, cheeses and the like. Prepped backups of these items, as well as cold sides, are held under counter.
Each new Bennigan's unit will have a porch where diners will be encouraged to linger.The fry station comes next. Since people often visit Bennigan's to indulge, this station is extremely busy, Finn notes. On the hot side of this station sit four fryers, two on each side of a batter station with four wet batters and two dry. In addition to undercounter refrigeration, the station utilizes an upright two-door refrigerator that holds to-be-fried items, while the prep table holds various sauces and dips for fried items, with backups and sides below.
The final station is the pantry station, where most of the work takes place on the refrigerated prep table. Team members use the prep table to assemble salads, plate desserts and dish out cold sides. Backups, of course, are kept in undercounter storage. Raw proteins like chicken breasts to be used in entree salads are also held in undercounter storage. These proteins are cooked on a 24-inch chargrill that sits on the hot line just opposite the pantry prep table.
This grill is a new addition to the kitchen, Finn says. Previously, proteins for entree salads were cooked at the grill station. Adding a second chargrill dedicated solely to the pantry helps relieve pressure at the grill and reduces steps for kitchen staffers, which speeds up cook times.
The BOH prep area consists of about three worktables, a two-eye burner where staffers make soups, sauces and pasta, as well as a convection oven used to bake desserts. Depending on the operator, one or more workers come in a few hours before opening each day to handle heavy prep for menu items such as mashed potatoes and soups. Line cooks typically come in shortly before opening to do lighter prep work, like portioning lunch meats for sandwiches, filling cold wells with sliced produce, and so on.
Storage in the back of the house consists of a large walk-in cooler connected to a smaller walk-in freezer and a beer refrigerator, where kegs and bottles are held. The new kitchen has little space dedicated exclusively to dry storage. Instead, dry items are stored on shelves hung on walls throughout the back of the house, notes Finn.
While smaller and designed for efficiency, the kitchen layout in the new prototype is not set in stone. Bennigan's continually evaluates its kitchen design to minimize the number of staff necessary to operate it at a given time and to ensure the line cooks have what they need at hand.
In addition, the chain is evaluating new equipment and cooking technologies that could reduce labor costs or offer even more efficiencies. Among these are conveyor oven technologies that may take the place of traditional hot side equipment like griddles or chargrills. In addition, Mangiamele says, Bennigan's is exploring the use of computer systems for the kitchen that can split a ticket "so that we deliver on the cardinal rule of restauranting, which is hot food hot, cold food cold." Such changes, Mangiamele stresses, will not be adopted if they negatively impact food quality. In fact, as with the ticket-splitting system, they may actually improve the customer experience.
One efficiency Mangiamele is not willing to pursue, though, are tablets at the table for taking customers' orders. While he understands the business case for tablet ordering, he feels casual restaurants abandon their identity by adopting this approach. "Tablet as a surrogate for great service is the absolute worst thing you can do. There's no replacing the personal touch . . . I can see why some other chains want to experiment with it, but I think that they're abdicating the service. I don't know that a tablet can upsell for you. I don't know that it can deliver the service component that people are looking for. Otherwise, you should be fast-casual," he says.
A Strong Franchise System
While this new prototype is key to Bennigan's revival, it represents only one part of the plan. Under Mangiamele, the chain continues to invest heavily in its franchise system.
Mangiamele develops many of Bennigan's new franchisee services based on his own experience as a franchisee of Chicago-based Pizzeria Uno in the 1980s. "It gives me great perspective. Owning and operating and writing the check to become a franchisee taught me more than ever working in a corporate operation," he says. "I know exactly what the franchisee needs and wants, even though they might not know it at the time. To provide those resources is paramount to me."
For instance, to help franchisees with their employee development, the chain offers online learning modules, where staff can go to refresh or expand their knowledge on different aspects of the business, like food safety or serving alcohol responsibly.
The chain's leadership is also committed to helping franchisees keep on top of their business. While many franchise systems are set up to carry out a complete and thorough evaluation of their franchisees just once a year, Bennigan's does four to six evaluations of their franchisees per year and is in near-weekly contact with them, providing updates on healthcare reform, market trends, food-labeling rules and the chain's marketing plans.
It has also hired a reputation management firm to keep track of customer reviews online. Bennigan's uses the firm to alert franchisees to potential problems in their operations and, since a bad experience in one store reflects on the whole system, in units owned by other investors.
This approach reflects Mangiamele's view of online reviews. Sites like Yelp make restaurateurs "pay attention to what [they] should have been paying attention to in the first place. It didn't change. It didn't change in terms of the mentality and delivering great service and great food and always caring about your guest. It never changed. But people got used to not having to do it and supporting mediocrity, which is part of the brand drift."
Finding the Right Partners
With this new prototype and franchise system, Mangiamele expects to lead about 160 restaurants over the next 5 years. This figure, he notes, includes Bennigan's sister franchise Steak & Ale, which Mangiamele is also working to revive.
Of course, as much as Bennigan's wants to be a good partner, it also wants to find good people to partner with. The ideal franchisee, Mangiamele says, will have some experience in restaurant operations, an entrepreneurial spirit and the financial means to open not just one, but three to five restaurants in order to optimize the chain's presence in any given market.
Given his view that the chain went bankrupt just a few years ago because of a lack of focus, it makes perfect sense that Mangiamele wants to work with people who are excited about and committed to the concept. That level of focus on what makes the concept special — combined with a system, menu and look tailored to the modern casual-dining customer — could help make Bennigan's both a trendsetter and a giant all over again.
Facts of Note
Headquarters: Dallas
Year founded: 1976
Signature menu items: World Famous Monte Cristo; Turkey O'Toole; Big Irish; Oh, Baby Back Ribs; Signature Chicken Tenders; Finn's Beer Battered Fish & Chips
Number of units: Nearly 100
Average unit size: Older units, 6,000 sq. ft.; new prototype, 5,200 sq. ft.
Average seats per unit: Older units, 220; new prototype, 180
Unit-growth projections: More than 150 total units in the next few years
Franchisee fee: $35,000
Key Players
CEO and President: Paul Mangiamele
CFO: Scott Arnold
Vice President of Operations: Shawn Finn
Vice President of Supply Chain Logistics and ?Administration: Kathy McGee
Vice President of Marketing: Jennifer Gamble
Kitchen Design Consultant: ID Studio 4 LLC
Equipment Dealers: The Wasserstrom Co. and Texas Metal Equipment Co.