University of Connecticut's Whitney Dining Hall
As guests walk into the University of Connecticut's Whitney Dining Hall on the east side of campus, they see two murals related to agriculture and farm-to-table cuisine designed specifically for this facility. The graphics tell a story about local, sustainable food and include farmers happily posing with their chickens in towns that surround the campus.
The message supports the 5,000-sq.-ft. dining hall's one-of-a-kind farm-to-table initiative on campus. Here, customers find sustainable food items from a variety of local farmers and food producers. "Understanding that this dining hall was unique on campus due to the type of food served, the design team looked to the sensibilities of a local farmers market for design inspiration, organizing the dining hall's various food stations as if they were individual market vendors surrounding a central, communal dining space," says Chris Wante, AIA, LEED AP, project architect, EDM in Unionville, Conn. The project is under review for LEED Silver certification.
"It doesn't feel like a dining hall — it feels like home where customers can get fresh food and relax," says C. Dennis Pierce, executive director, dining services at UConn. "The new design provides us more flexibility in our menuing, and unfortunately because of the new ambience students have a tendency to camp out, which sometimes provides a challenge with the dining room needing to be turned over."
An important consideration for the university and the Whitney Dining Hall design team was to express segments of the building's historical past. Located in the Edwina Whitney Residence Hall, a 20th-century institutional building in the collegiate Gothic style of architecture, the dining hall exposes previously covered-up brick walls leading to the interior of the dining hall. Portions of the original building exterior were revealed, which also worked to reinforce the impression of an outdoor farmers market.
Renovated during the summer of 2019, the mission was to transform the outdated cafeteria-style setting into a more open market-style environment showcasing fresh ingredients, a living green wall and more natural light to open up the space.
The dining operation is currently shut down. Since it is one of the smallest operations on campus, there is a very limited amount of space in which to comply with social distancing requirements, Pierce notes, therefore, it doesn't make sense to keep it open. UConn plans to use the lower-level kitchen if the need arises for preparing meals for potential students in isolation.
All plans will be reassessed for 2021, Pierce says, adding that he hopes Whitney Dining Hall will reopen in early 2021.
A comfortable, casual cafe offers additional soft seating options with a new stone veneered gas-fired fireplace wall.
Skylight, Living Wall Add Appeal
"At the arrival point at Whitney, the main entrance was broadened significantly with large folding glass doors, which remain open during the day," Wante says. "These doors control the flow of students while allowing the full view of the dining hall from the vestibule." Two murals flank the main doors into the dining area.
Inside the dining hall, a new skylight livens up the space by flooding it with daylight. "A space that was once known for its low ceilings and poorly lit dining tables now reaches upward to the sky," Wante says.
An elongated community table, made from natural hickory, sits under the skylight. A variety of tables and additional seating options exist for individuals and groups. Under the skylight, market-style lights extend the ambience into the evening hours. A living green wall featuring herbs and other small plants shelters the dishwashing station from the main dining area and provides culinary staff with ingredients for specialty menu items. An adjacent under-utilized study space was transformed into a comfortable, casual cafe space offering additional soft seating options and a gas fireplace.
Throughout the space, cozy farmhouse, old industrial and traditional design elements blend into a framework of clean lines, surfaces and spaces. This modern farm-to-table aesthetic morphs in various ways throughout each of the smaller spaces within the dining hall. For example, farmhouse tables pair with durable aluminum chairs, a modernist hardwood trim contains industrial corrugated steel wainscot and overscale farmhouse windows perched above a bar counter become area dividers.
Designers enhanced the coffee-house appeal by preserving and painting historic wainscoting. They also added a gathering table designed around an existing column and ceiling panels made from tin ceilings found in turn-of-the-last-century buildings. "State-of-the-art LED lighting illuminates the space with some featured lighting evoking an old industrial aesthetic," Wante says.
Designers also kept the original terrazzo floor, which proved a challenge to incorporate into the overall color palette. The selection of light woods helped integrate the floor color with other colors. In addition, the design utilizes brick, stone, rustic wood, corrugated steel, light fixtures evoking the old industrial era and gray-painted steel that yields a farmhouse-urban-industrial quality. Tomato-soup-red accent walls at the corners of the dining room contribute to the coziness and eclectic aesthetic.
Various serving stations and a grill surround the open seating area. "One of our key contributions was coordinating the foodservice equipment requirements with the engineering team to ensure that the proper utilities would be in place when equipment was delivered to the site," says Kevin Sullivan, partner/principal, Colburn Guyette, Rockland, Mass. "As with any university project, time was of the essence, and any delay in relocating utilities could have had a major impact on the schedule. Fortunately for us, we worked with a fantastic engineering team that made this effort very easy through open lines of communication."
Action Station displays posters that list ingredients such as black beans, flame-roasted corn and peppers, jalapeños, sliced black olives, diced peppers and shredded cheddar cheese. Nutritional values are included.
Sullivan's team worked closely with EDM and UConn to maintain the rustic vision everyone shared for the space. That aesthetic transferred to the millwork and equipment finishes. "We worked with several equipment manufacturers of sneeze guards, pot fillers and custom bread display racks to make sure we had them specified with the black metal or reclaimed wood finish that was desired while still adhering to all food safety guidelines," Sullivan says.
One of the challenges designers faced was providing enough support equipment in the very small back-of-the-house support kitchen on the main level, which houses the servery and dining spaces. The goal was to reduce how often staff members had to travel back and forth from the back-of-the-house support kitchen and the main kitchen on the lower level. "With the help of UConn and EDM, additional space was carved out due to some creative office relocation, which really helped with increasing storage, prep and warewashing capabilities on the [main] level," Sullivan says.
Another challenge was introducing gas-fired appliances into the action station, which became a focal point of the servery. "The current main kitchen had only electric cooking equipment, so the design team had to bring gas lines into the building since none existed in the space," Sullivan says. The team was also informed during design planning that very limited real estate would be available on the roof for new kitchen exhaust equipment. As a result, Sullivan and his team specified a seamless oval exhaust hood that contains a low cubic-feet-per-minute-capacity to keep the size of the exhaust fan to a minimum and within the small footprint available.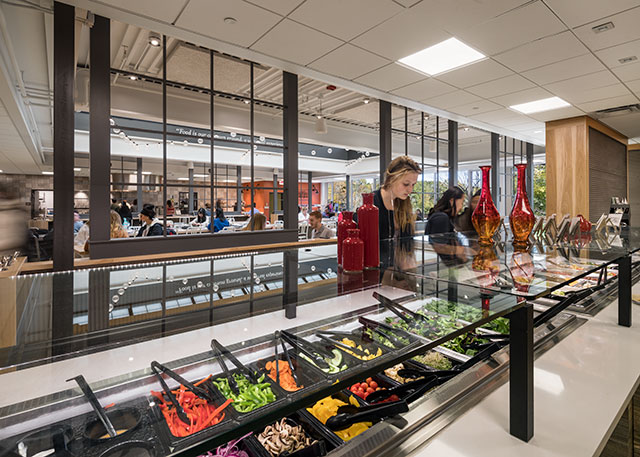 A salad bar features many locally sourced produce selections.
Production and Service
Food deliveries arrive at the lower-level main kitchen, which was not part of the renovation. Built in 1950, the kitchen contains an array of equipment supporting the culinary staff's production of menu items for the servery. Equipment includes three walk-in coolers, one walk-in freezer, dry storage and two reach-in refrigerators positioned close to the other equipment. Cooking equipment includes two convection ovens, one range, two fryers and two steam-jacketed kettles. The kitchen also contains a salad prep area with a three-bay sink. The dish machine is located adjacent to the dining room for convenient drop-off of china.
Staff use a dumbwaiter to transport food from the lower-level main kitchen to the main-level back-of-the-house support kitchen. The support kitchen contains contains a mop sink and worktable, a pair of two-door roll-in refrigerators, a reach-in refrigerator, a fire suppression system, a mobile heated cabinet, a hand sink, two touchless paper towel dispensers, two touchless soap dispensers, a pot sink, an undercounter refrigerator, and a work counter with a sink and hand sink. A food processor and undercounter refrigerator sit across an aisle, along with another sink, touchless towel dispenser and touchless soap dispenser. Minor prep and storage for salad areas are contained in this production area.
The new action station features many made-to-order concepts, such as a macaroni and cheese bar, a stir-fry bar, a grilled cheese bar, and a flatbread bar with hummus and assorted toppings. This counter and other station counters contain warming surfaces to display menu offerings.
Culinary staff work with a six-burner range and a countertop charbroiler, which sit under the decorative exhaust hood. Hot and cold food wells hold vegetarian, vegan and gluten-free menu options that rotate on a four-week cycle. Several food shields, some with heat and lights, keep the food warm, illuminated and safely displayed.
Ten customers can sit on stools across from the counter and watch the culinary action.
The nearby Comfort Counter holds a varied four-week-cycle menu offering a blend of made-from-scratch menu items featuring locally sourced ingredients and fish obtained by a Boston-based supplier. Food shields with heat and light keep the selections warm here as well as at the action station.
The dessert counter offers ice cream that sits in a dipping cabinet and numerous ice cream toppings. Adjacent is a variety of baked goods produced by UConn's Not Just Desserts bakery.
The deli features panini-grilled and conveyor-toasted sandwiches and assorted meats, cheeses and prepared salads. A custom display shelf designed to match the farmers market aesthetic allows customers to view all of their bread choices prior to making a selection.
The main entrance was broadened significantly with large folding glass doors, which remain open during the day. Two murals flank the main doors into the dining area.
Across the servery, a salad bar contains hot and cold food wells. A rice cooker allows customers to help themselves to prepared rice at all three meals. Two soup wells hold selections such as miso soup and German tomato soup. Staff prepare all soups from scratch, some using locally sourced ingredients.
A gluten-free counter offers bagels, cereal, wraps, brownies, assorted breads and chocolate chip cookies baked in UConn's gluten-free bakery. This station contains a four-slot toaster, an undercounter refrigerator, an undercounter freezer, a wall cabinet and a microwave oven.
Self-serve stations include a cereal dispensing area and a cold beverage station, which includes an ice machine and ice dispenser and offers infused filtered water, soda and juice.
The hot beverage station contains a coffee grinder, a coffee brewer, coffee dispensers, a water filtration system, water dispensers, and a built-in, 30-inch-long open-air refrigerated unit. "The open-air refrigerated unit allowed us to eliminate a countertop or undercounter refrigerator at the coffee counter and display all creams and milks front and center with easy access for the customer," Sullivan says.
---
Facts of Note
Opened: September 2019
Scope of project: Complete makeover of the dining hall and servery with new ceilings, tables, chairs, setup and colors
Size: 5,000 sq. ft.
Seats: 190
Average check: Meal plan transactions
Total revenue: $2,956,389Daily transactions/covers: 1,500
Hours: 10:30 a.m. to 10 p.m., Sunday; 7 a.m. to 10 p.m., Monday through Thursday; 7 a.m. to 7:15 p.m., Friday; 10:30 a.m. to 7:15 p.m., Saturday; Hours for fall not determined yet
Menu specialties: Vegan- and vegetarian-friendly, locally grown options, including vegan pancakes almost every morning and night
Staff: 28 employees
Total project cost: $3.2 million
Equipment investment: $366,852
Website: dining.uconn.ed
Key Players
Owner: University of Connecticut
University master planner and chief architect: Laura A. Cruickshank, FAIA, AVP, who also serves as UConn's associate vice president of University Planning, Design and Construction
Executive director, department of Dining Services: C. Dennis Pierce
Associate director: Michael White
Manager: David Barbera
University architect and project manager: James Libby, AIA, LEED AP, NCARB
Architect: EDM, Unionville, Conn.: Chris Wante, AIA, LEED AP, project architect
Foodservice: Colburn Guyette, Rockland, Mass.: Kevin Sullivan, partner/principal; Brian Thistle, senior project manager
Construction/contractor: Carlin Construction Co. LLC, New London, Conn.