Central Campus Dining Hall joins the University of Vermont's (UVM) dining operations. This Burlington, Vt., dining operation was built as part of the new 695-bed Central Campus Residence Hall and the newly renovated Bailey/Howe Library. The university expects the building, which opened in August 2017, to receive LEED Gold certification.
The new all-you-care-to-eat dining operation, which sits on the ground floor of the residence hall, replaces a main cafeteria that was situated in an old library building that formerly also housed the school's student center. A new dining operation became necessary when UVM administrators decided to turn that building into a library exclusively.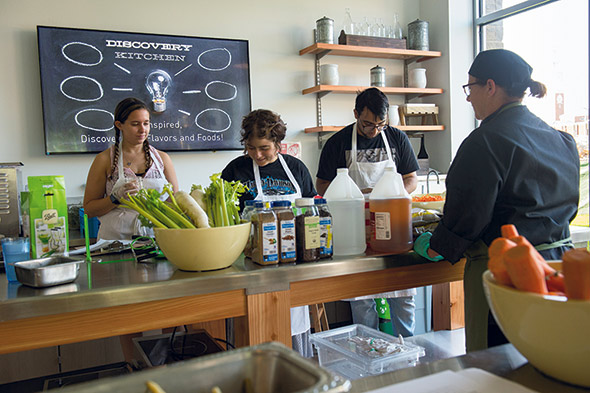 Sarah Langan, UVM Dining's executive chef of Culinary Education, teaches students how to cook at Discovery Kitchen.
Two years ago, a UVM team of administrators, faculty and students rewrote the foodservice contract with clear guidelines to connect campus dining to pedagogy and study how the student population eats on campus. Working with Sodexo, the campus' foodservice provider, UVM established its goals for the Central Campus Dining Hall. The goals include an emphasis on the educational experience for the students that reflects awareness of the food system from farming to the waste stream. This state-of-the-art facility not only serves food to the 695 residents of the building, but any student on a meal plan can utilize the dining hall when visiting central campus.
"With an intentional academic focus, the dining hall has a farm-to-table format with a focus on local foods, sustainability efforts and lifelong learning experiences related to food systems," says Dennis DePaul, UVM's associate dean for student affairs.
"We've set a precedent here at UVM to connect academics and the dining experience," adds Cynthia L. Belliveau, dean of UVM Continuing and Distance Education and research faculty member in Nutrition and Food Science and Medicine. "We want to connect students to what they are eating and how foodservice relates to the academic subjects they are learning about. For example, students work with faculty members teaching their courses to learn about the different aspects of a food system, from how and where the food is grown to how it is procured and prepared — all the way to how it enters the waste stream, by either being composted to sending it to a landfill. Students also monitor the contractual obligations between producers and buyers. We want all the facets of the food system to be transparent to students, parents, faculty and visitors."
A "living wall" in the teaching kitchen contains fresh herbs that students use in the dishes they are learning to cook.
"As part of the renovation, work space was added for student interns working in sustainability, nutrition and marketing," says Melissa Zelazny, director of UVM Dining. "Creating this collaboration space connected to the dining hall and the operations team is another example of our values and being purposeful in our transparency."
Central Campus Dining Hall features nine food stations with themed menu items as well as vegan and vegetarian options. The dining area contains 450 seats, including booths, high-tops and communal tables. The rustic environment, which calls attention to the farm-to-table format, features barn red and natural wood accents. Digital screens project nutritional information and local farm stories.
Food Production and Interactive Stations
Food deliveries arrive six days a week at the loading dock. Staff place food into dry storage, a freezer and three walk-in coolers: one for produce; one for large meats and proteins and dairy; and one for prepared and staged items. A preparation walk-in refrigerator in the main prep area also holds ingredients.
The cold prep area contains worktables, two meat slicers, a small vegetable processor for slicing, shredding and dicing vegetables for the salad bar and busy stations, and many storage containers. Most of the produce arrives clean from local farmers. "We're part of Real Food Challenge," says Brandon Williams, Sodexo's campus executive chef. "We're serving 25 percent real food on campus, which is almost 5 percent higher than the commitment of 20 percent we met two years ago. We've done this despite being landlocked here, which presents a challenge." The Real Food Challenge focuses on using local, eco-friendly and humane farms and food businesses.
A hot prep area supports production of bulk menu items. It contains two 50-gallon tilting kettles, a large tilt skillet for soups, sauces and pasta, and one double-stacked combi oven for par-cooking, finishing off menu items and baking. Culinary staff use a rotisserie to cook large roasts and various cuts of chicken, beef and pork. Cook-and-hold ovens also support production. Staff also use equipment here for breakfast production. The morning meal menu features scrambled eggs cooked in the tilt skillet and breakfast meats and vegetables cooked in the combi ovens.
The back-of-the-house kitchen also contains clean and dirty dish tables, a conveyor dishwasher and potwashing areas.
"The design allows staff to prepare most of the menu items at the stations so students and other customers can watch preparation and cooking," Williams says.
Servery Stations
Sizzle!, a grill station, contains a three-foot-long flattop, charbroiler, cold wells and refrigerated drawers beneath to hold raw products. Staff here prepare burgers, veggie burgers, falafel sandwiches, steak sandwiches, Dijon chicken sandwiches and fish tacos. Staff use fryers for Parmesan black pepper fries. Staff also make breakfast items on the flattop, including French toast, traditional pancakes and potato pancakes. "This is the busiest station and the first one seen when entering," Williams says.
Matt Weeks grills burgers to order at Sizzle!
The pizza station, named Fireside, features a rotating, double-deck stone oven and offers two varieties of pizzas daily. Varieties rotate through a five-week menu cycle. Staff also use the oven to bake flatbreads, casseroles and pasta dishes along with muffins and scones.
Global Plate/Rotisserie presents international fare. Staff prepare such menu items as General Tso's chicken and Thai entrees with an open rotisserie, tandoori oven, a smoker and woks.
The Club deli station features soups and sandwiches as well as housemade spreads, house-roasted local meats, fresh-baked breads and local cheeses. A cold rail holds ingredients. The station also contains a slicer, an upright refrigerator, a prep sink, and deli case holding local deli meats and cheeses, and composed salads. On the other side of the deli, staff prepare sandwiches made to order. Staff heat sandwiches upon request within 30 to 45 seconds in a high-speed oven.
The Fields salad bar contains local produce, a plant-based protein such as quinoa, marinated tofu, house-made dressings and toppings. At one end of the salad bar staff have access to two induction cookers and a small cold well for making salads tossed to order.
The popular Simple Servings offers menu items free of the eight major allergens.
My Zone features foods free of gluten, peanuts and tree nuts. This self-service pantry contains a dedicated refrigerator, toaster, microwave, separate utensils and cutting boards and gloves. Simple Servings also caters to students staying away from the Big 8 allergens: eggs, fish, shellfish, soy, milk, peanuts, tree nuts and wheat. Staff use a slow cooker, five-gallon steam kettle, two steamers and a double-deck combi oven to prepare menu items here.
The state-of-the-art interactive demonstration kitchen, Exploration Station, gives students an opportunity to prepare their own meals under the supervision of a chef. This station contains a four-burner range, a two-foot flattop, a combi oven, a two-basket fryer, a 20-gallon tilt skillet, induction burners (four are built into counters but the area can run up to 10), and a hot and cold holding table with recessed wells. Menu items include stir fries, seared salmon, build-your-own quesadillas and tacos, shrimp pad thai, omelets all day, breakfast sandwiches and pasta bars. "We serve breakfast and lunch to about 150 students each day here," Williams says.
Nearby, Discovery Kitchen offers 90-minute formal and casual cooking classes on Tuesday afternoons and Wednesday nights. Up to 16 students can register for each class using UVM's guidebook app. "Many of the ideas for this teaching kitchen came as a result of our tour of Google's Mountain View foodservice with Helen Wechsler, regional food team manager for Northern California," Belliveau says.
Rise and Shine features breads, bagels, rolls and pastries made at the commissary bakeshop on campus. The station features local coffee and other beverages, such as juices, milk and teas. Infused water stations sit at this station and others throughout the space.
A soda machine sits near the bathrooms, with the intent that the less appealing location will discourage customers from taking soda rather than water.
Students gather during a busy lunch period. The facility serves upwards of 4,000 students a day.
In addition to featuring as much locally sourced food as possible, this and other dining facilities on campus follow an established composting and recycling infrastructure. "Every station format has its own compost bin, trash bin, and is expected to recycle everything possible," Brandon says. "Large receptacles encourage students to sort their own food waste and trash leftover from meals. This is one of the few places that recycles more than it throws away."
Keeping an operation of this size and scope efficient requires continual culinary programming, menu development and cost controls. "We also must have clear communication among the team members," Williams says. "We are fortunate to have a close-knit group of individuals who care about the end product and, most importantly, the students."
Key Players
Owner: The University of Vermont
UVM Associate Dean for Student Affairs: Dennis DePaul
Dean of UVM Continuing and Distance Education and Research Faculty Member in Faculty in Nutrition and Food Science and Medicine: Cynthia L Belliveau
UVM Dining Director, Sodexo: Melissa Zelazny, RD
General Manager, Sodexo: Keith Waterfield
Campus Executive Chef, Sodexo: Brandon Williams
Architect and Interior Design: WTW Architects, Pittsburgh; Richard DeYoung, FAIA, president and CEO
Equipment Dealer: Kittredge Foodservice Equipment & Supplies, Williston, Vt.
Construction: Engleberth Construction Inc., Colchester, Vt.
Facts of Note
The University of Vermont: Founded in 1791; 10,513 undergraduates; 1,542 graduates; 461 medical students; 23 post-baccalaureate certificate students; 826 non-degree students; approximately 1,600 full- and part-time faculty; approximately 2,300 full- and part-time staff; all-you-care-to-eat dining includes Central Campus Dining, Harris Millis Dining, Northside Dining, Redstone Dining; and13 retail operations
Central Campus Dining Opened: August 2017
Scope of Project: New campus residential and dining hall
Size of Residence Hall: 195,000 sq. ft.
Seats: 450
Average Check: All-you-care-to-eat with dining plan; customers paying: $6.65, breakfast; $8.95 lunch/brunch; and $11, dinner
Transactions/Covers: 4,000 meals per day
Hours during Academic Year: 8 a.m. to 9:30 p.m., Monday through Friday; 8 a.m. to 8 p.m., Saturday and Sunday
Menu Specialties: Farm-to-table foods; multiple stations with choices ranging from deli sandwiches to global cuisine
Staff: 75 employees
Total Project Cost: $6.5 million for dining facility
Equipment Investment: Approximately $2 million
Website: https://uvmdining.sodexomyway.com