A bright, comforting cafe welcomes staff, visitors and patients at ProHealth Waukesha Memorial Hospital-Mukwonago in a suburb of Milwaukee. The Café 240 renovation project includes the operation's retail concept platforms and a dining area, along with an adjacent kitchen that supports the cafe, catering and patient room service.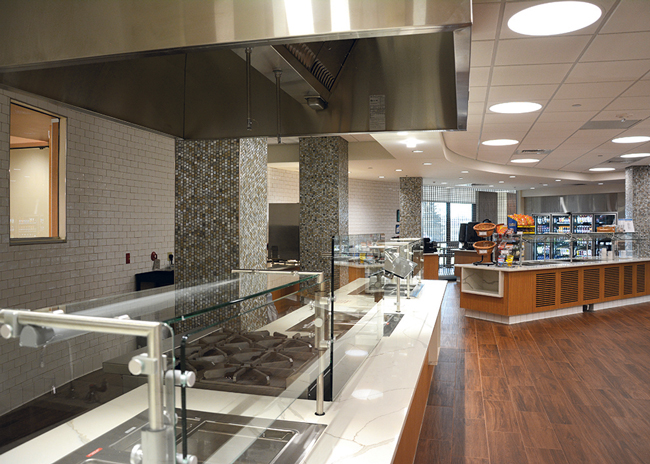 Photos by Tricia SnopekProHealth Care's presence in Mukwonago has expanded over the years as the community has grown. In 2005, a multi-specialty clinic and outpatient center opened along a major intersection. In 2015, a 66,000-square-foot emergency department was added. And in 2018, a 31,000-square-foot addition created space for a specialty clinic and a center for the diagnosis and treatment of digestive health disorders.
Construction to transform the campus into a hospital involved both the addition of new space and the renovation of existing space. Finally, in February 2019, ProHeath Care began construction on an additional 24-bed hospital. The facility was slated to open in the summer of 2020. Due to the COVID-19 pandemic, the project's construction came to a halt in April 2020 before resuming in June 2021.
In October 2021 the retail cafe opened. In January 2022 the hospital admitted the first patient to the facility and opened the room service component of the kitchen.
"By nearly doubling in square footage, the campus building will become a much more visible presence amongst the rolling landscape with an enhanced interior aesthetic that pays homage to the history of Mukwonago," says Tony Breitlow, RA, CDT, senior project manager and associate, Eppstein Uhen Architects, Milwaukee.
The architects' design decisions focused on the patient experience while also maximizing staff efficiencies and workflow. New conference rooms and public areas give ProHealth Care a wide array of spaces to host community events, including educational classes that will help promote healthy living in the community.
"Lean practices were utilized throughout the design process to minimize staff footsteps, foster team collaboration and create an environment that promotes superior delivery of healthcare to patients," Breitlow says. The project includes more than 50 sustainable features and products, including a live vegetated roof, extensive daylight coming in through windows, LED lights to reduce energy consumption and a biophilic design.
The dining operation includes Energy Star-rated equipment where possible. Software tracks all food waste, bringing real-time awareness to staff in order to accomplish dining's goal of 15% food waste reduction per year.
There were many goals for Café 240, named after the location's street address. They included "having a welcoming, inviting dining operation in a spacious area that features front-of-the-house cooking and serving platforms offering a variety of menu offerings and encouraging interaction between staff and customers," says Randall Sparrow, director, Food and Environmental Services, ProHealth Care. "This cafe is where staff and visitors can relax. It also allows future growth as needed."
The saute action station features seasonal menu items.
Though retail foodservice has been operating out of this location since 2018, it was previously minimal. Food was sent from the nearby ProHealth Waukesha Memorial Hospital in Waukesha, Wis. A glass-front, three-door reach-in cooler contained cold menu items and bottled beverages. A makeshift serving line displayed hot food in chafing dishes. A food warmer kept menu items hot. Customers could also help themselves from a salad and soup bar.
With the renovation project, the Mukwonago facility's staff now have an on-site kitchen that supports all the food preparation for the cafe, catering and room service. The cafe features retail operations, including platforms for saute, comfort foods, a full-service deli, grill, pizza, desserts, beverages, and a salad and soup bar that can also serve as a grab-and-go station.
"The servery incorporates durable, cleanable materials like ceramic tile and solid surfaces," says Breitlow. The dining area introduces softer materials, such as decorative wood wall panels with a tree branch pattern.
"When designing the dining and servery areas, we wanted to make sure these areas were given a prominent location within the facility, one that would be inviting to visitors and staff alike," Breitlow says. "The dining and servery areas directly connect to the main first-floor lobby and feature glass that overlooks the main entry and drop-off area." The servery entrance sits along the central corridor, which connects most of the first-floor departments.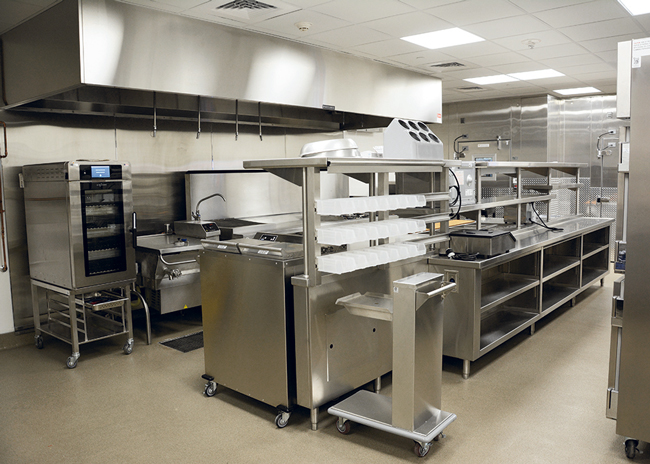 The kitchen's positioning of the hot production line and tray assembly line allow staff to work efficiently in this area. A four-chamber deck oven at left offers much menu flexibility.
Deliveries, Back-of-the-House Kitchen and Room Service
Retail area design also began with the entrance and ended with the placement of soiled dishes near the exit. In designing the kitchen, designers used the points of entry for both clean and soiled items into the back of the house as the starting point for their work. A straight path from entry to the retail service area serves as the kitchen's main walkway. The food prep and refrigeration storage areas sit off to the right of the walkway.
After deliveries arrive at the receiving dock on the lower level, staff place most of the dry goods in storage on this level. "We are fortunate that the dry storage area is located next to the service elevator, which is across from the kitchen on the level above," says Andrew Bergman, manager of foodservice, ProHealth Care.
The decision to place this back-of-the-house area near the dock was made with an express purpose in mind. "Dry storage shifted to space on the lower level to give more space to kitchen functions," says Connie Dickson, FCSI, principal, Rippe Associates, Minneapolis. "A key driver for the design on the main floor with the kitchen and cafe was using a front-facing space with windows and natural light for the dining room."
From the receiving dock, staff transport cold and frozen menu ingredients to the kitchen and servery. They place cold products in a walk-in cooler and walk-in freezer and some dry products on shelving in a nearby pantry. "The walk-in cooler can be accessed by staff in cold production/catering and in the hot food production area," says Jessica Dengel, senior project manager, Rippe Associates.
The cold prep and catering areas contain a slicer, a blender, a 20-quart mixer and an ice machine for staff to prepare mise en place for the cafe and catering requests. Staff also prep and portion some of the patient food there.
In the back-of-the-house kitchen, a walk-in cooler, ingredient bins, a catering work counter, produce-washing sinks, and a slicer support food production.The hot prep area, which supports the cafe, catering and room service, includes a 30-gallon tilting skillet, a 6-burner cooktop range with a convection oven beneath, a flattop griddle and a charbroiler. The rapid-speed oven allows staff to cook french fries and chicken tenders while also toasting deli sandwiches and made-to-order pizzas. "The four-chamber multicook oven helps our team so much because they can cook different items at different temperatures on each level simultaneously," Bergman says.
Patient foodservice features a room service model. After admission into the hospital, patients are prescribed a therapeutic diet by physicians and dietitians. The details are entered into a system that connects to a central call center. Physically located at ProHealth Waukesha Memorial Hospital, about 15 miles away from Mukwonago, this call center supports all three ProHealth Care hospitals. While in their rooms, patients review printed menus, either on their own or with help from nurses and foodservice ambassadors. Then, patients place their orders via the call center from 6:30 a.m. until 6 p.m. A dietetic assistant working with the call center checks the patients' requests with the electronic medical record system and the dietary software system to be sure the items requested remain in compliance with doctors' orders. The computer dispatches the menu order to the kitchen, where it prints out a ticket in triplicate, with copies going to three functional areas.
At the tray assembly line, a staff member prepares the tray with wrapped service ware; cold menu items such as salads, sandwiches, yogurt, parfaits, gelatin and milk from cold refrigerated display cases; and beverages including soda, shakes, coffee, tea and juice. On the other side of the line, hot production takes place as staff cook everything from hamburgers to pot roast, tacos, spaghetti and chicken stir-fries.
Staff place the menu items from the hot line, along with casseroles prepared in the tilt skillet, on a plate with a hot pellet beneath. Cold menu items are also added to the tray. After expediters check trays for accuracy, they place them in a holding cart. "The carts can hold 12 trays, but we don't want them to sit long, so we usually place just six trays in the cart," Bergman says. A foodservice ambassador takes tray carts to patient floors and passes trays to patients unless a nurse must deliver to patients in isolation or who need assistance due to swallowing difficulties. "The process is designed to take no more than 45 minutes from order to delivery," he adds.
After patients finish eating, nurses remove trays from the rooms and place them in a soiled dish cart on the patient floor. A foodservice staff member takes the cart to the cart washing area for cleaning and sanitizing. A dish machine with a booster heater washes all the dishes from patient, retail and catering services.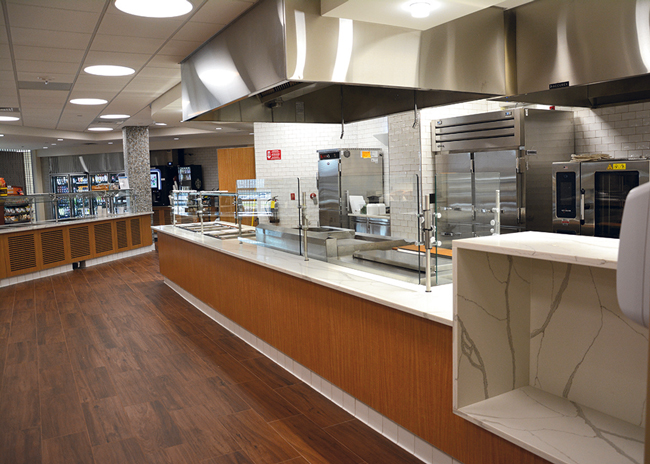 The grill platform contains a prep table, flattop griddle and charbroiler. The tray stand resides at the far right. The salad station is seen at left and the beverage station beyond.
Café 240 With Retail Menu Concepts
Labor efficiency was a priority for the cafe. "In the retail service area, we placed stations where our staff can be cross-trained to assist on any station to allow multiple menu options," Bergman says. "This area also was designed to allow staff to interact with customers as they prepare food in front of them." Nearly 90% of the menu items are made to order.
Menu items regularly rotate to offer as much variety to customers as possible at this hospital and others in the ProHealth Care system. Fan favorites, such as taco salads, pot roast, nachos, chicken tenders, burritos, and an ancient grain harvest salad bowl appear regularly on all the facilities' menus. Promotions at each facility coincide with sports events, holidays and state fairs.
The saute action station features seasonal menu items prepared on a 6-burner range. "We rotate between fall/winter and spring/summer menu items," Bergman says. "We focus on that season's flavors and available products like asparagus in the fall/winter and fresh berries, melon and assorted greens in the spring and summer." Menu items such as lamb gyros and chicken shawarma bowls rotate daily.
This beverage area offers countertop dispensers for soda, coffee and tea; and a display case for bottled beverages.At the full-service deli, culinary staff prepare sandwiches for customers, taking ingredients from refrigerated rails. When customers request a heated sandwich, they heat them in a rapid-speed oven.
The dessert station displays cheesecakes, pies, cookies and other sweets in refrigerated reach-in display units. An on-site baker prepares the desserts and bakes them in the four-chamber multiuse oven or the combi oven.
Customers come to the grill to watch culinary staff use a flattop griddle and chargrill for burgers and chicken sandwiches. In addition to offering regular menu items, this platform features a specialty sandwich of the day like turkey with bacon, lettuce, tomato and avocado; a Reuben; or a Rachel, the cousin to Reuben with turkey, coleslaw and Swiss cheese on rye bread.
The classic comfort food station features entrees displayed in hot and cold wells. Popular menu items here include Thai chili-glazed salmon with ginger edamame pilaf, tacos, burritos, salads, lasagna, turkey or beef pot roast, macaroni and cheese, and a vegetarian entree choice. Customers receive an entree, starch and side dish.
The salad and soup bar will return to self-service as soon as local health officials allow. In the interim, customers order a specialty salad of the day, which they can customize with their own preferences. For example, they can mix and match ingredients for the harvest bowl that contains kale, quinoa, roasted sweet potatoes, Craisins, apples, sliced almonds, roast turkey, Parmesan cheese and vinaigrette.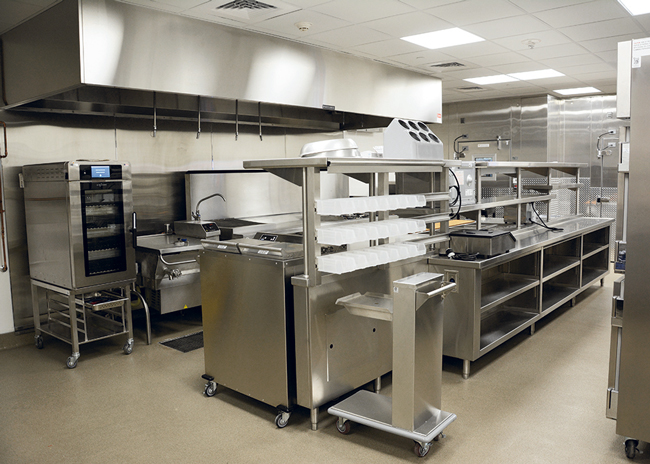 The cookline contains a multideck oven, a tilt skillet, a flattop griddle and an accelerated oven. The tray makeup counter and plate dispenser stand at right.
Customers can also order from a grab-and-go salad menu with up to four options daily. When self-service begins, only two grab-and-go salad options will be available. This platform also offers two daily soups, including one vegetarian.
Café 240 features a full range of beverages. "A reach-in display cooler near the cashiers allows staff members to rear load from the kitchen walk-in cooler," Dickson says. "Customers help themselves from the front before they go through the cashier stations."
"Coolers with higher calorie content are in one compartment of a refrigerated display case, and those with zero or few calories are in another compartment," Bergman says. Beverages also include half-pints of milk, self-service soda, and coffee and tea. Customers can help themselves to personal packs with condiments.
In the back-of-the-house kitchen, a catering work counter, ingredient bins, a slicer, a sink and an ice machine support food production.
On one side of the dining room, customers discard their dirty dishes, trays and recyclables on a conveyor. "We increased the tray drop conveyor to give customers easy access to it from the full length of the dining room," Dickson says. "Normally, a facility this size wouldn't need a conveyor this long, but we wanted to be sure customers could see it and didn't have to walk too far to drop off their dishes. And it had to match up with the dish room behind."
In the few months it's been open, Café 240 is attracting not only patients, their visitors and staff members, but also members of the community. "We're offering a lot of menu variety and marketing this location for anyone in the community to come in and dine with us, whether or not they are here for medical reasons or to visit patients," Bergman says.
Café 240 will soon display digital menu boards over the saute and grill stations. When COVID-19 infections decrease, ProHealth will return to an initiative started in 2020, in which college interns from Purdue University come to the hospital to assist with revamping and revising sustainable and green dining initiatives.
"Most important, our biggest goal, is to remove the nomenclature and stigma attached to hospital food as not being high quality and nutritious," Bergman says. "Based on customer feedback, this operation is already contributing to this goal."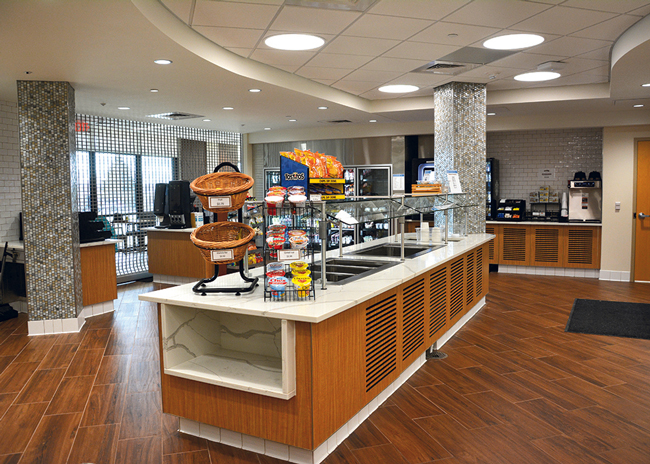 The salad and soup bar will offer self-serve menu options.
---
---
Project Details
Opened: January 2022
Scope of project: For this phased project, the clinic and urgent care facility opened in 2010, the emergency room opened in 2015, and the 24-bed hospital opened in January 2022.
Website: prohealthcare.org
Size: 190,000 sq. ft. Additional space added: 5,903 sq. ft. for foodservice, including cart wash; chemical/cleaning closet, 32 sq. ft.; cold prep/catering, 335 sq. ft.; kitchen, 1402 sq. ft.; walk-in freezer, 85 sq. ft.; walk-in cooler, 100 sq. ft.; tray assembly, 597 sq. ft.; servery, 1,692 sq. ft.; dining, 1,925 sq. ft.
Seats: 70
Average check: $7.50
Total annual sales: $240,000 projected
Daily transactions/covers: 115 for breakfast, 225 for lunch, 50 for dinner (not fully operational)
Hours: 7 a.m. to 1:30 p.m., Mon. through Fri.; when fully operational, 7 a.m. to 6:30 p.m., 7 days/week
Menu concepts: saute, deli, dessert, grill, comfort food, action, salad and soup bar
Staff: 6 currently; 12 when fully staffed
The seating area brings in natural light. Condiment dispensers and a microwave oven reside at the right. Vinyl tile flooring and white subway tiles on the walls contribute to the open, airy ambience.
Key Players
Owner: ProHealth Care, Waukesha, Wis.
Director, Food and Environmental Services: Randall Sparrow
Manager of foodservice: Andrew Bergman, MS
Supervisor of room service and retail: Darren Jonietz
Architect and interior designer: Eppstein Uhen Architects (EUA), Milwaukee: Paul Stefanski, RA, LEED AP, EDAC, principal, healthcare studio director and primary space planner for the project; Tony Breitlow, RA, CDT, senior project manager and associate; John Ford, AIA, NCARB, EDAC, LEED AP BD+C, senior design architect and lead designer for the project (Madison, Wis., office); LaVonne Langlieb, RA, NCARB, senior project architect and associate, health and wellness studio; Scott Uhen, senior project architect
Foodservice consultant: Rippe Associates, Minneapolis: Connie Dickson, FCSI, principal; Jessica Dengel, senior project manager
Equipment dealer: Boelter, Waukesha, Wis.
Construction: Findorff, Milwaukee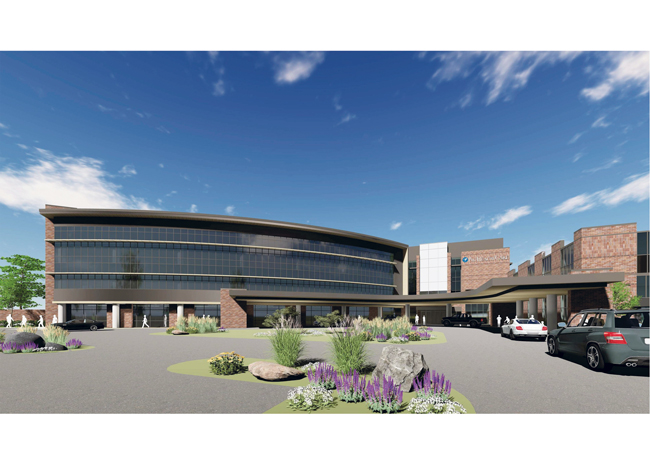 The building brings in natural light from windows blanketing the exterior. Rendering by Eppstein Uhen Architects
Andrew Bergman, manager of foodservice, ProHealth Care. Bergman joined the organization in November 2015. His background includes serving as manager and head chef at Rosati's Pizza in Oconomowoc, Wis., and as intake coordinator, administrative supervisor, client rights specialist and lab technician, Wisconsin Community Mental Health Counseling Centers in Mequon, Wis.
Tony Breitlow, RA, CDT, senior project manager and associate, Eppstein Uhen Architects (EUA). Breitlow joined EUA in 2015. Previous titles include project manager and senior project architect. He worked for Plunkett Raysich Architects LLP for 14 years and as a food vendor for Sportservice. Two other projects include ProHealth Care Heart & Vascular Center and ProHealth Care Neuroscience Care.
Jessica Dengel, senior project manager, Rippe Associates. Dengel joined the firm in 2004. Her project experience spans several industries: healthcare, senior living, education, corporate and gaming. She is responsible for working in building information modeling and handles ongoing coordination throughout construction and final inspection.
Connie Dickson, FCSI, principal, Rippe Associates. Dickson joined the firm in 2006, working primarily in healthcare, senior living and corporate markets. A registered dietitian, Dickson also has a culinary degree and has worked in fine dining and food manufacturing. She managed foodservice operations with Sodexo for 14 years.
John Ford, AIA, NCARB, EDAC, LEED AP BD+C, senior design architect, EUA. Ford joined EUA in 2018. Previous positions include director of design at Erdman in Madison, Wis.
LaVonne Langlieb, senior project architect and associate, health and wellness studio, EUA. Langlieb joined EUA in 2002 after college graduation.
Randall Sparrow, director, Food and Environmental Services, ProHealth Care. Sparrow joined the organization in January 2014. He was previously director, Food, Nutrition and Environmental Services, at Indiana University Health in Bloomington, Ind.; system foodservice director at The Community Health Network in Indianapolis; and director, Food and Nutrition Services, at Saint Mary's Mercy Medical Center, Grand Rapids, Mich.
Paul Stefanski, RA, LEED AP, EDAC, principal and healthcare studio director, EUA. Stefanski joined EUA in 2007. Previous positions include owner of Paul Stefanski Furniture Studio, as well as project architect at Groth Design Group in Cedarburg, Wis., and GGLO in Seattle.