Mercyhealth's Javon Bea Hospital and Physician Clinic – Riverside
Four years ago, Mercyhealth expanded into northern Illinois when it merged with Rockford Health System. Since the merger, Mercyhealth has invested more than $1 billion in the Rockford region to improve access to primary and specialty care services, hired more than 250 new multispecialty physicians and invested tens of millions of dollars into renovating the existing Rockford Memorial Hospital, renamed Javon Bea Hospital Rockton. It also built the $505 million Javon Bea Hospital and Physician Clinic – Riverside, which serves as a regional hub for highly specialized care for children and adults. The 6-story facility sits on 263 acres and is a 194-bed regional tertiary referral hospital. It offers the highest level of emergency and trauma services, plus the highest level of neonatal and pediatric services. The facility features a rooftop playground and healing garden that is an acre in size.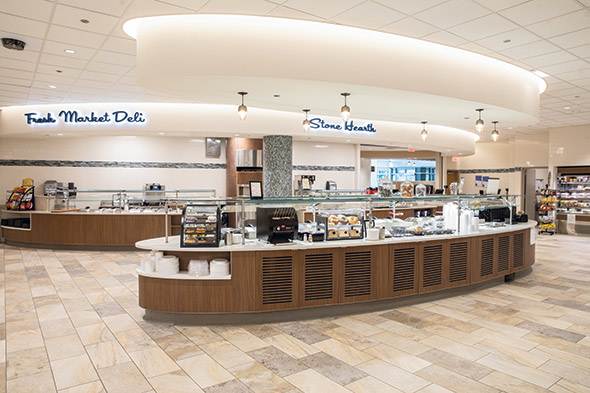 The hospitals share dietary management and call center staff. The hospitals incorporate Mercyhealth's values healing in the broadest sense, patients come first, treat each other like family, and always seek excellence.
"Mercyhealth's values and the concept of peace and healing is reiterated throughout the interior design," says Cynthia Saathoff, associate principal, interior designer, AECOM, Minneapolis. "The atmosphere of the lounge and dining space needed to feel different from the rest of the hospital. This space offers patients' families, visitors and staff an opportunity to relax, decompress and regroup."
Architects and interior designers brought in many natural elements to the design, including a two-story mural and windows bringing in natural light. The nod to nature supports research that shows nature helps promote healing and a sense of calm, Saathoff says. A two-level glass wall begins at the lower level, which houses the dining area, and rises up to the first floor's ceiling. "This is how the architects designed a connection from the dining space to the outside and patio that is landscaped with trees and natural materials," she adds.
A stone fireplace in the dining area also calls attention to natural elements and sets the tone of a comfortable living room. To create a connection between the servery area and the dining areas, designers added soffits and spaces in which to circulate that match the counter shapes and wrap around the condiment areas and into the
dining spaces.
Kitchen and Room Service
The foodservice operation includes a full-service kitchen supporting menu production and room service tray assembly, retail dining and catering. It also features Mercyhealth concepts Café Merci and Coffee Creations.
"We took a blank slate and created a plan with all the features we wanted and then met with the AECOM architects and consultants from Rippe Associates to begin the design of Food and Nutrition Services at Mercyhealth," says Mike Sheehy, foodservice director at Mercyhealth, who retired after the Riverside project was complete. This project reconnected him with Christine Guyott FCSI, RD, principal at Rippe Associates, Minneapolis. The two worked together on Mercyhealth's Janesville, Wis., renovation in 2005.
Burgers are a staple offering at Corner Grill.
Assuring foodservice flexibility was a key factor in the project's design. "Our experience shows that the design must be flexible enough to last 20 to 30 years because the menu in these facilities is ever changing," Guyott says. The Rippe team gathered information from Mercyhealth employees, an internal foodservice advisory group and the hospital's foodservice management team.
A cook sautes menu items at À La Minute.
"We wanted the patient service area to be as streamlined and smooth as possible," says Peter Kraemer, now the co-director of Food and Nutrition Services following Sheehy's retirement. "We also wanted the cafeteria to be a destination for staff, visitors and employees who work in the area."
"We tried to give all the foodservice staff the opportunity to choose whether they would stay at the original hospital or move to the new one," Sheehy adds. "It was amazing how close we came to meeting everyone's needs. Our biggest challenge was keeping the original hospital running as if nothing was happening and moving into the new facility so we could open on time."
The linear flow from receiving to storage, production to patient and retail foodservice follows a logical path that takes into consideration the highest sanitation and safety standards. For example, the dishroom sits on the opposite end of the department from receiving.
"We faced the challenges of working within a long, narrow space in which we had to get enough width for aisle clearances and circulation," Guyott says. "Due to the amount of space between the buildings and customers coming in near the elevators, we needed to create a flow to keep the dining room along the beautiful windows, which resulted in the back of the house being a long, narrow space. To resolve this, we placed narrower coolers and refrigerators behind the cookline. We also had to carefully manage the soiled and clean flow from the dishroom due to the narrow space. We kept the cookline and room service next to each other for better flow and multiple use of staff."
Throughout the space, an open design allows staff to see what their colleagues are doing. "Walk-ins don't impede vision," Guyott says.
After food and other supplies arrive at a dock on pallets, staff walk the pallets nearly 1,000 feet down a central corridor to dry storage, a paper room, 5 walk-in coolers and 3 walk-in freezers. They place chemicals in designated areas.
The cold production area houses two walk-in coolers, a walk-in freezer and a double-door reach-in cooler. Here, team members prepare menu items for the room service trayline, the cafe and catering. They use a 20-quart mixer, 2 slicers, a blender and a food processor to prepare mise en place and a few desserts. Many desserts are brought over to this facility from the original hospital, which contains a full bakery.
Hot production contains a 6-burner range, a 2-section steamer, a 12-gallon kettle, a 40-gallon kettle, a tilting fry pan and a pair of 2-section convection ovens. A demand control system in the hoods helps to minimize exhaust and energy usage. That hood setup exists at this hot line, the hot line in the cafe and the one in the dishroom.
"This demand control system for the exhaust hoods uses automated balancing dampers, infrared sensors and provides independent modulation of exhaust air volumes at each hood section sharing a common exhaust fan," says Shane Cory, project manager at Rippe Associates. "When all hoods tie into one exhaust fan, the amount of air being exhausted and energy exerted by the fan motor is only influenced by the hoods that sense cooking activity underneath them. It is not wasting energy exhausting air for the hoods that aren't being used. Since there is a focus of energy on only the active hoods, the project has significant energy savings compared to a standard nondemand control system."
Room Service and Tray Preparation
The room service tray preparation and assembly area sit within close proximity of the hot and cold production areas. "This is very helpful because the adjacency allows staffing to be shared between the two workstations," Guyott says. "Our objective was to improve room service capabilities, including cooked-to-order meals that are fresh and high quality for patients."
A staff member prepares a patient tray before placing it in a transport cart.
The goal was a streamlined patient service area, Kraemer adds. "Everything was compartmentalized into a workstation. We made sure menu items and serviceware for room service were in one area so they were accessible by all the staff working in this area. We did the same type of consolidation for the production areas supporting special events, catering and the cafe."
The trayline team, which includes a starter, a cook and an expediter, receive printed tickets at their cooking and assembly areas with patients' menu selections. The tickets arrive via a centralized call center near the trayline. Tickets contain barcodes that allow tray tracking through the entire tray assembly and delivery process. Orders originate either directly from patients or from their family members, nurses or other personnel assisting them. Software verifies that the meal requests match the diet order from the patient's doctor and dietitians.
On one side of the trayline workstation, a staff member composes trays with serviceware and cold menu items. Two air-curtain refrigerators hold the cold items, including gelatin and tossed salads. Menu items such as puddings, fruit and coleslaw sit in a refrigerated prep table. The staff member adds dietary supplements, juice and milk from another air curtain refrigerator that sits at the end of the trayline.
Equipment here includes a refrigerated prep table, a 6-burner range, a charbroiler with a refrigerated base beneath, a flattop griddle, a fryer and a high-speed oven. A heated pellet beneath the plate keeps the food hot. The pellet and plates are positioned on a pass-thru shelf that the tray assembler can easily access when it's time to place the plate onto the tray.
The equipment allows Mercyhealth staff to offer extensive room service menus with many options. For breakfast, patients can order omelets, pancakes and breakfast sandwiches. For lunch and dinner, they select hot entrees such as baked cod, roast turkey, stir-fry with rice, chicken or vegetables, as well as simmered beef tips over egg noodles, roast beef, chicken fajitas, roast pork, housemade meatloaf, Atlantic salmon with dill and grilled chicken Parmesan.
Sides of mashed potatoes, baked and sweet potatoes, rice and vegetables are always available, in addition to build-your-own sandwich options. The menu also features four soups daily; entree salads such as grilled chicken salad, mandarin orange chicken salad and a chef's salad; grilled burgers and sandwiches; individual pizzas; pasta dishes; and desserts such as pudding, ice cream, gelatin and cookies.
When the tray is ready for delivery to a patient, a staff member scans the barcode on the ticket, places the tray into a cart and sets a 10-minute timer. One of three tray passers delivers the cart to the patient floors after that 10-minute window, even if there are only a few trays set for delivery. "This is to ensure food is delivered in a timely manner and served at the proper temperature," says Shelley Anderson-Beatty, co-director, Food and Nutrition Services.
"We're delivering about 120 trays to patients per meal from 6:30 a.m. until 7 p.m.," Anderson-Beatty says. "Our goal is to deliver the trays within 45 minutes after patients call in their orders."
Food and nutrition staff deliver the trays. Nurses pick up trays after patients finish their meals and take them to a soiled utility area on each floor. Dishwashers pick up the soiled trays and deliver them to the dishwashing area.
Café Merci
When customers enter the cafe, they see dramatic signage and colorful food presentations at the stations. "This destination retail site using state-of-the-art technology is based on a modern concept that includes a market-style appearance, menu items focused on healthy eating and wellness, and an operational design that allows customers to move through the space quickly to get to a variety of entree stations," Guyott says.
Customers make their own salads at Riverside Island.
Typically, customers consist of 80 percent employees and 20 percent hospital visitors. Café Merci sees nearly 350 transactions during lunch, the busiest meal period. "We wanted to serve fresh, healthy food to customers but knew we had to get people in an out as quickly as possible because they have only 30 minutes for lunch and a short time for breaks," Kraemer says. "We wanted to offer a diverse menu, but we had to make the operation versatile without adding a lot of staff at each station."
"To speed service at lunch, we recommend that most menu items are made just in time or to customer flow versus on-demand," Guyott says. "The menu fluctuates daily to keep the concept fresh in the eyes of customers. We recommend that operators consider how many labor-intensive choices are offered per meal based on customer needs and staffing available. A very large menu that is 80 percent made to order will create longer wait times, which is unacceptable at lunch when the majority of hospital staff only have 30 minutes for lunch.
"We understand that demand varies at different times of the day, with morning, evenings and weekends bringing in much lower customer volume," Guyott adds. "Because of this, the retail space needs to be able to flex up and down based on its volume. We consolidate stations so they can be staffed higher during lunch and operated self-serve in the evenings and on weekends."
To gain another advantage, hot food stations that require the most backup were placed the closest to the kitchen. The Rippe team also tucked away the grill area so it wasn't the focal point yet was given enough space because it is the busiest spot. "We also specified dual-use wells that can be switched from hot to cold when needed," Guyot says. "This gives the operation team great flexibility in menu selection and offerings to cover different parts of the day."
A high-speed grill at Fresh Market Deli enables staff to heat sandwiches.
All stations stay open on weekdays. On weekends, a little more than half the stations operate — Stone Hearth, Fresh Market Deli, Grill, Riverside and On the Go.
At Corner Grill, staff use a chargrill, flattop, fryer and refrigerated prep table to prepare menu items such as omelets and pancakes, steak burgers, grilled and buttermilk crispy chicken sandwiches, Alaskan white ale battered cod sandwiches and quesadillas. Weekly menu items include specialty fries, sandwiches and wings.
Adjacent to the grill area, À la Minute features chef Jeremy O'Leary's made-to-order chef's creations such as stir-fries, pasta dishes, omelets, crepes, fajitas and burrito bowls prepared on a six-burner saute range covered by a round island exhaust hood.
At Classics, guests find comfort food such as casseroles and meatloaf. A team member places these menu items onto plates and hands them to guests.
Stone Hearth contains a stone hearth oven that heats a rotating selection of pizza and flatbread daily. The menu will soon include a gluten-free pizza. Staff also use the oven to heat calzones, stromboli and small casseroles. Customers pick up coffee and tea at one side of the station.
Fresh Market Deli features a deluxe deli menu such as cranberry pecan chicken salad on a brioche bun, Texas turkey, bacon and cheddar, and veggie wraps. Staff warm sandwiches in a high-speed oven.
Riverside Island features a salad bar with sloped cold pans, soups presented in two wells, fresh bread and bagels, and nonrefrigerated desserts. Customers can heat bread and bagels in a toaster.
On the Go contains a four-door cooler with glass-display doors holding beverages. Staff stock this cooler from behind. Another cooler, which staff stock from the front, holds salads, sandwiches, desserts, fresh fruit and yogurt parfaits. This area also features ice cream, coffee and tea drinks, and soda.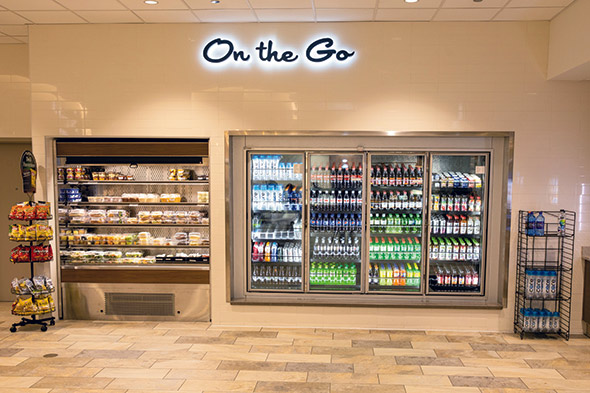 A four-compartment glass door display cooler holds beverages at On the Go. Packaged sandwiches, salads, desserts and fruit sit in a refrigerated case to the left.
"We also feature a hydration station with pure and flavored waters," Anderson-Beatty says. "Guests can refill their bottles with as much as they like."
Three cash registers allow employees to process orders quickly. Customers can access the middle register from both sides.
Coffee Creations and Technology
On the lobby level, Coffee Creations operates from 7 a.m. to 5 p.m. on weekdays. The hospital makes its own soup for this area and uses a local vendor for pastries, cookies and bagels.
Coffee Creations features coffee and tea drinks as well as pastries and other to-go menu items.
Teamwork ranks high on the list of things Rippe credits to project efficiency and success. Previous collaboration on other projects enabled the team to unite quickly on this project. In addition, this team used a cloud-based collaboration software that supports controlled data and document management from design through construction. "The difference between this work-sharing method compared to the traditional way of working is that models no longer need to be manually sent out to different teams using a share-file site," Cory says. "Rather, all teams that are invited to the project on the cloud and are able to access the models, link them into their model and receive updates in real time. The benefit of using this style is that I was able to receive background updates faster than I normally would have using the traditional style of model sharing.
"This helped to speed up the production of our drawings and really helped with coordination," Cory continues. "In most instances, when I was working through my drawings and I wanted to make a change to the walls, doors and so forth, I could just call the architect, talk through the problem, they would make the change, and within minutes I could see the shifts to the background."
The program also allowed different teams to keep all of the design documents in one central location online. "It was easy to access and coordinate between documents of other design trades without having to waste time waiting for them to send it to me," says Cory. "I used this several times when reviewing interior material information and MEP documents submitted by the engineers to make sure that my drawings were coordinated with theirs."
Since working with the software was a newer method of sharing, the team had to establish who was and wasn't allowed to open each model. "Over time, it became an unwritten rule that no one should enter into anyone else's model but their own, unless they asked the other person before doing so," Cory says.
Javon Bea Hospital – Riverside's foodservice operation will no doubt become an often-referenced format for other hospitals that Mercyhealth builds in the future. It serves as a model for upgrading food and service while keeping staffing as minimal as possible without sacrificing quality.
Floor-to-ceiling windows open to views of the outside patios.
About the Project
Opened: Jan. 5, 2019
Seats: 275 inside and 80 on outdoor patio
Average check: $5.25
Total annual sales: $1.2 million for retail and catering
Daily meals/transactions: Room service, up to 140 per daypart; Café Merci, 675 per day; Coffee Creations, 140 per day
Website: mercy healthsystem.org
Mercyhealth: Mercyhealth is a multiregional health system with more than 850 employed physician partners, 7 hospitals and 85 primary and specialty care locations. The system serves 55 northern Illinois and southern Wisconsin communities. Mercyhealth was the first fully integrated health system to receive the Malcolm Baldrige National Quality Award.
Mercyhealth's Javon Bea Hospital and Physician Clinic – Riverside: This facility is a 6-story, 194-bed regional tertiary referral hospital. It's also a state-designated regional perinatal center for an 11-county region in northern Illinois and a 4-county region in southern Wisconsin. The building features a 4-story specialty physician clinic.
Scope of project: Kitchen, room service, Café Merci and Coffee Creations
Size: Campus, 563,000 sq. ft.
• Hospital: 481,245 sq. ft., which includes the 17,000-sq.-ft. kitchen, retail market and dining room
• Clinic: 81,755 sq. ft.
• Rooftop healing garden: 44,019 sq. ft.
Hours: Room service: 6:30 a.m. to 7 p.m.; Café Merci, 7 a.m. to 7 p.m.; Coffee Creations, 7 a.m. to 5 p.m. Mon. to Fri.
Menus: Room service: Fish, meat and vegetarian entrees and sides. Café Merci: Six stations offer everything from breakfast omelets to made-to-order stir-fry creations. Notable items include Alaskan white ale battered cod sandwiches and hearth oven pizzas. Guests can additionally opt to visit the to-go area for sandwiches and salads, as well as Coffee Creations, a coffee and tea bar.
Staff: 281 employees, including 32 full-time and 15 part-time employees
Total hospital and clinic project cost: $505 million
Equipment investment: $1.4 million (kitchen and retail)
Key Players
Owner: Mercyhealth's Javon Bea Hospital and Physician Clinic –Riverside, Rockford, Ill.
President and CEO: Javon R. Bea
Director, Food and Nutrition Services, Mercyhealth System: Peter Kraemer
Director, Food and Nutrition Service: Shelley Anderson-Beatty
Foodservice director until project opened: Mike Sheehy (now retired)
Senior executive chef: Robin Kuter
Executive chef: Joe Goral
Architect: AECOM, Minneapolis: Howard Nelson, AIA, project manager, principal; David Vogel, AIA, NCARB, LEED AP, associate principal (both now retired); Matt Sanders, AIA, design architect
Interior designer: AECOM, Cynthia Saathoff, associate principal, Barb Perry, interior designer
Foodservice design consultants: Rippe Associates, Minneapolis: Christine Guyott, FCSI, RD, principal; Joy Enge, RD, senior equipment specialist; Shane Cory, project coordinator
Equipment dealer: TriMark Marlin, Bedford Park, Ill.
Construction: Mortensen Construction, Minneapolis
Shane Cory, project coordinator, Rippe Associates. Cory works with architects and engineers through the design drawing phases. His project involvement starts with the bidding process and continues with ongoing coordination through construction until completion.
Joy Enge, RD, senior equipment specialist, Rippe Associates. Enge's responsibilities include making cost estimates, equipment selection and research, and specification writing. Other projects include Lucile Packard Children's Hospital and Stanford Hospital & Clinics in Palo Alto, Calif. and University of Kentucky Medical Center in Lexington, Ky.
Christine Guyott, FCSI, RD, principal, Rippe Associates. Guyott has been with Rippe for 24 years and is responsible for overall project, programming and design. Other projects include Stanford Hospital & Clinics in California, REX hospital in North Carolina and St. Jude Children's Research Hospital in Memphis, Tenn.
Peter Kraemer, co-director, Food and Nutrition Services, Wisconsin Region. Before joining
Mercyhealth in 2015, Kraemer served as foodservice director at Beloit College in Beloit, Wis.
Shelley Anderson-Beatty, co-director, Food and Nutrition Services, Illinois Region. Before joining Mercyhealth in 2017, Anderson-Beatty held positions with Sodexo, Centegra Health System in Woodstock, Ill., and Hearthstone of Mesa in Arizona.
Cindy Saathoff, senior project interior designer, AECOM. Saathoff joined AECOM 31 years ago. Other projects include Gunderson Lutheran Hospital in LaCrosse, Wis.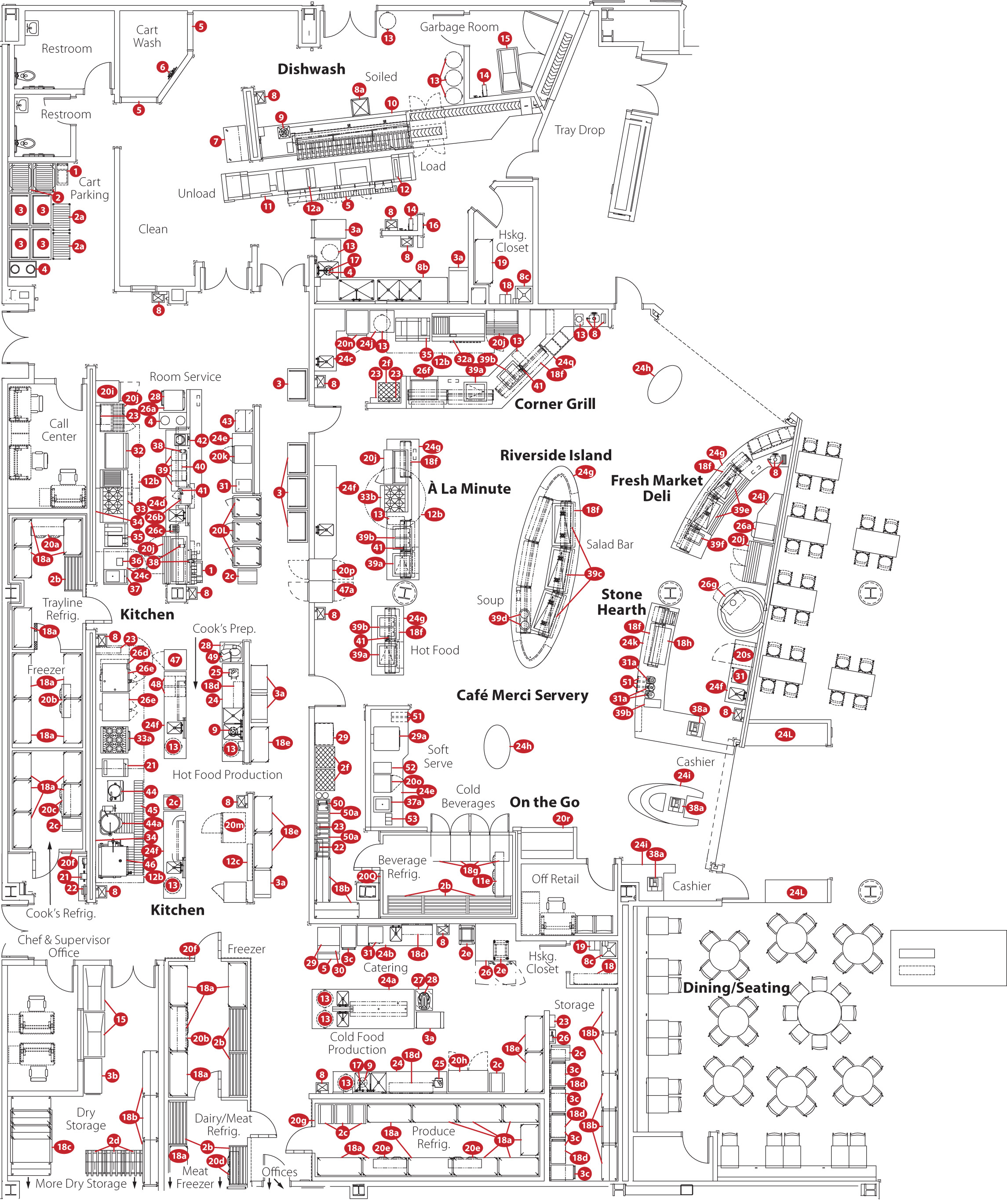 Equipment Key
1. Tray dispenser
2. Base rack
2a. Dome rack
2b. Dunnage rack
2c. Mobile rack
2d. Can rack
2e. Oven rack
2f. Bread rack
3. Patient tray delivery cart
3a. Utility cart
3b. Receiving cart
3c. Catering cart
4. Heated plate dispenser
5. Trench drain
6. Hose station/cart wash
7. Worktable w/overshelf
8. Hand sink
8a. Mobile soak sink
8b. Pot and pan sink w/agitator
8c. Mop sink
9. Disposer
10. Soiled dishtable w/tray return conveyor
11. Flight-type dish machine
12. Exhaust duct riser/loaded end
12a. Exhaust duct riser/unload end
12b. Exhaust hood
12c. Demand control ventilation system
13. Mobile trash bin
14. Hose reel
15. Tilt truck
16. Eye/face wash station
17. Spray rinse
18. Detergent shelving
18a. Refrigerator/freezer shelving
18b. Dry storage shelving
18c. High-density shelving system
18d. Wall shelf
18e. Pan-storage shelving
18f. Protector shelf system
18g. Bottled-beverage shelving
18h. Heated shelf
19. Detergent dispensing system
20. Racked refrigeration system
20a. Trayline refrigeration system coil
20b. Freezer system coil
20c. Refrigerated system coil
20d. Dairy/meat refrigeration system coil
20e. Produce refrigeration system coil
20f. Walk-in refrigerator/freezer complex
20g. Walk-in refrigerator
20h. 2-section reach-in refrigerator
20i. 1-section reach-in refrigerator
20j. Refrigerated prep table
20k. Countertop freezer
20l. Mobile air screen refrigerator
20m. Reach-in blast chiller
20n. 1-section reach-in freezer
20o. Countertop display freezer
20p. 1-section pass-thru refrigerator
20q. Walk-in refrigerator w/ display doors
20r. Refrigerated display case
20s. 1-section undercounter refrigerator
21. 2-section steamer
22. Water filtration system
23. Fire protection system
24. Prep counter w/sinks
24a. Island work counter w/sinks
24b. Catering counter w/sink
24c. Counter w/freezer base
24d. Cooks' work counter w/sink and tray assembly
24e. Beverage counter
24f. Work counter w/sink
24g. Serving counter
24h. Island snack display counter
24i. Cashier counter
24j. Work counter
24k. Stone Hearth/cashier counter
24l. Condiment counter
25. Food processor
26. 1-section rack oven
26a. High-speed oven
26b. Microwave oven
26c. 4-slot toaster
26d. Allotted space for a combi oven in the future
26e. 2-section convection oven
26f. Display warmer
26g. Stone-hearth pizza oven w/hood
27. 20-qt. mixer
28. Mobile equipment stand
29. Ice maker
29a. Ice dispenser w/soda heads/spire
30. Ice bin
31. Coffee brewer
31a. Coffee servicer
31b. Cappuccino dispenser
32. Grill w/stand
32a. Grill and charbroiler w/refrigerated base
33. Range and charbroiler w/refrigerated base
33a. Range w/oven
33b. Range w/stand
34. S/s wall panel
35. Fryer w/filter and dump station
36. Shake mixer
37. Shake machine
37a. Allotted space to add a soft serve machine in the future
38. Printer
38a. POS system
39. Hot food well
39a. 2-well hot/cold pan
39b. 2-well hot food well
39c. 4-well, sloped drop-in cold pan
39d. Soup well
39e. 3-well drop-in cold pan
39f. 1-well hot food well
40. Heat lamp
41. Fill faucet
42. Base heater
43. Starter station
44. 12-gal. kettle w/stand
44a. 40-gallon kettle
45. Floor grate and frame
46. 40-gal. tilting fry pan
47. Mobile warming cabinet
47a. Pass-thru warming cabinet
48. Mobile ingredient bin
49. Slicer
50. Soda system carbonator
50a. Soda system
51. Cup dispenser
52. Juice dispenser
53. Toppings dispenser