Entertainment, restaurants and bars come together under one enormous roof.
Each time one visits Orlando, Fla., a new surprise emerges on the enormous eatertainment landscape. One of the newest additions, Mango's Tropical Cafe Orlando, sits at the corner of the busy intersection of International Drive (I-Drive) and Sand Lake Road. The Latin-themed restaurant and nightclub is an expansion of the Mango's brand in South Beach, Fla.
"The new Mango's Orlando is more than two and a half times larger than the original 25-year-old facility in South Beach and is designed to handle corporate convention parties of up to 2,000 people," says CEO David Wallack. "Hopefully, within five years, it will be a contender for the highest-grossing restaurant/nightclub in the country." Wallack admits that he had always dreamed of operating a Mango's on Las Vegas Boulevard in Las Vegas, but too many obstacles kept his vision from coming to fruition. Wallack credits his son, Joshua, the company's COO, for identifying the Orlando location and encouraging entry into one of — if not the — most active and largest convention cities in the world.
Inside the brightly colored building, guests can experience two floors of music, live entertainment and 9 bars. Mango's hosts parties of 2 to 2,000 guests for lunch banquets, sit-down dinners, buffets and carving station extravaganzas. The bar menu, which measures six pages long, features an assortment of mojitos, margaritas, beer, wine, a bevy of other cocktails and a full bottle and champagne list. Dinner service and dance performances begin at 7:30 p.m. featuring Mango's dancers, who have appeared on a variety of television networks. Guests can even opt to take salsa dancing lessons. In addition to the main eatertainment venues, the facility houses the Mojito Room, Jungle Room, Vodou Room and other private party spaces. The club closes at 2 a.m.
Two cascading staircases lead to the stage at Mango's Tropical Cafe Orlando. The circular grand staircase at right connects the main floor with the second floor, where banquets and private dining events are held.Though Mango's Tropical Cafe is categorized as a restaurant/bar/entertainment venue, Wallack describes it as "a gallery of art." His extensive collection of unique Haitian, Cuban and Caribbean artwork is on display throughout the space. In addition to the art collection, Mango's Tropical Cafe Orlando has full mural epoxy terrazzo flooring, terrazzo grand staircases, hand-painted and glass mosaic, bars, restaurant seating and entertainment stages. The two cascading staircases lead to the stage. The circular grand staircase connects the main floor with the second floor, reserved for banquets and private dining events. The 35-foot art rock waterfall sits behind the staircase. Air-brushed art can be seen throughout the venue, and steel columns form royal palm trees.
"The most important elements of the design are the owner's passion for his vision and the collaboration of the artistic team," says project architect Jeffrey Lurie, AIA, LEED AP, formerly of L2 Studios. "Without the strong organizing elements of color and flow, the same vibrant environment would not have been possible."
Early on, Lurie knew the vision was to create a state-of-the-art property that could handle huge tourist conventions yet still maintain an intimate feel. "This was accomplished by varying ceiling heights and dividing the space in a way that maintained circulation yet made it feel like there were separate areas to discover and hang out as people move through the club. It's not possible to see everything from any one vantage point, but the video screens keep everyone connected to the action," he says.
Pull-down retractable, electrical cords offer greater flexibility for countertop equipment and work area expansion.Circulation and future growth challenged designers. "Elevators and stairs were oversized and extended higher for what's to come," Lurie says. "This took up a lot of space, but by turning them into amazing features for the facade, they don't look out of place."
Mango's first level features a terrazzo floor that Lurie says "takes cues from the energy in the artwork and ties the club's spaces together." The design idea "had to live up to David's inspirational sketches and his tagline for the club — 'Come, Fall in Love' — so the terrazzo incorporates lips giving kisses and hearts organically flowing from room to room."
Color-changing LED lighting highlights the art deco–inspired sculptures on the exterior, which also contribute to the unique design. "These are a cross between traditional art deco shapes and the elaborate headdresses worn by some of the performers," Lurie says. "It was really important that the outside create a sense of energy to communicate to potential guests the spectacular entertainment presented here so that no one can pass by without checking it out inside."
The Kitchen, Flow of Production and Efficiencies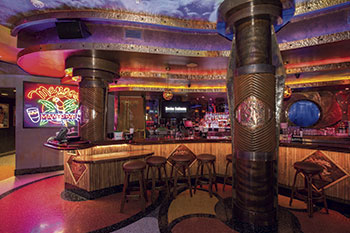 The Mambo Bar, designed as a complete copper and steel sculpture, offers guests a Caribbean experience.Mango's kitchen design emphasizes the facility's need to meet high production volumes. "We built in redundancy, placing two identical pieces of equipment side by side on the line and separating the hot and cold lines," says Tom Galvin, president of Galvin Design Group, based in Winter Garden, Fla.
At the loading dock, the receiving department staff check food for quality and accuracy. Other staff transport food into a walk-in cooler that feeds directly into the main kitchen, a walk-in freezer or dry storage. "The positioning of the cooler allows the staff to quickly get products if they run out of food held in refrigerated drawers on the line in a busy service period," Galvin says.
Fruit has its own separate cooler because of the quantity necessary for the menu and bars. Galvin's design accommodates this with a 13-foot-long prep table and a single-compartment sink near the fruit cooler.
Locked security cages store beer, wine, champagne and liquor. When necessary, staff rotate the beer, wine and champagne into refrigerated storage in the back of the house and in the front-of-house bars.
In the cold prep area, staff cut vegetables, many of which are locally sourced. "We're preparing about 95 percent of our menu from scratch," says Armando Abreu, executive chef at Mango's Tropical Cafe Orlando.
Lounge areas create a nightclub atmosphere.A hot prep area adds support to the ambitious menu. In the bulk prep area, which supports the main kitchen and banquet kitchen, staff prepare black beans, soups and marinara, bolognese, alfredo and other sauces in two tilt skillets. They use two broilers to cook steaks, pork and chicken and a four-burner range to keep sauces hot. One combi oven heats roast pork, half chickens and chicken wings and breasts. "I had used the combis only once before I arrived here," Abreu says. "They are awesome because they can roast, steam, braise … anything we need." The other combi sits in the banquet kitchen on the second level.
Fryers also sit in this part of the kitchen, and they, along with those on the main kitchen hot line, sizzle fries, chicken fingers, gourmet onion rings, chicken tenders, popcorn shrimp and chicken wings.
Pizzas and flatbreads rank high on the list of popular menu items. Staff make dough using a mixer and dough press and bake these favorites in ovens that also bake breads and garlic rolls.
Moving from right to left adjacent to the pizza ovens sit the eight fryers, four salamander broilers, two flattops to prepare tacos, burgers and sliders and two six-burner ranges to heat sauces and saute proteins for entrees. The conventional ovens beneath heat hotel pans of proteins as well as flan and other desserts. At the line's end, two chargrills cook New York strip steaks and skirt steaks, plus chicken and shrimp skewers.
The main and banquet prep kitchen contains elements of a European cooking platform, fryers, two tilt skillets, a banquet broiler and a four-burner range with a conventional oven beneath."Located in front of the chargrills and flattop griddles is an 18-inch stainless steel cutting board to slice and dice and also hold hotel pans for melted butter and other ingredients needed for preparation," Galvin says. "In addition, cutting board sink covers on each sink give staff an additional prep area. The cutting boards and sink cover can be taken off and placed directly in the dishwasher to be sanitized."
To assist staff in keeping the kitchen clean, a sanitizing bucket sits under each hand sink and at the chef's tables so staff can easily and immediately clean while they are working at the various stations.
Pull-down, retractable electrical cords represent another design element that contributes to staff flexibility. "This gives staff the flexibility to plug in the countertop equipment and expand their work areas as needed," Galvin says.
Cook-and-hold ovens sit next to the grill and flattop. "I like the fact they beep when they are low on water," Abreu says. "We do such high volume, so these allow us to pre-blanch or pre-sear 300 pounds of chicken breasts or marinated chicken wings, hold them in the oven and quickly grill to reheat just before service."
A shock freezer is another key component of Mango's equipment package. "The blast chiller allows staff to prepare menu items prior to regular service and for banquets," Galvin says. "For banquets, the chilled food is rethermalized in cook-and-hold cabinets as needed."
"This equipment allows me to sleep at night knowing the food is cooled down rapidly and staying out of the danger zone," Abreu says. "We use it for everything we need to cool down rapidly, including chicken wings, sauces and black beans."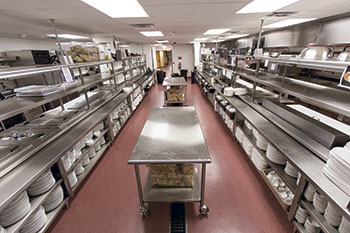 The main kitchen's assembly line features the cold line at left and the hot line on the right side.A long cold station supports staff preparation of salads, sandwiches and desserts. Refrigerated rails and reach-in refrigerators within easy reach keep ingredients at proper temperatures and allow staff to have easy access when needed.
For oversight, sous chefs stand on the outside of the service line, which includes shelves, heat lamps and a ticket printer. "Food sits under heat lamps maybe two to three minutes at most," Abreu says. "We're working so quickly and in such high volume that nothing sits long. For example, we might get 50 tickets at one time."
To ensure just-in-time delivery of food, tickets print right before service. "All stations have monitors, and all stations get entire orders," Abreu says. Expediters see two screens so they can keep track of all the meal components, including
appetizers, entrees and desserts.
When expediting service, Abreu stands behind the sous chefs. "I'm there for support and to help if they are falling behind," he says. "I keep an eye on all cooking procedures and make sure each menu item looks good. I also help bring out salads and soups."
Abreu insists on keeping the kitchen extremely organized. "I've been working in kitchens for 37 years, and I've learned that cool heads prevail. I motivate my staff members by connecting with them and encouraging them, if needed, to work faster or more efficiently. They deserve to be praised often. If you treat them badly, they won't want to work for you."
The kitchen is well equipped and well designed with great work flow, says Abreu. However, he admits, "I would prefer it to be smaller. I know a lot of chefs complain that they don't have enough space, so this may seem ironic. But it would be easier to expedite if the kitchen wasn't quite as big and long. On really busy nights, however, we need the space."
For banquet service, staff work in the banquet staging area to plate some food that is rethermalized in cook-and-hold ovens, placed into hot holding cabinets and taken upstairs for service. Cold items, such as salads and desserts, are served on plates. For some banquets, cold food is taken upstairs, stored in refrigerators and later heated in a combi oven. This gives staff flexibility to prepare menu items such as tacos and carve roasted turkey and pork in front of guests. Staff transport food up a dedicated elevator to the second floor.
In other situations, in the banquet prep area on the main floor, staff prepare hot food and place it in hotel pans and transport it upstairs in a heated banquet cart. They set up staging outside the banquet rooms and plate before delivering to guests. Or if an event calls for buffet service, staff take the hotel pans into the banquet room or just outside, and customers serve themselves. "Again, we built in redundancy of equipment so the staff can transport hot and cold food to the banquet areas depending on their customers' requests," Galvin says.
Dishwashing, Sustainability and the Future
The main dishwashing area sits on the main level. "This area is positioned so staff can drop off dishes easily from any area on the main level or the second level," Galvin says. A flight-type dishwasher handles the large volume of dirty dishes from the restaurant and catering operations. "We created two pocket areas, like closets, where staff can park Queen Mary carts holding dirty dishes. The dishes are out of the way of any other traffic or operations to avoid cross-contamination.
At the end of a long soiled dishtable sits a trough and a collector that is near the prerinse faucets. "This is a looped system that takes water and pulverizes the leftover foods," Galvin says. "It breaks the food down so much that the dirty water is dumped into the drain system, all of which cuts down on the amount of wet trash." All the clean dishes are stored on shelves out of the way of all dirty dishes.
The main water filtration system also contributes to sustainable practices. The whole house system produces 760 gallons of water an hour and backflushes every night. This supplies all the water for the entire kitchen. "We also put the lines in for the mashed potato and dough mixers, so there is no contaminated water being used for food production," Galvin says.
The facility uses Energy Star–rated equipment when applicable. Walk-ins and main areas use LED lighting, and the hood systems feature energy management systems that can ramp up and down as necessary.
As Mango's Tropical Cafe Orlando carves its niche in this rapidly expanding marketplace, David and Joshua Wallack continue to build their dream venues. Their ambitious plans for the future include a rooftop restaurant atop an 800-car garage, commercial stores and a sports restaurant and bar. The father-son team thinks big yet remembers that their success is in the details of providing impeccable customer service day in and day out.
Equipment Key
1. Cook & hold cabinet
1a. Hot cabinet
2. Exhaust hood
3. Floor trough
3a. Trough drain
4. Countertop charbroiler
5. S/s ledge
6. Griddle stand refrigerator
6a. Sandwich prep refrigerator
6b. Reach-in freezer
6c. Pizza make-up refrigerator
6d. Shock freezer
6e. Sandwich prep refrigerator
6f. Drop-in ice cream freezer
6g. Dipperwell
6h. Reach-in refrigerator
6i. Freezer evaporator coil
7. Salamander broiler
7a. Over/under broiler
8. Six-burner range w/ convection oven
8a. Four-burner range
9. Pasta cooker
10. Countertop griddle
11. Fryer battery w/ dump station and filter
11a. Fryer battery w/ dump station
12. S/s wall cladding
13. Pizza oven, double-deck
13a. Combi oven
13b. Microwave oven
14. Pizza cart
15. 30-qt. mixer
15a. Pizza dough mixer
16. Air door
17. S/s corner guard
18. Printer
19. Hand sink
19a. Hand sink kit
19b. Four-compartment sink
20. Trash container
21. Drop-in hot wells
22. Heat lamp
22a. Pizza pick-up table w/ tray lock edge
23. Fill faucet
24. Warming drawer
25. Chef's table w/ tray lock
25a. Pizza pick-up table w/ tray-lock edge
25b. Worktable
25c. Dough table
25d. Banquet table
25e. Cold table w/ tray locks
25f. Produce prep table
25g. Prep table w/ sink
25h. Prep table w/ double overshelf
26. Dough press
27. Ingredient bin
28. Gas drop
29. Tilting skillet
30. Hot fudge unit
31. Light kit
32. Slicer
33. Salad spinner
34. Double overshelf
35. Overhead electrical cord reel
36. Can opener
37. Food processor
38. Sandwich press
39. Vacuum sealer on cart
40. Electrical panel
41. Water filter
42. Ice maker
43. Ice bin
FACTS of Note
Opened: Dec. 18, 2015
Scope of Project: Renovation from ground up; space includes multiple atmospheres, including 9 bars, a restaurant with seating and views to the stage, an outdoor patio, lounges, a main kitchen with a catering kitchen within, and a support kitchen for catered events on the second floor.
Size: Total, 55,000 sq. ft., which includes 14,136 sq. ft. for kitchen/bars, warming kitchen on second floor (1,196 sq. ft.); 8 beverage areas (1,728 sq. ft.); 9 bars (3,569 sq. ft.); kitchen (6,145 sq. ft.); prep/ banquet kitchen (928 sq. ft.); banquet prep (570 sq. ft.)
Seats: A capacity of 2,000 with a projected additional
900-person capacity on the rooftop restaurant to open in 2017
Transactions/Covers: N/A
Average Check: $40
Total Annual Sales: $15 million, projected
Hours: Happy hour, 3 p.m.; dinner and show, 7:30 p.m.
until 2 a.m.
Menu Specialties: Latin and international continental comfort food that includes tacos, steaks, Cuban entrees, pizzas and flatbreads
Staff: 281 employees
Total Project Cost: $32 million
Equipment Investment: $2 million
Website: www.mangos.com/orlando
Key Players
CEO, Mango's Tropical Cafe South Beach and Orlando: David Wallack
COO, Mango's Tropical Cafe South Beach and Orlando: Joshua Wallack
Senior Manager: Mauricio Cardoso
Executive Chef: Armando Abreu
Architect: L2 Studios Inc., Orlando; Jeffrey Lurie, AIA, LEED AP, project architect
Interior Design: David Wallack and L2 Studios Inc.
Foodservice Consultant and Designer: Galvin Design Group Inc., Winter Garden, Fla.; Tom Galvin, FCSI, president
Equipment Dealer: Johnson-Lancaster, Clearwater, Fla.
Construction: U.S. Construction Corp., Miami
Meet The Players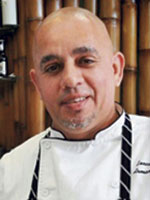 Armando Abreu, executive chef, Mango's Tropical Cafe Orlando. Abreu worked his way up the hospitality ladder beginning at the age of 17 as a porter at the Giants Stadium in New Jersey and winding his way through to restaurant supervisor in Miami. He started cooking in the late 1980s, gaining experience at Planet Hollywood and serving as Gloria Estefan's executive chef before landing at Mango's Tropical Cafe in South Beach.
Thomas W. Galvin, FCSI, president, Galvin Design Group Inc. Galvin has been a food facilities and architectural design consultant for 35 years. He has worked on projects in 32 countries for every segment of the hospitality industry, including restaurants, amusement parks, businesses, schools and resorts. He has also taught foodservice design at colleges, including Rosen College of Hospitality Management in Orlando and Boston University.
Jeffrey Lurie, AIA, LEED AP, project architect at L2 Studios during the Mango's project. Lurie has worked on hotel, timeshare, retail, restaurant, office, student housing and entertainment projects in Orlando for 20 years. He has served on his local AIA board and is currently at HHCP (Helman Hurley Charvat Peacock) Architects in Orlando.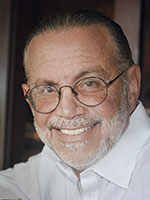 David Wallack, CEO, Mango's Tropical Cafe South Beach and Orlando. In the late 1970s, David opened Eastern Sun, a personal care residence for elderly people in South Beach, Fla. In 1990 he converted his Eastern Sun Adult Congregate Living Facility into a commercial mixed-use development with a hotel, retail shops, restaurants and a nightclub, named Mango's Tropical Cafe Florida. A musician, art collector, attorney and philanthropist, he opened Mango's in Orlando in 2015.
Joshua Wallack, COO, Mango's Tropical Cafe South Beach and Orlando. In addition to his COO role, Joshua is the managing principal of Skyplex, an indoor entertainment complex coming to Orlando's I-Drive in 2017. His previous positions include leading several media companies to successful launches and national rollouts. He is an active community member and philanthropist.
Photography by Emily Galvin