A phased renovation providing a seamless transition between new and old buildings expands foodservice with new storage spaces and improvements to the kitchen, room service and retail operations.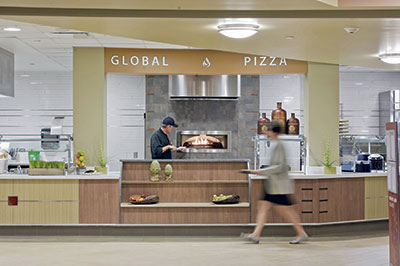 The flames from the pizza station oven create an element of surprise for first-time guests. Photo courtesy of Rippe Associates; photograph by Bob Grosse, Chicago Commercial PhotographyPalos Community Hospital's roots date back to 1903 when St. Bernard Hospital was founded in Chicago by the Religious Hospitallers of St. Joseph. In 1920 the religious order purchased 175 acres of land in the Palos area, nearly 20 miles southwest of downtown Chicago. A portion of this land became Palos Community Hospital in 1972.
Following a master plan completed in 2006, Palos Community Hospital underwent an extensive campus reorganization for patients, visitors and staff. Departments were expanded and reconfigured. The new Hospitaller Pavilion with 192 private beds, including 36 critical care beds, an integrated procedures suite with 14 operating rooms, a laboratory and pharmacy was completed in March 2013 as phase one. This part of the project included a new main entrance that provides access to an expanded perioperative suite and outpatient services.
Phase two, comprised of two components, featured a renovation of portions of St. George Pavilion, the existing hospital, which serves outpatient functions and an expanded emergency department.
As part of the master design plan, the hospital renovated the existing St. George Pavilion, which included the conversion of 160 existing semiprivate patient rooms to all private rooms with necessary support spaces. The renovation of St. George Pavilion also included transforming an existing outdated cafeteria into an enlarged dining room with a retail café and a more contemporary equipment package.
A skylight brings natural light to the lower level, which houses foodservice.A new central atrium and stair designed by architects at Matthei & Colin Associates LLC (M&CA) organizes traffic flow between the new and existing facility and provides wayfinding cues, natural daylight and access to the dining room on the lower level. M&CA also provided the interior design.
The dining and kitchen renovations uncovered numerous challenges for which the design team, including leaders from Palos Community Hospital, M&CA and Rippe Associates, had to find creative solutions. "Once the conceptual planning phase started, the project team realized that expanding the project was the right thing to do to provide a high level of service for patients and staff," says Cheri Boublis, director of hospitality services, which includes nutrition and foodservices. After additional space became available the hospital administration approved the plan and the financial support necessary to complete the project.
As the project evolved so too did its goals. "The interesting part of this project was that it started as solely a retail café expansion that provided adequate flow, flexible station design, room service and expanded menu options," says Christine Guyott, FCSI, RD, principal, Rippe Associates, the project's foodservice design consultants. "A new building was added, and the existing cafeteria was on the lower level very close to the existing building. Questions arose about moving the retail to the main level and keeping the kitchen below to make it easier for customers in both buildings to find it."
The solution presented by the design team was to keep the foodservice contiguous on one floor but add a grand round staircase with a skylight that connects the dining area to the public space above.
"The final result is a beautiful retail space that perfectly integrates the aesthetics of the hospital and surrounding area," Boublis says. "The room service program delivers great results and is an efficient area to work in for team members."
Before the renovation the tray line took up a lot of space and used a conveyor belt that ran down the middle.Building the dining room and grand staircase first generated multiple unintended benefits. "The unplanned benefit of building the dining room first is that customers could see how lovely the new space was going to be," Guyott says. "It definitely helped manage customer expectations when they had to live with a smaller temporary space for their retail operation while the final space was under construction. I think they had more patience when they could see there was going to be a beautiful outcome, and a glimpse of the dining room design helped that. I now bring that idea to other projects. If possible, start with the dining room so the customers can have a taste of what is coming."
The project's phasing began with creating a new storage and cold food production area in spaces that were not part of the foodservice department. "This phase did not affect any of the flow into or out of the kitchen. This phase was able to operate as is, and the retail was also not affected," the architects from MC&A explained in a release about the project.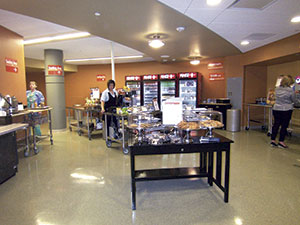 The existing storage became a temporary tray assembly area and pot-and-pan room in preparation for the next phase, which included renovating the tray assembly area into a room service station.
The dining room and a temporary retail operation were located in part of the dining room, which was held back as the temporary retail while the main retail café was under construction. "The department did such a nice job merchandising and planning the temporary retail that customers thought it was the final café," Guyott says. Once the retail café opened, first the dishroom and then the main production area were renovated.
"We received amazing support through each phase by the hospital," Boublis says. "Our transition with major changes like moving the café, dishmachine and tray line were flawless, and we never missed a meal. The attention to detail during the phasing was right on target in several ways. We worked up until the completion of the dinner meal and worked through the night to reopen the following morning with a critical part of our operation literally moved to a new location. We remember the move into the temporary café and the excitement that our customers had because they thought that was the finished project."
In the temporary retail space, the mobile stainless steel and butcher block tables were repurposed in the kitchen and catering areas. Photographs courtesy of Palos Community Hospital"Phasing was very complicated, and the Pepper Construction team did an amazing job working through traffic patterns and access," Guyott adds. "In the middle of this future corridor there was an existing fire protection system closet, which housed a dry chemical system. We couldn't add the hallway until the very end when the new hoods were up and a new fire suppression system was added."
Project Challenges
When planning the retail component, the design team discovered the rest of the wayfinding/traffic patterns through the existing space dead-ended in the foodservice area. "This would disrupt a natural service corridor. As the team explored solutions for this challenge, they learned the pharmacy department was moving out of a space adjacent to the production kitchen. As a result, the designers were able to move the storage area and cold food preparation closer to the main production areas. "This took a long, narrow department with an inefficient space to a more compact rectangular shape that allowed more staff efficiency by bringing dry storage and refrigeration closer to production areas," Guyott says.
While reviewing the retail design, the project team discovered that customers could only enter and exit the cafeteria from one end of the space. "The rest of the hallways around it were more service versus public," Guyott says.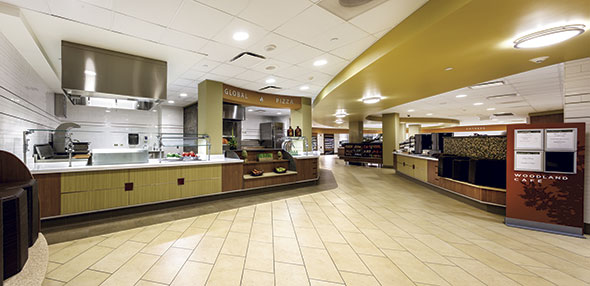 As guests enter Woodland Café they see the global station with cook-to-order chef's specials and the pizza station. To make the serving area more accessible to customers and to alleviate a tight connection to the dining room, the design team created a promenade that visually and physically leads the customers to the entrance of the retail space. At the end of the promenade customers see the pizza oven and a menu board that directs them in the correct way. "There is a partial-height tray stand that separates the entrance from the cashiers on the opposite side. An area for impulse snack merchandising and a cashier area was added to keep the flow directional and lead the customer further inside the space," Guyott adds.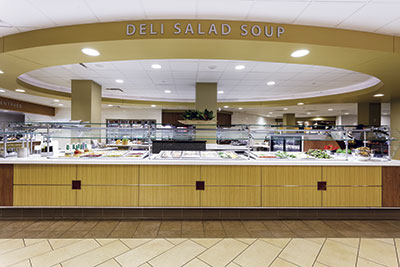 This station features healthful deli, salad and soup choices. The back includes refrigerators that hold ingredients to back up the selections. From a design standpoint, Guyott says, the usual process is to go through programming, determine how much space is necessary and then complete a master plan design of the whole department before beginning the first phase. "In this situation we didn't know we were going to renovate the full space, so it was designed in succession, not at one time. Pieces were added on to the project as we went along due to some of the other backfill projects occurring around the space and the desire for the service hallway continuity. Room service was decided on after the project was started, so this was added, and then the dishroom needed some enhancements. And finally the only thing left was the hot food production, which had antiquated hoods and a very old dry chemical system. All the parts needed an upgrade."
During construction, the design team went back to look at how much space was given, and team members compared this to best practices of similar-size facilities. "We were right in line," Guyott says. "We also asked if we were to have started with the master plan and the same space, would we have put it back together the same way. Fortunately the answer was yes!"
Engaging staff fully in the entire design process was a key component to the project's success. "We went from a traditional tray assembly model that had nurses delivering meals to patients to a room service model," Boublis says. The team actively reviewed plans, visited comparable sites and worked through each phase. "Ultimately, we opened with the staff knowing the objective for the department and hospital. They helped to make this project a success and to sustain it operationally for the future."
Back-of-House Production
The new production line contains (from right) a tilting fry pan, steam-jacketed kettles, a range and ovens. A low wall behind the cooking equipment allows visibility throughout the space. The flow of the nutrition and foodservice department to produce and deliver meals to patients and staff in the café depended on access to both the St. George Pavilion and the Hospitaller Pavilion. "We are as close as possible to critical travel routes, which is very efficient," says Loretta Wojtan, RDN, LDN, retail and production manager. "We also have internal flow from delivery to production and service that allows us to manage product wisely, produce as needed and provide a great quality product. Adequate refrigeration and freezer space, the expanded hot and cold production area and efficiency of the room service line result in an efficient operation."
Food and supplies arrive at a loading dock on the south side of the hospital. Delivery drivers bring food and supplies to the receiving room at the entrance of the department. The receiving area sits in close proximity to dry storage and six walk-in coolers and three walk-in freezers.
The department had a good flow from receiving to storage to production and finally out to retail and tray assembly. But there was a long distance from one end of the department to the other. "The kitchen is now a little further from the loading dock, but it is much more efficient for the foodservice staff who are in and out of storage and refrigeration to be closer to their work areas than for the convenience of delivery drivers who use the dock during very limited times," Guyott says.
Equipment on casters allows for easier and more efficient cleaning."One design fallacy is the kitchen has to be by the dock," Guyott adds. "We always say it needs to have good access to the dock, but it doesn't necessarily need to be at the dock. More important flow and adjacencies are needed, such as being closer to vertical transportation to get trays to patient floors quickly and having a dining room that has natural light and is easy to find."
In the cold production area, team members use slicers, food processors and floor and countertop mixers to produce all the cold items for the salad bar, grab-and-go, room service and catering.
In hot production, the old kitchen contained a large island hood with cooking on both sides. It also had another perpendicular cooking line with kettles. "The new plan cleaned up the space by giving it a thoughtful, linear flow," Guyott says. "The previous layout had a main traffic aisle going behind the cooks on one side of the space. There are now differences between traffic aisles and work aisles."
Approximately 80 percent of the equipment in the department's renovation is new. The production area includes a braising pan for stroganoff, beef stew and slow-cooked menu items. The 40-gallon, 20-gallon and 5-gallon steam-jacketed kettles cook pasta, soups, gravies and sauces.
A six-burner range allows staff to cook small batches of sauces and gravies. Six convection ovens handle all the baking of chicken, fish, potatoes, seafood, pies and cookies. A microwave accommodates last-minute heating of soups and short orders.
A food processor and countertop mixer assist the team's food production. At the far right sits a large floor mixer. The red faucet gives hot water (180 degrees F) on demand.Room service serves patients on six care floors in the new Hospitaller Pavilion and three floors in the original St. George Pavilion. Patients place orders from a restaurant-style menu by phoning in their menu choices to a call center staffed by hospitality agents.
Orders are transmitted to the room service area where staff prepare food and assemble menu items.
The room service area features a parallel design with hot food à la minute cooking on one side of the cook's worktable and cold food assembly on the other. The cook's worktable/assembly contains hot food wells to keep the food hot, as well as a refrigerated prep table for staff to make salads and sandwiches to order. The hot food line includes a steamer and rapid-cook oven, the latter of which compensates for some of the distance to the main production line. "This allows the team to batch steam vegetables and products to back up the line without putting them in warmers, which if held for any period of time decreases the quality of the food," Guyott says.
The room service area also contains air-curtain coolers and roll-in coolers holding preplated cold food items such as fruit, cottage cheese and yogurt, as well as a fryer. Staff assemble cold items onto trays and hot entrées onto heated plates that are covered by a dome. After assembly, staff place trays into one of 21 delivery carts. Within 15 minutes of the tray's placement on the cart, a staff member, called a host delivers, the cart to designated floors. Carts may leave the kitchen with 1 or a maximum of 12 trays. The nutrition and foodservice department guarantee tray delivery in less than one hour.
In order to provide room service, staff members were reallocated and took on new responsibilities. "We were overstaffed with our old system," Boublis says. "We were dropping off carts, and nurses were passing trays with more staff than we have with room service. We have to be financially responsible and efficient."
Patient satisfaction has improved since room service was implemented. "We actively complete rounding and get input from patients and nursing," Wojtan says. "Our clinical staff also monitors quality of patient trays, and we conduct tray checks. We combined responsibilities for foodservice, housekeeping and linen service so staff members are all interacting with patients and nurses."
For cleanup, Boublis says the redesign of the dishroom and pot-and-pan area is far more efficient with the conveyor system and cart wash area all in close proximity. A pot-and-pan agitator was added to help prewash the pots and pans and an expanded recycling program now accommodates glass and plastics as well as corrugated cardboard.
Retail Service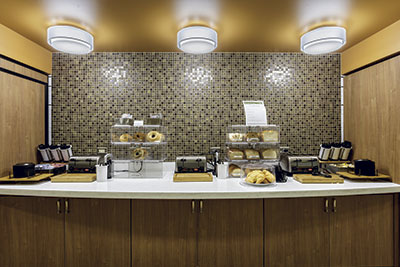 The bakery counter contains countertop display cases for bagels and dessert, as well as floor-to-ceiling display cases on either side.Woodland Café features a variety of stations designed for flexibility and menu item diversity. "Many staff eat 10 meals per week here, they need to be able to see different items each day and each daypart," Guyott says. Stations contain prep tables and refrigerators to support staff members throughout the day's service.
"Each station is merchandised with a fresh, contemporary look," Boublis says. "Our goal was to keep the food as the focal point."
Customers entering the Woodland Café first see a stepped display piece fabricated with the counter and the flame from the pizza station's gas-fired stone-hearth oven. "The pizza oven is centered between the many closely spaced columns in the existing space, so it appears to be framed out," Guyott says. "These columns allow alignment with the promenade of columns in the dining room entrance." In addition to baking pizza, which customers can purchase whole or by the slice, the team also uses the oven to bake calzones, briskets, flatbreads and pita bread.
At the chef's station, a four-burner range and panini grill allow team members to cook on-display stir-fries, omelets and pasta dishes. "We feature guest chefs twice a month," Wojtan says. In addition, variable hot and cold wells may hold pasta entrées and sauces on one day and a cold Mediterranean wrap the next day.
Woodland Café features grab-and-go beverages in a walk-in back-fill refrigerator and a self-serve specials bar.Due to the shape of the servery, there is a fair distance to the back of the space, which holds the traditional entrée station as well as the grill. The entrée station contains five steam wells that hold menu items such as meatloaf and beef stroganoff. Adjacent cold wells hold items such as condiments, garnishes and specialty desserts.
The grill has its own cooking station with a fryer for making appetizers, chicken and fish. On the flattop grill the team prepares burgers, chicken sandwiches, scrambled eggs with sausage patties, beef fajita tortas and veggie burgers. They also use the area for a made-to-order breakfast station.
The servery space's centerpiece is a large salad bar that staff can access and resupply from the interior. Customers frequenting this station find an array of fresh ingredients to build their own salads and sandwiches. They also find soups displayed in wells.
"Beverages and grab-and-go are located in two spots to keep the queue of customers separated and to allow for customers to make a quick grab-and-go choice and exit the space without going too far into it," Guyott says. The grab-and-go and beverage areas feature display coolers that can be filled from the back. The grab-and-go display units contain sandwiches, salads, yogurt, parfaits and specialty beverages. Bakery display cabinets show off breakfast pastry, cookies, brownies and apple pie.
Medical Staff Lounge
Situated in the new pavilion, a medical staff lounge features cherry wood furniture, large sofas, reclining chairs and stations for computers. This area serves as a private space for physicians to relax and dine. Open daily, the area offers breakfast items such as oatmeal, yogurt, pastry, juice and coffee from 6:30 a.m. until 9 a.m. At lunch, offered from 10:30 a.m. until 3 p.m., doctors can enjoy hot entrées presented on a buffet that uses induction heat. Snacks and beverages are available 24 hours. A full-size refrigerator holds beverages as well as yogurt and cheese.
Undoubtedly, since the renovation, team members, patients and customers view food and nutrition services in a new light. Culinary emphasis is bringing a very favorable response much to the delight of the design team.
Facts of Note
Beds: Licensed for 425; operates 350
Opened: Main hospital project phase one, 2013; main hospital project phase two, 2015; kitchen and temporary retail and tray assembly, six phases and final foodservice department completed and opened in July 2015
Scope of Project: A multiphase project included restructuring of the entry sequence and experience at the new 8,178-sq.-ft. Hospitaller Pavilion lobby and 5,012-sq.-ft. St. George Pavilion lobby. The foodservice department renovation and expansion includes Woodland Café off the main corridor of the St. George Pavilion with an expo kitchen and stations including a chef 's station, pizza, grill, salad and deli bar, entrée station, grab-and-go, beverages and bakery, plus a dining room, two conference rooms and private physician dining. The project also includes a back-of-house kitchen with patient room service, hot and cold production areas, dishwashing, warewashing, cart washing and storeroom.
Size: Main hospital project, phase one, 427,500 sq. ft. new; main hospital project phase two, 206,000 sq. ft. renovation. Foodservice project: kitchen, 10,520 sq. ft.; retail, 4,380 sq. ft.; dining, 6,700 sq. ft.
Scope of Services: Full-service Woodland Café servery and seating, production kitchen, patient room service in kitchen, medical staff dining, catering, and home-delivered meals for elderly homebound in the community
Woodland Café Seats: 275
Average Check: $4.25
Total Annual Sales: $1.3 million
Hours: 6:30 a.m. until 7 p.m. daily
Menu Specialties: Carved London broil, homemade meatloaf, cranberry chicken, pizzas, customized made-to-order macaroni and cheese.
Room Service: Available 6:30 a.m. until 6:30 p.m.
Staff: 63 FTEs
Total Foodservice Project Cost: $7 million
Equipment Investment: $1.8 million
Website: www.paloscommunityhospital.org
Key Players
Owner: Palos Community Hospital
Vice President, Support Services: Randy Oles
Assistant Vice President, Support Services: John Scarano
Previous Director of Nutrition and Foodservices: Katie Freese, currently director of patient access
Director of Hospitality Services, Nutrition and Foodservices: Cheri Boublis
Retail and Production Manager: Loretta Wojtan, RDN, LDN
Nutrition Manager: Gary Linhart MBA, RDN, LDN
Architect and Interior Design: Matthei & Colin Associates LLC (M&CA), Chicago; Ron Kobold, AIA, principal in charge; Randall Bacidore, AIA, design principal; William Rudd, project manager; Jonathan Dickson, project architect; Kathryn Chaplean, interior design
Foodservice Design Consultants: Rippe Associates, Minnetonka, Minn.; Christine Guyott, FCSI, RD, principal; Mark Nilson, senior project manager; Joy Enge, RD, senior equipment specialist
Equipment Dealer: Stafford-Smith, Kalamazoo, Mich.
Construction: Pepper Construction Group, Chicago office
Meet the Players
Cheri Boublis, director of Hospitality Services at Palos Community Hospital. Previously serving as assistant director of nutrition and foodservices, Boublis has an extensive background in the retail and healthcare foodservice industries, including management positions with Rush Medical Center in Chicago, ServiceMaster Global Holdings Inc. and Aramark Corporation. In addition, Boublis provided consulting services to hospitals in design development and retail brand strategy through her firm, B.ourguest Inc.
Joy Enge, RD, Rippe Associates. With work experience in hospital and long-term care foodservice operations, Enge is responsible for cost estimates, equipment selection and research, specification writing and developing foodservice systems and plans.
Christine Guyott, RD, FCSI, Rippe Associates. A more than 30-year veteran of the foodservice industry, prior to joining Rippe Associates, Guyott was a healthcare specialist working primarily with long-term care facilities and hospitals. With her background in healthcare, she has an ability to conceptualize and give attention to detail to provide schematic and functionally oriented designs to match project goals at academic medical centers, critical access hospitals and other hospital facilities.

Gary Linhart, RDN, LDN, nutrition manager at Palos Community Hospital. With more than 30 years of experience in the nutrition and foodservice industry, Linhart aims to increase awareness of the positive role of nutrition in health promotion and chronic disease prevention. He is a member of the Clinical Nutrition Managers dietetic practice group, a ManageFirst program instructor with the National Restaurant Association and he is also FEMA-certified in emergency management.
Mark Nilson, Rippe Associates. Nilson has worked in foodservice facilities planning since 2009. His experience includes work in various industries including casinos, hotels and corporate projects. He is responsible for CAD drawing including plans, elevations, mechanical/electrical plans and schedules, and special condition plans.
Loretta Wojtan, RD, LDN, manager of Hospitality Services over retail and food production at Palos Community Hospital. A graduate of Northern Illinois University, Wojtan previously worked at St. Francis Hospital and Medical Center in Blue Island, Ill., (now MetroSouth Medical Center) and served as president of the South Suburban Academy of Nutrition and Dietetics. Passionate about culinary arts, Wojtan is known for her creative meals that are both delicious and healthy.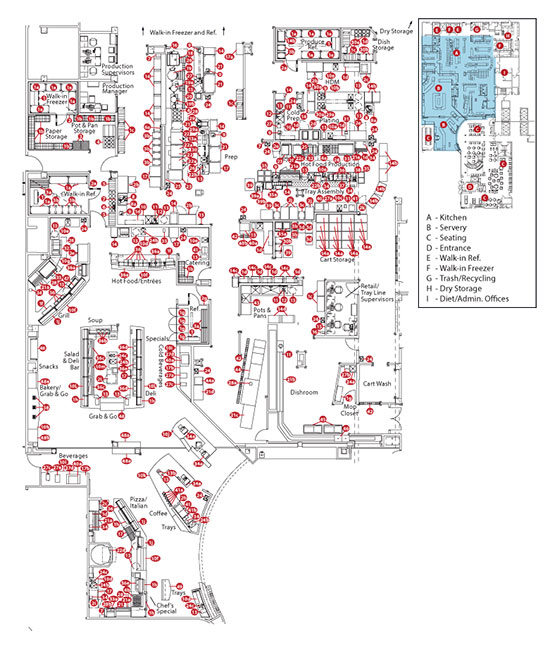 Equipment Key
1. Racked refrigeration system
1a. Refrigeration/freezer shelving
1b. Dry storage shelving
1c. Pan storage shelving
1d. Wall shelf
1e. Detergent shelf
1f. Heated shelf
1g. Bottled beverage shelving
1h. Protector shelf system
2. Walk-in freezer
2a. Walk-in refrigerator
2b. Reach-in refrigerator, two-sec.
2c. Roll-in refrigerator, one-sec.
2d. Roll-in refrigerator, two-sec.
2e. Reach-in refrigerator/freezer, two-sec.
2f. Undercounter freezer
2g. Walk-in refrigerator w/display doors
2h. Undercounter refrigerator, two-sec.
2i. Undercounter refrigerator, one-sec.
2j. Mobile air-screen refrigerator
2k. Reach-in freezer, one-sec.
3. Bread rack
3a. Dunnage rack
3b. Mobile rack
3c. Mobile dessert rack
3d. Dome rack
4. Range w/oven
4a. Range
4b. Sauté range
5. Soda system
6. Water filtration system
6a. Water filter
7. Fire protection system
8. Slicer
8a. Mobile equipment stand
9. Food processor
10. Cold food prep counter w/sinks
10a. Nourishment counter w/sink
10b. Island work counters w/sinks
10c. Beverage counter w/sink
10d. Work counter
10e. Work counter w/sink
10f. Serving counter
10g. Counter
10h. Toast counter
10i. Beverage counter
10j. Island cashier counter
10k. Cashier/coffee counter
10l. Island serving counter
10m. Island work counter
11. Disposer
12. Spray rinse
13. Trash bin
13a. Mobile ingredient bin
13b. Trash chute
14. Utility cart
14a. Patient tray delivery cart
14b. HDM cart
14c. Nourishment cart
14d. Pan cart
15. Eye/face wash station
16. Hose reel
17. Mobile warming cabinet
17a. Chemical storage cabinet
17b. Fascia panel w/wall cabinet
18. 30-gal. tilting fry pan
19. 60-gal. kettle
19a. 20-gal. kettle
19b. 5- and 10-gal. kettles w/stands
20. Floor grate and frame
21. Worktable
21a. Refrigerated prep table
21b. Soiled dishtable
21c. Clean dishtable
21d. Dishtable
22. Combi oven, two-sec.
22a. Convection oven, two-sec.
22b. Microwave oven
22c. Accelerated oven
22d. Stone-hearth pizza oven w/hood
23. Broilerless steamer, two-sec.
24. Hand sink
24a. Mop sink
24b. Undermount sink
24c. Undermount hand sink
25. S/s wall panel
26. Work counter w/sink and overshelf
27. Hot water dispenser
27a. Juice dispenser
27b. Detergent dispensing system
27c. Tea dispenser
27d. Ice dispenser w/soda heads
28. Exhaust hood
28a. Exhaust duct riser
28b. Countertop hood
29. 60-qt. mixer
29a. 5-qt. mixer
30. Sheet pan dolly
30a. Mobile dish dolly
30b. Mobile rack dolly
31. Blender
32. Fryer (two-sec.) w/filter and dump station
33. Grill w/refrigerated base
33a. Panini grill
34. Printer
34a. Cash register
35. Heated plate dispenser
35a. Tray dispenser
36. Hot food well
36a. Two-well drop-in cold pan
36b. Soup wells
36c. Four-well drop-in cold pan
36d. Three-well hot/cold pan
36e. Two-well hot/cold pan
37. Heat lamp
38. Four-slot toaster
39. Base rack
39a. Base heater
39b. Base heater stand
40. Ice maker/dispenser
40a. Ice maker
40b. Ice bin
41. Coffee brewer
41a. Coffee server
41b. Coffee grinder
42. Trench drain
43. Pot-and-pan sink w/agitator
44. Flight-type dishmachine
44a. Undercounter dishmachine
45. Tilt truck
46. Tray-return conveyor
47. Display warmer
48. Refrigerated display case
48a. Snack display
48b. Breakfast display case
49. Tray stand