A complete overhaul of the main-floor kitchen and creation of a second-floor bar and lounge have launched this renowned New Orleans restaurant into a future that promises tremendous growth.
Positioned at the entrance of the French Quarter on Canal Street, Palace Café restaurant has been a New Orleans icon since its opening in 1991. Because it hadn't been updated since its opening, owners Dickie Brennan, Lauren Brennan Brower and Steve Pettus decided in 2015 the time had come tocontemporize the award-winning establishment that serves authentic Creole cuisine.
"Each of our restaurants has its own identity and personality," Dickie Brennan says. "Palace Café is reminiscent of the grand cafés of Paris. With the renovation, we wanted to provide our culinary team with a state-of-the-art kitchen that would allow them to be more effective and efficient and, by doing so, provide our guests with a superior dining experience."
"We were seeing a bright future ahead for the city and restaurant operations since Hurricane Katrina," adds Levi Janssen, operations manager for Dickie Brennan & Co. "But Palace Café was in desperate need of a facelift."
In October 2015, Palace Café's guests got their first look at the restaurant's multimillion- dollar transformation. On the first floor, the kitchen remodel includes a new layout and new equipment, which guests can see through a glass wall separating this space from the dining room. The dining room sports a new color palette that brightens the space. The previously underutilized second floor houses the Black Duck Bar and a show kitchen where chefs prepare shared plates and charcuterie boards. The third floor, which received new refrigeration, houses private dining surrounded by wine inventory, a charcuterie aging room and a pastry kitchen. The fourth floor contains the restaurant group's main offices.
Planning for the transformation began in the spring of 2015. The owners, along with Janssen and executive chef Robert Gurvich, collaborated with architect Mark Ripple and interior designer Emily Heausler, both of Eskew+Dumez+Ripple, and Otto Abad, a partner with Associated Food Equipment & Supplies, to design the new main kitchen and second-floor bar and lounge. After finalizing plans and securing permits, the owners closed Palace Café in mid-August and, 55 days later, reopened it in October.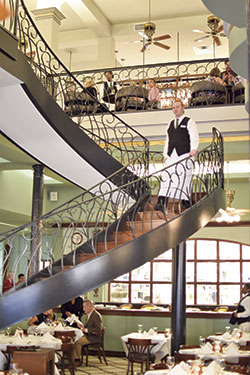 Palace Café's main and second levels connect with a grand staircase. Photography by David Gallent"We wanted to do the renovation in the summer when business is slower and we could focus on getting the job done right," Janssen says. "We wanted to give the chefs and the entire team the ability to use their talents to do great menus and produce at a very fast pace since we often serve 1,000 guests in a day. We didn't have the equipment, and we wanted them to work in a kitchen space they could be proud of." The construction timing was intended to get Palace Café employees back to work as quickly as possible.
"We had asked for their feedback throughout the planning process, and they were looking forward to coming back to the new operation," Janssen adds. "During the renovation most of the Palace Café employees worked at other Dickie Brennan & Co. restaurants, and some took vacations. We're very proud to say we had a 90 percent employee retention rate."
Due to the age of the building and the kitchen as well as the challenges of navigating around the French Quarter, the project encountered unforeseen construction needs. "There are always challenges in designing a restaurant, especially when the last renovation was 25 years ago and the building is over 100 years old," Heausler says. "On the construction side, we faced many surprises once construction began uncovering a lot of the building's history."
For example, once the carpet at the second floor bar was removed, the design team discovered that the floor was in poor condition and completely uneven; the original floor joists had slanted a few inches over the years. "We had to come up with a solution fairly quickly to prep the existing floors for the new wood floor," Heausler says. "There was also a cast iron column that was uncovered in the back of house space that we hadn't planned for. The column was from the original building construction. It ended up involving the efforts of the Brennans, the structural engineer, the design team and the contractor to come up with best solution while maintaining the building's structural integrity."
At the front side of a cooking suite, a team member prepares menu items on the charbroiler and double infrared broiler. The mobile banquet plating table sits behind him.Additional surprises appeared as well. "For example, on the date we were installing the grease trap with a fork lift, we were notified that President Obama would be visiting the city the next day and we had an hour to have all equipment removed so the street would not be blocked," Janssen says. "Through coordination and efficiency, we were able to install the grease traps and remove the equipment in a timely manner. We also had some mismeasurement issues, but the equipment team was able to find solutions to keep us on track and on schedule."
"If the logistics of demolishing an existing kitchen and completing a renovation in 55 days with all the technical challenges weren't enough, film director Rob Reiner came in during renovation and shot a scene for a documentary about LBJ while we were still trying to put in the kitchen on the first floor," Abad says.
The Main Kitchen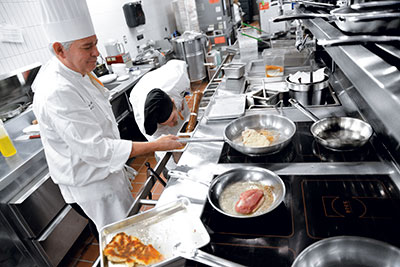 A chef and team member use the induction range to sear a duck breast and andouille-crusted gulf fish. A 25-gallon kettle stands at the back. Behind the chef sits a worktop refit with a refrigerated raised rail and hot gas defrost.The kitchen equipment was showing signs of age, Abad says. "The restaurant's maintenance team was staying very active. The owners wanted an energy- and labor-efficient kitchen design that would live in the same footprint as the existing kitchen." After extensive research, the design team decided to incorporate induction and other technologies, which required upgrading the electrical supply to the entire building.
Food and other supplies arrive through the back door on Chartres Street. Receivers place produce into a walk-in cooler that sits adjacent to the receiving area. "We receive produce every day, so this is a good position for this cooler," says Jacob Shapiro, sous chef. Team members transport dairy items and proteins to a larger walk-in at the opposite end of the kitchen. They also station mise en place in here as well.
The walk-in coolers and freezer feature electronic expansion values and on-demand defrost technology that initiates defrost cycles only when defrost is necessary, thus making these units more energy efficient than their predecessors. "We had to use a specialized cooling system with automatic defrost capabilities because our menu requires us to be in and out of our walk-ins more often than at most restaurants," says Janssen.
"We also side-mounted air shields at each walk-in cooler door to prevent cold air from escaping and hot air getting in," Abad adds.
The front line's cabinet-height hot wells hold soups, which the expeditor serves. The screen is part of the ordering system.Installing the rack refrigeration system in order to provide remote access for the restaurant's two walk-in coolers on the main floor and one on the second floor as well as other refrigeration at the cooking suites and chef's counter presented a daunting challenge. The restaurant's entrance was inaccessible for several hours so a construction crew could lift the 3,500-pound refrigerated racks measuring 10 feet long, 5 feet wide and 4 feet high over a 4-story building and set them down on the first-floor mezzanine. "This was the only way to get the job done without tearing down 30-foot walls," Abad says. "We had to communicate during this process via walkie-talkies."
High-volume cooking equipment sits along the kitchen's back wall. This area contains a 25-gallon tilting kettle for preparing crab and shrimp stock for seafood gumbo and veal stock. Staff also use a 40-gallon tilt skillet for production and banquets.
To cool soups, staff use an ice-filled chill tank that sits near the produce cooler. Staff then place the soups into the bottom three shelves of the walk-in cooler.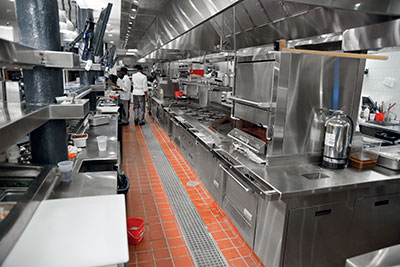 A double infrared broiler, charbroiler and range support one side of the cooking suites.In addition to storage, the back kitchen also contains a double-stacked combi oven, which replaced the convection ovens, for roasting veal shanks for stock used in the turtle soup, and smoking meat and vegetables. "This is our second workhorse in addition to the induction braising pans," Janssen says. "This takes the place of several large pieces of equipment and allows us to produce what we need in a smaller space." Janssen and the culinary team also appreciate the self-cleaning function and a disappearing sliding door that permits the culinary team to flow more easily in this
area of the kitchen.
"Because we are a high-volume restaurant, we needed a large prep area for large-scale production and butchering," says Thad Davis, also a sous chef at Palace Café. "The prep table we received not only accommodates such large-scale work, but is also equipped with three steam wells for banquet service." This prep table measures 42 inches deep and 8 feet long. "The overshelf welded on the prep table allows the culinary team to plate for banquets without disrupting the flow of the main cooking line," Abad says.
Two cooking suites support most of the hot food preparation. One suite is designated for breakfast production as well as support during busy evening meal periods. "We set up a separate breakfast station because making a transition between breakfast and lunch is challenging," Janssen says.
Side-by-side cooking suites support productivity and staff efficiency.This suite contains an induction braiser, a four-burner induction range and a four-burner gas-fired range. Cooks use the four-burner induction top for sautéing hash and vegetables and cooking eggs. They use the range for scrambling eggs and making omelets.
"The induction braisers are among the most versatile pieces of equipment we have in the kitchen," Davis says. "We use them to make soups, braise short ribs, sear duck and chicken breasts and even poach eggs, because they are so
accurate with their temperature settings."
The induction braiser is one of the coolest pieces of equipment I've ever worked with," Shapiro adds. "It has a 5-degree plus or minus sensitivity. We can poach one egg in 4 minutes and poach a case of eggs in 20 minutes."
On the other side of this suite is a raised refrigerated rail with an automatic hot gas defrost, a 25-gallon kettle, and two convection/microwave ovens, one under and one on top of the counter.
The other cooking suite contains induction tops for making pasta dishes such as Pasta St. Charles with shrimp, andouille sausage and an Alfredo sauce, and chicken dishes. Cooks use the induction griddle for boiling 15 gallons of pasta water in 5 to 8 minutes for cooking pasta as well as searing duck, chicken and pork chops. "At lunch, we use this as a hot well also," Shapiro says. "There is a temperature range between 130 degrees F and 480 degrees F, so you have a lot of leeway, and they make a beautiful sear for chicken, duck and pork chops. After searing, these go into the oven for finishing."
The suite also contains a range with four gas burners and deep fat fryers for oysters and macaroni and cheese croquettes. "The fryers on the main level and upstairs contain built-in filtration and automatic timer control systems to allow labor efficiency," Abad says.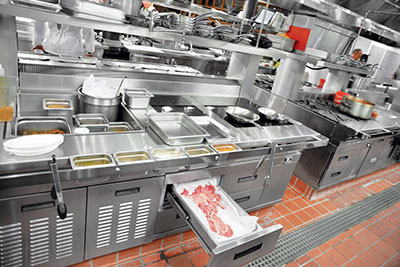 The back of one of the suites contains an induction braiser, a cold rail and undercounter drawers. Across the aisle, the other suite contains gas ranges, undercounter refrigeration and a hot well.At the grill station, the team members use a charbroiler with an oven beneath to finish grilled beef and fish dishes. "The cool thing about the grill is that it is gas-fired, but instead of having heat spreaders it has 50 or 60 stones inside made of a concrete composite, and the stones stay hot throughout the day," Shapiro says. "You can reconfigure the stones so you can have hot spots wherever you want them to be. By having different temperature zones we can cook proteins to temperature without over-cooking or drying the meat."
A 10-burner range with under-range refrigeration and a conventional oven constitute the sauté station. "This is one of the busiest sauté stations in the city," Shapiro says. "At dinner we'll produce up to 400 pieces of fish for dishes such as our andouille-crusted gulf fish and catfish pecan. We finish all of our dishes in the conventional oven. Our sauté station produces up to 50 percent of the entrées on a given night." Also on this custom line island, hot wells with built-in temperature-controlled water recirculators hold delicate sauces and rice.
On the front of the suites sit the salad station and hot apps station with fryers for french fries, fried chicken and fried green tomatoes. The microwave/convection oven warms crabmeat cheesecakes, which have been on the menu since the restaurant's opening. "We can now cook a crabmeat cheesecake in 45 seconds versus the 7 minutes a convection oven takes," Shapiro says.
On the pass above the 10 burners, which stretches along the back of the line, the culinary team passes plates down and stores fish that is ready to be plated. "At the chef's counter, Dickie had an idea for a heated pass-through plate warmer," Abad says. "The heated cabinets are one-half the height of the custom island. The top cabinets are hinged on the left, and bottom cabinets are hinged on the right. This allows cooks to pull hot plates without interrupting the other cooks, and warewashers can reload the warmer with clean plates without having to walk to the hot line."
The suites are seamless with welded field joints. "We welded every joint and backed the stainless steel with concrete to eliminate worry about anything falling into spaces," Abad says.
Covering the equipment, the hood system contains LED lighting and a secondary air-conditioned, perforated supply plenum. "This creates an air shield on the perimeter of the hood to prevent the conditioned air in the kitchen from being drawn into the exhaust hood," Abad says. "In addition, this assists in containing the hot air and particulates that are inside the exhaust hood to be removed by the exhaust fans."
On the expo line cabinet-height hot wells hold soups, which the expediter serves. Another set of wells sit underneath the counter to hold soups and sauces for the team's easy access. A dessert station contains a microwave/convection oven and refrigerators.
Also on the main floor is the original bar. "The only change to the bar system on the main floor was the addition of a draft beer system and filtered water unit," Abad says. "We split the beer lines, putting a tower on the bar upstairs and bringing one to the existing bar downstairs." A premium water system was also installed, allowing guests to order filtered still and sparkling water.
Another key component of the Palace Café's operation is a computerized kitchen display system that replaces verbal ordering. "Each station has its own screen where cooks can see orders," Janssen says. "They know immediately what needs to be prepared. Two more screens on the outside of the lines allow chefs and expeditors to see everything that is ordered so they can control the flow of the kitchen."
"This has streamlined expediting and changed the environment," Shapiro says. "Guests aren't distracted by the noise. In addition, our line cooks do not forget the calls because the orders are shown on the screen." Two monitors allow the chef and the expeditor to control the timing between appetizers and entrées.
The dishwashing area consists of a conveyor dishwasher and a three-compartment pot-washing station that agitates the water and allows warewashers to leave the pots to soak. "This area was a challenge," Abad says. "The existing dishroom was already tight, but because of the increased electrical load of the kitchen, we had to shrink the dishroom.
We put in a clean dishtable with two turns in it and overshelves. A silverware soak and dump sink sits in the soiled dishtable."
Second-Floor Bar and Lounge
Chefs Gus Martin and Rene Bajeux discuss the hand-cranked slicer and charcuterie with a team member.On the second floor, "the focus was to emulate the concept of a rum bar focusing on craft cocktails and small plates but remain cohesive to the restaurant's history," Heausler says. "Palace Café has always been known for its dining experience, and our goal was to add a new layer by making it a place that has an exceptional bar experience too."
The Black Duck Bar's name pays homage to the type of boats pirates used to run rum during prohibition. The bar features a white marbletop counter and brass details. An 18-foot-high mahogany millwork display cabinet shows off 140 bottles of rum and 40 bottles of tequila. An ice machine makes 3-inch-by-2-inch cubes, which are preferred for rum drinks because the large cubes melt slower than the smaller cubes. In addition to the glass-washing station, the bar features an eight-door pass-through back bar cooler, a three-door back bar cooler and a single-door wine dispensing unit that allows wine to be serviced from a tap. The restaurant group privately sources wine for its tap wine program.
In addition to wine storage, this floor also contains beer storage and a glycol condenser for a remote beer system.
Staff work side by side at the bar and prep on the second floor.This operation features a temperature- and humidity-controlled aging room and a salumi case displaying meats and cheeses. "I only keep a small amount here for display so guests can see the legs of lamb and whole salamis and watch us use a hand-cranked slicer for the meats," says Rene Bajeux, chef in residence. A full-size curing room sits on the third floor.
The operation also contains an open kitchen covered by a hood in black metal sheeting and trimmed in brass. "This is similar to what one sees in French kitchens," Janssen says. The kitchen contains a countertop induction griddle for toasting bread, induction tops to heat brie fondue, convection/microwave ovens to warm small plates, a high-efficiency electric food warmer and undercounter refrigerators. "We're still exploring the boundaries of what we can do up there," Bajeux says.
Sustainability, Energy-Saving Features and the Future
The building's power system was upgraded to allow for new equipment. Energy savings are realized with all the induction equipment, convection/microwave ovens, combi ovens, high-efficiency electric food warmer, side-mounted air shields, computerized controllers in the walk-in coolers and freezers and the on-demand hood system. Before the renovation, the HVAC system was updated, which allows Palace Café to realize about a two-thirds reduction in energy costs.
"Overall, our operation is now more efficient," Janssen says. "We've improved overall production and menu consistency. By being more efficient, we reduce labor costs. The entire team is happier when they can be more efficient. In this competitive environment, having a happy staff and low turnover is extremely important. With the updates, we're able to expedite a higher quality product in a timely manner, which leads to more satisfied guests who will hopefully share their experience with family and friends."
Facts of Note
Opened and Renovated: Palace Café opened on March 11, 1991; renovated café opened October 12, 2015
Scope of Project: A complete remodel of the main-floor kitchen and creation of second-floor bar and lounge, open kitchen and charcuterie station
Size: 17,000 sq. ft.
Seats: 250 in main dining; 110 in private dining rooms
Average Check: $30
Total Annual Sales: $8 million
Hours: 8 a.m. to 10 p.m., Monday through Friday, open for breakfast, lunch and dinner; 10:30 a.m. to 10 p.m., Saturday and Sunday, open for jazz brunch, lunch and dinner
Menu Specialties: Crabmeat cheesecake, andouille-crusted gulf fish and white chocolate bread pudding
Staff: 153
Total Project Cost: $3.75 million
Equipment Investment: $1.255 million
Website: www.palacecafe.com
Key Players
Owners: Dickie Brennan & Co.; Dickie Brennan, Lauren Brennan Brower and Steve Pettus
Operations Manager of Dickie Brennan & Co.: Levi Janssen
Executive Chef: Robert Gurvich
Chef in Residence: Rene Bajeux
Sous Chefs: Jacob Shapiro and Thad Davis
Architect: Eskew+Dumez+Ripple, APC, New Orleans; Mark Ripple, FAIA, LEED AP BD+C, principal
Interior Design: Eskew+Dumez+Ripple, Emily Heausler, designer
Equipment Dealer and Designer: Associated Food Equipment & Supplies Inc. of Louisiana, Pineville, La.; Otto L. Abad Jr., CFSP, partner
Construction: Ryan Gootee General Contractors, New Orleans
Meet the Players
From left, Steve Pettus, Lauren Brennan Brower and Dickie Brennan are the owners of Dickie Brennan's Steakhouse and Bourbon House, Tableau and Palace Café.
Otto L. Abad Jr., CFSP, partner, Associated Food Equipment and Supplies Inc. of Louisiana. Abad's background includes earning a B.S. in hospitality management and tourism from Northwestern State University in Natchitoches, La., and working as a general manager for a casual-dining chain. Abad also spent time with another area dealership and a design firm.
Thad Davis, sous chef, Palace Café. After graduating from Southwestern University with a B.A. in biology and graduating from the French Culinary Institute (now International Culinary Center) with a diploma in culinary arts, Davis joined Palace Café in 2013 as a line cook.

Emily Heausler, designer, Eskew+Dumez+Ripple. As the daughter of a structural engineer, Heausler's first coloring books were blueprints. A graduate of the Savannah College of Art and Design, she worked as a junior architect/designer for STUDIOS Architecture in New York City before joining E+D+R.

Levi Janssen, operations manager, Dickie Brennan & Co. Born and raised in New Orleans, Janssen began his career in the early '90s as a food runner, dishwasher and back waiter for a corporate restaurant group. In 2001 he became kitchen manager at Palace Café and later served multiple key roles in all three Dickie Brennan & Co. restaurants. After Hurricane Katrina he became Palace Café's general manager and has helped rebuild the restaurant.

Jacob (Jake) Shapiro, sous chef, Palace Café. After graduating from the University of New Orleans with a B.S. in hotel, restaurant and tourism administration, Shapiro started in 2004 at Palace Café as a line cook. During his tenure at Dickie Brennan & Co. Restaurants he has moved up the ranks in the kitchen, holding titles including chef tournant and lead cook.
Palace Café Floorplan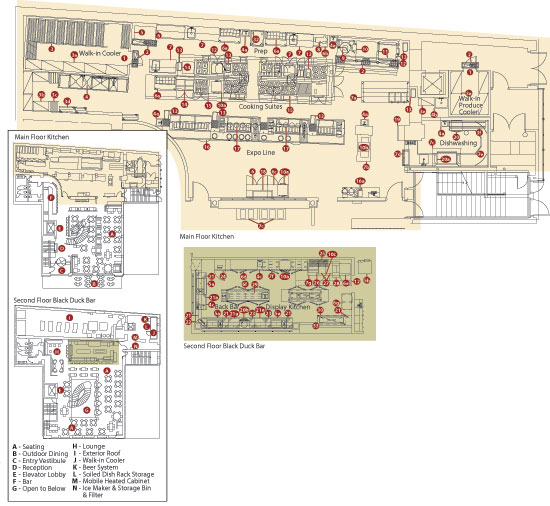 Equipment Key
1. Walk-in cooler
2. Floor trough
3. Cooler high-density shelving
3a. Walk-in cooler shelving
3b. Dry storage shelving
3c. All-welded shelving unit
3d. Plate storage shelving
3e. Chemical storage shelf
3f. Rack drying shelf
4. Pot and pan sink
4a. Hand sink(s)
4b. Mop sink
4c. Undercounter hand sink
5. Ice machine w/bin
5a. Undercounter ice bin
w/bottle wells
5b. Ice maker w/storage bin and filter
6. Worktop refrigerator
6a. Raised-rail refrigerator
6b. Blast chiller
6c. Worktop freezer
6d. Narrow back bar refrigerator
6e. Worktop refrigerator
6f. Pass-thru refrigerator
6g. Refrigerated case
7. Prep table w/sink and overshelf
7a. Plating table w/overshelf
7b. Worktable
7c. Hot food table
7d. Soiled dishtable
7e. Clean dishtable
7f. Refrigerated worktop
w/double overshelf
7g. S/s worktable
8. Food cutter
9. 25-gal. tilt kettle
10. Double combi oven
10a. Microwave/convection oven
10b. Conveyor bread oven
10c. Convection oven
11. 40-gal. tilt skillet
12. Exhaust hood
13. Trash container
14. Smoker (since replaced by 25-gal. kettle)
15. Two cooking suites include induction ranges, ranges with open gas burners, induction braisers, fryers, charbroiler, dual-infrared broiler, convection oven bases and refrigerated bases.
16. Chef's counter
16a. Beverage counter
17. Heat lamps
18. Refrigerated condiment rail
19. Soiled dish rack storage
20. Undercounter dishmachine
20a. Conveyor dishmachine
20b. Glass washer
21. Undercounter 12-in.drainboard
21a. 24-in. drainboard w/glass rack storage
22. Beer system
23. Blender system
24. Wine dispenser
25. High-intensity food finisher
26. Induction griddle
27. Induction hot plate
28. Fryer
29. Liquor bottle display
30. Countertop sushi case
31. Spray hose
32. Mobile heated cabinet
33. Hand-cranked slicer