Students were dissatisfied with a very dated and dark dining operation that was not aligned with contemporary customers' eating habits. High operational costs led to high prices, which resulted in poor sales. "We wanted to create a space that fostered community engagement and promoted health and wellness," says Adam Millman, director of auxiliary operations for Yale Hospitality. "In addition, the goal was to increase participation and compete with the external dining options by offering menu items they are not able to offer, which is fresh, customizable health- and wellness-focused food."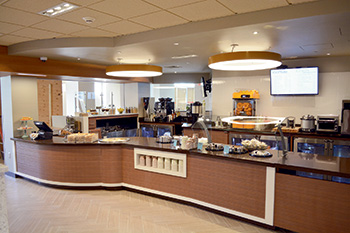 The serving line allows customers to order at stations rather than walk through the entire service line. The automatic, fresh-squeezed orange juice machine contributes color and intrigue to the back line."The fast pace of service requirements was the number-one challenge in this concept," says Rafi Taherian, associate vice president of Yale Hospitality. "In Yale Hospitality our number-one driver is to create memorable experiences for our guests each and every time. Coexisting quick-casual and memorable experiences are challenging, and in this case, our customers, and we, strongly believe we have reached the right solution. I must give credit to Adam Millman, who provided strong leadership, imagination and innovation in each phase of ideation and concept development."
"The original café was located in a space that can only be described as the negative space created from the space between four primary first-floor activities," says Gary M. Lepore, AIA, NCARB, LEED AP, whose firm, LDL Studios Inc., provided the architecture and interior design.
When the design team met with Yale Hospitality and did the initial walk-through of the entire space, they saw a menu platform that was originally intended to be a custom sandwich area with cooks grilling that had been replaced by packaged sandwiches and ice wells holding sushi to accommodate customers' menu preferences. In addition, the largest, heavy cooking menu platform across the rear of the café, with large flattops and charbroilers with exhaust hoods above was no longer used. Combination hot and cold wells were used with a smaller cooking platform that had a smaller menu supported by the campuses' main culinary support kitchen and shorter cook-to-order program. "Surrounding external venues had changed, which explained why the café's menu had changed," Lepone says. "The Yale community now had access to food trucks, carts, other cafés and menu choices."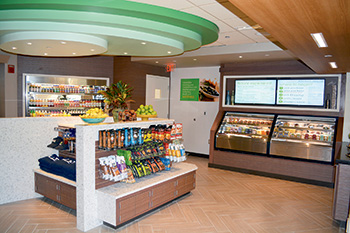 Grab-and-go items receive prominence in display cases, which also create a natural traffic pattern. At left, customers can select packaged items and shirts, hats and mugs with the Yale logo.The renovation included the complete transformation of the servery and dining space. The kitchen refreshment included removing all equipment and converting it into a warming pantry to support catering needs. Walls were opened to create a larger entrance/exit as well as to connect the seating area with the café. The dining room was
renovated to include opening up a covered window, new lighting, wall finishes and furnishings.
Three separate destination seating areas were created in the dining space, which features bistro-style seating with counter seats; group dining areas, small tables, large community tables; and lounge seating consisting of couches and plush chairs. Together the dining spaces foster conversation and collaboration by utilizing soft and hard seating to create an inviting space that encourages guests to enjoy food, study, relax and socialize.
A glass barn door lets in natural light and creates a sense of openness between the dining space and café.
The menu was created with the intention of being supported by the Culinary Support Center, thereby allowing for lower energy consumption and a reduced labor model. All products coming from CSC are vacuum-sealed in small portions to maintain freshness and reduce waste.
"We first developed a systematic process of how we were going to operate the facility, then designed the concept to ensure it aligned with the system," Millman says. A custom "bowl" station was designed with both time and motion in mind. All ingredients and components are strategically placed to minimize movement and crossing of tasks and to ensure efficient process flow. The new operation features fresh and healthy bowls with a foundation of greens, grains or pita. Signature dishes, inspired by the bold flavors of the Mediterranean, include a spicy Greek salad, green chickpea falafel, fattoush, Turkish spoon salad and Spanish mezze. Team members use a high-speed oven to heat entrées, as well as fresh vegetables and breakfast sandwiches. Customers can mix and match bases that include grains, greens or pita, top them with flavorful options such as burnt eggplant, add a skewer and then pick toppings and a sauce. A heat/steam-injection warmer heats falafel skewers, and team members use a countertop griddle for heating chicken and meatball skewers.
Spicy Greek salad features vegetables and a chicken skewer with sriracha Greek yogurt.The placement of the rear air screen to hold lettuce, the rice cooker on one side, and the steam/heat injector on the other side all support the notion of minimal movement. The fresh and vibrant ingredients such as lettuce, pickled vegetables and backup produce become functional decor details.
The menu also features two soups offered daily, a vegetarian chili and a rotating selection of stews served over grains, all heated and held in induction soup kettles. Grab-and-go sandwiches, specialty beverages, sushi and snack items are featured in the air-screen display unit. Café Med also features an interactive coffee bar that offers artisan-roasted drip coffee, gourmet coffee drinks, sweet and savory pastry items and made-to-order orange juice freshly squeezed in an automatic squeezer.
Other café elements include a full-service coffee bar that wraps around into the dining room, acting as an express service area as well as a place for customers to sit, eat and interact. Power outlets line the counter to allow customers to charge their laptops and other mobile devices. The café also contains a coffee café that, along with the adjacent bistro area, can remain open when the rest of the operation is closed. "This allows for a reduced labor model in off-peak hours," Millman says.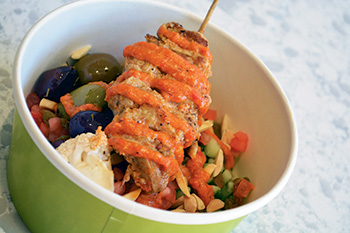 Jars of ingredients prepared in CSC bring color and intrigue to the salad station.The small, preexisting kitchen was renovated to become a catering staging area as well as to hold back-of-house storage. "We were able to concentrate the support functions that were spread among two floors into one floor, which allowed for greater oversight," Millman says. A small walk-in contributes to the operation's efficiency by serving as the main cold storage component and supporting the beverage grab-and-go case. This case backs up to the walk-in and is connected through an opening to allow the air-screen to be back-filled. The glass door installed into the side of the walk-in allows for not only an attractive display of fresh produce but backup ingredients within arm's reach of the custom salad station. "Very little general and long-term storage was designed because the operating model for this facility is to keep inventory low and products fresh and constantly rotating," Millman says.
Throughout the café, the elimination of the full cooking kitchen and ductwork contribute to reduced energy usage. Other sustainable features include occupancy sensors for lighting, a high-speed oven that only works when products must be warmed and the instant steam/heat-injector warmer that produces heat and steam on demand.
Facts of Note
Opened: September 28, 2015
Scope of Project: Renovation of café and dining room and swap out of some kitchen equipment
Size: Servery 1,654 sq. ft.; kitchen, 1,865 sq. ft.; dining room, 4,877 sq. ft.
Seats: 110
Average Check: $5.51
Total Annual Sales: $320,000
Annual Transactions: 58,000
Hours: 7:30 a.m. to 7:00 p.m.
Menu Specialties: Greens and grain bowls inspired by the bold flavors of the Mediterranean, hearty stews and artisan sandwiches
Staff: 4
Total Project Cost: $2.1 million
Equipment Investment: $120,000
Key Players
Owner: Yale Medical School
Deputy Dean for Finance and Administration: Cynthia Walker
Associate Vice President of Yale Hospitality: Rafi Taherian
Director of Asset Renewal and Planned Projects, Yale Hospitality: Daniel Flynn
Director of Auxiliary Operations, Yale Hospitality: Adam Millman
Director of Culinary Excellence, Yale Hospitality: Ron DeSantis
Associate Director of Planning, Yale Medical School: Bruce McCann
Project Manager, Yale University Office of Facilities: Justin Ritz, LEED AP
Yale University Architect: Eric Overland, AIA
Architect: LDL Studios Inc., Providence, R.I., and Houston; Gary M. Lepore, AIA, NCARB, LEED AP, architect and principal in charge; Glenn M. Lepore, design principal; Timothy Rogers, senior manager; Justin Dufresne, job captain
Interior Designer: LDL Studios; Samantha Bennett Ellis, designer
Consultants: Standard Builders, Newington and New Haven, Conn.
Equipment Dealer: US Foods, Norwich, Conn., and Fountainhead Foodservice Group, Burlington, Mass.