A renovation and addition to the South Quad residence hall allowed the university to consolidate West Quad dining into one dining hall and café that serves residential and retail customers. The kitchen expansion includes more storage and a commissary.
Two Oceans' 30-foot table and corresponding 30-foot lighting element bring in the light design features. Exposed structural elements and the original terra-cotta tile formwork provide the earth aspects to the design theme.The University of Michigan's newly renovated South Quad features an all-you-care-to-eat residential facility, a retail operation and an expanded kitchen with a commissary for assembling and packaging to-go foods for campus. Operated by Central Campus Dining, this foodservice operation serves approximately 5,600 students from the South and West Quads, as well as students living in new residence apartments with suites. The operation has the capacity to serve 7,000 students, staff, faculty and visitors in the future.
The renovation represents an important piece of Michigan's "Residential Life Initiative," which focuses
on making significant improvements to the quality of residential facilities for students in order to strengthen the connection between living and learning. "Ten years ago the university's visionary leadership team began efforts to integrate the physical environment with academics to support students' personal and intellectual development," says Steve Mangan, director of Michigan Dining within the University of Michigan's Student Life Auxiliaries.
Mangan arrived in March 2014 in the middle of what he calls a "transformative era." South Quad's dining is the fourth dining hall renovation in the past six years and accompanies many residential unit renovations. Mangan created a new dining department that brings 7 residential dining halls, 24 retail markets and cafés and a catering operation under one operational umbrella. He also developed new, required residential plans that provide students with unlimited access to dining halls, and he built cross-functional teams for the all-unionized operation. In addition, Mangan created a director of student engagement position that works with sustainability and community outreach and food programs.
Finale at right, Bread and Two Oceans are 3 of the restaurant concepts. "At the most basic of levels, the design team transformed a dated, underutilized and inefficient facility into a new, state-of-the-art, regional neighborhood dining center that is exceeding expectations in changing the landscape of campus dining and attracting students from all across campus," says Amanda Key, NCIDQ, interior designer, associate, at the architectural and interior design firm SmithGroupJJR.
The design fills a need for a regional neighborhood dining center that provides a more efficient foodservice operation for the university. All the food is now made in small batches and served from 1 of 12 micro-restaurants to offer customers food variety and to reduce food waste by curbing overproduction and limiting of portion sizes. "We are trying to meet students' needs for authentic food and variety that they see on the streets, nutrition, wellness and better spaces where they can eat and continue their studies and social interactions," Mangan says. "Students provided a lot of feedback into the original design and continue to have a voice about dining and feel part of the decision-making process."
In moving to a regional neighborhood dining center model with a larger customer base, there was a need to increase seating capacity to 950 seats. "Achieving the desired seat count and appropriate dining experience was constrained by the tight property boundaries, street edges and topography," Key says. These factors limited the facility's ability to expand outward and forced a stacked program where the loading, storage, central kitchen, offices and other support spaces reside on the ground floor, while the main entry, main dining space, micro-restaurants and associated support spaces sit on the main floor.
Madison Street Deli sits beneath a wooden roof deck. Adjacent overflow seating, or transitional lounge seating, is separated with overhead doors.The design involved completely gutting the original dining center and kitchen and adding an expansion on both the north and south sides of the building. "The existing construction was exposed and used to enhance the character of the various seating and dining areas rather than cover it all up," Key says. "Exposing everything created its own set of challenges, however. The limited clear height forced significant coordination for how different pipes and ducts would be run."
Designers were also challenged to create a cohesive design with the 12 distinct micro-restaurants' brands while avoiding what the university team members didn't want — a "circus" and "food court" ambiance.
The restaurants were inserted into the shell of the existing structure and new construction. A variety of signage, materials, textures and patterns combine to tell each restaurant's unique story and reinforce its brand identity and menu.
"The strategy for creating a cohesive whole out of the 12 unique brands was also to establish earth and light as general overriding themes for the dining design," says Bob Varga, senior design principal and vice president of SmithGroupJJR. "Earth relates to 'carving' into the building and exposing the concrete structure with the original terra-cotta tile formwork and introducing new finishes that consisted of deep hues, warm colors and materials with a strong sense of the 'natural,' like the reclaimed wood paneling used throughout. Light relates to the lighter materials, colors and lighting, such as the bright metallic blue accent tile used to clad the pizza oven feature, which are found in the structure's brighter, taller additions that complement the original 1950s construction."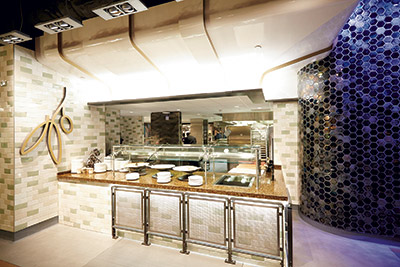 Guests see the hearth oven with the ornate exterior (at right) at Olive Branch as they enter the dining center. The original terra-cotta formwork of the concrete structure occurs most notably at the Toast, Olive Branch and Two Oceans venues.Seating zones with unique lighting and a variety of seating types, including booths, banquettes, large community tables and counter-height seating, create a varied dining experience. Seating, in combination with the ever-changing menus, helps keep the experience fresh for customers who return to the dining center multiple times in one day.
The Main Kitchen
The operation's flow helps minimize the staff's need to handle products. "The path was designed as much as possible to be linear and in a single direction," says Mona Milius, MBA, vice president and senior principal at Bakergroup Foodservice Consulting and Design.
Food arrives on the facility's lower level at a centralized loading dock that supports the entire building complex. Delivery staff move pallets of products into nearby storage areas, including a walk-in cooler, walk-in freezer and dry storage. A glassed-in office allows dining staff to watch and quickly walk to all of the receiving activities. "Because
products travel a very short distance to storage and to the production kitchen, products are highly accessible and
therefore increase the operation's efficiency," Milius says.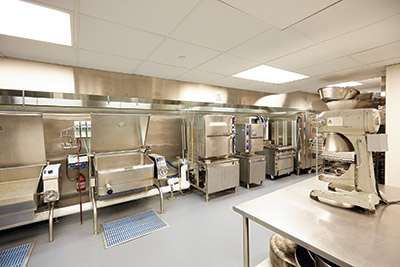 In the lower-level kitchen, staff use steamers, combis, a range and reach-in refrigerators and freezers. Staff use a centrally located elevator to transport products from the kitchen and storage areas to the servery and dining level one floor above. "The elevator's location, size and configuration works well to minimize the number of elevator trips required to support service," Milius says. The elevator opens on the upper level into a back-of-house area that supports micro-restaurants Toast, Sabroso and 24 Carrots. The elevator exterior's finish materials fit well with the decor of the micro-restaurants. "With doors exiting either side of this space, distribution to all micro-restaurants is fast and efficient," Milius says.
In the main kitchen, staff work in designated spaces for hot and cold food production. Equipment includes food processors, choppers, mixers, slicers, cleaning/processing sinks and a vertical cutter mixer. Hot food production equipment includes combi ovens, a rotating rack oven, tilting kettles, braising pans, steamers and a four-burner range. The equipment package also includes hand sinks, coffee and tea brewers, milk dispenser, ice machine, preparation sinks, mixers, reach-in refrigerators and freezers, a blast chiller, dry good storage, mobile refrigerated and hot food carts and mobile storage racks.
"The ranges sit against the perimeter walls to improve sightlines and supervision," Milius says. A new commissary that supports the production and packaging of grab-and-go items for the retail operations on campus shares the range section and cold food production areas of the hot food production area. The commissary has dedicated coolers and operates under climate control conditions.
"Another challenge for the design team was ventilation," Milius says. "Because of the low ceiling heights on the lower level and in the existing part of the dining level, architects consolidated the use of fans and moved ventilation to the roof."
A kitchen-level warewashing center supports the needs of the production kitchen as well as some upper-level warewashing needs. Upper-level dining also has its own warewashing support with the drop-off point conveniently located for easy customer access.
The lower level also contains a cart wash room located near the building's shipping and receiving functions.
The Main-Level Servery
Breakfast served and made-to-order all day. Toast is the only concept on campus offering breakfast all day long.Throughout the dining facility, authentic food entices customers at the micro-restaurants. Most of the food is made to order in front of the customers, adding to the overall dining experience and minimizing food waste. Each venue features distinctive decor. In addition, each restaurant is self-contained, with its own storage, cooking equipment and other amenities to keep it self-sufficient during peak meal times. Undercounter dishmachines also support restaurants.
"The pathways for customers are logical and intuitive in a building that frustrates logical pathways," says Milius.
In order to efficiently handle the large number of customers, the University of Michigan can scale the operation up or down depending on demand without the entire facility seeming to be entirely closed. Java Blue opens in the afternoon and stays open well after other operations are closed. The lounge space adjacent to the entrance can be opened to dining and used for dining space during high-demand periods and then closed to dining and open for lounge seating during slower times. "Olive Branch, Madison Street Deli, Toast, and dishwashing, salads and desserts are strategically located nearest to the entrance, allowing these areas to be opened without opening the remainder of the restaurants," Milius says.
"In addition, multiple service points within the various micro-restaurants allow for contraction and expansion during the various dayparts. For example, at Sabroso two hot serving lines can be operating individually or together as traffic demands," Mangan says.
Olive Branch features Mediterranean fare, including from-scratch ravioli, spaghetti with meatballs, chicken with vegetable pasta, cheese-stuffed shells and other pasta dishes, hummus, pita wedges and tabbouleh salad. Culinary staff here produce menu items using a range with refrigerated rails, pasta cookers, a chef's cooking suite, trunnion kettle and many hot and cold food wells. A hearth stone oven with an ornate exterior to support this restaurant's decor bakes many varieties of pizzas and pasta dishes. Because Olive Branch sits near the entrance, its hearth stone oven becomes one of the first pieces of equipment customers see upon entering the dining center.
Sabrosa specializes in Latin Cuisine.To the left of Olive Branch, Toast offers breakfast all day — the only restaurant on campus that does this. Staff use a range with refrigerated rails, two flattop griddles, fryers and conveyor toasters to cook made-to-order omelets, deep-fried and Texas French toast sticks, potato tots, scrambled eggs and egg whites, vegetable quiche, classic English toad-in-the-hole, roasted tomato parmesan, buttermilk pancakes, smoked beef sausage links, sausage gravy, biscuits and vegetarian breakfast stromboli.
Sabroso specializes in Latin cuisine. A tortilla maker near the front of the restaurant sits behind glass and remains visible from many areas of the dining facility. Staff take tortillas from the machine to prepare made-to-order tacos, burritos and other Latin American menu items, including mango salsa, shrimp ceviche and oven-roasted purple potatoes. A range, griddle and combi oven support production.
Adjacent to Sabroso, 24 Carrots' culinary staff use rice cookers, a charbroiler and a flattop griddle to produce vegan and vegetarian cuisine such as Thai tofu curry basmati rice, manakish zaatar, pizza, potato cakes, mixed-pepper wheat pizza and grilled herbed zucchini.
At the Two Oceans concept, staff make stir-fries behind the glass enclosure.The Asian restaurant, Two Oceans, offers sushi that staff make using a sushi-rolling machine that handles the large volume served here. Staff use a six-wok range, rice cookers, fryers and a range with convection ovens beneath to prepare ramen noodle bowls with tempeh, chicken or pork; chicken pad Thai with peanuts; stir-fries with tofu, beef, shrimp or pork and vegetables. Rice cookers allow staff to continuously make fresh rice to keep up with demand.
Micro-restaurant Signature allows chefs to prepare special dishes of their choosing such as pollock almond, baked chicken thighs with herbs, toasted veggie ciabatta with pesto, Texas chicken and andouille gumbo, southern-fried okra and tilapia with cilantro pesto. This area's equipment package includes a range and refrigerated rails, chef's cooking suite, fryers, pasta cookers and convection ovens. A private dining room sits behind this demonstration kitchen.
At Wildfire, a tortilla maker, grill, fryers, flattop griddles and a charbroiler support staff's production of meat and vegan burgers, grilled cheese and other sandwiches, onion rings, seasoned curly fries, soups and other student favorites. Nearby, a soup counter offering Michigan bean soup, Brazil chicken feijoada, hearty beef soup, cream of mushroom and vegetable and lobster bisques sits in between Wildfire and 24 Carrots and close to Breads, the baked-goods counter.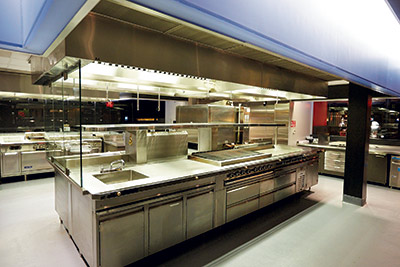 Signature allows chefs to produce their own unique dishes.At the adjacent Smoke, a massive smoker cooks up to 1,000 pounds of meat a day and allows staff to slow-cook brisket, pork and chicken overnight at a low temperature. Staff make barbecue and other sauces to bring authentic flavors to Italian meatloaf, toasted veggie ciabatta with pesto, turkey chipotle on focaccia, chicken paprikash, and sides such as polenta bread, fattoush salad, fried clams, creamy coleslaw and macaroni salad.
For desserts, Finale's staff use a floor mixer, countertop mixer, chocolate tempering unit, microwave oven and convection oven to prepare sweets including cookies in many varieties such as shamrock, monster candy, chocolate chunk, sugar, molasses ginger and white chocolate macadamia nut, as well as smores bars, Irish soda bread and muffins. Crepe makers allow staff to show off their display cooking to customers.
Madison Street Deli offers sandwiches and salads made to order. The deli sits next to Java Blue, which stays open until midnight after other restaurants close. Staff can access the panini presses for afterhours service via a pass-through window that connects to Java Blue.
Stations in the servery also include a bread station; a salad bar with lettuce crispers; beverage areas; and a gluten-free pantry. "Due to allergen concerns, we are deciding where to place the peanut butter mill that produces peanut butter with no added sugar or salt," Mangan says.
During its first year, South Quad continues to attract attention and kudos from students, faculty, staff and visitors. Foodservice professionals also are visiting campus to discover how designers and Mangan's team meet their customers' many and eclectic food, seating and socializing needs in one special neighborhood venue.
In 2015, Michigan Dining expanded preconsumer waste composting to all of the seven dining halls, including South Quad. Photographs courtesy of Michigan Dining
Sustainable Practices
The university keeps historical data on every menu item. This includes how much students liked a dish, which gives an accurate picture of how much to make the next time.
Many other foods are made in small batches and then baked only as needed.
Staff use tapas-size portions and restaurant-style plating to help control waste. Students are welcome to come back for seconds or to ask for larger serving sizes. This supports health and reduces food waste.
Via the "Just Ask!" marketing campaign, staff encourage students to let dining operations know what they want or don't want on their plates. Students are very comfortable telling staff members to hold the bun, go easy on the fries or skip the sauce.
With trayless dining, limiting students to what they can comfortably carry in their hands instead of what they can load onto a tray helps to reduce food waste.
In 2015, Michigan Dining expanded preconsumer waste composting to all of the seven dining halls.
The menu features sustainable seafood.
The upper-level dishroom includes a pulper to reduce waste sent to the landfill as well as a double extractor to markedly reduce particulate waste.
Motion sensors in each of the walk-in coolers and dry storerooms turn on the lights when staff enter.
LED lighting is used throughout the facility.
Lighting operates on a computerized system that dims the lights during brighter day parts and in the evening.
The high-efficiency dishmachine only runs when dishes are present.
The accumulator allows the dishmachine to run full loads, minimizing energy and water use.
The micro-restaurant concept almost eliminates the need to hold food hot thereby reducing energy usage.
Design Capsule
Student Enrollment: 43,625 students
Opened: August 2014
Scope of Project: Renovation and addition to the South Quad residence hall, including all-you-care-to-eat dining hall and café. Project involved consolidation of existing West Quad and South Quad dining into one facility. The micro-restaurant concept includes: Toast, Sabroso, 24 Carrots, Two Oceans, Olive Branch, Java Blue, Madison Street Deli, Wildfire, Smoke, Chef's Signature and Finale. The project also includes a refurbishment of the loading dock, storage, kitchen and commissary on the lower level. The facility serves the 1,170-bed South Quad; recently renovated 1,100-bed West Quad, and 640-bed residence apartments with suites.
Size: 106,700 gross sq. ft.; foodservice includes 10,000 sq. ft. on ground floor of kitchen commissary space and 6,000 sq. ft. in dining support spaces such as trash, custodial, receiving, staff offices and locker facilities; 35,650 sq. ft. of first floor dining
Seats: 950
Average Check: $9.25 (lunch)
Total Annual Sales: $7 million
Average Annual Transactions: 840,000
Average Weekly Transactions: 57,000 total; breakfast, 700 to 800; lunch, 1,400 to 2,250; dinner, 1,500 to 2,800
Hours: 7 a.m. to 9 p.m., Monday through Thursday; 7 a.m. to 8 p.m., Friday; 10:30 a.m. to 2 p.m., Saturday and Sunday brunch; 5 p.m. to 8 p.m., Saturday and Sunday dinner; Java Blue, 2 p.m. to 12 a.m. daily.
Menu Specialties: Menu items with global flavors
Staff: 12 managers; 50 full-time hourly staff; 250 part-time student and temp workers
Total Project Cost: $68.5 million; dining, $39 million
Equipment Investment: $4.77 million
Website: www.dining.umich.edu
Key Players
Owners: University of Michigan
Associate Vice President for Student Life: Loren Rullman
Director of Michigan Dining within the University of Michigan's Student Life Auxiliaries: Steve Mangan
Executive Chef: Frank Turchan
Director of Residential Dining: Tom Smith
General Manager, South: Lois Allen
Architect: SmithGroupJJR, Detroit, Mich.; Bob Varga, AIA, LEED AP BD+C, senior design principal, vice president
Interior Design: SmithGroupJJR, Detroit, Mich.; Amanda Key, NCIDQ, interior designer, associate
Foodservice Consultants: Bakergroup Foodservice Consulting and Design, Grand Rapids, Mich.; Jim Sukenik, FCSI, president, design principal; Mona Milius, MBA, vice president, senior principal; Stephanie Occhipinti, LEED AP, project manager; Kaitlin Arendson, interior design associate
Equipment Dealer: Stafford Smith (FEC), Kalamazoo, Mich.
Construction: Clark Construction, Lansing, Mich.
Meet the Players
Amanda Key, NCIDQ, interior designer, associate, at the architectural and interior design firm SmithGroupJJR, has more than eight years of experience in higher education, corporate, cultural and healthcare projects. As the lead interior designer in the SmithGroupJJR's Detroit office, her projects include University of Michigan, Detroit Athletic Club and Virginia Commonwealth University. Key is instrumental to design coordination between architectural and engineering disciplines to deliver cohesive interior environments.
Steve Mangan, director of Michigan Dining within the University of Michigan's Student Life Auxiliaries, University of Michigan, has worked in foodservice for three decades, first as a Culinary Institute of America–trained chef and restaurateur and later in leadership roles at two other Big Ten colleges, Northwestern University and Indiana University. His successes come through a philosophy of meeting customers' needs, working collaboratively with his team and creating a culture of innovation.

Mona Milius, MBA, vice president/senior principal of Bakergroup Foodservice Consulting and Design, brings experience that is deep and diverse. Prior to joining Bakergroup, Mona served as director of Dining Services at the University of Northern Iowa, where she oversaw residential dining operations, student union food services, central production commissary, catering, kiosks and convenience stores. She also developed sustainable sourcing programs, served as president of NACUFS and supported the organization in various other
volunteer roles.

Jim Sukenik, FCSI, president Bakergroup Foodservice Consulting and Design, has worked in the industry for the past three decades. He has won numerous awards and top honors for excellent project results. In developing his designs, Sukenik leverages his operations background, with client input. Projects in his portfolio, in addition to projects listed above for Milius, include: University of Michigan, East Quad; Michigan State University, Case Hall and Brody Square; and Loyola University, St. Ignatius Residence Hall.
Frank Turchan, executive chef, Michigan Dining, manages the operations of five residential dining halls, including developing menus and recipes, and training and developing staff. He sets high-quality kitchen standards for large and small dining operations, and he executes special dining events at UM and develops and leads cooking classes for students and staff. Prior to joining UM, he was the executive sous chef at Opus One restaurant in Detroit and the executive chef for Ford Motor Company Conference and Event Center and the Fairlane Club in Dearborn, Mich.