Kitchen and café renovations and a room service–style program take this stellar foodservice program to new heights to the delight of patients, visitors, staff and students.
Refrigerated cases allow customers to make quick selections at BistrOH! To Go. Photograph by Christian Dohn, Dohn Studios, CincinnatiThe Ohio State University Wexner Medical Center is part of the Ohio State University, one of the largest universities in the world. The College of Medicine is consistently ranked among the top 40 medical schools in the U.S. and among the top 15 public universities.
The kitchen, built in two phases in the 1960s and 1970s, served the medical center's patients, visitors, staff and students for years. Due to the center's growth, however, meal volumes grew exponentially. "By 2010, layout, design and kitchen mechanicals no longer matched our service needs then and what we expected for the future," says Julie Jones, MS, RD, LD, director of Nutrition Services. "In addition, the room service and retail services had to be significantly updated."
A comprehensive master plan developed with Ruck-Shockey Associates and JME Hospitality called for major changes to transform food and nutrition services. The multiyear construction project started in 2011 and ended in September 2014. "The project from its inception was truly a homogenous effort to understand the current operation and vision," says the project's operational consultant, Georgie Shockey, principal, Ruck-Shockey Associates. Shockey worked with foodservice consultant John Egnor, president of JME Hospitality, on a study team and helped develop the master plan.
The first major goal was to transform the patient feeding model from a cold plate rethermalization process with limited selection to a fully integrated room service–style menu without creating traditional room service à la carte cooking centers and adding grease exhaust to the facility. The study team presented a decentralized hospitality center (HC) model that utilizes the existing cook-chill operation for an innovative, individualized rethermalization process and set up these HCs close to patient care units.
"This innovative service model creates small hospitality centers to serve as final finishing kitchens so the cook-chill mode can be used to efficiently serve a large population and still allow chefs to cook-to-order the final meals," Jones says. "It also allows customization of the menu to the types of patients being served versus one menu for all."
Named Dining on Demand (DoD), the room service–style program now supports 1,300 beds including the new 425-bed cancer and critical care tower that opened in December 2014. In addition, the cook-chill kitchen also supports food production for University Hospital East, a 175-bed community hospital, located 6 miles from the central campus.
"The combination has resulted in a streamlined process that is extremely economic in labor and food cost," Shockey says. "Foods are held cold and not prepared until there is a meal request for a patient, which controls food waste. The travel distance between the old meal assembly area and the patient has been reduced by locating the HCs strategically closer to the patient units they serve."
The second major goal was to expand and modernize the current retail operations. Designers were able to expand the footprint of the existing café by taking space from the kitchen that had been occupied by the old cold plate trayline, which was no longer needed due to the HC model. This allowed Jones, executive chef Drew Patterson, CEC, CCA, and the foodservice team to expand the café's menu and provide service for many more guests. Since August 2014, the department worked in partnership with a local culinary school to hire more than 30 trained culinarians to meet the food production needs of the patient and retail foodservice areas.
Today, Jones has responsibility for a $22 million budget, 270 full-time-equivalent employees providing food and nutrition services, and 3.1 million meals served annually to patients, visitors, staff and students across the health system. This is remarkable given that 1.9 million meals were served annually in FY 2005. In addition, retail revenue grew to more than $5 million in FY 2014 from $2.9 million annually in FY 2006. Estimated retail revenue for FY 2015 will be $6.5 million for self-operated cafés.
The Kitchen Renovation Challenges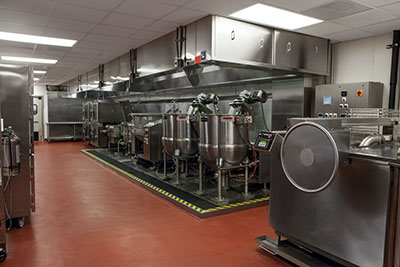 The kitchen contains cook-chill equipment such as 100-gallon and 40-gallon steam kettles, cook-chill tanks, a tumble chiller, a tilt skillet and combi ovens.For the kitchen renovation, the project goals included increasing and consolidating storage capacity, which involved creating a 5,000-square-foot central receiving storeroom and 4,000-square-foot central distribution area that is integrated with the automated transport system to move supplies to a variety of locations. The distribution area supports hospitality centers with food, dishes and other supplies and integrates with a robotics delivery system. The commissary distribution model supports University Hospital East 6 miles away and 6 remote BistrOH! To Go locations spread throughout a 6-mile radius of campus.
The centralization of the mechanical support means less operational impact on the kitchen. The kitchens do not include breaker or electrical access panels, which gives more floor space for such things as parked carts and shelving. A large electrical closet within the kitchen houses breaker panels for the entire 32,000-square-foot kitchen. "By isolating the electrical and water supply for the kitchen, foodservice is less likely to be impacted by maintenance that other parts of the building requires," Egnor says.
Robotic transporters deliver food, supplies, dishes and trash throughout the kitchen and existing buildings. Photography by Christian Dohn, Dohn Studios, CincinnatiIn order to accomplish all these goals, designers improved the flow of food through the kitchen to end service points. For the most part, food moves from west to east through the kitchen.
The renovation features upgraded and expanded cook-chill equipment to support production of more than 3 million meals for the entire health system, which includes 5 hospitals and 10 restaurants. Cook-chill equipment includes a pair of 100-gallon steam kettles, a 40-gallon steam kettle, a 100-gallon horizontal mixing cook-chill kettle, a pair of cook tanks, a pump-fill station, a blast chiller and a blast chiller/freezer. The project included demolishing a tumble chiller, and relocating and rebuilding chilling capacity in an existing ice builder. Other equipment includes combi ovens, a tilt skillet, many worktables, sinks, refrigerators, a floor mixer, a vertical cutter/mixer and a slicer.
"I know cook-chill has a bad name in some places," says Jones. "The process of cook-chill is very good, and we use it even to make iced coffee concentrate, sorbets, fruit sauces and smoothies. The problems arise with rethermalization. So, Drew has worked hard to study this and figure out how to rethermalize in the hospitality centers and in the cafés with great results. Now we're very happy with the combi ovens and panini presses that give us outstanding products."
Jones and Patterson also developed a meat program using the cook tank, sous vide and combi oven smokers, as FE&S reported in its June 2014 issue on healthcare foodservice innovators.
Jones and the project team evaluated high-volume room service–style programs in hotels, cruise ships and casinos before creating DoD. Cook-chill production for main entrées, soups and sauces makes possible the patient room service dining program that serves more than 1,300 inpatient beds. "This might be the largest number of beds for an inpatient room service program in the country," Shockey says.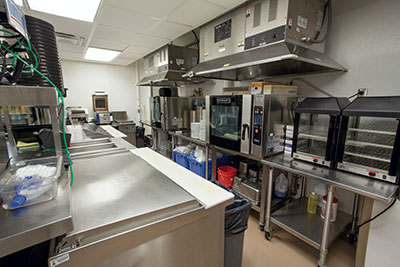 In the hospitality center, refrigerated rails, cold and hot wells and high-speed ovens support service. Photo by Christian Dohn, Dohn Studios, CincinnatiSeven hospitality centers support DoD. Equipment in these centers includes a coffee machine, juice dispenser, ice/beverage dispenser, soda carbonator, ice maker, undercounter refrigerator, countertop freezer, a refrigerated sandwich/salad prep table, a conveyor toaster, high-speed panini press, refrigerated display case, a countertop rethermalizer, side-load pan rack, countertop warmer, a combi oven, induction cooker, pellet warmer, a chit printer, a chit rail and table-mounted tray slides.
"This system improved patient satisfaction scores and put service closer to the patient with remote hospitality centers allowing us to better manage peak meal selection and
delivery times," Jones says.
Kitchen Design and Construction Challenges
Finding space to retrofit for hospitality centers presented a major challenge to designers. "We developed some very small but functional spaces that range in size from 275 square feet to 600 square feet in the existing buildings," Egnor says.
High-speed, technologically sophisticated equipment such as combi ovens that staff use for rethermalizing menu items make these HCs functional. "We had to be able to control steam settings to maintain food quality for individual plate retherm," Egnor says. "Not all combi ovens have that feature. The ovens can heat up to 12 plates of food in a 9-minute cycle and maintain good quality and proper temperatures. The high-speed panini presses can meet high-volume production demand due to the use of microwave technology, which shortens cook time."
"Probably the greatest challenge with the project was that the kitchen had to remain fully operational during the 22-phase, 24-month construction project and still produce 8,000 meals per day," Jones says. "Temporary kitchens weren't a possibility given the large amount of other construction simultaneously occurring."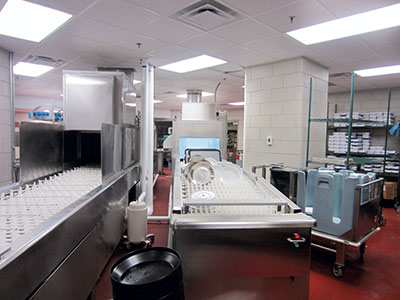 The central dishroom eliminates the need for a dishroom in the new tower. Photograph by Mike FolinoAnother key challenge this project faced was building new electrical and mechanical systems while maintaining the existing ones to ensure continuity of service during construction. "The solution was daily discussions with the construction, design and department team
members to ensure that functional needs for the kitchen were maintained throughout the entire project," Jones says.
"The key to the successful phasing of the project was simply to follow the flow of the operations," Egnor says. "When you work the redesign process with operations in mind, the project naturally flows from beginning to the end. The challenge is to do this while balancing the surrounding factors of a fully operational hospital kitchen."
The new, efficient centralized dish processing area represents another of the functional improvements this project produced. This area includes a second dishmachine, which eliminates the need for an additional dishroom in the new critical care tower. An automated transport system incorporated into the dishroom design ensures easy movement of soiled food trays in and out of the dishroom space.
Retail Operations BistrOH! and BistrOH! To Go
Different styles of seating on the concourse, which connects various buildings, encourage small and large groups to dine together. Photograph by Christian Dohn, Dohn Studios, CincinnatiThe goal in renovating the retail spaces was to increase variety, value, convenience and a good flow through the high-volume café and expand the variety of seating options.
During the renovation project, the medical center created a new brand and design standards and changed the name of the café to BistrOH! "Since BistrOH! is a central point in the medical center, through design and construction, we were able to create a focal point for wayfinding, reinforce the university brand through naming of the café and extend the design elements such as color schemes, flooring and wall materials from the new tower to the existing buildings," Jones says.
"In the café, it was important not to just respect Ohio State's scarlet and gray colors, but also create a calmer dining and serving area," says Luanne Carleton, AIA, ICSC, creative managing director at FRCH Design Worldwide. "Since it had been 30-plus years since the last major renovation, we also wanted to set a framework in which the hospital could change out portions of color or materials to update the space in the future."
The front of the dining area is open with a large glass area that creates a connection with the café seating and to-go area and interacts with the connecting hospital corridor. The salad/soup bar provides a focal point for the servery, while the customer circulation flows around it to food stations at the perimeter. "The design creates a backdrop for the food that promotes the idea of freshness and health," Carleton says.
Since hospital employees comprise a majority of the café's customers, designers wanted to create a dining experience that gives them a break during their shifts. The dining area was broken up into smaller areas to create different seating options for employees and visitors. "Community tables allow groups of medical students to gather, and a quieter area allows patients' families to sit while their family members are in surgery," Carleton says. Dining staff can close off areas during nonpeak times.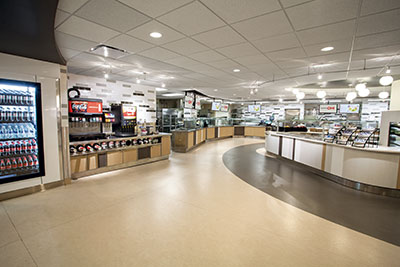 The positioning of stations in the BistrOH! servery allows customers to flow easily and quickly through the space. The design creates a backdrop for the food that promotes the idea of freshness and health. Photograph by Christian Dohn, Dohn Studios, CincinnatiThe designers sought to open up the servery to make it more spacious and provide two entries. This was accomplished, in part, by recovering additional space used for the old central patient trayline that was no longer necessary when remote patient dining support was moved from the kitchen to the remote HCs.
Space also was recovered when staff eliminated the tray accumulation station in the café and added remote trash and recycling stations throughout the seating area.
In addition, some back-of-house functions such as pizza production were transitioned to the front of the house. "We physically separated the hot grill and cold deli stations in the servery so staff could achieve better throughput in the café servery," Jones adds.
Designers also faced challenges when building the café and dining spaces because the café operated at full service during the four-phase, one-year café renovation. "This required flexibility because construction impeded the path in which food is taken to the servery," Jones says. "We had to use temporary construction corridors and exterior hallways to bring food into the servery. At times the servery wasn't connected through any back-of-house connection to our central kitchen."
Of course the menu had to be altered during renovation due to the fact the foodservice team worked with about 50 percent of the servery/café space for approximately 6 months. Staff also dealt with delivery and storage constraints. In order to serve a large number of customers, food choices were limited and offered with bar concepts themed for tacos, gyros and whole grains. Staff put together the main ingredients for these menu items, but a fast-casual-style service setup allowed customers to select their preferred toppings.
Generating Compliments and Wows
Though the serving and seating spaces were in disarray during the renovation, as new sections opened, customers could see more of the new areas. "In the seating areas, tables and chairs were added at the end of the project, which resulted in customers giving the café a bigger 'wow' when it was all done," Jones says.
Another wow was created by staff embracing the medical center's foodservice history and incorporating two signature pieces into the café servery. "We refurbished two functioning pieces — a scale in use in our kitchen since the 1940s and a floor mixer from 1976 — and we applied a shiny scarlet industrial paint to make them look new," Jones says.
Today, the café features a multipurpose station with cold and hot holding wells so staff can offer a large variety of menu items to customers who eat here daily. "This allows us to easily adapt to different service options, and we can bring in specialty outside partners for menu items such as sushi," Jones says.
At the pizza station, a stone-hearth pizza oven bakes flatbread pies such as Reuben, five-pepper, tandoori chicken and build-your-own. Customers can buy full or half flatbread options. This station serves more than 350 pizzas daily.
The grill station features high-speed panini presses, a flattop grill and cold food prep tables. The area serves as a multipurpose station for breakfast, lunch and dinner sandwich and omelet stations. Specials of the day rotate. The station serves more than 700 customers daily.
The servery also features two beverage stations and a shapely salad station with hot and cold wells and refrigeration to fortify hourly ingredient stocking.
Technology support also drives efficiency into the foodservice operation. For DoD, nutrition services staff, nursing staff and patients use iPads and tablets at patients' bedside to gather menu selections, which eliminates the need for a call center and the additional FTEs to manage it. The system connects to a large patient database containing diet orders, has tray status monitors available for nutrition and nursing so everyone has access to patient selections and meal delivery times selected. This also allows the food production process to be automated.
In the retail operations, ordering kiosks tie to menu boards, and an automated retail food production system queues food selections with automatic printing and timing to the appropriate station. Jones estimates that more than 900 customers per day use kiosks to make and customize their selections. "This speeds up the selection, gives customers more choices and selections are bar coded to simplify check out at the cashiers' stations," she says. In addition, through the menu board and kiosk, customers receive simple nutrition information to support the facility's health and wellness program.
Sustainable Practices
The overall project achieved LEED Silver certification from the United States Green Building Council. Foodservice-specific factors contributing to the certification include integrated garbage disposals in the cold food production areas, a pot and pan room and tray scraping area that delivers food waste for processing in the biodigester, a machine that provides anaerobic digestion. The biodigester uses microorganisms to break down biodegradable materials in the absence of oxygen and discharge the byproducts via gray water into a standard wastewater system.
As the team looks back on the challenging years before completion, they admit that the only way success was possible was through a team effort. "Julie and her team were fully engaged and dedicated, and they are the main reason this project was a huge success," Egnor says.
Facts of Note
Opened: Hospital, 1925; kitchen renovation began in September 2012 and was completed in June 2014. The remote hospitality centers, which support room service dining for patients, opened between March 2013 and November 2013. The fully renovated retail café, BistrOH!, opened September 2014 and BistrOH! To Go, a quick-service grab-and-go store opened in January 2014.
Scope of project: Redeveloping the food and nutrition area to gain additional capacity and efficiency to serve more meals by enhancing the cook-chill program, improving kitchen layout and equipment, upgrading key mechanical systems and changing service models to room service dining for patients. The project also includes an enlarged BistrOH! café servery and BistroOH! To Go with various menu options for retail food customers. A phasing model kept the kitchen fully functional during the 24-month construction process.
Size: The project covered 35,000 sq. ft. in 4 existing hospital buildings. This includes renovating 32,000 sq. ft. of existing kitchens and mechanical rooms, as well as 3,000 sq. ft. in remote patient care areas for hospitality centers.
Seats: 501
Average check: $4.40 (BistrOH!) and $2.35 (BistrOH! To Go)
Total annual sales: $4.75 million
Transactions (weekly): 21,500
Hours: BistrOH!, 6 a.m. to 7 p.m.; BistrOH! To Go, 10:30 p.m. to 1 a.m. (Sunday through Friday)
Menu specialties: Flatbread pizzas baked in the stone hearth oven, made-to-order hot and cold deli sandwiches, specialty built-to-order salads, house-made soups, large variety of entree selections and healthful food choices
Staff: 165 foodservice FTEs
Total project cost: $13 million (excluding new tower)
Equipment investment: $3.5 million
Website: www.wexnermedical.osu.edu
Key Players
Ownership: The Ohio State University, Columbus
Administrative director at The Ohio State University Wexner Medical Center: Mary Angela Miller, MS, RD, LD, FADA
Director, nutrition services: Julie Jones, MS, RD, LD
Executive chef, nutrition services: Drew Patterson, CEC, CCA
Ohio State construction project manager: Paul Lenz, RA, LEED AP, MA
Architect and interior design: FRCH Design Worldwide, Cincinnati, Ohio; Rich Barrick, AIA, vice president, and Luanne Carleton, AIA, ICSC, creative managing director
Associate architect: BDT Architects and Designers, Athens, Ohio; Nicholas Bittner, CFO, architect, DBIA
Operations consultant: Ruck-Shockey Associates Inc., The Woodlands, Texas; Georgie Shockey, president
Foodservice design consultants: JME Hospitality (formerly JEM Associates), Pleasantville N.J.; John Egnor, president, and Louisa Stangel, project manager
Engineering: Heapy Engineering, Dayton, Ohio; Mark Brumfield
Equipment dealer: Breckenridge Kitchen Equipment and Design, Huron, Ohio; Richard Pohl, Mike Huddleston and Doug Posa (no longer with the company)
Construction: Elford Construction, Columbus, Ohio; Ken Wayman, vice president, and Randy Wight, construction superintendent
Meet the Players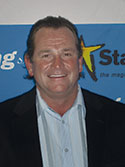 John EgnorJohn Egnor, president, JME Hospitality, has a career that combines decades of senior management experience and technical expertise in plumbing, HVAC, building systems and sheet metal fabrication, and facility design. Prior to founding JEM Associates in 1991 (which became JME Hospitality in 2015), Egnor held a variety of positions including serving as business manager for a design/build kitchen equipment contractor in New Jersey; vice president of facilities engineering for Resorts International Casino Hotel in Atlantic City; and vice president of service and maintenance for Liber Rich & Sons Inc., a New Jersey mechanical and plumbing construction firm.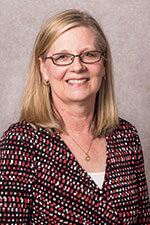 Julie JonesJulie Jones, MS, RD, LD, director of Nutrition Services, has experience as a leader in hospital-based food and nutrition services spanning more than 30 years. In her current position, she is responsible for the food and clinical nutrition services provided across the five-hospital system. Jones fosters a strong team environment, embraces
technology solutions for routine foodservice tasks and converts ideas into practice. She has a strong background in strategic planning and leader development. Jones currently serves as the treasurer for the Association for Healthcare Foodservice (AHF) and is the organization's president-elect . She is the 2015 IFMA Silver Plate Award winner in healthcare.
Georgia ShockeyGeorgie Shockey, principal, Ruck-Shockey Associates, has more than 30 years of operational and project experience. She has extensive knowledge in all aspects of hospitality management, including the management of daily operations, implementation of new services, feasibility studies, proposal, contract negotiations and system design and development. Previously Shockey was a national account manager for Sodexo and Industry Advisory Chair for HFM (2005-06). In 2005 FE&S presented Shockey with the magazine's Top Achiever-Consultant Award.