An airy, open kitchen and easy-to-navigate servery with several culinary concepts provide enormous menu variety and an innovative, educational and sustainable dining experience.
On Stanford University's sprawling campus, Florence Moore Hall, known as "FloMo," consists of seven co-ed residence houses, each containing a dining room, lounge and common area accommodating up to 85 student residents. All seven houses encourage communal living and support the university's goal of residential education in a living-and-learning environment. Three of the houses participate in Structured Liberal Education (SLE), a residence-based, integrated academic program in humanities classics (literature, philosophy and the arts) and writing instruction.
The houses radiate asymmetrically from a central dining kitchen and servery. According to an oft-recounted story, Florence Moore, the hall's benefactor, provided funds on the condition that hard-packed ice cream would be served each day in the dining hall. Stanford continues to observe this tradition, featuring flavors such as organic toffee crunch and organic Kona coffee produced by a local creamery.
Originally built in 1957, the hall was in need of significant enhancements decades later. The renovation project, completed during the summer of 2013, included an overhaul that changed the nature of the dining experience at this location. The dining hall renovation was part of a larger project, which included gutting and rebuilding the houses' restrooms and showers as well as two apartments for resident fellows.
Food is the star in FloMo's operation. The station above featuring an electronically controlled gas-fired circular grill, allows just-in-time cooking of Indian dosas, Mongolian barbecue, Spanish seafood a la plancha and Chinese scallion pancakes. The grill station also features a refrigerated base to keep ingredients within reach and facilitate food safety practices. "The plans for this renovation were strategic and an opportunity to create a unique design that enhances the student living-and-learning experience with an equally innovative, educational and sustainable dining experience," says Dr. Shirley Everett, senior associate vice provost of Residential and Dining Enterprises (R&DE). "This new design fosters a sense of community, encouraging intellectual and social engagement. The overall experience at Florence Moore will be in keeping with high standards of excellence for great nutritious food, pleasing ambiance and outstanding service, which is the hallmark of R&DE."
"The renovated dining hall enhanced our student dining program," adds Eric Montell, Stanford Dining's executive director. "This sets a new standard for exceptional culinary experiences, community-building opportunities and an unprecedented design for students to dine together and build a vibrant community." Since the renovation, the number of meals FloMo serves has increased 30 percent due to modernized food equipment and the larger servery.
Montell credits Dr. Everett as well as the students who gave input and the project team with "working tirelessly with a dedication to excellence" to complete the transformative project on time and on budget.
"Working tirelessly" is undoubtedly an understatement. "This was a tight 12-week summer project," says Byron Wong, architect, LEED AP, DES Architects + Engineers. "We worked with the Level 10 Construction company, which used the lean construction method and ordered five-month-long lead items ahead of time for just-in-time delivery on the job site."
Architecture and Interior Design
The open kitchen offers variety at multiple points of service and invites students to participate in the entire cooking experience. The bronze-clad hoods serve as the servery's centerpieces and contribute to the operation's sustainable efforts. The architects opened the hall's space both in height and depth. One of the more dramatic features of the 13,576-square-foot renovated space is the increased natural lighting. "Before the remodel, the existing clerestory windows in the servery were covered by a false wall and lowered ceiling," Wong says. "We pulled back the veil of the lower ceiling, and now the clerestory brings the California sunshine into the servery, creating a brightly lit environment."
In keeping with the original "California living" design theme and to create a modern, open feel in the servery, a stainless steel serving counter, which had blocked a wall of floor-to-ceiling windows looking out onto the central courtyard, was removed to let in natural daylight. A 10-seat chef's table sits near this newly exposed window, and Stanford Dining uses it for weekly, three-course, chef-inspired dinners for students who make reservations. "This provides a new and exciting dining option and supports community building opportunities for students," Montell says.
"The walls adjacent to the floor-to-ceiling windows were painted a light green to connect to the outdoors and to employ the Japanese design concept of borrowed scenery," Wong says.
Flooring in this space consists of two styles of rectangular porcelain tiles. One, made of 40 percent recycled material, mimics the natural waves of stalattiti marble. The other contains ceramic wood features with high-tech performances that do not scratch or stain and is extremely hygienic compared to natural wood.
In addition, large tiled columns in the servery were slimmed down and updated with contemporary, bronze-accented glass tiles, which complement the anodized bronze hoods over the cooking stations. The bronze hoods became a primary focal point of the design. New and larger hoods were necessary to transform the space from the axial layout in the original design into an open kitchen design that allows circulation among a greater number of serving stations, offering more variety than in the past. The previous kitchen had just one very large central exhaust hood, which took up much of the visual space.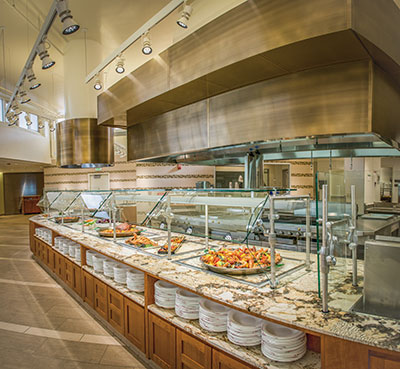 The open kitchen offers variety at multiple points of service and invites students to participate in the entire cooking experience. The bronze-clad hoods serve as the servery's centerpieces and contribute to the operation's sustainable efforts. "The open kitchen with food variety at multiple points of service invites students to participate in the entire cooking experience," Montell says. "Students can talk with the culinary staff and customize the menu to their individual needs. This design helps build stronger relationships, and it provides a sense of community and comfort as students dine in their home dining hall." In addition, food variety at multiple points of service decreases queuing times.
"Much of the food production in the kitchen was hidden from students prior to the renovation," Wong says. "There was a 30/70 split of servery to kitchen area. We reversed it to a 70/30 split so more area would be dedicated to food preparation in plain view of the students. Students have a higher visual connection to the cutting, mixing, tossing and heating of the meals."
Volumetrically opening the space allowed architects to suspend one exhaust hood from the new open ceiling at the island cooking suite and another over the grill. "Supporting the two suspended hoods — which look like they are hovering in space and bring eyes to what's going on below with preparation — was an engineering challenge," Wong says. "We carefully engineered the reinforcement of the existing steel-frame and wood structure to suspend a 1,700-pound exhaust hood from the 17-foot-high ceiling over the suite. The 400-pound circular hood was suspended above the grill with threaded rods, a metal framing system and diagonal cables for a crown effect."
The bronze cladding of the suspended hoods and others that sit over the rotisserie and pizza oven features a light oxidized, lacquered finish as well as theatrical lighting. This allows the hoods to serve as the design centerpiece. They also contribute to a sustainable operation because they are energy efficient with a demand-control variable-speed system that automatically adjusts to the level of cooking activity.
Another key design feature, FloMo's original stainless steel servery counters with steam bath warmers, was replaced with heated granite countertops. "The countertops present food well in colored metal serving dishes and keep them warm and safe," Wong says. "The design impetus was to show students that dishes with less meat can be delightful to see, smell and taste."
An outdoor central courtyard dining area includes an outdoor kitchen with a hearth deck oven, a kitchen island and custom-built wood and gas-fired grill. Courtyard seating is available for 200 on repurposed sustainable teak tables and chairs. A chef's garden sits within feet of the outdoor kitchen. In order to select the specific granite slabs Everett, Montell and representatives from the project team went to a local granite yard, handpicked 42 granite slabs and identified the specific cut patterns to ensure the most beautiful portions of this natural material would be seen and touched. "The granite for the heating shelf was carefully cut from the same granite piece that would be used for the countertops," Wong says. "The cut piece was inlaid into the heating shelf, and the heating shelf was put back into the countertop to maintain a solid continuous appearance. The granite veins continue from the heated shelf to the countertop seamlessly."
Lighting remains a critical factor in the servery. High-performing LED lights with a monochromatic warm white emission and a color temperature of 3,100 degrees Kelvin accentuate the greens in the salads. These adjustable fixtures allow for 330 degrees of rotation for future flexibility when lighting food.
One additional obstacle appeared when designers were told an emergency supply storage space had to be incorporated into the project. "The dining hall was already undersized for its capacity," says Jean-Michel Boulot, principal, Ricca Design Studios. "We had to redesign the servery, but in the end the flow is better now."
The Flow of Food and Prep to Service
After food arrives at the loading dock, staff move it into dry storage and four walk-in coolers, one containing a small freezer. When prep begins, staff preparation takes place next to the storage, cooking equipment and serving line. This activity occurs within the same space. "Each cooking area was designed to perform a specific function, but the layout is designed for maximum efficiency," Boulot says.
In order to prevent white noise and additional heat from filling the facility, the operation uses remote refrigeration with compressors sitting on the roof. "As a result, the ceiling needed to be reinforced with steel beams in order to accommodate the additional weight of the compressors," Boulot says.
For the project, Boulot says, most of the electrical panels were maintained, though they did receive upgrades. "We didn't need a UDS [utility distribution system], and it would have taken up too much room and changed the look of the cooking suite," he says. "We wanted the servery to look elegant."
At one station, a custom-designed island cooking suite provides multiple cooking platforms and customization of display cooking. The double-depth suite features multiple display cooking stations, including three custom-built pieces, a charbroiler, griddle and six-burner open range, as well as an Energy Star-rated gas fryer. For added design flow, the suite also features a custom refrigerated base and drop-in hot well. "The grill is at the end so it becomes a showcase for customers to watch as chefs prepare the food here," Boulot says. "The fryers are on the back side so they aren't seen by customers."
Adjacent to the suite, another station featuring an electronically controlled gas-fired circular grill, allows just-in-time cooking of Indian dosas (which resemble crepes), Mongolian barbecue, Spanish seafood a la plancha and Chinese scallion pancakes. The grill station also features a refrigerated base to keep ingredients within reach and facilitate food safety practices.
At a nearby station, an eight-spit rotisserie oven slow roasts meats and seafood, which staff then carve by hand and serve to order. The large-capacity rotisserie accommodates up to 48 chickens at one time. The black and gold-trimmed rotisserie beautifully showcases the roasted chicken. And, Boulot says, "on the lower shelf, chefs can cook vegetables that are seasoned with the drippings."
Key equipment at this station includes a 40-gallon tilt skillet, a six-burner range and a combi oven that support the overall menu production including entrees, sides, sauces and soups coming from the campus central production kitchen.
At the next station, moving west, staff work on 15 square feet of work surface above the undercounter refrigeration next to a hearth deck oven containing a radiant gas flame and an infrared burner under the 4-inch-thick monolithic hearth. This hearth oven cooks pizzas, calzones and flatbreads, as well as open-faced sandwiches, English muffin breakfast sandwiches and paninis. The menu here features specialties such as arugula, strawberry and blue cheese flatbread; brie and apple flatbread; breakfast flatbread with goat cheese, fried eggs, caramelized figs, microgreens and pancetta with grilled pears; and pizza topped with smoked salmon, capers and crème fraîche.
The servery also contains a soup and salad station, two beverage stations and, of course, an ice cream station.
A Kosher station contains a heated shelf, soup well and hot/cold wells so students requesting this fare can be comfortable knowing food is exclusively prepared according to Kosher specifications.
As new generations of students rely on FloMo as their primary dining location, they are becoming more knowledgeable about food and how to combine ingredients that are nutritious and enjoyable. They will take what they learn from their experiences here into their adult lives.
Facts of Note
Opened: Summer 2014 with completion of the central courtyard outdoor kitchen
Students in Residence at Florence Moore: 473
Scope of Project: A central dining kitchen and servery with five main serving stations: customized display cooking on an island cooking suite; pizzas, calzones and flatbreads from a hearth oven; an exhibition rotisserie station featuring an eight-spit rotisserie for slow roasting meats and seafood, which staff carve by hand and serve to order; a circular cast iron flat grill for cooking menu items to order; and a kosher display station. Central performance bar offers plant-forward menu items including cold salad bar station and hot vegan and vegetarian menu items. "Performance dining" is the overall theme for the menus, which offer synergistic food and nutrient combinations and performance themes that help students perform at their mental and physical peaks. Seven intimate dining rooms offer seating for individual student houses in the residence. An outdoor central courtyard dining area includes an outdoor kitchen with a hearth deck oven, a kitchen island and custom-built wood and gas-fired grill. Courtyard seating is available for 200 in the courtyard on repurposed sustainable teak tables and chairs. A chef's garden sits within feet of the outdoor kitchen. An emergency storage area provides food and water for the Stanford community.
Size: 13,576 sq. ft., including 900 sq. ft. emergency storage
Seats: 376 seats in 7 dining rooms (facility seats up to 80 percent residence capacity for faculty dinners and house events); 24 seats in private dining room; and 200 seats outside as needed
Average Check: All-you-care-to-eat; breakfast, $8; lunch, $12; dinner, $14
Daily Customers: 475 meals per service period; during summer conferences, up to 900 meals per service period
Hours: Sunday through Thursday, 7:30 a.m. to 8 p.m., offering breakfast, 8 a.m. to 9:30 a.m., lunch, 11:30 a.m. to 1:15 p.m. and dinner, 5 p.m. to 7:30 p.m.; weekend brunch, 10:30 a.m. to 1 p.m.
Menu Specialties: Indian Sunday dinners, Chef's Table (most recently vegan Chef's Table meals), Performance Dining, hard organic, ice cream from a local creamery (per the original donor's request)
Staff: 18 FTEs, including management
Total Project Cost: $5 million
Equipment Investment: $2 million
Website: www.dining.stanford.edu
Key Players
Owner: Stanford University, Palo Alto, Calif.
Sr. Assoc. Vice Provost of Residential and Dining Enterprises (R&DE): Dr. Shirley Everett
R&DE Stanford Dining's Executive Director: Eric Montell
LBRE Project Manager: Kharon Hathaway
General Manager of FloMo Dining: Ebru Epir
Sr. Executive Chef of Performance Dining: Chandon Clenard
Chef de Cuisine: Devinder Kumar
Architect: DES Architects + Engineers, Redwood City, Calif.; Byron Wong, project architect, LEED AP, and Mike Goldenstein, project manager
Interior Designer: DES Architects + Engineers, Redwood City, Calif.; Julie Wellington, interior designer
Foodservice Consultant: Ricca Design Studios; Jean-Michel Boulot, principal, Seattle office; Min An, project director, San Diego office
Equipment Dealer: Duray/J.F. Duncan Industries, Inc., in Downey, Calif.
Contractor: Level 10 Construction, Sunnyvale, Calif., Sarah Larson, project manager
Meet the Players
Jean-Michel Boulot
is a principal at Ricca Design Studios. His 35 years of experience include positions as a chef, administrator, operator and design/project manager at top international hotel chains including Hilton International and Ritz-Carlton. His college projects include California State University's Northridge campus, San Diego State University and the University of Washington. Boulot's work at Ricca has included projects for Microsoft, Samsung and Disney.
Michael Goldenstein
is project manager at DES Architects + Engineers. With more than 35 years of industry experience, his strengths are in design, construction document preparation, specification writing and construction administration. Goldenstein's experience includes leading design and technical teams to develop large, complex projects on fast-track schedules.
Eric Montell
is the executive director of Stanford Dining, a division of Residential & Dining Enterprises (R&DE). He oversees the residential dining program, providing services for 4,000 undergraduate and 5,000 graduate students. Montell graduated from the Culinary Institute of America (CIA) in New York and studied hotel and restaurant management at the University of Hawaii. Prior to joining Stanford University, he worked for Marriott Management Services, Stanford Hospital and Lucile Packard
Children's Hospital at Stanford.
Julie Wellington
is an interior designer at DES Architects + Engineers. Her interior design expertise is in education, technology, science and healthcare environments. Julie's talents and experience include facilities design, programming, space planning, furniture specification and finishes.
Byron Wong
is project architect at DES Architects + Engineers. During his 15 years at DES, he has worked on biotech, education and commercial projects. His strengths are in document coordination, facilitating communications among clients, engineers, contractors and consultants, and, ultimately, ensuring a seamless document-delivery process.
Sustainable Dining
Guided by R&DE's core value to "build a sustainable future," R&DE Stanford Dining had made sustainability a priority in all aspects of the new dining hall design and operations. Building materials and design are fully sustainable. Though designers didn't apply for LEED certification, they followed many of the associated guidelines and principles.
Dishroom
The Energy Star–rated dishmachine saves water and energy. Before the dishes enter the dishwasher, staff rinse excess food into the food waste scrap collector, which uses less water than traditional prerinse models by recirculating water used for preflushing. Staff use a low-flow prerinse spray nozzle (1.42 gpm) as part of the water conservation strategy. The scrap collector washes soluble food waste through the sewer, which reduces bulk food waste by as much as 50 percent.
In addition, the need for prerinse spray valves is minimized by a station for students to scrape their food waste into compost bins before the dishes are brought to the dishroom. This is part of Stanford Dining's "Love Food Hate Waste" program, which, through a number of educational methods, teaches students to reduce food waste. Asking students to scrape their own plates compels them to confront both their own daily food waste while also seeing the cumulative effects of their peers' food waste as it accumulates in the bins.
Kitchen Equipment Energy
Saving energy was a priority for the updated FloMo kitchen design. The walk-in refrigerators use less energy due to five-inch-thick walls (traditional walls are four inches) and have high-efficiency fans. All of the refrigeration is remote, so it doesn't generate heat in the kitchen space, which helps to maintain a more moderate temperature. Exhaust hoods have demand-controlled, variable-speed drives, which save energy by only operating when needed.
Other energy-saving equipment includes refrigerators using about 30 percent less electricity than standard models; a fryer that uses 40 percent less oil and 29 percent less gas than standard models and has a cool mode to reduce energy when not in use; and an ice maker that is cooled remotely and uses 30 percent less energy and 30 percent less water than standard models—and is expected to save more than $6,000 over its lifetime.
Lighting
Capitalizing upon the success of the "Dining in the Daylight" initiative, which optimizes the use of daylight to reduce energy consumption, the renovation takes advantage of the natural light in FloMo to conserve energy. When the ceiling of Florence Moore was removed, an entire row of windows was uncovered that has given the dining hall a bright and airy feel. Energy-efficient LED lights were installed throughout the servery under the kitchen hoods and in the walk-ins. The LED lights highlight the food displays, while natural ambient lighting fills the kitchen and servery. Occupancy sensors were installed in the office and storerooms to ensure lights do not stay on when not needed. In addition, the servery and kitchen lights are on timers.
Waste Reduction
The dining hall promotes trayless dining, which reduces food waste and hot water usage. Also, plates and bowls are right-sized to decrease food waste. Waste reduction was part of the renovation, and also the dining hall's daily operations. Twenty-nine percent of construction waste was recycled. Used fryer oil is recycled into biodiesel through a partnership with the nonprofit SF Biofuels. All food waste and napkins are composted as part of a robust recycling program. Staff weigh and track food waste and then use that data to adjust production amounts accordingly.
Landscaping
Each of R&DE's dining halls has an associated outdoor garden. Florence Moore Dining is the first to also feature an indoor garden. Within the servery are two vertical aeroponic tower gardens flanking the 10-seat chef's table. A designated Stanford student tends the tower gardens, which stand five feet tall and can grow up to 44 plants each. These gardens provide culinary staff with a variety of fresh and organic herbs and vegetables, such as kale, chard, rosemary, basil, oregano, sage, thyme and mint. In addition, these gardens use as little as 10 percent of the required nutrients and water as traditional, soil-grown crops.
Interiors
Low-VOC paints were used for healthy indoor air quality. Carpets primarily made from recycled materials were used in the dining rooms.