Page 2 of 4
As a support for the restaurants, the garde manger area contains a 40-gallon steam-jacketed kettle for stocks and sauces, a 10-gallon tilting skillet for braising chicken carnitas and frying chicken cutlets, a convection steamer for cooking vegetables and rice, and a countertop griddle for breakfast items and specialty sandwiches. Culinary staff use a roll-in combi oven to roast turkey, beef, chicken and bacon and roll the cooking racks into a blast chiller for thorough cooling. "I particularly like the combi oven because it's easy to train people to use and produces consistent products, and you roll the same rack right into the blast chiller," Sullivan says.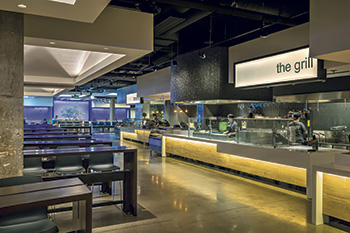 The blue wall is visible from The Grill, where staff make burgers on a charbroiler. The garde manger platform also supports a hot and cold bar at the Harvest Market. The offerings here include hot Indian, Ethiopian and other entrees, a salad bar, locally sourced bagel bar, yogurt bar, all natural and organic snacks, local cheeses and deli meats, grab-and-go salads and sandwiches, and a made-to-order juice and smoothie bar. Support is also provided for Star Ginger and Chef's Table.
The garde manger platform also serves as a prep and staging area for room service at the 117-room hotel housed in the building.
At Star Ginger, staff hold ingredients in a refrigerated rail and use a six-burner range with oven beneath, a wok range, and a fryer to prepare Asian favorites including Vietnamese and Thai rice noodle soups served with a choice of meat or tofu toppings, aromatic herbs, bean sprouts and lime wedge; curries and stir-fries with brown or white rice; and signature bowls with protein choices of Thai barbecue chicken, lemongrass pork, lemongrass chicken, five-spice tofu, and toppings such as shiitake mushrooms, pickled carrots and daikon, cucumber salad, chilies, herb slaw and fried shallots. Sauces for the bowls include chili lime, five-spice teriyaki and yellow curry. Staff also prepare wok specials such as orange chicken, chicken yakisoba, General Tso's chicken, Mongolian beef, and sweet-and-sour pork.
Also featured at this platform are bánh mì sandwiches with lemongrass pork, Thai barbecue chicken and grilled tofu and veggies, pot stickers and egg rolls; energizing beverages such as tea, longan cooler, young coconut juice and icy, spicy lemonade; and smoothies in avocado, mango, raspberry ginger and coconut mango flavors.
At Chef's Table, students can sit close and watch staff prepare food using a four-burner range with an oven beneath and rotisserie oven.At the adjacent Chef's Table, a four-burner range with an oven beneath and a rotisserie oven support culinary staff's preparation of roasted chicken, roasts and fish. "We've already had to make adjustments to our production here," says Sullivan. "The rotisserie's entree selections weren't doing as well as originally expected. Baby Boomers like the entrees and comfort food, even at lunch. But the Millennials want lighter choices and more portable and faster service — in less than five minutes — in a retail environment. So, we now still use the rotisserie to make proteins for the main line, but also feature the same proteins in sandwiches and wraps."
Staff at The Grill use countertop griddles that face customers to cook to order all-natural beef burgers, free-roam chicken and locally sourced turkey burgers. A bank of fryers cooks tenders, fries and sweet potatoes. Staff also make milkshakes with locally sourced milk and ice cream.
Another very popular station, Tamales, contains a glass wall so customers can watch staff prepare tamales on a cooker that takes each ball of dough, drops it into a chute, spreads it out, warms it and shoots it out onto a conveyor at the other end. Staff prepare sauces for the tamales on a four-burner range.
Perhaps the most popular viewing area is at the other end of the marketplace at Yum! Bakery, where a 12-foot glass wall invites customers and an estimated 11,000 passersby to watch baking staff work at a wooden baker's table and with an 80-quart mixer, 20-quart mixer, a roll-in proofer/retarder, double convection oven, four-burner range with an oven below and a rotary oven to produce a daily assortment of pastries and other baked goods, sandwich rolls and pizza dough. "The rotary oven has a counterbalanced, nonmotorized overhead rack-lifting device that also spins the racks to produce evenly baked goods," Sullivan says. "It also has a hygienic, flush floor and oversized baking chamber capable of accommodating oven racks that we wheel out when products are finished baking."
The bakery sells pastries and other baked goods at a counter. It also supplies dough to Famous Famiglia Pizza, sandwich rolls to Deli Delish, and baked goods to Peoples Organic, which has a point-of-purchase counter on the concourse so customers don't have to enter Blue Wall to place orders.
Yum! Bakery customers can also purchase gelato made on-premises at Paciugo, a concept within Yum!
Across a walkway from the stations described above, at Famous Famiglia Pizza, a licensed concept, staff use the pizza dough prepared at Yum! Bakery for pizza and strombolis and prepare from-scratch menu items. A new feature at this station is a gas-fired double-deck brick pizza oven that is also used to bake garlic knots and garlic bread, as well as heat certain dishes. Staff also use a four-burner range to heat sauces for pasta cooked at this station. The platform also contains a rapid-cook ventless oven to toast hot sandwiches. "Staff members here pound out and bread chicken cutlets and other ingredients," Sullivan says. The station also serves salads and fountain drinks.
At the adjacent Deli Delish, staff use a slicer to cut house-roasted turkey and beef and nitrate-free ham. A refrigerated rail holds these meats, as well as other ingredients for classic sandwiches and options such as the chicken teriyaki ciabatta, ham and Swiss grinder; three-cheese and spinach focaccia; and veggie max with red pepper hummus, sliced cucumber, provolone, shredded carrots, lettuce, tomato and onion with oil and vinegar on an all-natural ciabatta. Four rapid-cook ovens allow staff to heat sandwiches quickly and minimize customers' wait times.
Situated along the east side of Blue Wall is Green Fields where staff prepare eight signature, tossed-to-order salads such as Asian, buffalo chicken and Cobb. "We've never had a tossed-to-order concept like this on campus," Eichstaedt says. Staff grill hot toppings at a cooking suite that customers can see through a glass enclosure that also serves as a chimney.
The adjacent Wasabi station features fresh sushi and teppanyaki to order. "We offer sushi in the residential operation, but here we can offer much more variety because we can charge more in this retail environment," Eichstaedt says.
Bussing Stations and Dishwashing
At Blue Wall, disposable serviceware is only available for takeout. In order to accommodate the cleanup for china plates, and stainless serviceware and glasses for water and fountain beverages (no bottled or canned beverages are offered), four bussing stations are positioned on all four sides of the dining facility. Each bussing station contains containers for composting, recycling and trash, and shelving for placing trays.
"We would have liked to have had a single dish drop connected to the dishroom," McGillicuddy says. "But because entrances and exits already existed, we couldn't have just one dish drop. And we certainly couldn't have four dishrooms. So we put in just one in the middle of the platforms, and it handles all dishes. Staff deliver dirty dishes from the dish drops to the dishroom and take clean dishes to each restaurant." The dishroom contains a large conveyor dishmachine and a pot sink.
As Toong, Eichstaedt, Sullivan and the entire design team admit, transitioning into the new Blue Wall facility has been a continual learning experience, including making changes such as minimizing usage of the rotisserie. But success is unmistakable. From the first few months' receipts, the project realized a 25 percent increase in revenue, is serving 1,500 additional meals per day (7,500 meals per day in all) in a space 20 percent smaller than the original three venues. In just a few months, UMass is indeed defining the next generation of college and university retail dining.