A complete makeover following Hurricane Sandy gave this waterfront restaurant and tiki bar a fresh look and a new start.
An intimate seating area contains a high-end vinyl, tufted banquette and pendant fixtures with rhinestones. Photos courtesy of ALX Interiors; photography by Zbig JedrusTwo years ago, Hurricane Sandy blasted the East Coast, leaving devastation and tragic loss in its path. One of the most heartening survival and renovation stories has been that of Sam and Joy Corigliano, owners of the Marina Café, located on Great Kills Harbor on New York's Staten Island.
"We knew a storm was coming, and we made some preparation to place furniture and equipment above the floor level," says Sam Corigliano. "But we never expected that the storm surge would break the windows in the dining room and flood the restaurant with seven feet of water."
An intimate seating area contains a high-end vinyl, tufted banquette and pendant fixtures with rhinestones. Photos courtesy of ALX Interiors; photography by Zbig JedrusThe Monday following the storm, the Coriglianos left their home to assess the damage at the restaurant, which is a five-minute drive away. Their home had miraculously escaped major damage, with only a couple of trees toppled on their property. But the restaurant they had been running for 32 years was little more than a shell. All that remained was a concrete floor, a frame and a roof. The tall glass wall facing the water had been crushed by what was thought to be a 27-foot tidal surge that hit the island. Equipment, tables and chairs had been thrown from the water side to the opposite side and were sitting on wet, greasy floors coated with oil from the harbor. Food that had been stored in the refrigerator and dry storage was scattered throughout the space. The equipment, including the compressors, had been corroded by salt water.
Marina Café sits in an ideal location at the Great Kills Harbor in Staten Island, New York. Photo courtesy of Chef's Corner; photography by Victor Coghlan"It's difficult to describe what happened when I saw this, but I remember my whole life flashing in front of me," Corigliano says. "I was in shock for several days and not just for what this meant for myself, but also for the 30 people who had been working here for years.
"About the fifth or sixth day, I had come to work with my 18-year-old grandson, and I told him I thought I'd walk away and sell the property," Corigliano adds. "I felt like my professional life was over. I had worked as an owner-operator for so many years, and maybe this was the time to get out."
But Corigliano's grandson strongly objected. "He said I can't just walk away, because for more than 30 years I have built a very positive reputation, and I should rebuild. My other family members and friends agreed."
Immediately after the storm, Corigliano, with help from his employees and neighbors, began throwing everything into 30 dumpsters. This process, which took nearly two months, had to be completed before a decontamination and mold remediation company could begin its work on what was left of the building. The restaurant — an iconic landmark and part of the Staten Island coastline — had sustained about $1 million in damage.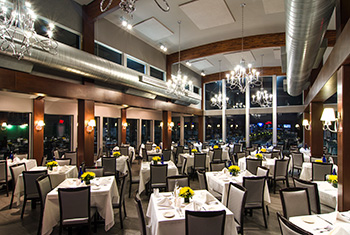 In the main dining room, designers saved the ceiling rafters and exposed ductwork but replaced the wood columns. LED bulbs replaced incandescent bulbs, and porcelain tile glimmers to evoke the sand and sea. The 21-foot-high ceiling is shaped like a boat and features wood detailing. Photos courtesy of ALX Interiors; photography by Zbig JedrusSoon after the storm, James Padakis, who provides foodservice design at Chef's Corner Restaurant Equipment and Supplies, drove to Marina Café to see if he could be of assistance. "The water was so deep and damage so extensive, I couldn't recognize the front of the building," Padakis says. "We hit the ground running, measuring everything and talking about layouts. I had the previous designs on my computer, so I could show him what existed before Sandy."
Rebuilding the restaurant and outside tiki bar took about a year. In order to qualify for financial assistance, the building couldn't be raised off the ground, but the floor could be raised about eight inches. "Had we raised the building, we might have had to delay opening for another three years," Corigliano says.
During the restaurant's renovation, Corigliano purchased a kitchen trailer in which staff prepared a limited menu of burgers, salads and hot dogs on the outside patio. This sent a message to the community and guests that the restaurant was still in business and would return to full service after renovations were completed.
"The entire infrastructure of the restaurant could, and had to be, restored," says Alexandra Fernandez, principal of ALX Interiors. "The design concept was to maintain an influence of sea and sky, but with a more trendy and glamorous edge." Fernandez's affiliation with the Marina Café dates back to 1995 when she worked with Corigliano to transform his small eatery with an outside deck into a contemporary restaurant.
On December 8, 2013, a year and two months after Sandy hit, the refurbished Marina Café opened it doors, and nearly 90 percent of the staff returned to work.
A New Coastal Interior
Guests at the chef's table can see the dining room. The door panels slide open to make the dining room larger for special occasions. Rhinestones on the light fixtures with LED strip lighting add a bit of glamour.Upon entering the restaurant, guests notice the coastal design elements. "They see an oversized mural of rock formations reminiscent of cliffs and caves, where the combination of water and light create soft, glistening patterns on the hard surfaces," Fernandez says. "As you head toward the hostess station, white sheer drapes line one side of the hall to add softness and provide contrast to the various shades of gray used throughout the interiors."
Indicating the entrance to the lounge, modular wall panels, painted in an intense blue, add a big splash of color and depict a wave pattern. Turning into the lounge, guests see a large, shimmering chandelier draped with hundreds of thin silver chains hanging from the vaulted ceiling. The three-sided fabricated bar with a center island — considerably larger than the previous one — contains a solid-surface quartz top combined with a cracked-glass mosaic on the bar face. "Large rectangular columns dressed in the same gray porcelain tiles used for the floor surround guests, while stainless steel details create a horizontal striped pattern from floor to ceiling," Fernandez says.
The new space features an electric fireplace, bistro tables, five televisions (increased from two previously) and double the amount of refrigeration space to hold wine and other beverages.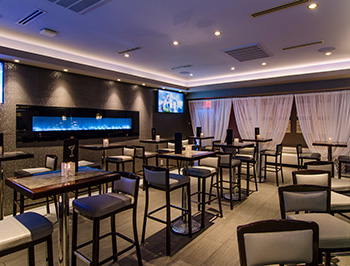 In the lounge, the textured wall surrounding the fireplace features porcelain tiles measuring 2 feet by 3 feet. LED strip lighting and tiny recessed LED fixtures in the fireplace illuminate the space. White shears add softness to the surfaces and separate the main room from the room behind, which contains a banquette furnishing the hallway entrance.Nestled in front of the main dining room, a chef's table creates an intimate private dining space that can seat a party of 12. Staff can break down the table to create four tops if needed. The tufted banquette, with shimmering rhinestone-shaded pendants and comfy throw pillows, provides another intimate seating area.
In the dining room, high ceilings and glass windows offer breathtaking views of the harbor. The room's six large, glistening chandeliers provide light and design elegance. All lighting is LED.
"One of the best things we did was to get rid of carpets, which are hard to maintain and keep clean, and use porcelain tile throughout the space," Corigliano says. "Of course, we had to work out acoustics in a different way." To cut the noise level, designers installed acoustical panels in the ceilings and installed a 40-foot-long upholstered wall.
Outside, the tiki bar was also completely rebuilt. Today the four-sided, full-service bar contains a central island, granite countertops and refrigerators. Garage doors close so the bar can be locked at night and during the off-season. The main kitchen supplies the food for this area.
An Efficient Operation
The hot cookline contains fryers, ranges, broilers, a steamer, a pasta cooker and a plancha.After food items arrive at the front of the restaurant, staff place them into two walk-in refrigerators, a small freezer and dry storage. "An additional walk-in refrigerator was added to the equipment package after Sandy to accommodate the volume during peak periods," Padakis says. "We also reconfigured the kitchen and brought in new heavy-duty equipment to give Sam and his staff the ability to service customers more efficiently and reliably. We created extra production space by relocating the office to the delivery area at the front of the building. The existing restrooms and storage area were also redesigned. Time-proven quarry tile and fiberglass reinforced panels were used throughout for ease of cleaning and low maintenance."
Cooks move the ingredients from cold storage to a prep area containing worktables and vegetable and prep sinks, as well as a blender, food cutter, buffalo chopper, 20-quart mixer, slicer and food processor. Staff use this area for making sauces, cutting vegetables, peeling shrimp, washing and preparing clams and items for the raw bar and making salad dressings. A meat grinder supports staff as they prepare meat for burgers. This area also contains a stockpot range, four-burner range and fryer for staff to cook eggplant and tortilla chips.
Overshelves improve the kitchen's efficiency. Three exhaust hoods provide the necessary ventilation. Photos courtesy of Chef's Corner; photography by Victor CoghlanThe front-of-the-house cookline is 10 feet longer than the previous line. "This allows us to be more efficient because each person is able to produce food in a specific area and staff aren't crossing over into one another's spaces," says Corigliano. Staff working at the hot cookline prepare a variety of appetizers, including Maryland crab cakes, tempura shrimp, Italian eggrolls and classic calamari, using two six-burner ranges and a plancha. "We added a plancha, which we didn't have before, because it helps us work more efficiently," he says.
In another nod to improve efficiency, Chef's Corner designed the chef's tables with heat-resistant cutting boards and raised refrigerated rails to hold mise en place. The main chef's table also houses five hot food wells and a sink. "In addition, the pickup shelves are deeper than normal — most are 12 inches, and these are 20 inches deep — so they can hold 2 large plates. This way, one server can take the first order out, and then the next server can pick up a plate and so forth. If the shelves are narrow, service backs up," says Padakis. Also, the POS terminals sit closer to the expediter than before to improve efficiency.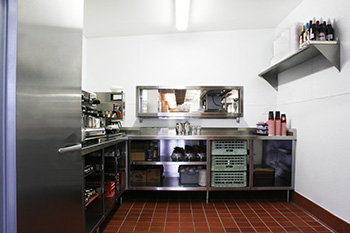 Ample shelving and storage space along with a pass-through window encourage staff efficiency at the beverage station.The grill station features an upright broiler, a charbroiler, three fryers and a four-burner range with a salamander for cooking burgers, sirloin steak, pan-roasted bronzini filet, salmon, veal Milanese, chicken and veal parmesan and other entrées. Staff use the range to also cook side dishes such as sweet mashed potatoes as well as lobster mac and cheese. The adjacent pasta station contains two pasta cookers for pasta primavera, fusilli with sausage and broccoli rabe, and linguine and clams. The steamer cooks lobsters, which may also be baked in the ovens. The expediter stands close to these stations and in front of hot food wells. Heat lamps with halogen lights keep food warm for just a few moments before servers deliver to guests.
At the pizza station, staff make their own dough, flatten it on a dough press and then bake the pies in one of four brick pizza ovens. Adjacent to this area, staff prepare salads, sandwiches and desserts.
In order to provide enough exhaust for the redesigned kitchen and to conserve energy, Chef's Corner and Corigliano selected hoods with three-phase fans and a tempered makeup air system. "We put in three hoods end-to-end over 28 feet," Padakis says. "There is also a fire suppression system that includes stainless steel piping and heat sensors. In addition, we designed vertical stainless steel chases on both chef tables to conceal all utilities. This is a show kitchen; nothing was compromised."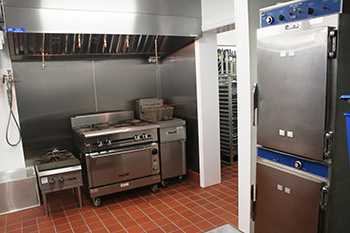 In the prep area, a stockpot range, four-burner range and fryer support staff's preparation of appetizers and ingredients for the main line.Adjacent to the pizza and dessert station stands the beverage area, which contains coffee, tea and espresso makers. A custom-designed, L-shaped pass-through shelf marries the two areas. Shelving and ample storage contribute to efficiency in this area as well.
Across from the serving line sits the dishwashing area, with tables for clean and dirty dishes and a conveyor dishwasher to handle the large volume of serviceware. The bar storage sits next to the wine bar and regular bar, which contains a lounge and counter seating.
In the dishwashing area, a new conveyor machine takes the place of the previous single-rack machine. "This machine allows staff to clean up four times faster than before," Padakis says. "The table space for dirty dishes is relatively small, but staff can get the dishes through the machine faster."
The Future
As for Corigliano's decision to walk away, he says he is planning to retire in about 8 months and turn over what will by then be a 35-year-old restaurant to his daughter and son. "I'll always be their advisor and work on menus, but it's time for the younger people to take over. The business has changed with advertising through Facebook and other social media. The other night, my son-in-law posted a photograph of a dish we served on Instagram and sure enough someone saw it and came in to taste the cuisine. That's great, but I feel I'm not in tune with the new genre." Still, this restaurant owner is very pleased with his decision to rebuild, and he will certainly leave a legacy of courageously facing a disaster and turning the tide of his establishment's history.
Design Capsule
Opened after Renovation: December 2013
Scope of Project: Complete renovation of front and back of house
Size: 6,500 sq. ft., including kitchen (prep, cooking, serving, coffee, desserts), 2,150 sq. ft.; bar with seating, 500 sq. ft.; dining room, 3,150 sq. ft.
Seats: Dining room, 120 seats; bar, 15 stools and 40 in lounge; 100 outside on the wooden pier (can hold 250 people)
Average Check: $50 per person
Total Annual Sales: $2.5 million
Weekly Covers: 750 to 850 in off-peak; 1,200 to 1,400 from Easter to Labor Day
Hours: 12 p.m. to 10 p.m., Monday through Thursday; 12 p.m. to 11 p.m., Friday and Saturday; 12 p.m. to 9 p.m., Sunday
Menu Specialties: Italian/Mediterranean-style lobster and other seafood, steaks and pasta
Staff: 25 to 50, including part-time and seasonal employees
Total Project Cost: $1.7 million
Equipment Investment: $400,000
Website: http://marinacafesiny.com/
Key Players
Owners: Sam and Joy Corigliano
General Manager: Lou Capriotti
Executive Chef: Michael Polouso
Kitchen Manager: Mike Dorans
Architect (filing plans only): DNR Group, Staten Island; Stanley Krebushevski , principal
Interior Design: ALX Interiors, Staten Island; Alexandra Fernandez, principal
Foodservice Consultants: Chef's Corner Restaurant Equipment and Supplies Inc., Flanders, New Jersey; Mark Wehrenberg Jr., vice president; James J. Padakis, CFSP, design and sales consultant
Equipment Dealer: Chef's Corner Restaurant Equipment and Supplies Inc.
Meet The Players
Sam Corigliano

Sam CoriglianoOwner
Sam Corigliano is a graduate of the Culinary Institute of America and a third-generation restaurateur. A savvy Brooklyn native, Corigliano purchases fresh produce and seafood from local markets. He maintains a belief that on-premises cooking is the only way to operate a restaurant. His loyal customer base agrees.

Alexandra Fernandez

Alexandra FernandezPrincipal, ALX Interiors, Staten Island
Born in Buenos Aires, Argentina, Alexandra Fernandez developed a love and passion for the arts at a very young age. After graduating with a bachelor's degree in fine arts from the New York Institute of Technology, she worked for an architectural/interior design firm in New York City's Soho neighborhood for several years before partnering with another New York designer and establishing DNA Design Group in 1991. In 2013, with more than 25 years of business experience, she established her own separate design practice, ALX Interiors.

James J. Padakis

James J. PadakisCFSP, Design and Sales Consultant, Chef's Corner
James Padakis heads foodservice design and sales at Chef's Corner in Flanders, New Jersey. Schooled in architectural design, he has more than 40 years of foodservice design experience. He has also taught courses in foodservice design and equipment at Montclair State University. His accounts include businesses, country club kitchens and bars, restaurants, catering complexes, industrial locations, schools, corporate cafeterias, stadium snack bars and military facilities.
Marina Café Floorplan
floorplanEquipment Key
1. Plastic shelving
1a. Shelving
1b. Wall shelf
1c. Glass rack shelves
1d. Pass-thru shelf
2. Hand sink
2a. Sink
2b. Pot sink
2c. Vegetable prep sinks
2d. Sink and blender
3. Water supply meter
4. Stockpot stove
5. Exhaust hood
5a. Vapor hood
6. Four-burner range
6a. Six-burner range
6b. Plancha range
7. Fryer(s)
8. Food cutter
9. Worktable
9a. Clean dishtable
9b. Soiled dishtable
9c. Worktable w/sink
10. Food processor
11. One-gal. blender
12. 20-qt. mixer
13. Slicer
14. Meat grinder
15. Mobile clean-pot rack
16. Ice maker
16a. Ice bin
17. POS system
18. Mobile pan racks
19. Conveyor dishwasher
20. Hose reel
21. Wine refrigerators
21a. Bottle cooler
21b. Two-section refrigerator
21c. Refrigerator
22. Drainboard cab
22a. Drainboard
23. Sink workboard
24. Direct-draw beer dispenser
25. Trash bridge
26. Glass storage
27. Lighted bottle display
27a. Cold beverage display
28. Pasta cooker
29. Steamer
30. Upright broiler
30a. Overhead broiler
31. Charbroiler
32. Pizza ovens (four)
33. Pizza dough press
34. Refrigerated prep (rail)
35. Beverage counter
35a. Server's counter
35b. Serving counter
36. Coffee grinder
37. Coffee maker
38. Espresso
39. Bread cabinet