A three-phase renovation revives a café, storage rooms, dining rooms and a central kitchen at this continuing care retirement community.
The front a la carte line contains heavy equipment and shelving racks on casters so they are easy to move and clean. Vicar's Landing in Ponte Vedra Beach, Fla., offers its members independent living, assisted living and skilled nursing care. The management company and leadership of this upscale continuing care retirement community, which is set on 24 acres, decided it was time to improve an antiquated foodservice operation for this facility, which opened its doors in 1988.
The renovation project consisted of three phases. Phase One, started in May 2012 and completed in September 2012, transformed the very dated casual-dining pub into the contemporary Blue Heron Café. Phase Two, which began in February 2013 and was finished in April 2013, converted two existing storage rooms and a wait-station area to provide a skilled nursing service/prep kitchen and a temporary prep kitchen for Phase Three. The Windsor Health Center dining room received some refurbishment as well.
Phase Three, the largest project, included a fast-track foodservice renovation to ready the facility for an event celebrating Vicar's Landing's 25th anniversary. This project began in April 2013 and in 6 months transformed the existing 5,100-square-foot main kitchen into a more contemporary, efficient operation providing food for the entire establishment.
"With this renovation, we had to react to what we'd find in the moment because the original wood materials used in the 1980s had to be reworked," says the project's architect, Carlos DelValle, AIA, LEED AP,
principal at Rolland, DelValle & Bradley Inc. "Until the layers of the construction were exposed, we didn't know for sure what we'd find. We had to proceed cautiously. For example, for the wood structure, we had to provide fire protection."
Phase One, Blue Heron Café
Blue Heron Café offers a casual dining venue for customers who place orders at the main counterAt Blue Heron Café, residents, their families and guests find menu items for breakfast, lunch and dinner, as well as snacks, desserts and beverages. Members' fees include one daily meal, which they may take at the café. The offerings and decor, which resemble popular commercial casual-dining locations, reflect a notable change from the former pub. "Hot food was transported and held at the pub before serving, which greatly reduced quality," says Abby Bacolor, director of dining services.
The new 2,060-square-foot Blue Heron Café includes a 486-square-foot counter space and contains a full array of equipment so staff can prepare fresh food cooked à la carte and to order. "In addition to our regular menu of pizza, sandwiches and salads, we offer daily specials like Philly cheese steak sandwiches, stromboli, quiche and shrimp baskets," says Martyn Carre, executive chef.
In the back of the café space, equipment includes refrigerators, an undercounter freezer and worktables. Staff
use a high-speed oven for cooking personal-sized pizzas; a toaster; a panini press for sandwiches; a fryer for sweet potato chips, onion rings and shrimp; a 36-inch griddle for fajitas, quesadillas, hamburgers, veggie burgers, franks, chicken, sausages and eggs; and a 2-burner range for omelets and other breakfast items. An exhaust system with makeup air hovers above the hot food equipment.
Blue Heron Café contains indoor and outdoor seating for 60 guests.Staff prepare a variety of sandwiches featuring chicken salad, tuna salad, egg salad, turkey, ham, roast beef, cheese and various breads, as well as salads such as tossed, Caesar, chef's and a salad platter at a cold prep station. A frost-top unit holds salad ingredients that can be tossed and topped with chicken, shrimp and other proteins. A hot plate with granite holds menu items such as casseroles, quiche and pizza. A soup kettle sits in between the hot and cold plates.
On one side of the counter, a display counter holds desserts, and on the other side an undercounter refrigerator holds beverages, including soda, juices, beer and wine. A coffee and tea station sits all the way to the right side where customers can help themselves to these drinks. A frozen yogurt machine sits atop the undercounter refrigerator.
"The addition of a dishwasher allows staff to continuously clean silverware and china dinnerware as needed," says foodservice consultant John Zerebny, FCSI, owner and president, JAX Design Group Inc.
Residents and their guests dine in a 44-seat dining area or on a 16-seat patio.
The Second Phase
The project's second phase converted a linen storage area that was relocated and a small wait-station area into a space that acts as a prep and plating area where staff assemble meals for 60 members in the Windsor Health Center. "Previously, about 2,000 square feet of space in the main kitchen was used for this purpose, and with the kitchen renovation in Phase Three, we needed this space," Zerebny says.
In the 360-square-foot plating area, staff bring hot and cold food from the main kitchen 3 times a day. A warmer and steam table hold hot bulk menu items until staff prepare trays for members. Staff also bring cold food in insulated carts and keep it in refrigerators until service.
In addition, the remodeling of a beverage service area included removing millwork cabinets and replacing them with stainless steel cabinets, creating work areas and upgrading refrigeration.
Also during Phase Two, a third storeroom was redesigned to serve as a temporary prep kitchen for six months during the renovation of the main kitchen. "Even though this was a temporary kitchen used for six months only, we had to be sure to adhere to all current health and building codes," Zerebny says. After Phase Two, this area was converted into storage and an additional prep area for Windsor Health Center. Also as part of Phase Two, Windsor Health Center's dining received a refurbishment.
The Main Kitchen Renovation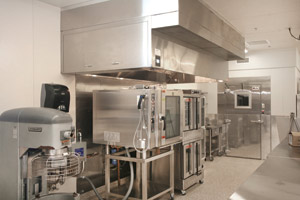 In the bakery section, a floor mixer sits at left. Staff also use a combi oven, double convection oven, two-burner range and dedicated cooler. The operation employs a full-time baker.Due to the extensive renovation needed in order to build the new kitchen, the kitchen space had to be shut down for six months. In order for the foodservice department to prepare food for members during these months, staff worked out of the temporary prep kitchen and a rented, mobile temporary kitchen trailer that was parked outside the main kitchen in the loading dock area. "Renting the kitchen required a large electrical service and major plumbing connections," Zerebny says. "We had to run connections from the main electrical meter area, and plumbing was extended from the existing building."
"Cooking out of a 40-foot-long by 8-foot-wide truck for 6 months was extremely challenging," says Bacolor. "We cut back on the menu but kept service going during the entire time." Staff working in the food truck prepared hot food. The bakery and other staff worked at night. Some dishwashing took place during the day and the bulk of it at night. Some dishwashing was done in another part of campus. In addition, some disposables were used. Staff preparing cold food used the converted storeroom.
"The old kitchen was outdated and presented great challenges to maintain because it was broken up into several rooms, preventing sight lines and good staff communication," Zerebny says. In addition, the cooler, freezer and dry storage areas were too small for the number of meals prepared, and the equipment was old and not working at peak efficiency.
"We changed the menu to include more fresh produce, so we needed the extra storage space, which was increased by about 30 percent by purchasing taller cooler and freezer units," Carre says.
Today the main kitchen prepares food for the independent-living dining room, the assisted-living dining room, the nursing home, support for the café, and special functions such as New Orleans and Italian nights, birthdays and private parties.
In addition to increasing the storage space, the renovation features clear sight lines through the space. "These greatly improve worker productivity, supervision and sanitation," Zerebny says. The new space contains clearly defined and spacious yet flexible work areas for prep, salad service, à la carte cooking, banquet cooking, bakery and dessert service, as well as warewashing and offices. The kitchen also provides air conditioning and, much to the appreciation of staff, contains windows that bring in natural light.
"We selected materials that are scrubbable — hard surfaces that can be cleaned," DelValle says. "For example we used stainless steel, resin flooring that turns up seamlessly to the coat base, and walls and ceilings are fiberglass reinforced panels or stainless steel. There's nowhere for grease or soil to trap."
Food arrives at a delivery dock that is adjacent to an office for the purchasing agent, who monitors and checks in deliveries at the loading/staging area. Staff place food into the expanded storage areas, which include a pair of walk-in coolers for dairy and vegetables and proteins, a walk-in
freezer and dry storage. "This area was designed to be
flexible with mobile equipment to allow several different functions to operate at once," Zerebny says.
Five compressors, including four for the walk-in coolers and one for the ice machine, sit on the roof. "Remoting the compressors contributes to a much better environment for staff because this keeps heat out of the kitchen," Zerebny says.
Also in the improved space, Carre's office now sits to the right of the coolers, providing better sight lines for supervising all kitchen areas. A dessert prep area sits adjacent to Carre's office. This area contains prep tables, a reach-in refrigerator, a soft-serve yogurt machine and an ice cream freezer. "The dessert area now allows servers to access dessert items without having to cross the kitchen," Carre says.
Across an aisle sits the pantry where staff wash produce in sinks and prepare cold items using prep tables and a refrigerated sandwich unit, food chopper, processor and slicer. Staff use a panini grill here for heating sandwiches.
At the hot prep line, staff use a combi oven for baking, roasting and smoking proteins and steaming vegetables; a two-burner range for making sauces; and two tilting braising pans for soups and meats.
On the other hot cooking line, staff use fryers for fries and appetizers; a griddle for fresh fish and meats; a convection oven to cook fresh fish; a charbroiler for hamburgers, chicken breasts and fresh fish; and a steamer for vegetables.
"The equipment at the chef's lines are prewired to a single-point electrical connection," Zerebny says. "In old kitchens you'd have a dozen different outlets coming out of the floor, and the areas are difficult to clean. This kitchen is easy to clean. In addition, the double overshelves provide clear sight lines through the entire kitchen. You can even see under the hood."
In the bakery, which is supervised by a full-time baker, staff use a walk-in cooler, floor mixer, ingredient bins, a proofer and combi oven to prepare muffins, biscuits, pastries, cakes, cookies, other desserts and parbaked breads.
Once staff prepare foods, they transport them to their designated areas. Food for independent living, assisted living and skilled nursing travels in bulk to staging kitchens where staff plate it and deliver it to members and their guests. In addition to serving hot food hot and cold food cold, Carre says "the key to keeping customers happy is changing the menu quarterly, and if they don't like the choices of the day, we'll prepare what they do like."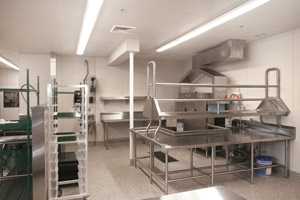 In order to position the dishroom in this area with the column, the dishtable is positioned at the column with the floor trough in the middle. Because the venting of the dishwasher had to weave its way through the existing building to get outside, designers worked on the hood positioning and function for months to get it right. Pot washing is to the left of the mobile tray rack.In the dishwashing area, the main focal point is a conveyor dishwasher with a built-in booster heater. The area also contains a disposer and three-compartment pot sink. In order to position the dishroom in this area, the dishtable is positioned at the column with the floor trough in the middle. "Designers worked on the hood positioning and function for months because the venting of the dishwasher has to weave its way through the existing building and to the outside," Zerebny says.
Sustainable Features and Teamwork
Although LEED accreditation was not available because the renovations took place in an existing building that could not be retrofit to qualify, the project team selected energy-saving equipment and, as noted earlier, refrigerated storage spaces were significantly increased to allow greater use of locally sourced, fresh ingredients.
The success of the project includes efficiencies in productivity and improved customer satisfaction. The project team's cooperation and support of one another also strongly contributed to the project's success. "Very importantly, Joe Noll budgeted properly to allow all of the team members to do our jobs properly. It's unfortunately too rare to have a full and reasonable equipment and construction budget," Zerebny says.
For Vicar's Landing staff, members and visitors, the new foodservice facilities represent a welcome change. Additional improvements will continue with the new West Clubhouse and renovation of the Canterbury Homes, apartment home buildings and the North Clubhouse. Construction will be complete in June 2015. Vicar's Landing is clearly a model of what retirement establishments nationwide must do to continually upgrade their facilities and amenities to attract the fast-growing elderly population.
Facts of Note
Opened: Blue Heron Café in September 2012; Health Center in April 2013; main kitchen in October 2013 in time for the 25th anniversary of Vicar's Landing
Residents: 284 in independent living with 227 independent-living residences; 38 in Stratford, the assisted-living facility; and 60 licensed beds with 50 private rooms in Windsor Health Center, the skilled-nursing facility
Scope of Project: Renovation of all foodservice facilities in three phases without interruption of services to more than 400 residents and staff. Phase One: renovation of the dated pub into the contemporary Blue Heron Café. Phase Two: renovation of two storage rooms and a waitstaff station into the skilled nursing/serving kitchen and temporary prep kitchen and also renovation of one dining room in the Windsor Health Center. Phase Three: renovation of 5,100-sq.-ft. main kitchen. The owner leased a full-service temporary kitchen in a trailer that was parked outside the main kitchen in the loading dock area. Utilities needed to be supplied to power this mobile kitchen. The existing main kitchen was gutted to the wall studs; the floor was ripped up, and the existing utilities were removed. New walls, utilities and equipment were provided and installed.
Size: Café, 2,060 sq. ft., including a 486-sq.-ft. counter area; storage areas, 1,000 sq. ft.; one dining room in the Windsor Health Center, 605 sq. ft.; kitchen, 4,500 sq. ft.; and 700 sq. ft. for offices
Seats: 44 in café and 16 on its patio; 200 in main dining room; 80 in event rooms (will increase to 200 when renovations are complete); 38 in Stratford assisted-living dining room; and total of 48 in two dining rooms in the Windsor Health Center
Daily Transactions: Café, 80; main dining room, 30 at lunch, 120 to 180 at dinner and 80 to-go meals; Stratford assisted living, up to 114; Windsor Health Center, up to 180; employee meals, 85
Annual Transactions: 225,000 meals
Average Check: Members' monthly fees include one meal per day. For guests or members' extra meals, $12 to $15 in the cafe; $20 in the dining rooms
Annual Raw Food Budget: $1.2 million
Annual Operating Foodservice Budget: $3 million
Hours: Café, 8 a.m. to 7 p.m.; dining room for independent living, 12 p.m. to 1:30 p.m., 5:30 p.m. to 8 p.m.; assisted living, 8 a. m. to 9 a.m., 12 p.m. to 1:30 p.m. and 4:30 p.m. to 6:30 p.m.; and Windsor Health Center, 8 a. m. to 9 a.m., 12 p.m. to 1 p.m. and 5 p.m. to 6 p.m.
Menu Specialties: In the café: pizza, omelets, fajitas, hamburgers, sandwiches, and salads. In the dining rooms: filet mignon, casseroles, Dijon rack of lamb, chef's-choice quiche, roasted fresh vegetables and breaded pork steak with onion sauce
Staff: 60-plus; in café, 1 at breakfast, 3 at lunch, 2 at dinner; 22 people in the kitchen, including a lunch cook; 2 line cooks at night; a prep cook, 2 pantry cooks (1 a.m. and 1 p.m.) and a baker.
Total Project Cost: Not available
Equipment Investment: $850,000
Website: www.vicarslanding.com
Key Players
Owner: Life Care Ponte Vedra, dba Vicar's Landing
CEO: Bruce Jones
Director of Plant Operations: Joseph Noll
Director of Dining Services: Abby Bacolor
Executive Chef: Martyn Carre
Architects: Rolland, DelValle & Bradley Inc., Jacksonville, Fla.; Carlos DelValle, AIA, LEED AP, principal
Interior Designer: Rolland, DelValle & Bradley Inc., Jacksonville, Fla.; Sandra Bradley, principal
Foodservice Consultants: John Zerebny, FCSI, owner and president, JAX Design Group Inc., Jacksonville Beach, Fla.
Equipment Dealer: Designs Furnishings & Equipment Co., Inc., Daytona Beach, Fla.; Buddy McKernan and Mike McKernan
Construction: Batson-Cook Co., Jacksonville, Fla.; Thad Blinn
About the Players
Abby Bacolor
Abby Bacolor is director of dining services at Vicar's Landing, and her foodservice industry career spans 34 years. Bacolor joined the Vicar's Landing team in 1991 as the dietetic technician overseeing the Health Center's foodservice operations before assuming her current position in 2003
Sandra Bradley, LEED AP
Sandra Bradley, interior designer, LEED AP, is principal at Rolland, DelValle & Bradley Inc. Bradley has served as principal in charge of interior design, space planning and programming since the firm's inception. Bradley provides expertise in developing concise space programming analyses, functional space plans and interior design for specific client needs.
Martyn Carre
Martyn Carre is executive chef at Vicar's Landing. Born in Guernsey Island in the English Channel off the coast of Normandy, Carre has worked in the foodservice industry since 1974. His background includes working at the Royal Hotel in Guernsey and retirement centers on the island. Carre's resume also includes working with Aramark and its convention center and special events customers and owning his own restaurant. He came to Vicar's Landing in 2007
Carlos DelValle, AIA, LEED AP
Carlos DelValle, AIA, LEED AP, serves as principal in charge for Rolland, DelValle & Bradley Inc. As a founding principal of the firm, he has comprehensive responsibility for project direction, including client liaison, contracts, design, production of documents and construction administration. His significant experience in all phases of design, management and construction has enabled him to successfully oversee a number of large and complex projects through to completion.
John Zerebny
John Zerebny, FCSI, is owner and president of JAX Design Group. He began his foodservice career in 1988 working at a design-build dealership and then as a manufacturer's rep before founding his firm in 2005. JAX Design Group's client list includes architectural firms, school foodservice operations, mechanical and marine engineering groups and club management.