The barbecue stalwart doubles down on its commitment to off-premises with the opening of its first drive-thru location.
Barbecue is a great off-premises food. Sure, the sauce (if you need it) can be a little messy, but the proteins make for good sandwiches, and the meats and sides alike tend to travel well. Meat by the pound is also more affordable than many people would guess, making it a good option for catered events. Famous Dave's has understood this about barbecue since the concept's inception.
=
Image courtesy of Famous Dave'sThe chain got its start in 1994 in Hayward, Wis. (population 2,780). With a menu that includes ribs, sausage, Georgia chopped pork, Texas beef brisket, barbecued chicken and more, Famous Dave's has since grown to roughly 130 locations in 32 states.
Some of this success certainly stems from the chain's commitment to off-premises. Early stores had separate entrances and counters for to-go and catering orders and in some cases even parking areas designed specifically for these customers.
"In the early days of Dave's, I would say about 30% of total revenue was off-premises. About 20% was takeout and 10% catering," says Al Hank, chief operating officer of Famous Dave's parent company, BBQ Holdings. Hank has worked with Famous Dave's for 17 years. "As the years progressed and the concept continued to evolve, our pre-pandemic revenue grew to 50% off-premises."
Given the chain's history — and the direction of the restaurant industry in general — it should come as no surprise that Famous Dave's made an important advance in its off-premises business earlier this year with the opening of the concept's first drive-thru location.
Quick 'Que Format
The first Famous Dave's drive-thru is located in South Salt Lake, Utah, in a converted quick-service restaurant. The opening of this restaurant is part of a larger initiative by Famous Dave's to reduce its store size.
The chain's legacy restaurants are full-service operations serving both beer and spirits. These stores typically measure between 6,000 and 7,000 square feet with 250-300 seats.
The full-service model isn't likely to drive the chain's future growth, says Hank. "As you watch the trend of the consumer changing their behavior with your brand, you come to realize that you have a lot of latent capacity in the dining room and you don't necessarily need all that space. So a couple of years ago, we started this initiative to shrink the box. We knew the new vision, the new prototype of Dave's. Our target was somewhere between 3,000 and 4,000 square feet." These smaller locations have been popping up around the country and feature the look and feel of a Famous Dave's — or the newer version of Famous Dave's, at least.
A few years ago, the chain updated its design concept from a log cabin motif and related tchotchkes (such as moose heads and canoe paddles) to something more current. The new atmosphere is brighter, with white on gray and red accents, along with black-and-white food photography. "It still screams barbecue," Hank says. "It just feels like a much more modern, clean environment to be served barbecue in versus the log cabin. We're still using corrugated metal and all the things you would think translate to a barbecue restaurant."
While the vibe stayed the same, the operations didn't. How could the operations remain the same at half the size, after all? These new stores, then, deploy a quick-service/fast-casual business model. They've also been given a matching spin on the brand's name: Famous Dave's Quick 'Que.
With this new size and approach, Famous Dave's can fit into many different spaces that would have been off-limits with its previous prototype. To make the most of these new opportunities, the chain has developed two approaches to service at these locations: counter and line.
Famous Dave's first drive-thru location, which formerly housed a different QSR brand, provided an already established QSR-style kitchen setup.
Point-and-pick line service was deployed at the first Quick 'Que location, which opened in the summer of 2021 in Las Vegas. These restaurants feature the popular fast-casual style of service, a line where guests walk past food held mostly in wells and point out what they'd like on their plate. This style presents barbecue in a new way for Famous Dave's, with the hot line on the back wall, fully in view of customers, and meat placed front and center.
"It is a completely different level of authenticity than the historical Dave's," Hank says. "You get to see that brisket being sliced, or that big old pork butt hitting the table, or that slab of ribs coming off the grill."
Counter service is closer to the QSR model. The kitchen isn't set up for display. Instead, guests order off a menu board, not based on what's in front of them and staff assemble orders in a kitchen behind the counter.
Quick 'Que locations can have a counter-service operation, as seen here, or display food in wells for guests to see and select as they walk down an assembly line.
QSR-ifying the Menu
To better match guest expectations and the operational model of QSR and fast casual, Famous Dave's adjusted its menu offerings for both line and counter-serve Quick 'Que locations. Such changes are especially important with a drive-thru location, where ticket times can make or break a restaurant. In some cases, says Hank, items were taken off the board. The chain simply isn't going to serve a cedar-plank salmon entree through a drive-thru, for instance.
In other cases, Famous Dave's innovated with its existing items, creating more combo meals complete with a side and a drink. "We have implemented more sandwiches; we've got some hoagies, a brisket French Dip — things that are more in line with consumers' expectations for a drive-thru," Hank says. "We can offer our same great food but package and bundle it a little differently for the consumer."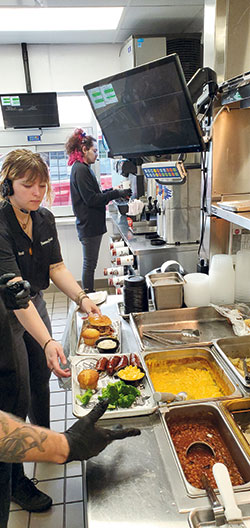 Sides are paired with entrees at the expo station. Meals are then taken to the counter or to the drive-thru window to the left.These sorts of changes have helped keep the restaurant's drive-thru ticket times down in its opening weeks. The chain, says Hank, shoots for 280 seconds for the full drive-thru experience, from pulling in to driving away. So far, it is close to its goal, achieving times less than 300 seconds. There has been a good bit of dialogue at the menu board as employees explain the food to guests, so that time should go lower as consumers get accustomed to the Quick 'Que concept, Hank adds.
Steps to reduce ticket times also extend to ordering and prep work, Hank says. Some of this is straightforward. In legacy restaurants, for instance, the hamburger contains a single 7- to 8-ounce patty with a cooking time of 7 to 8 minutes. To speed up service, that single patty has been replaced with two 4-ounce patties with a cook time of 2½ minutes.
The chain continues to look at ways to simplify and speed up operations by precutting or preslicing produce while examining what items can be prepackaged in-store into a ready-to-eat state. For example, in full-service restaurants, salads are built only after they are ordered. At Quick 'Que locations, they're assembled in their serving containers and ready to hand to customers, with dressing on the side.
These approaches likely will play an important role in the future of Famous Dave's, Hank says. "A lot of this is going to come with testing and evolution," he says. "What people can do co-packing nowadays will blow your mind. I wouldn't say there are any sacred cows. Our biggest commitment is that we maintain the quality of our food."
Of course, this new operational approach also impacts Famous Dave's kitchen. The South Salt Lake, Utah, location follows the counter-serve model; the site previously housed a quick-service chicken concept. The kitchen features an expo station parallel to and just behind the ordering counter, with the drive-thru window to the left. Behind the expo station, the prep area sits on the right and the hot line on the left. Both run perpendicular to the expo station.
Starting in the back corner of the restaurant and moving toward the front, the hot line opens with a flattop measuring 2 to 3 linear feet. This is a new piece of equipment for Famous Dave's, which previously used an insert on its chargrill as a flattop stand-in to cook burgers and sandwiches. Culinary staff also use the flattop to toast buns in the Quick 'Que locations. (In legacy restaurants the chain uses toasters.) In the Quick 'Que locations the flattop sits on top of a refrigerated unit, which holds raw proteins. Next to the flattop sits a 4-foot chargrill, where culinary staff cook ribs and other items. The chargrill also sits on top of a refrigerated unit. Past the chargrill is a fryer bank, then a range/oven combo. These are followed by two smokers that, individually, are relatively small for Famous Dave's locations. These are part of the biggest change to the kitchen in Quick 'Que locations.
In full-service legacy restaurants, the smoker typically sits outside the standard restaurant walls, with a special access door and a dedicated hood. These two smaller units on the hot line can sit under the standard hood. This approach lowers the restaurant's build-out cost, Hank says. It also helps the chain keep up with the volume and meet the number of pulls from the units that are required by a QSR-style operation with a drive-thru.
When staffers make a 180-degree turn from the hot line, they'll find a sandwich assembly area, complete with a cold table and workspace, as well as hot holding equipment that the company is experimenting with. This station forms an island with the prep area, which occupies the right side of the kitchen. Prep contains worktables and sinks, as well as an oven.
When staffers on the hot line complete a protein, they pass it to the expo station. Here, team members add sides, including hot sides from steam wells, and package orders. Dine-in orders are then sent to the POS counter opposite the expo station, while drive-thru orders are handed to the window at the left.
Adjusting, but Moving Forward
With the first Quick 'Que restaurants open less than a year and the drive-thru location just a few months, operations will almost certainly be tweaked as Famous Dave's learns what works best. Still, the Quick 'Que approach will likely play a big role in the future of the chain, says Hank. Compared with legacy restaurants, the cost to build a unit has been cut roughly in half, allowing for a quicker positive return on franchisees' investments.
The chain is looking to make that return come even sooner with the development of a modular design offering two or three drive-thru lanes. The benefit here lies not in the build-out cost, but in the speed of the build, Hank says. "It's more about the time to revenue. They can build it in their warehouse, and you can get that restaurant open a lot quicker than you would in the traditional stick build."
While other prototypes exist, Famous Dave's, then, is putting a big bet on off-premises dining. That's a good bet. In its opening days, the South Salt Lake restaurant saw its drive-thru business pass 50% of the location's revenue. That success, combined with the chain's historical commitment to off-premises, is a sign that the drive-thru bet will pay off, and guests will continue to enjoy their smoked meats in the restaurant, on the road or at home.
---
At A Glance
CEO: Jeff Crivello
Chief operating officer: Al Hank
Owner of South Salt Lake, Utah, drive-thru location: Elaina Morris
Kitchen design consultant: Trimark, Famous Dave's internal team
Equipment dealer: Trimark
Headquarters: Minnetonka, Minn.
Year founded: 1994
Signature menu items: St. Louis Ribs, Texas Beef Brisket, Georgia Chopped Pork, Burnt Ends, Cornbread Muffins and Bread Pudding
Number of units: 135
Unit size: South Salt Lake Quick 'Que drive-thru location measures 3,500 square feet, with 60% dedicated to the back of the house
Seats per unit (prototype): 75
Location type (inline, end cap, etc.): Stand-alone with drive-thru
Total system sales: $318 million Average unit volume in sales: $2.9 million
Unit growth projections for Quick 'Que: Four-plus units in 2022
Check average: $14
Equipment package cost: $200,000