Competition for quality real estate in the restaurant industry is fierce, so simple supply and demand has driven up the price for a piece of land. Naturally, this makes building a new restaurant harder to justify from a dollars and cents perspective, both for concept owners and franchisees.
Facing this very issue, 500-plus unit seafood chain Captain D's tackled the problem at its source: If land is too expensive, develop a prototype that doesn't need so much land. "One way to minimize some of the expenses and costs associated with real estate is needing a smaller piece of dirt," says Brad Reed, chief development officer. "Previously we were looking for about an acre, up to 1.1 acres. With our new prototype, we can actually get into .7 to ¾ of an acre. This represents substantial savings for us as a company or for potential franchisees looking to build."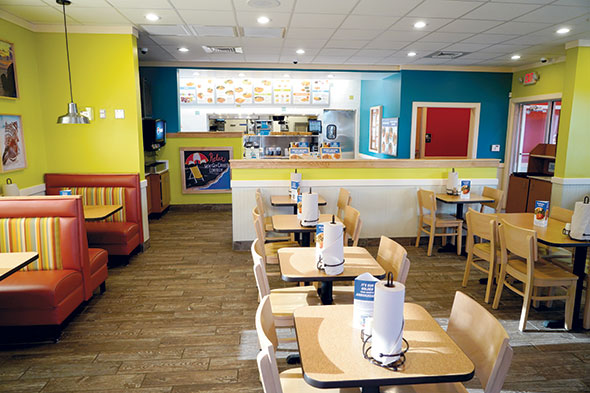 The chain's interior feel didn't change in this redesign, though smaller tables with fewer empty seats per party help maximize available seating.
Easier said than done, of course. Cutting the size of your piece of dirt by around 25 percent means cutting a big chunk out of your building. Through months of work on both the front and back of the house, though, the chain was able to shrink its prototype size from 2,800 square feet, and about 60 percent kitchen, to fewer than 2,000 square feet at roughly 50/50 kitchen to public area.
The Same, but Smaller
Cutting space from the dining area usually means cutting tables and chairs. It was no different here, with Captain D's going to 45 seats from 82. While such a cut naturally makes many people in the restaurant industry nervous, functionally not so many chairs were lost, Reed says.
"As we started digging in and understanding our guest patterns and their dining habits, we realized that six-tops are somewhat inefficient for us. Our average party size is anywhere from two to three people. We're now using more two-tops and four-tops. We have no six tops in our building at all. So we're really maximizing all of our space. Even though we're seating fewer people, we've actually only lost two to three tables," Reed says.
While the seating has changed, the dining area's overall design and appearance remain the same. Captain D's kept its coastal-inspired design, with a color palette featuring warm woods along with shades of green, coral and blue. Design touches, like the beach towel-inspired booth upholstery and the beach and surf-themed wall decor are also unchanged.
With the smaller footprint and dining area, the chain did take steps to ensure dine-in guests don't feel cramped. According to Reed, Captain D's paid close attention to the space between tables, shooting for at least 18 inches between floating tables. Windows in the prototype, meanwhile, open up the space and contribute to the restaurant's drive-by appeal. The chain also used more recessed LED lighting instead of hanging fixtures to open up sight lines.
While the kitchen remains the same, the chain's new, smaller prototypes can be bumped outward or from the front to add additional tables.
Rethinking Assembly
More challenging than shrinking the dining area was the task of taking more than 400 square feet out of the kitchen. "That was the big driver for taking real estate out of the store," says Larry Jones, the chain's vice president of construction. "The kitchen is usually the last place you try to take space out, but it's the most expensive space. We were able to take several hundred square feet out of the kitchen by reengineering a lot of the equipment, utilizing vertical space better and then designing the building around the equipment."
One of the keys of this new kitchen — in fact what much of the kitchen is built around — is the new T-shaped assembly table. This table holds both hot and cold food, and staff then plate these menu items to order.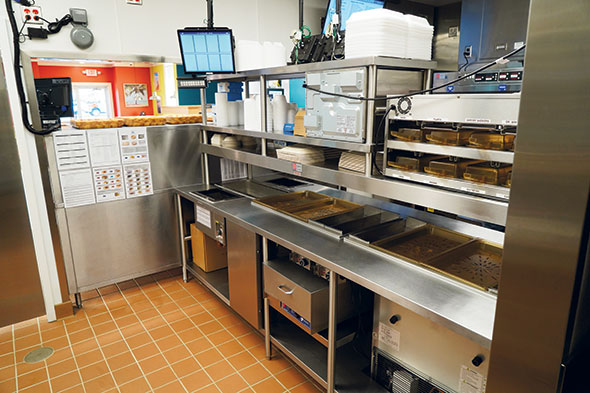 Instead of having a standard pass-thru window, the chain created a large cutout, with equipment sitting where a wall typically would be placed. This saved several inches of space in the kitchen.
Instead of sitting against the wall separating the kitchen from the front-of-the house's point of sale counter/service area, the assembly table actually straddles the two spaces. A large cutout in the wall where the table slides in makes this possible. "Even though the guest sees [what appears to be] a typical pass-through window, it's really an island that's occupying a cased opening," says Jones. "That allowed me to save eight inches of wall that I was having to back up to on both sides."
This approach, Jones adds, did more than save on wall space: It also allows Captain D's to cheat service-side undercounter refrigeration several inches into the kitchen, which results in a smaller, more efficient service area.
It also saved money on construction costs, Jones adds. By removing a large chunk of wall, the designers eliminated several electrical outlets and all the wiring they require. One power line feeds all the equipment on the T-line. Pieces not on the T-line, like the fryers, have separate power pulls.
Several pieces of equipment reside here. For example, the top of the "T" contains service side refrigeration, where team members can retrieve condiments, dressings and other cold items used to finish the plate.
The two-sided long section of the "T" runs into the kitchen. During the lunch and dinner rush periods, both sides are running, while only one side operates during off-peak hours. Equipment along this line includes dump stations for french fries, hush puppies and fried fish; hot drawers for holding baked potatoes and corn on the cob; and steam tables for sides like mac and cheese and green beans. The table also has refrigerated wells for holding coleslaw and other cold items.
Overhead shelving, meanwhile, holds plateware, two microwaves for rethermalizing product as well as a pass-through hot-holding cabinet that's used to store limited time offers and lower-volume menu items as needed.
Supplying this table is a hot line that received a near-complete overhaul. The line sits to the left of the long section of the assembly table. The line starts with the fryer bank, which is adjacent to the assembly table. One of Jones' big goals in remaking the kitchen was to specify fryers that could sit on top of refrigerated units, which would eliminate steps for team members working the fry station.
To shrink its kitchen by making better use of vertical space, Captain D's went with smaller electric fryers that can sit on top of a refrigerated base.
He was inspired to pursue this design from his time at Cracker Barrel, where Jones worked prior to joining Captain D's seven years ago. "I was used to having refrigeration beneath griddles and the efficiencies that [design] created, rather than having to flank the cooking platform with refrigeration."
To make this possible, Jones worked with an equipment manufacturer to develop electric fryers that could fit on top of a refrigerated stand but still be at a comfortable working height. This simply wasn't possible with gas fryers. With the burners, valves, manifolds and other components, the cabinet would simply be too deep to sit on a refrigerated base. The only option, he says, was to go electric, with its smaller and fewer components. A standard electric unit was still too large, though. To make this setup work, Jones had to specify fryers with no self-filtering function.
"You do filtration once, maybe twice a day," Jones says. "Why is that dictating the space that could be occupied by refrigeration, which is something you use several hundred times a day? What are the efficiencies lost when employees have to step to the right or left to retrieve that food? So I exported the fryer filtration. We simply have a roll-up filtration device. That once-a-day activity is now not constraining the efficiency of our fryers."
In addition to being better on space, these units are actually better from a total cost of ownership perspective, Jones contends. While electricity can be more expensive than natural gas, that cost is partially offset by the better efficiency of these Energy Star-certified units. What's more, the move to electric units on refrigerated bases has allowed Captain D's to reduce its hood spend. Because of the refrigeration beneath the fryers, it can now use a single hood for both frying and broiling vs. separate hoods as before. Finally, the new hood can operate at a much lower cubic feet per minute rate and is therefore less expensive to operate.
Notably, the fryers are custom designed to match the size of the refrigerated bases. The new prototype uses seven fryers (two large and five small) that sit on two 72-inch refrigerated bases. The number of large vs. small fryers and the size of bases can be mixed and matched to meet the needs of different locations.
Following the fryer bank, and extending deeper into the kitchen, is the conveyor charbroiler. The piece has two belts set at different speeds, allowing culinary staff to prepare the chain's entire fire-grilled menu in three-and-a-half minutes. While the fryers are electric, the charbroiler is gas-fired — a choice made for product quality. "If you're going to have a fire-grilled menu, you need to have fire," Jones says.
After the conveyor charbroiler, comes the steamer, a unit used for sides ranging from baked potatoes to mac and cheese to corn on the cob to green beans. Since most of the products produced in the steamer transition from prep to cooking, this unit does not sit on a refrigerated base. Instead, it resides on a hot holding cabinet sized for six hotel pans. Food, once completed, can go straight from the steamer to the hot staging cabinet, then to the assembly line as needed, without changing trays or pans,
Jones adds.
Notably, the steamer and staging cabinet can be placed at any spot in the kitchen thanks to a built-in condensing hood. This feature simply takes exhaust moisture from the cooking appliance, condenses it, then sends it down the drain.
While the steamer represents the end of the cooking equipment, the prep area sits on the opposite wall of the kitchen, to the right of the assembly station. Utilizing a prep sink and two eight-foot worktables, here staff work primarily on side items, including those like hushpuppies and coleslaw, which are made throughout the day.
Smaller, but not Set
Even with all the work that's gone into the design, the new prototype isn't set. In fact, the chain is offering some modular adjustments that will allow new stores to offer more seating if the market calls for it.
"The kitchen never changes," says Reed, "But what we can do is bump out the dining room if we need to expand seating. We can go out the front or we can come off the side. We can pick up anywhere from 12 to 24 seats, which translates to 5 to 8 tables."
Service area refrigeration now extends several inches into the kitchen, making the space smaller and more efficient.
This, says Reed, plays directly into the new design's strengths.
While direct customer feedback on the new prototype has been relatively quiet — after all, the design concept itself didn't change — the response from franchisees has been strong thanks to the savings it offers.
"This is the most excited I've seen potential franchisees in a long time. When you start doing the math on this, this is substantial money that they're able to save. The more exciting part is not only on the front end, but the utilities, the labor costs. Those things are residuals that are going to keep giving back. The upfront investment and potential savings going forward makes it very appealing," Reed says.
Captain D's at a Glance
Key players: CEO Phil Greifeld; chief development officer Brad Reed; vice president of construction Larry Jones
Interior design: Hyer Design
Kitchen design: Captain D's
Equipment dealer: Dykes Foodservice Solutions
Chain headquarters: Nashville, Tenn.
Year founded: 1969
Signature menu items: Batter-dipped fish, catfish, shrimp, hush puppies and fire-grilled menu options like blackened tilapia and wild Alaskan salmon
Number of units: 532
Unit size (prototype): 1950 sq.ft. 1050 FOH, 900 BOH
Seats per unit (prototype): 44 seats, 16 tables
Location type: Freestanding
Total system sales: $545 million
Average unit sales: $1.048 million
Unit growth projections: 30-plus a year
Check average: $7.37
Equipment package cost: $310,200