This week marks the official start of the Major League Baseball season. And this year while fans hope players from their favorite teams make hard contact with the baseball, they will also cheer for something contactless. This is in reference, of course, to the contactless service throughout ballparks aimed at minimizing the risk of spreading COVID-19.
"Like all baseball fans, we're excited for the first pitch of the 2021 season. While attending games in-person may look and feel a little different this year, the return of fans to sporting events represents a significant milestone and we look forward to serving them, once again," says Alison Birdwell, president and CEO of Aramark's Sports & Entertainment division, which provides foodservice operations and other services to more than 25 Major League Baseball, National Basketball Association, National Football League and National Hockey League teams. "The health and safety of our employees and everyone we serve is our highest priority and we are working closely with our partners to tailor operations and enhance service models to help safeguard the preparation, delivery and service of food."
One feature Aramark and other contract feeders will provide this year are self-ordering kiosks. Like those in quick-service and fast-casual restaurants, these kiosks feature touch-screen technology that allows guests to place and pay for their orders.
In addition, Aramark now offers a self-checkout feature. Guests place any items they wish to purchase on the checkout unit, which scans them for quick payment. Aramark also offers a self-guided, checkout-free grab-and-go experience. Fans download a predetermined app, use the QR code in the app as their key to enter the market, grab the items they want, then leave. No checkout required. The receipt will appear in the app. For those without the app, credit card use is also available.
Aramark was among the first to pilot a self-checkout concept in a stadium environment. In 2019 Aramark added to its lineup Walk Thru Bru, a fully automated self-serve concessions stand that integrated biometric and artificial intelligence technologies at Citi Field, home to the New York Mets. And just last month, Citi Field served as a mass vaccination site focusing on foodservice workers and other groups.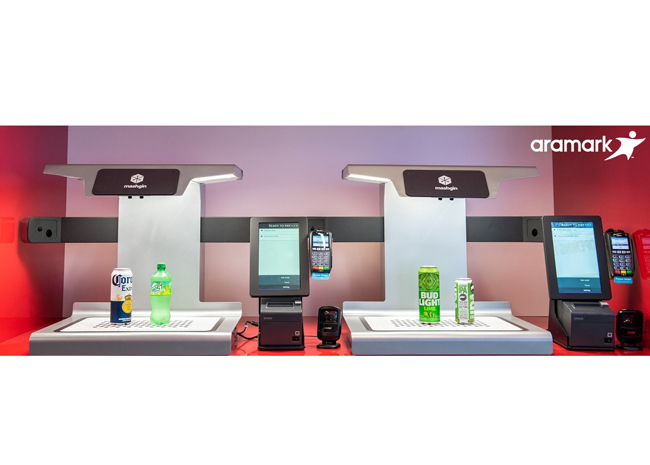 Indeed, it would appear as if checkout free options represent an emerging trend among today's sports venues. Earlier this month Delaware North, which provides foodservice to a variety of stadiums throughout the country, introduced MRKT at Boston's TD Garden, home to the Boston Bruins and the Boston Celtics. These two checkout-free convenience stores at TD Garden feature snack and drink options displayed on shelves and in refrigerators. These venues use Amazon's Just Walk Out technology, which allows shoppers to quickly enter the store using their credit card, then detects when a customer takes a product or returns it and keeps track of them in a virtual cart. After shoppers leave the store, they are charged for the items they selected and left the store with — offering a seamless experience. A TD Garden staff member is also present to answer questions.
"These stores will deliver a fast, frictionless experience, helping to eliminate lines and get our guests back to the action on the court and the ice faster," says Amy Latimer, president of TD Garden, which is owned by Delaware North.
For the 2021 season, Aramark also added grab-and-go markets. These express beverage markets and concessions stations allow fans to quickly grab and pay for their beverage of choice, packaged snacks, and prewrapped menu items.
In addition, many ballparks will offer mobile ordering, following a trend that predates the pandemic. While in some cases this feature was limited to fans seated in special sections, now it will be available to just about anyone at the venue to limit how much people will have to mill about the concourses. In Chicago's Wrigley Field, for example, guests will be able to use the MLB Ballpark app to order food from one of the concession stands operated by Levy Restaurants and then pick up their orders at a designated concession stand within their seating area. Fans attending games at Wrigley Field will also have the option of having food delivered to their seats.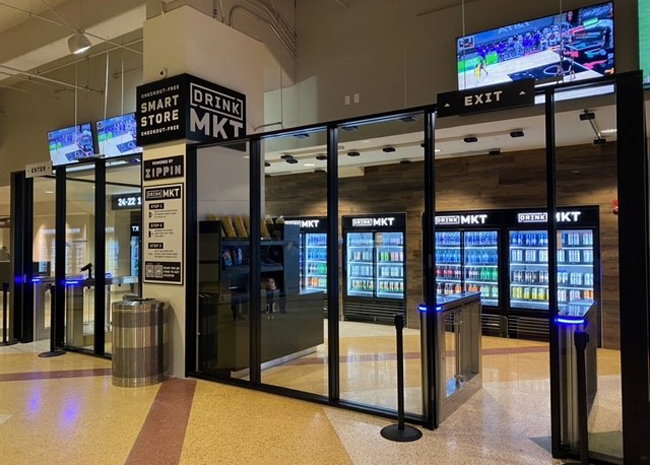 For some of its locations, Aramark has created a virtual food hall feature on its app. This allows fans to scan the "connected concepts" menu, then have the option to skip the line by ordering and paying on their smartphone, then picking up their order at the pickup window.
Thanks to its innovation pipeline, Aramark has been at the forefront of progressively introducing strategic data-driven, state-of-the-art systems to elevate the food and beverage experience. As a result, the collaborative nature of Aramark's Data Science and Design & Development teams made it easy to pivot and implement tested solutions to accommodate the new norm.