A self-described Army brat, Chef Rommel Mendoza has lived all over the world and continues to travel regularly for his job today. A passionate and trained chef (via Stratford University in northern Virginia), Mendoza has cooked in many restaurant kitchens, owned his own smoothie and deli shop and now serves as a corporate chef and educator for Thompson Hospitality. A division of Compass Group, Thompson Hospitality is a facilities management company in the business and industry, healthcare and college/university segments.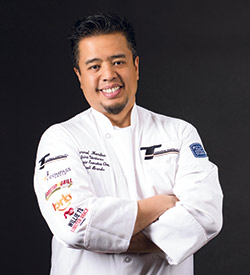 Rommel Mendoza, Corporate Executive Chef — Retail Brands and Joint Venture Director ,Thompson Hospitality, Reston, Va.Mendoza is also the author of a cookbook, "Prix Fixe: Made in the USA by a Filipino," and produces a successful line of Filipino-inspired pickles (Pickled Pinoy) and spices.
FE&S: How would you describe what you do for Thompson?
RM: I am the corporate executive chef for Thompson Hospitality's retail brands, which includes our Tex-Mex concept Austin Grill Express, Be Right Burger, Willy T's Crab Shack and American Tap Room. I work with hospitality, university and corporate accounts in the U.S. but more recently have taken over our Canadian accounts since we just hired a new VP of retail brands for the U.S.
When I travel to those accounts, I will conduct an unannounced, brand standard audit where I'll taste the food, write a report for the chef or foodservice director and work with the team to make any adjustments or improvements as necessary. Sometimes I'll stay for a few days up to a week to make sure they are making the food correctly and following recipes, and then I make sure to keep my phone line open for chefs and directors to be in constant contact with me should they have questions or need additional help. In that sense, I consider myself somewhat of a liaison between Thompson Hospitality and Compass Group.
FE&S: Do you develop recipes for the brands?
RM: I don't really work on the core menus for the brands, and especially the Austin Grill menu since we've had that brand for more than 20 years, but I will regularly develop specials and LTOs [limited-time offers].
I will spend some time playing in a production kitchen and if I think it's worthy of adding to a menu, I'll get the marketing department involved and write up the recipes with some photos. For example, I recently developed a Tex-Mex mac and cheese, an arroz con pollo dish and some Roadhouse burritos for Austin Grill.
FE&S: How does your day-to-day work vary?
RM: My work changes depending on the day and where I'm at. I might be working out of my house in Portland, Ore., answering emails and researching recipes, or I might go to nearby Intel, which is a Compass-Thompson account, and do a chef event or test some recipes. I also host other educational sessions at corporate cafes around the country. For example, I have gone to Microsoft in Seattle and hosted cooking classes for the employees on how to make Filipino lumpia, which is one of my favorite foods from my heritage cuisine.
In general, I act as a liaison between Thompson and Compass Group and try to support accounts in any way, whether it's culinary openings, training, education or other events. Since Thompson is one of the largest minority-owned businesses in the country and the diversity partner for Compass, I also assist minority vendors in getting their products into the corporate dining world. I help women and minorities secure their business certification and then work with our food purveyor to get their artisan products in the door. I also research and find minority restaurants that want to showcase their food in corporate cafeterias. For example, at Microsoft, we helped bring in a local Thai restaurant that did so well during the lunch hour they now regularly take over a station in the cafe every week.
FE&S: How do things adjust to make room for incoming, rotating restaurants?
RM: In many cases, the restaurants will do some minimal prep on-site but also bring in some premade food to be kept warm in hot wells. There might need to be a fryer at the station for some a la minute cooking like quick-frying egg rolls for service.
I haven't seen many that need or require a flattop at the flexible stations, but I have seen a few use woks for flash-cooking stir-fries and noodle dishes. Typically, these restaurants will take over a "chef's create" station with a more flexible design. In the case of our Willy T's Crab Shack brand, when we're making lobster, crab and shrimp rolls, we will just use a pop-up tent inside the cafeteria or outside on a nice day and maybe add a mini flattop or panini grill to toast up the buns a la minute before stuffing them with the precooked and chilled seafood. Once, I added a fryer to the pop-up so I could fry up some panko-crusted crab balls before service.
FE&S: How often are you on the road?
RM: I travel about 10 to 12 days out of the month. I won't be gone for a whole week but more like two to four days at a time. Next week I'm headed to Vancouver to check out an Austin Grill Express brand that recently reopened in a new location so I'll check the layout and make sure the food is up to brand standard. This week I was at Northwestern University, a new Thompson account in Chicago, simply slicing and dicing on the line and making sandwiches because they were understaffed and had more catering needs this week. When people hear about my book, sometimes they'll request me to come and teach the staff and employees how to make Filipino food.
FE&S: How did your interest in cooking start?
RM: When I was little I loved watching my mom make Filipino food and asking questions. She is a retired nurse, but the best chef I know, and the first one to come to the states. My dad and family followed after.
FE&S: What are some of your favorite Filipino foods?
RM: I love pancit, not just because it's comforting and delicious but because there's a story behind it. The noodles are meant to signal a long life, so we always have pancit at birthday parties. But when I'm enjoying beers with friends I love sisig (pronounced see-sig) — that plate of pig ears and innards all sauteed up on a hot plate and maybe with a cracked raw egg on top. It's so delicious. And, longanisa is my favorite and what I call "undiscovered" sausage. I add a little sugar to make it sweet and savory at the same time and will shape them into patties rather than stuff them so they can be eaten like burgers. I've also made burritos with the sausage.
FE&S: What is one of the most important pieces of equipment for making Filipino food?
RM: A rice cooker? [laughs.] Or maybe the wok for making pancit and other dishes, and it can be used to make rice, too. We also make a lot of soups in Filipino cooking so I like to use giant kettles whenever I can.
FE&S: What do you love most about your current role?
RM: Definitely the travel and chance to meet new people and learning new things and trying new food. Who knew some of the best fried chicken I've ever had would come from a gas station restaurant in Tennessee?! I also love going into kitchens and talking to everyone from the most seasoned employee who has been there the longest to a new chef who just moved there. I like to discover their individual cooking philosophies and needs and hear about their stories of where they have been. I also love just experimenting in the kitchen without having to worry about food cost and all that. Some say I have one of the best chef jobs out there!