After working as a bank teller and broker by the age of 25, Ashley Morris may have only envisioned a career in finance. But, after brainstorming business ideas with longtime friend Jason Smylie, who was looking to partner as entrepreneurs, he found himself in the restaurant world. The duo became franchisees of one Capriotti's Sandwich Shop in 2004, where they frequently flocked during college at the University of Nevada, Las Vegas. They purchased the chain outright in 2008. Since then, Morris has guided the brand as CEO, more than tripling it in size, with plans to open 500 locations nationwide by 2025.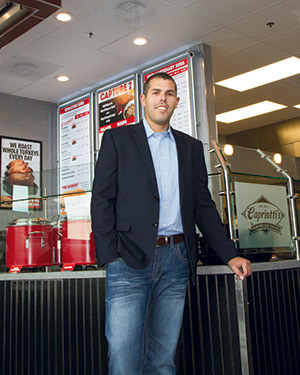 Ashley Morris
CEO
Capriotti's Sandwich Shop Inc.
Las VegasFE&S: Tell me about the Capriotti's concept. When was it founded? How many locations?
AM: Capriotti's is a 40-year-old heritage brand that has developed a following of raving fans. We were founded in 1976 by Lois Margolet and her brother, Alan. The duo wanted to create an authentic Italian sandwich shop in their hometown of Wilmington, Delaware. Each Capriotti's location roasts whole turkeys every night, roasts beef, makes homemade meatballs and coleslaw, among other items in-house. At the moment we have more than 100 locations across the country, but we have an aggressive growth plan in the works.
FE&S: Why did you decide to buy out Capriotti's?
AM: From the moment I tried my first Capriotti's sandwich, I was hooked. So much so that my college roommate at the time, Jason Smylie, and myself broke the lease on our apartment building to move closer to a location. Jason and I then decided to buy a franchise location of the restaurant we were so passionate about.
I couldn't stop thinking about Capriotti's, so I decided to follow my passion, quit my job, and buy the company.
FE&S: How do you come up with some of the fun names for the sandwiches?
AM: The Bobbie is named after our founder's aunt, Bobbie. The day after Thanksgiving, the Margolets would visit their aunt and uncle at their Baltimore home. Aunt Bobbie, who is now deceased, would
build her famous sandwiches with Thanksgiving leftovers. Lois Margolet loved the sandwich so much that she decided to put her aunt's creation on the menu of the original Wilmington sandwich shop. It became an instant hit.
FE&S: Why do you consider the kid's menu important?
AM: Our kid's menu offers simpler sandwiches such as turkey, ham and grilled cheese, while still maintaining Capriotti's commitment to high-quality products. For us, it's important to have this kid's menu so families can enjoy Capriotti's together and parents can feel good about what they're giving their kids. Both Jason and myself are dads, so we understand how important it is to have good options for families.
FE&S: What is your day-to-day work like?
AM: In my role, no day is the same. I am often visiting restaurants across the country, meeting with vendors and leading brainstorms for new initiatives. I am always trying to think of ways to improve Capriotti's, and making sure everyone's voices are heard in that process.
FE&S: How do you and Jason share responsibilities?
AM: Overall, I handle high-level strategy for Capriotti's, while Jason handles the day-to-day leadership. This allows for a healthy balance of leadership and allowed us to clearly define our roles within the brand.
Although Jason and I have different roles at the company, we still make sure to meet up, just the two of us, at least once every other week to discuss the health of any current initiatives and evaluate where things are going next.
FE&S: What is your collaboration style like?
AM: Jason and I have known each other since he was 9 and I was 11. We were neighbors in Las Vegas and realized that we actually were from the same town in California. We quickly became best friends, and both attended UNLV and became roommates. Jason was the one who introduced me to Capriotti's and got me hooked on the food. In college, we would eat there multiple times a week, sometimes for lunch and dinner.
Now working at Capriotti's, Jason and I are still very close. When buying the company, we made sure to determine our roles beforehand so as not to come across conflicts down the line. Our complementary personalities and respect for each other's time and boundaries have allowed us to maintain a healthy balance of friendship and our careers.
FE&S: How do you feel the brand has evolved since you bought it?
AM: Since buying the company, we have tripled in size. Even though it was an established brand, I had a lot of work to do and was basically starting from square one. Capriotti's has been able to perfect its operations model, and is now delving into an aggressive growth strategy, aiming to open 500 locations by 2025.
FE&S: How do you work with franchisees?
AM: I like to employ a groupthink strategy at Capriotti's, and make sure that our franchisees' voices are heard. They are the ones in the restaurants every day, so it is important to me to evaluate the feedback they provide me and gather their ideas for improvements.
Capriotti's also utilizes a Business Mastery Coach Program. This program begins once a store opens, where coaches spend 180 days with a franchisee. Within 180 days of opening, the franchisee is then considered a "master" of Capriotti's. This program allows all franchisees to have support, ensuring them of a successful opening process.
FE&S: What are you looking for in your franchisees?
AM: In our franchise partners, Capriotti's looks for people with high levels of business acumen, preferably with restaurant experience. These prospects should have a proven track record of growing brands and an understanding of creating the customer experience — something that is very important to us.
At Capriotti's, we like to think of our company as a family. We are looking for franchisees that can fit into our family environment while maintaining Capriotti's core values of passion, profitability and genuineness.
FE&S: How do you maintain a solid culture of communication with franchisees?
AM: I work to maintain a solid culture by practicing a participative leadership style. I thrive on groupthink, and like to give everybody the chance to collaborate and contribute their ideas.
Even though my days are full as the CEO, I still make time to get to know everyone at Capriotti's. Whether it's having lunch with a colleague or simply having conversations in passing, I make sure to take the time to build these relationships and create a cohesive and participative culture.