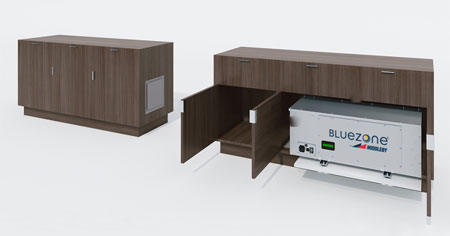 Recently, Middleby announced the debut of its patented air filtration technology, Bluezone by Middleby. The technology is designed to purify indoor air and destroy 99.9995% of infectious airborne particles according to a laboratory study. Currently in use by the U.S. military, the patented solution is always active and kills microbes, bacteria, mold and other indoor space contaminants.
Indoor Dining: Bluezone by Middleby Viral Kill
Indoor safety during COVID-19 has been a concern to both restaurant diners and employees. Restrictions placed internal dining, as well as customer apprehension, have made it a necessity to address air quality inside restaurants. Wiping and social distancing may help reduce contamination, but infectious aerosols can remain suspended in the air. Until now, the only solution to avoid this is outdoor dining, but this is not an option for all restaurants.
Bluezone by Middleby is designed to destroy nearly 100% of indoor infectious aerosols. The unit works by drawing in building air, then it is purified through a patented process in the Bluezone reaction chamber. After decontamination, clean, fresh air is released. Bluezone by Middleby units are available for in-ceiling mounting or in a freestanding credenza or tower designed to fi t in any space.
Refrigeration: Bluezone by Middleby Food Preservation
Does one bad apple spoil the bunch? Yes! The same can be said for many fruits and vegetables as they release a natural plant hormone, ethylene, a ripening agent which causes them to quickly ripen and eventually rot.
Bluezone by Middleby Food Preservation works by continuously circulating air entering a Viking refrigerator and kills ethylene gas and other contaminants using self-contained ultraviolet light and ozone. Clean air is returned which extends shelf life while preventing odors and fl avor transfer. Tests show that >99% of bacteria and fungi are eliminated in one hour.
Learn more about Bluezone by Middleby:

Content sponsored by Middleby.