Page 5 of 7
Addressing Beverage Trends in the Lodging Industry
Q&A with Jim Koelbl, vice president commercial sales, Perlick Corp.
Q. How has the lodging industry evolved?
Jim Koelbl: We're starting to see a newer generation of hotels, which are not truly full service, but also not like the more basic type. The younger Millennial generation is looking for more variety when it comes to food offerings. That's where the industry is going. While there are still true full-service hotels, these aren't as prevalent as the mid-grade types that are seeking more versatility with barista-style coffee in the morning and alcoholic beverages in the afternoon and evening. Space is a big factor, as these hotels don't have coffee shops and sit-down restaurants like higher-end types.
Q. What are the benefits Perlick offers operators in the lodging segment?
JK: Our equipment is very versatile. Because all undercounter refrigeration is approved for open food storage, operators can use a four-door refrigerator to store bottled beer in one compartment, iced tea and soft drinks in another and then hold food like fresh fruit in a separate section. Another aspect is the ability to accommodate products with different holding temperature requirements in a single unit, which is a big space saver. Our dual zone temperature refrigerators can hold draft beer at between 36 and 38 degrees F and kegged red wine at 65 degrees F in just 36 inches of space.
Q. How can lack of space issues be addressed with today's equipment?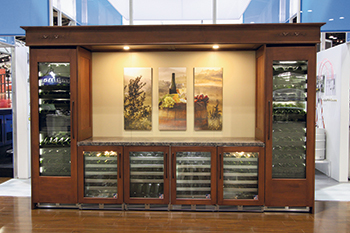 Perlick's undercounter refrigeration units allow for an elegant look while providing the space for all beverages and food needed.
JK: One challenge for many hotel brands that have traditional or mid-grade hotel bars is that these areas are open in the lobby. This presents a challenge in securing liquor, which needs to be easily and conveniently locked up during off hours to prevent theft. Typically, operators need to put all liquor on a cart at the end of the evening and haul it into a locked store room. We've introduced a locking speed rail cover with our equipment. This stores beneath the speed rail when not in use, then is placed on top of it and secured with two padlocks. Full-service hotel pool bars that are not under the watchful eye of a desk clerk can also benefit from this feature.
Q. How is today's beverage equipment addressing the latest trends in the lodging industry?
JK: The craze nowadays is with craft cocktails. People want their food prepared a specific way and the same is true for today's cocktails. Perlick has partnered with renowned mixologist Tobin Ellis to create the Tobin Ellis Signature Cocktail Station. This gives craft mixologists all the tools needed to create craft cocktails. What at first we thought was a niche product has turned out to be a highly efficient cocktail station that can put out as many drinks as two traditional underbar cocktail stations. This provides high volume in a small footprint.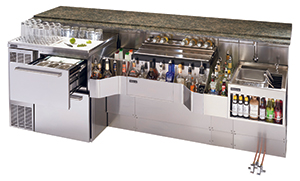 With today's craze in craft cocktails Perlick created the Tobin Ellis Signature Cocktail Station.Q. In terms of aesthetics, what are main considerations with equipment geared for the lodging industry?
JK: It's about design flexibility and attractiveness. Our units offer different finishes, including overlay doors to match woodwork and colored panels to coordinate with décor.