For the second consecutive year, a harsh economic climate took its toll on foodservice equipment and supplies dealers. In 2009, 64 of the top 100 E&S dealers reported a decline in sales, and according to FE&S estimates, 11 dealers were flat or experienced lower sales than in 2008. All told, FE&S projects sales among the top 100 dealers declined by $583 million, or 11.89 percent, in 2009.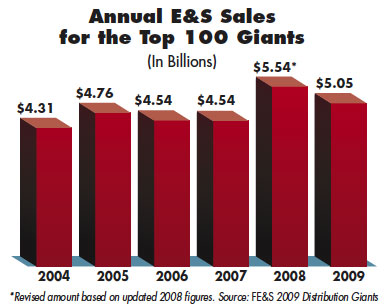 In response to lagging sales, many dealers chose to change their buying-group affiliations with the hope of squeezing better pricing and rebates out of their manufacturing partners. Over the course of the past year the equipment-and-supplies community witnessed the birth of onebuying group, the dissolution of another and a lot of churn among the remaining dealers and buying groups. Whether all of this activity benefits the industry or just a select few continues to the subject of hushed debate among the dealer and manufacturer communities. Only time will tell.
There is much information about the industry's top 100 dealers by sales volume. Here are a couple of data points that caught our eye:
Average sales per salesperson among the top 100: $1.78 million
Average sales per employee for the top 100: $465,313
We hope that you find this data informative and useful. And, as always, if you have any ideas about how to improve this study, don't hesitate to let us know.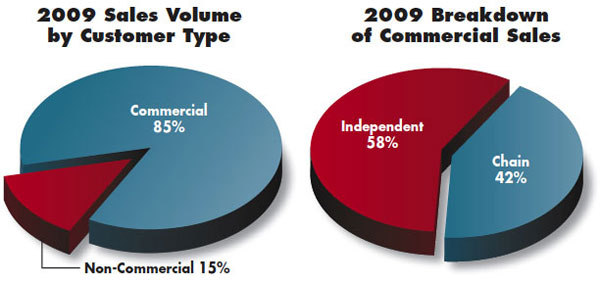 2009 Rank
COMPANY
('08 Rank)
ANNUAL EST SALES THIS YEAR
(2009)
(in millions)
ANNUAL EST SALES LAST YEAR
(2008)
(in millions)
# of Salespeople
(inside & outside)
BUYING GROUP
1
Edward Don & Co.
North Riverside, IL
(1) H24%, L5%, SW25%, T25%, P/D15%, J3%, F3%
553
614
360
NONE
2
TriMark USA Inc.
S. Attleboro, MA
(2) H50%, L10%, SW11%, T9%, P/D15%, J3%, F2%
507
595
350
ABC, OTHER
3
Wasserstrom Co.
Columbus, OH
(3) H31%, L10%, SW27%, T24%, P/D4%, J3%, F1%
429
517
220
OTHER
4
Strategic Equipment & Supply Co.
Irving, TX
(4) H60%, L15%, S&L 10%, SW5%, T5%, P/D2%, J1%, F2%
224
238
82
ABC, OTHER
5
The Boelter Companies
Waukesha, WI
(5) H25%, L5%, SW13%, T30%, P/D20%, J5%, F2%
178
192
80
ABC. OTHER
6
Bargreen-Ellingson Inc.
Tacoma, WA
(6) H30%, L20%, SW20%, T15%, P/D5%, J5%, F5%
149
170
181
ABC, OTHER
7
Hubert Co.
Harrison, OH
(7)
132
147
n/a
ABC, IFED
8
Singer Equipment Co.
LP, Elverson, PA
(8) H51%, L10%, SW10%, T7%, P/D17%, J4%, F1%
127.3
134.3
43
ABC, IFED, OTHER
9
Stafford-Smith Inc.
Kalamazoo, MI
(11) H90%, L10%
90
105
35
EDI, ISE, OTHER
10
R.W. Smith & Co.
San Diego, CA
(15)
89.12
76.5
n/a
ABC, IFED
11
Concept Services, Inc.
Austin, TX
(9)
87
100
n/a
EDI
12
Clark Associates
Lancaster, PA
(22) H35%, L10%, SW10%, T10%, P/D20%, J5%, F10%
81.3
67.5
28
NAFED, OTHER
13
QualServ Corp.
Fort Smith, AR
(10) H25%, L30%, SW15%, F30%
80
110
19
OTHER
14
PrimeSource FoodService Equipment
Dallas, TX
(12) H21%, L44%, SW22%, T1%, J2%, F10%
80
103
22
PRIDE
15
Mission Restaurant Supply Company
San Antonio, TX
(20) H71%, L4%, SW14%, T9%, F2%
79.43
71.39
35
NAFED, OTHER
16
Ace Mart Restaurant Supply
San Antonio, TX
(13) H25%, L12%, SW30%, T16%, P/D2%, J4%, F11%
74.58
78.5
180
ABC, IFED
17
Baring Industries
Ft. Lauderdale, FL
(18) H90%, L10%
72.4
73
10
EDI
18
Duray/J.F. Duncan Industries
Downey, CA
(19) H95%, L5%
72.4
72.78
20
n/a
19
C&T Design & Equipment Co.
Indianapolis, IN
(--) H75%, L15%, SW5%, F5%
70
70
40
SEFA
20
Hockenbergs Equipment & Supply Co.
Omaha, NE
(17) H59%, L15%, SW10%, T5%, P/D7%, J1%, F3%
68.8
74
82
ABC, IFED, OTHER
21
East Bay Rest. Supply Inc.
Oakland, CA
(14) H25%, L21%, SW20%, T15%, J4%, F5%
67
78
n/a
EDI
22
General Hotel and Restaurant Supply
Miami, FL
(16)
66
75
n/a
ABC, IFED
23
M. Tucker
Paterson, NJ
(23) H40%, L10%, SW15%, T12%, P/D20%, J2%, F1%
58
65
27
ABC, IFED
24
Atlanta Fixture & Sales Co.
Inc., Atlanta, GA
(25) H40%, L25%, SW15%, T7%, P/D6%, J2%, F5%
51.11
56.51
34
ABC, IFED
25
Hotel & Restaurant Supply
Meridian, MS
(26) H40%, L20%, SW20%, T10%, J5%, F5%
47.8
50.4
31
ABC, OTHER
26
Smith & Greene Co.
Kent, WA
(28) H50%, L8%, SW20%, T10%, P/D1%, J1%, F10%
46
47
15
SEFA
27
Action Sales
Monterey Park, CA
(27) H40%, L15%, SW25%, T10%, J5%, F5%
40
47
22
SEFA
28
Calico Industries, Inc.
Anapolis Junction, MD
(31) H10%, L10%, SW30%, T5%, P/D10%, J35%
39.1
42.5
27
NONE
29
Great Lakes Hotel Supply Co.
Detroit, MI
(30) H90%, L10%
39
44
5
SEFA
30
Kirby Restaurant Supply
Longview, TX
(32) H50%, L10%, J40%
37
38
19
PRIDE
31
Paramount Restaurant Supply Corp.
Warren, RI
(24) H60%, L10%, SW5%, F10%, FAB 15%
36
60
n/a
ABC, SEFA, OTHER
32
Johnson-Lancaster & Assoc. Inc.
Safety Harbor, FL
(35) H75%, L25%
35.5
35
10
SEFA
33
Ford Hotel Supply Co.
Inc., St. Louis, MO
(--)
35
35
28
ABC, IFED
34
Beltram Foodservice Supply
Tampa, FL
(29) H40%, L15%, SW20%, T5%, P/D3%, J7%, F10%
34.7
44.2
n/a
NAFED
35
Sam Tell & Son Inc.
Farmingdale, NY
(34) H23%, L8%, SW27%, T28%, P/D9%, J4%, F1%
33.04
36.29
20
ABC, IFED
36
Trendco
Batavia, OH
(99) H31%, L3%, SW7%, T3%, P/D38%, J16%, F2%
32
35
17
EXCELL
37
Curtis Rest. Equipment Inc.
Springfield, OR
(36) H55%, L15%, SW15%, T5%, J2%, F8%
23.1
30.99
n/a
ABC, IFED
38
Adams Burch
Landover, MD
(40)
30.6
26.8
n/a
n/a
39
Best Restaurant Equipment & Design Inc.
Columbus, OH
(33) H53%, L20%, SW14%, T2%, F11%
30.2
36.6
n/a
SEFA
40
State Restaurant Equipment Co.
Las Vegas, NV
(37) H15%, L1%, SW22%, T60%, J1%, F1%
29
29
12
SEFA
41
Birmingham Restaurant Supply, Inc.
Birmingham, AL
(41) H55%, L14%, SW20%, T10%, F1%
28.01
26.73
9
ABC, IFED
42
Arizona Restaurant Supply
Tucson, AZ
(42) H75%, L10%, SW12%, T3%
28
25
8
PRIDE
43
Kamran & Co.
Inc., Santa Barbara, CA
(55)
27.6
27.6
n/a
PRIDE
44
Buffalo Hotel Supply Co. Inc.
Amherst, NY
(47) H66%, L6%, SW10%, T8%, J1%, F9%
26.8
23.3
16
ABC, IFED
45
SML Stainless Steel Group
Quebec, Canada
(38)
25.42
29.9
n/a
EDI
46
Kittredge Equipment Co. Inc.
Agawam, MA
(43) H52%, L16%, SW16%, T8%, P/D4%, J2%, F2%
25.18
25.01
16
NAFED
47
H. Weiss Co.
Armonk, NY
(48) H40%, L10%, SW23%, T10%, P/D10%, J5%, F2%
25
23
15
SEFA
48
Mobile Fixture & Equipment Co.
Mobile, AL
(39) H50%, L10%, SW20%, T10%, P/D3%, J2%, F5%
24.95
28.2
23
NAFED, OTHER
49
Premium Supply Company
Deer Park, NY
(45) H30%, L9%, SW15%, T16%, P/D20%, J8%, F2%
22
24
23
PRIDE
50
Aydelott Equipment
Centerville, OH
(44) H30%, SW35%, F35%
21.5
24
10
NONE
51
Penn Jersey Paper Co.
Philadelphia, PA
(51) H6%, L3%, SW4%, T3%, P/D77%, J7%, F1%
21.4
20.8
92
SEFA
52
Perkins
Taunton, MA
(46) H20%, L15%, SW20%, T10%, P/D25%, J10%
20.4
23.8
125
SEFA
53
Oswalt Restaurant Supply
Oklahoma City, OK
(62) H75%, L10%, SW8%, T5%, F2%
19.8
16.75
8
SEFA
54
Rapids Wholesale Equipment
Marion, IA
(60) H70%, L15%, SW8%, T4%, F3%
19.2
17
n/a
OTHER
55
The Warehouse Store Fixture Company
Waterbury, CT
(50) H50%, L25%, SW10%, T10%, F5%
19
21
5
OTHER
56
Lloyd's Refrigeration
Las Vegas, NV
(83)
18.8
18.8
n/a
NONE
57
Boston Showcase Co.
Newton Highlands, MA
(53) H45%, L15%, SW15%, T15%, J5%, F5%
18.2
20.2
10
PRIDE
58
Manning Bros. Food Service Equip. Co. Inc.
Athens, GA
(49) H50%, L25%, SW20%, T3%, P/D2%
18
22
10
SEFA
59
The Restaurant Source
Denver, CO
(56) H30%, T70%
18
20
n/a
ABC, IFED
60
Dykes Restaurant Supply, Inc.
Huntsville, AL
(52) H50%, L10%, SW15%, T10%, J5%, F10%
17.5
20.5
16
ABC, IFED
61
Schweppe & Sons
Lombard, IL
(59) H30%, L15%, SW15%, T5%, P/D20%, J10%, F5%
17
13
15
ABC, IFED
62
B & J-Peerless Food Service Equipment
Kansas City, KS
(54) H55%, L6%, SW30%, T3%, P/D2%, J2%, F2%
16.8
20.1
21
NAFED
63
Restaurant Equipment World
Orlando, FL
(67) H70%, L10%, SW5%, T5%, P/D3%, J2%, F5%
16.57
15.13
30
SEFA
64
Direct South
Swanee, GA
(81)
16.44
12.4
n/a
n/a
65
Breckenridge Kitchen Equip. & Design
Huron, OH
(87) H85%, L12%, F3%
16.1
11.26
7
SEFA
66
Alack Refrigeration Co.
Hammond, LA
(74) H60%, L8%, SW18%, T5%, P/D1%, J3%, F5%
15.65
13.7
18
NAFED
67
Serve-U
Champaign, IL
(63)
15.1
16
n/a
SEFA
68
United Rest. Equipment
Raleigh, NC
(70) H30%, L10%, SW30%, T10%, P/D5%, J10%, F5%
15
15.5
14
NAFED
69
United Restaurant Supply
Colorado Springs, CO
(71)
14.85
14.9
n/a
PRIDE
70
Global KES
Lee's Summit, MO
(58) H12%, L9%, SW59%, T10%, P/D2%, J5%, F3%
14.81
17.43
n/a
PRIDE
71
Dakota Food Equipment Inc.
Fargo, ND
(73)
14.72
13.84
10
PRIDE
72
Bar Boy Products Co. Inc.
Farmingdale, NY
(68) H39%, L10%, SW25%, T12%, P/D6%, J3%, F5%
14.7
15.1
24
NAFED, NISSCO RDG
73
Lonestar Restaurant Supply
Austin, TX
(90) H40%, L20%, SW20%, T20%
14.5
11
13
SEFA
74
Amundsen Food Equipment
Oklahoma City, OK
(69) H85%, L12%, SW3%
14.44
15
n/a
NAFED
75
Ledyard Co.
Santa Cruz, CA
(61)
14
16.8
n/a
SEFA
76
Bintz Restaurant Supply
Salt Lake City, UT
(64) H40%, L10%, SW20%, T23%, J1%, F6%
13.88
15.85
8
SEFA
77
Louisiana Foodservice Equipment, Alexandria, LA
(--) H75%, L15%, SW5%, F5%
13.85
10.24
n/a
SEFA, OTHER
78
L&M Foodservice
Bullhead City, AZ
(72) H15%, L5%, SW5%, T10%, P/D40%, J21%, F4%
13.62
14.14
11
SEFA
79
Food Service Equipment
Gainesville, GA
(78) H60%, L15%, SW10%, T5%, J2%, F8%
13.6
13.4
10
NAFED
80
E. Friedman Associates
Brooklyn, NY
(82) H80%, L10%, SW5%, T4%, J1%
13.2
12.4
n/a
EDI, NAFED
81
Buckelew's Food Service Equipment, Shreveport, LA
(84) H70%, L20%, SW5%, T5%
13.15
12.2
10
OTHER
82
Curran-Taylor Inc.
Canonsburg, PA
(79) H66%, L17%, SW7%, T5%, J1%, F4%
12.96
13.38
16
PRIDE
83
Gold Star Products
Oak Park, MI
(66) H20%, L10%, SW30%, T20%, P/D10%, J5%, F5%
12.81
15.25
15
PRIDE
84
Dean Supply Co.
Cleveland, OH
(85) H5%, L5%, SW10%, T21%, P/D41%, J17%, F1%
12.8
12.03
12
SEFA
85
Restaurant and Store Equipment Co., Salt Lake City, Utah
(57)
12.5
18
14
ABC, IFED
86
Atlas Restaurant Supply, South Bend, IN
(75) H30%, L10%, SW20%, T15%, P/D10%, J10%, F5%
12
13.7
n/a
NAFED
87
May FoodService Equipment & Design Corp.
Cranston, RI
(76) H95%, L5%
12
13.6
6
SEFA
88
Chef's Toys
Fountain Valley, CA
(92) H29%, L15%, SW46%, T8%, J1%, F1%
11.9
10.8
13
PRIDE
89
American Energy Restaurant Equipment
Springfield, VA
(65) H70%, L10%, SW5%, J10%, F5%
11.3
15.39
11
PRIDE
90
Curtis Restaurant Supply
Tulsa, OK
(80) H58%, L12%, SW19%, T7%, J2%, F2%
11.2
13.18
12
NAFED
91
Eastern Bakers Supply Co.
Boston, MA
(88) H46%, L16%, SW21%, T11%, F6%
10.9
11.14
5
SEFA
92
Associated Foodservice Equipment
Gulfport, MS
(77)
10.8
13.5
5
SEFA
93
B&G Restaurant Supply, Inc.
Pittsfield, MA
(91) H45%, L15%, SW15%, T20%, P/D1%, J1%, F3%
10.25
10.75
14
SEFA
94
Tassone Equipment Corp.
Syosset, NY
(94) H15%, L15%, SW15%, T15%, P/D30%, J10%
10
9.8
n/a
SEFA
95
ZESCO
Indianapolis, IN
(97)
10
9.4
n/a
NONE
96
Star Restaurant Equip. & Supply Co.
Van Nuys, CA
(89) H25%, L25%, SW40%, T4%, J5%, F1%
9.4
11.1
n/a
PRIDE
97
Economy Restaurant Equipment & Supply Co.
San Marcos, CA
(95) H44%, L28%, SW10%, F18%
9.33
10.3
6
SEFA
98
Boxer Northwest Co.
Portland, OR
(86) H30%, L15%, SW45%, T10%
9
12.1
9
SEFA
99
DePalo & Sons
Baltimore, MD
(93) H25%, L15%, SW15%, T15%, P/D20%, J5%, F5%
8.8
9.9
11
SEFA
100
Burkett Restaurant Equipment, Toledo, OH
(--) H58%, L25%, SW5%, T5%, J2%, F5%
8.8
5.9
8
NAFED
101
Harbour Food Service Equipment, Inc.
Chelsea, MA
(96) H30%, L10%, SW20%, T35%, F5%
8.5
9.5
7
ABC
102
Kessenich's Ltd.
Madison, WI
(98) H49%, L10%, SW9%, T8%, P/D17%, J5%, F2%
7.7
9.4
10
SEFA
103
F.G. Schaefer Co.
Cincinnati, OH
(100) H65%, L5%, SW20%, T5%, F5%
7.4
8.7
5
NAFED
104
Loubat Equipment Co.
New Orleans, LA
(--) H80%, L5%, SW7%, T3%, F5%
5.6
5.6
15
PRIDE
105
Denver Equipment Company, Inc.
Sherrills Ford, NC
(21 ) H64%, L20%, SW11%, T1%, J1%, F3%
3.45
7
7
PRIDE
Total
(in US$ millions)
5,050.62
5,547.66
Difference 2008 vs 2007
-497.04
% +/-
-0.09