Underbar equipment needs vary depending on the operation. In general, key pieces form a lineup to create a complete workstation. This typically consists of a countertop or work surface with a backsplash. Cabinet-style underbar equipment has a floor and an open front or hinged front access doors that allow storage below the work surface.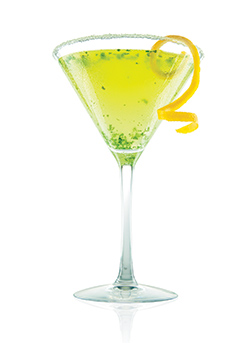 Underbar equipment is installed below a bar top with a work surface that is typically 30 inches high. The backsplash is 4 to 8 inches high, and the legs are 16 to 18 inches high. Cabinet-style underbar equipment typically stands on 6- to 7-inch-high legs. Underbar equipment is commonly 24 inches deep front to back but varies between 19 inches and as much as 34 inches deep.
Almost every bar design begins with the ice bin. Also known as the cocktail station or jockey box, this insulated bin stores potable ice for cocktails. Foamed-in-place ice bins offer the best insulation for maximum ice life. These containers typically include a raised edge around the liner to prevent contaminants from seeping into the bin as well as a sliding cover to protect the contents from airborne debris. Lengths vary from 12 to 60 inches in 6-inch increments.
Speed rails, also known as liquor rails, are either a bin or a step with a retaining rail that attaches to the front of underbar equipment. Although typically constructed of stainless steel, some models include ABS plastic covers for sound-deadening purposes. Speed rails come in single- or double-step versions and in lengths to match underbar equipment.
Another aspect of the underbar is the condiment dispenser, which is designed to sit on a work surface or to clip to the backsplash. These include separate cups or bins and a lid to cover them.
Bottle wells, also known as bottle racks, hold bottles of mixing ingredients. These are placed inside an ice bin liner to keep the bottles cold and separate from the potable ice. Some manufacturers offer ice bins and separate bottle wells combined into one unit.
Glass storage is arguably the most important component of an underbar lineup since a glass is required for every drink. Glass storage underbar units come in many varieties, including drainboards, glassracks and drainboard cabinets.
Drainboards have a work surface for glass storage, a drain for removing excess moisture and a surface that allows air circulation within the glass. This work surface has a separate, removable perforated insert that creates the greatest air space below the glassware for aeration. These items come in 6-inch incremental lengths from 12 inches to 60 inches.
Glassracks are cabinet-style underbar units typically used in conjunction with dishwasher dish racks. These units have a floor with two or three sets of adjustable rails or open-rail shelves. Glassracks allow more storage than drainboards by using more of the underbar's vertical space and are normally 18 inches or 24 inches wide.
Drainboard cabinets have a drainboard surface with a cabinet base below. The base may have an open front or locking doors, but there is typically a floor and one intermediate shelf below the work surface. Used for storing glass or dry storage, lengths range from 12 to 48 inches wide.
A blender station has a work surface that is either a drainboard or a sink bowl and faucet. The blender is stored on a low shelf attached to the station's front skirt. Stations are typically 12 to 18 inches wide.
Although most ice bins include a speed rail for liquor storage, separate liquor storage or liquor displays are common. The work surface of a liquor display consists of four or five levels, which elevate the rear bottles for easier retrieval. Liquor displays are intended for in-use storage as opposed to long-term backup storage and are typically available in 6-inch incremental lengths from 12 to 36 inches wide.
An underbar area is considered a foodservice preparation area, so health department codes normally require at least one hand sink. Also, wet-waste sinks are used in the underbar for disposal of wet-waste material. This bowl includes a perforated strainer basket or dump box that allows the ice to melt and liquids to drain, yet retains the solid waste. Underbars include glass washing sinks with drainboards for prewash storage of soiled glassware, three or four sink bowls, a faucet and a second drainboard for drying clean glassware. Most health departments require at least one three-compartment sink in an underbar area.