Advertisement

May 21, 2020
---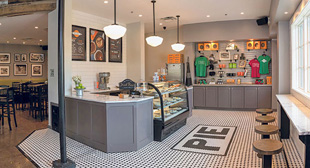 Effects of COVID-19 on Restaurant Design
Let's face it: we really do not know how this crisis will play out, and therefore the implications to restaurant design remain just as uncertain. Juan Martinez of PROFITALITY examines the potential impact of COVID-19 on restaurant design.
Advertisement
Streamline take-away operations with QuickSwitch
| | |
| --- | --- |
| | Create a dedicated to-go area with QuickSwitch from LTI. Supporting hot and cold foods at the same time and inches apart, QuickSwitch puts foods within easy reach for efficient packaging, speeding to-go meal assembly while staying clear of the main serve line. |

Pizza Inn Takes a New Look at the Buffet
Through thoughtful hard work and collaboration, one restaurant chain is doing what it can to ensure its self-serve options continue to thrive once guests return for on-premises dining.
Slapfish Wins with Flexible Approach
Slapfish has grown through every kind of venue, from delivery/take-away style restaurants for food halls and event venues to an operation soon to open that could go flex-casual: fast casual at lunch and full service with a full bar for dinner.
Advertisement
Challenges Disappear with Blodgett Hoodini
| | |
| --- | --- |
| | What if there were ventless ovens on the market that didn't require operators to constantly change filters, didn't require any top clearance and were so easy to use they could provide consistent results without a lot of staff oversight? |
Designing in a Post-Pandemic World
In the wake of a global pandemic, how will the world of dining evolve? A mix of restaurant operators and designers weigh in.
Griffith Joins Marra Forni
Oven manufacturer Marra Forni turned to foodservice equipment industry veteran Todd Griffith to become the company's vice president of marketing and sales.
Facility Design Project of the Month
The renovation at Auburn University's Village View turned an outdated dining hall into a destination for Auburn University students.
You received this e-mail as a subscriber to Foodservice Equipment & Supplies or one of its e-newsletters.

Please direct advertising questions to:


This email address is being protected from spambots. You need JavaScript enabled to view it.

, Vice President.

Please direct editorial questions to:


This email address is being protected from spambots. You need JavaScript enabled to view it.

, Editorial Director.

Subscription Support:
630-739-0900 (ext. 53) or e-mail

This email address is being protected from spambots. You need JavaScript enabled to view it.