The foodservice industry continues to change dramatically in all segments, from commercial to non-commercial alike. Changing consumer palates and eating behaviors have a lot to do with this. Research has shown the majority of us want better quality, fresher food and more comfortable, interesting dining environments, whether we're in a fine dining restaurant or a hospital. Some of the industry's top foodservice consultants share their take on the outside influences impacting these changes in a variety of segments.
Fast Casual & QSR
Juan Martinez, principal, Profitality, Miami
A frequent contributor to www.fesmag.com, Martinez has built his consulting career on fundamental engineering principles to improve labor and other efficiencies in the nation's top chain restaurants.
The fast-casual sector has exploded in recent years, thanks in part to a post-recession emphasis on value. But perhaps what — or rather, who — have impacted "the Chipotle effect" most is the growing group of maturing Millennial diners, with their sophisticated food tastes and a penchant for both customization and convenience.
With chains like the build-your-own Blaze and MOD Pizza, and cult-followed Rustic Taco and Shake Shack expanding rapidly around the country, many traditional quick-serves need to adapt just to keep up. "Fast-casual is trying to get faster by emulating QSR, but QSR is trying to drive quality up, emulating fast casual," Martinez says. "Concepts seem to be merging into the middle, no longer making it easy to define one category or the other."
Martinez points to the growth of QSR-plus, a term used frequently by research firms like Technomic to describe changes at established chains like In-N-Out Burger, Culver's, and even Arby's that have zeroed in on menu enhancements and introduced new, modern design prototypes to elevate the QSR model.
These segment-wide changes continue to impact kitchen design and equipment selection. "Everything is about quality and transparency now — transparency in terms of the ingredients but also in seeing the food made for you," says Martinez. "Millennials especially will trust a brand, but they need to verify that the food is fresh first. The once-closed-off back-of-the-house has opened up and become more of the middle of the house."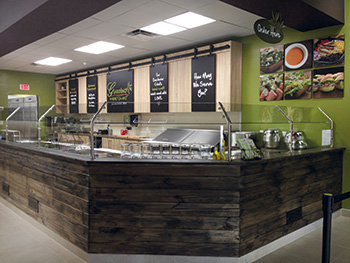 Think: dry storage and a little prep in back, an open counter, serving line and some cooking equipment in the middle, and a modernized — sometimes reduced — dining area with limited table service at the front. "It's all about 'right-sizing' now to drive sales and profit," Martinez says.
When it comes to equipment, chains look for versatile items that can drive prep efficiency, production time reductions and quality improvements, according to Martinez. "Years ago fast casual was more expensive and slower though the quality of ingredients were higher," he says. "But now they've morphed into becoming much more efficient and more focused on speed, and that has introduced better equipment." Panini grills, rapid-cook ovens, induction cooking and higher-end holding equipment for some pre-cooked items are becoming more popular in this space.
Even the nature of the workforce has changed. "An open kitchen puts everyone on stage and interacting with the customer so you need higher caliber employees to be able to communicate in a professional and friendly way," Martinez says. In the past, the presence of a drive-thru set QSRs apart from fast casuals. Now, some fast-casual concepts, such as Panera, offer that service.
"Before, you could look at a fast casual and QSR and easily tell the difference," Martinez says. "Now it's not that easy anymore as both fast-casual concepts and QSRs strive to improve the areas where they were weak."
Fine & Casual Dining
Brendan Spiro, president, Quality Restaurant Corp., Brooklyn, N.Y.
A respected consultant in the New York City area, Spiro has helped countless independents find their footing in an increasingly competitive city and segment.
Chef-driven restaurants from Coast to Coast continue to redefine "fine dining." Gone are the white tablecloth-lined tables, stiffened service, even polished silverware, and in their place are bare wooden tables, relaxed, friendly servers and vintage-meets-rustic-chic tabletop as a new wave of independents strive to make their places sophisticated yet approachable. In many cases, fine-dining and casual dining have merged under one roof.
"Fine dining is a loose term and it's really beginning to just represent the formal training of the chef, not the nature of the space," says Spiro. "Impeccable sourcing is the ethos, training and technique is the philosophy, but a smaller format allows chefs the freedom to do more of the cooking they want without major financial constraints and concerns."
This restaurant style, favored by a younger generation of chefs, differs from the structured brigade system made famous by the French-style fine-dining restaurants of years past. Nowadays, Spiro says, kitchens still include distinct stations but different chefs come together to artfully plate the food they will serve in a more casual environment.
David Chang pioneered this concept with his now legendary Momofuko, serving technique-driven, Asian-inspired cuisine in a casual, highly social setting. And then there's Spiro's latest chef-client, Erik Ramirez, of the newly opened Llama Inn in Brooklyn. Ramirez, who has clocked time at Eleven Madison Park, a fine-dining concept in Manhattan, elevates Peruvian cuisine with refined cooking techniques and some locally sourced ingredients.
"We're seeing a lot more chefs like Erik reaching back at what was once termed global or fusion cuisine but incorporating local flavors and ingredients in a less gimmicky and much more nuanced way," says Spiro.
The high cost of doing business in fine dining continues to push many chefs to open smaller, more manageable spaces with fewer expenses and more culinary freedom. Urban areas like Brooklyn and Chicago in particular have seen the growth of the "tasting counter" concept, with fine-dining trained chefs opening tiny, 20-seat restaurants, often with a prix fixe menu and even BYO alcohol policy.
"These concepts are almost like a misnomer because you wouldn't expect such a highly trained chef in that format, but from the customer perspective it gives them access to high-quality cuisine on a more affordable, frequent level," says Spiro. In essence, fine dining isn't just for the special occasion anymore. And casual dining has been elevated to more fine-dining quality food.
With kitchens getting smaller, Spiro leverages technology and higher-tech equipment to do more with less square footage, such as combi ovens and sous vide machines. Smaller pieces like pastry torches, smoking guns, coal-fired robata grills, and hibachi boxes also introduce new flavors and textures while cooking the food in tighter workspaces. This is the revised "molecular cuisine" as well; agar agar and other stabilizers are just par for the course, Spiro says, but new school cooking techniques are bringing both fine dining and casual dining to higher levels.
When it comes to tabletop, chefs want less factory-made and more artisanal, unique products with a lot of ceramic, clay work and stoneware they can mix and match for an eclectic, dinner party-like feel. "People want to see authenticity here as well as in the cuisine," Spiro says.
Healthcare
Carolyn Ruck, principal, Ruck-Shockey Associates, Inc., San Francisco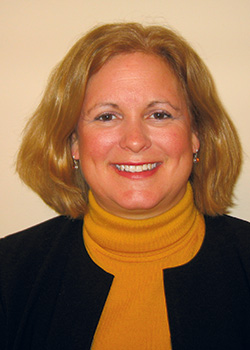 Ruck has more than two decades of operational and project experience. She specializes in non-commercial foodservice with an extra emphasis on major healthcare facilities and networks across the U.S.
While hospitals have always wanted the "Taj Mahal" at the lowest prices when it comes to foodservice, Ruck jokes, it's even more so these days because of the impact the Affordable Care Act has had on healthcare providers. "Hospitals have had to cut back and re-examine everything, but they still want a top-of-the-line foodservice program."
Ruck's design solutions emphasize efficiency even more than before, utilize purchasing programs and make changes fast to adapt to the marketplace. Menus change frequently, not just to cater to changing trends and customer palates but also to make the most of food costs. "When tomatoes go up in price you have to think of something else to replace them," says Ruck. "Operators are having to pay even more attention, watch things more diligently and react faster."
To accommodate changing menus, Ruck relies on multi-use equipment like flat-tops, combis, rapid-cook ovens and cook-chill technology for safer bulk production. But the menuing still has to match. "If you create a menu that doesn't work with the equipment you're not going to see any labor savings."
The fact that many healthcare facilities have moved away from tray lines to just-in-time room service has also helped improve efficiencies. "The kitchens are designed more like a restaurant where you're producing and cooking food right next to the assembly area," says Ruck. "As a result, you have a smaller kitchen that helps cut down on costs but is also more productive in managing labor and workforce."
There's also more integration between different parts of the kitchen. "One side might have equipment for fast cooking, finishing food and assembling for room service and nearby you have the bulk production equipment that can be used for both room service and the cafeteria/servery," says Ruck. Action stations in the servery have faster cooking equipment for finishing in front of the customer.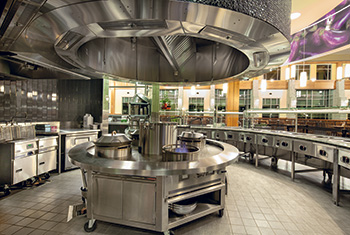 "Hospitals are trying to make healthcare food more like restaurant-style quality and healthier at the same time," says Ruck. "Hospitals are hiring more chefs, so we're seeing a higher level of cooking expertise in the kitchen; people who can use traditional cooking equipment and add flavor through the use of herbs and seasonings versus salt and fat."
More skilled labor comes in handy when dealing with allergies and special diets. "In the most severe cases you might have a dedicated piece of equipment but in others it's a matter of having competent staff and cleaning the equipment in between preparations," says Ruck.
Interestingly, allergens represent one of the reasons hospitals favor action stations versus self-service cafeterias. Cross-contamination can more easily occur in self-service platforms, even salad bars, as opposed to trained staff serving the meals. Even salads are being prepared to order to prevent cross-contamination at a salad bar.
Retail foodservice continues to gain momentum in healthcare facilities as well. "Coffee shops are outfitted with more grab-and-go and even gifts and other needs," Ruck says. "Hospitals are also bringing in outside brands or creating their own to be more restaurant driven. There is a merging of different retail and foodservice platforms."
Colleges & Universities
Leonard "Lenny" Condenzio, partner, Ricca Design Studios, Boston
With 38 years in facilities planning and operations management, Condenzio has worked on dozens of college and university foodservice projects around the country, always striving for cutting-edge designs and systems with an emphasis on culinary innovation and customer service.
Colleges and universities around the country lead the industry in non-commercial foodservice innovations. These institutions continue to build micro-restaurants, expanded retail outlets, even juice bars and destination dining on campuses to fulfill students' desire for the type of restaurant- and chef-driven food they've come to expect outside of the school environment.
"All of our clients are trying to continue to raise the bar they set years ago in terms of getting the cafeteria out of dining service and bringing in more of a restaurant-style dining experience," Condenzio says. But he's not talking about switching into full-service with servers and the works. "What we're talking about is appealing to all the senses so that when the students walk in they can see, smell and hear all of the cooking and activity just like you would in a restaurant."
Micro-restaurants in today's dining halls take the form of taquerias, noodle bars, pizzerias and more. "You still have a sea of tables in the main dining area, but then you have 20 to 40 seats associated with that particular destination and you build in structural walls to frame the area," he says.
Colleges and universities are also redefining exhibition kitchens. Facilities used to feature action stations out front and big prep kitchens in back. Today the back of the house consists mainly of dry storage and walk-ins, with all of the cooking taking place in the front of the house. To handle high volumes, culinary staff cook in batches constantly as the students flow in during peak meal times. "You might have some warmers but nothing is sitting there for any length of time and the food didn't come from any other cooking station downstairs or in the back," Condenzio says.
As a result, many college foodservice operators now favor European-style cooking suites they can outfit with different pieces, such as a wok, rotisserie or even tandoor oven, within a smaller footprint. "You can have three different action stations that are all ethnically diverse in the same footprint, which cuts back on exhaust hoods and CFM requirements," says Condenzio, who also builds flexibility into counter spaces with hot and cold pans that can go back and forth with the flip of a switch.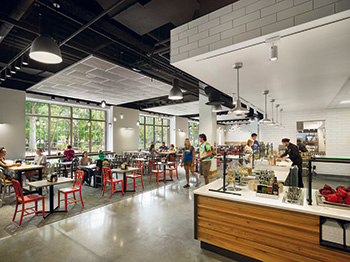 Display cases continue to become more prominent. "At Ohio State one of the most important components of the renovation was presenting fresh produce and fruit and other fresh food everywhere," Condenzio says. Even beverage stations have been beefed up, with in-house filter systems for enhanced water infused with fruit or house-made sodas without the sugar and sweeteners.
Meeting the needs of students with allergies or special diets keeps growing in importance. "This differs from university to university but usually there is a designated platform with a separate action station or even mini production kitchen to handle allergen- and gluten-free food," says Condenzio.
And, the use of technology has naturally grown increasingly important to both the college/university and digitally dialed-in students. Many institutions now use digital ordering systems where students can place their orders — and even pay — via their phones or a kiosk and watch their place in the queue as the food is prepared in front of them.
"It's all about speed but in a different way than before," says Condenzio. "Why would you want to grab a pre-packaged sandwich when you can get a fresh one quickly? Operators are constantly trying to close that gap between speed of service and quality while minimizing pre-production as much as possible. Anything we can do to promote that will be successful."
Sports Venues
Kristin Sedej, principal and owner, S20 Consultants, Chicago
Recipient of FE&S' 2014 Top Achiever Consultant award, Sedej has taken S20 Consultants to the next level with her diverse consulting expertise and background in restaurant operations. She has extensive experience working with all types of sports venues.
When it comes to designing for foodservice at sports venues, Sedej makes one thing very clear: stadiums, arenas, fields — they all differ greatly.
"The first thing we look at is the type of sport and how often the venue is being used," she says. Football stadiums have a busy season but they may be less used during other times of the year. Arenas may host both basketball and hockey games as well as concerts and other events, she points out. "The frequency of use impacts the budget and nature of the foodservice program. You want to match the usage versus the equipment selection to be cognizant of ROI."
One goal all sports venues share is a desire to increase amenities and points of sale throughout the space, Sedej says. This translates into an upgrade of both concessions and suites and clubs to reach different customers within the same venue.
At the concession level, operators want a modern design with cleaner, sleeker lines. Most recently, the United Center in Chicago ditched the floor-mounted soda and ice dispensers for under-counter equipment, complete with an ice chest and soda gun so the counter could be converted into a bar for special events, Sedej says.
Operators continue to integrate concessions with more out-front cooking equipment. The tradeoff is an increase in hood speed and capability which have to be accounted for in the budget. "We're getting past the hot dogs and nachos, and if there are hot dogs and nachos they are more sophisticated," Sedej says.
That said, "local favorites" continue to grow in popularity. "Operators in urban markets are bringing in concepts that are famous in their area to increase draw," Sedej says. The United Center brought in a trendy Chicago barbecue concept, along with two chicken joints and even popular bar brands.
From a design standpoint, "this requires more collaboration with the brand operator much earlier in the design process to see what they need in the space in terms of equipment," Sedej says. Even then, the equipment needs to remain somewhat
flexible so it can be changed in case the concepts change.
At the suite and club level, many sports venues continue to move away from canned fuel and chafing dishes, instead opting for more induction cooking for a sleek look but practical application. "When no cooking is happening, it just looks like a plain counter," says Sedej. "Action stations are definitely a way to create that cool restaurant feel."
Many sports venues now feature special destination clubs/bars with elevated bar food and craft cocktails. These clubs
operate like a separate restaurant or bar attached to the space and require their own slew of bar and light cooking equipment.
In the suites, there has also been a push toward more full-height refrigerators versus undercounter models for easier in-and-out access and extra storage.
"Sports venues are constantly trying to figure out how to bring people together more often," Sedej says. Leveraging technology helps. "Digital menu boards that sync between points of sale are huge," she says. Integrating menus using the POS system or other program allows operators to update pricing, introduce specials, stream social media and make other announcements all at once throughout the space without any fluctuations or errors.
So what's the takeaway? Know the venue, nature and frequency of the events and the different types of customers that might come to those events when designing foodservice for sports arenas.
K-12 Schools
Scott Reitano, principal, Reitano Design Group
A veteran designer and consultant, Reitano focuses on bringing K-12 school foodservice into the 21st century and on setting up kitchens to provide nourishing, delicious food.
The frequently changing National School Lunch Program requirements continue to greatly impact K-12 schools. In fact, schools across the nation are at a crossroads this year as conversations continue around what new regulations might take shape.
But Reitano knows it's not that simple. "This is not about serving a healthier school lunch and telling the kids to eat it," he says. "Our focus as designers is on enticing children to eat healthier."
Forget the old assembly tray lines of yesteryear. School-aged children now access salad bars and other displays of fresh fruits and vegetables, even on-site gardens. "We're trying to make a connection between understanding how food is grown or where it comes from and wanting to try it," Reitano says.
Slicing apples, sectioning oranges and even preparing mini-salads with different ingredients helps encourage consumption, he notes. All this leads to a greater need for more on-site prep and cooking.
At the elementary school level, children still tend to move through a line, but they're getting more choices between fresh-prepared dishes, which allows them some ownership over their meal. Reitano has even specified mini salad bars at lower heights so kids can sample different foods. "It's all about introducing the food at this stage," he says.
Middle schools tend to offer more prepared salads and the design takes more of a mini scatter system to resemble a high school but maintain those corrals to keep the students moving through. Added merchandising displays hold pre-packaged salads and other grab-and-go items like yogurt parfaits to offer more options.
And, at the high school level, all bets are off. "The serveries are definitely looking more like a university," says Reitano. Double-sided cashiers help cut down on lines to move the students in and out faster, but the scatter system offers more choices. Action stations bring the cooking to the front line, with induction cooktops, pizza ovens, panini grills, woks, impinge toasters, rapid-speed ovens, even espresso machines for specialty coffees.
To handle volumes, some school foodservice operators will continuously cook items and hold them in the same action station without any menu item sitting too long. "Fresh doesn't necessarily mean 'I saw you cook my dish,' it can mean I see you continuing to cook and add it to the serving space," Reitano says.
He will also set up common topping bars (or fresh food bars) where students can top their salads, sandwiches and pizza with extra tomatoes, lettuce, peppers and other extras to build in customization while keeping the traffic moving.
"We're trying to mimic the real world and get away from the institutional feel," Reitano says.
Correctional
Terry Pellegrino, principal, Rippe Associates, Minneapolis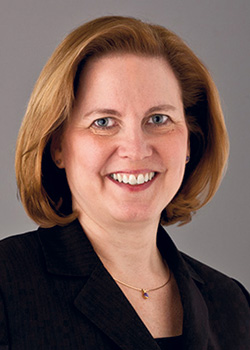 Skilled in all facets of non-commercial foodservice design including healthcare, K-12 and college/university, Pellegrino also has a special knack for correctional foodservice, having worked with various prisons and jails across the Midwest and beyond.
Two major issues are taking root in correctional facilities across the U.S according to Pellegrino: 1) they're getting more crowded and 2) the inmates are getting more violent.
"Prisons need to have higher levels of security now more than ever, and especially in the kitchens," says Pellegrino, noting that this applies more to men's prisons than women's facilities. "There was a time when a medium security facility might have had a traditional cafeteria line, maybe even a salad bar. Those days are over."
Now, in most correctional facilities, inmates file up to a window and receive a tray with all their food pre-assembled. There may be a separate window for inmates with special diets. The reason? To prevent inmate kitchen staff from passing contraband — or worse, material for weapons — to inmates.
Room service trays remain unmarked, so inmates working in the kitchen do not know who receives the food. Dishes coming back go through a secured conveyor belt so inmates can't take apart the items. Oh, and by the way, those trays are made of flexible silicone after inmates discovered how to break apart the plastic ones and create sharp edges.
"Even the trustees can't be trusted anymore," says Pellegrino, noting that "trustee" is a common term for well-behaved inmates. "There is no more contact at all between someone dishing up a tray and someone receiving a tray. It's all about having more control."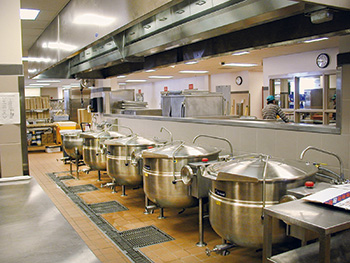 Correctional foodservice operators prefer equipment with dials over tech-savvy items with screens that can be easily shattered. Screens are placed over the top of reach-in refrigeration to prevent inmates from putting dirty rags and other items overhead. Walk-in doors are now specified with see-through clear acrylic instead of windows. Transport carts for room delivery are padlocked by full-time staff in the kitchen, transported by inmate kitchen staff, and then unlocked by a full-time staffer at the destination. Cleaning chemicals have been swapped out for natural cleaners like ionized water that won't cause harm even when consumed.
When it comes to equipment, durability and security is key. "When specifying equipment we follow all the control packages that the American Correctional Foodservice Society has, but things still break so we add on," Pellegrino says. Walk-ins are lined with extra aluminum and steam-jacket kettle lids are specified with heavier gauge material and extra welding. Some don't even use lids at all for fear of breakage.
And contrary to popular belief, gas equipment can be preferred over electric in corrections. Flexible quick disconnect gas hoses have built-in controls to prevent fires but with the electrical equipment, all of the plugs and cords have to be visible and out-front. When the kitchen is hosed down at night, workers have to cover those plugs to protect them but many would rather not go to the trouble.
Making the space entirely open and visible from every square inch is important. "The big thing for us is site lines," she says. "We don't wall in cold food production or bakeries. You should be able to stand in one place and see everything." Pellegrino even moves the kettles and tilt skillets away from walls to the center of the kitchen separating two areas of the kitchen with low hanging hoods that still allow visibility throughout the entire space.
One might wonder, how bad must the food be with all these strict controls? Surprisingly, operators have to maintain some level of taste and freshness, or deal with inmate riots and kitchen staff walk-outs. "This is the one freedom the inmates have so the food has to be respectable," says Pellegrino. Modern cook-chill technology helps batch cook foods and maintain their integrity without the need for skilled labor.
Correctional foodservice is a different animal. Every detail has to be thought through, every possibility has to be thought through, and even then, there might be surprises.