Training kitchens, a full-service restaurant and a retail bakery support basic and contemporary skill development.
At a cost of $15 million, the 30,000-square-foot building housing the International Culinary Institute (ICI) of Myrtle Beach located in South Carolina brings a new level of acclaim and support to future culinarians at Horry Georgetown Technical College (HGTC). Located on HGTC's Grand Strand campus, ICI serves as the headquarters for the college's continuing education and workforce development division. HGTC's fastest-growing campus, Grand Stand spans 78 acres and contains 5 buildings, with more than 2,000 students enrolled each fall and spring semester.
The surrounding Myrtle Beach area has more restaurants per capita than the city of San Francisco, says Mary Eaddy, APR, Fellow PRSA, director of marketing and public relations for Horry Georgetown Technical College. "The problem is, most of them are chains. The ICI is likely to change that by preparing more chefs to operate their own restaurants."
"The ultimate goal is for Grand Strand to become a food destination instead of a bypass," says Joseph Bonaparte, CCE, CCC, who serves as ICI's executive chef.
Bonaparte heads up both ICI and the new facility. He oversees all ICI programs, which include baking and pastry arts certificates, baking and pastry arts, an Associate of Applied Science (AAS) degree, kitchen and food preparation techniques, culinary arts technology, professional cooking, continuing education classes, plus a kids and teens summer cooking series.
"In August we'll be the only school in the state to offer a full associate's degree in baking and pastry arts," Bonaparte says. The degree programs require all the necessary facilities and equipment to allow students to learn everything from basic knife skills to advanced food preparation.
This facility is designed as a school to teach the culinary arts with two training kitchens and two bakery labs. "However, its functions include much more," says John Sousa, president, Crabtree McGrath Associates Inc., which provided foodservice consulting for the project. "ICI includes a demonstration/lecture kitchen, a public full-service restaurant, a retail bakery, a chef's table in a glassed-in area to the side of the kitchen, a main hall for events and offices for both permanent and adjunct staff."
Storage Starter
The ICI facility features a large storage area where students learn the proper handling of both perishable and dry goods as well as inventory ordering and tracking. The storage area sits adjacent to a loading dock centrally located to the four primary teaching classes. It contains a walk-in cooler for meat and fish, a walk-in cooler for dairy and vegetables, a walk-in temperature- and humidity-controlled meat curing chamber, a walk-in freezer and a large dry goods area.
The facility also has a freeze dryer, which, unlike dehydrating, reduces water under a vacuum setting at a very cold temperature and then gradually increases the temperature over several days to produce freeze-dried foods. "Freeze-dry systems are very rare in college culinary labs and in restaurants," Bonaparte says.
Also in the main storeroom, a rotary evaporation system slowly evaporates moisture under a vacuum to create a delicate concentrate and/or a tasty distillate. In addition, an ultrasonic homogenizer uses frequency sound waves to emulsify, separate or infuse items. Small particles reduce in a liquid until they become uniformly small and evenly distributed.
Teaching Kitchens
The Fowler kitchen features a cooking suite with several refrigeration units, three six-top ranges, five conventional high-mass ovens and two infrared broilers, along with a double French/flattop, plancha and two-basket fryer.Instructors use two classrooms to teach hot food preparation and cooking and two classrooms for baking. All four classrooms contain full commercial kitchens. "Solar tubes allow in natural light to the kitchens, which creates a lovely atmosphere," Bonaparte says. "The design provides much more natural light than a typical culinary school or working kitchen."
The two connecting teaching kitchens allow instructors to teach fundamental cooking techniques for hot food production. The kitchens contain prep counters with sinks, multiple shelves and mobile worktables, along with a food processor, stockpot range, salamander broiler, a smoker, charbroiler and ventless-type warewasher. One training kitchen also contains a 20-quart mixer, fryer and spreader cabinet. Together, the kitchens contain five grate-top ranges, each with an oven beneath, and both feature drop cord reels.
"I decided against using combi ovens in these kitchens because we want the students to learn classical cooking techniques," Bonaparte says, although he still teaches students how to use combi oven technology. "The combi oven is great because it does so much, but because it does so much, students must also learn how to steam, bake and roast without all the automatic controls."
The baking lab contains maple-wood-topped counters for making bread, along with a roll-in refrigerator, roll-in freezer, roll-in proofer cabinet, dough divider, 20-quart mixer, 8-quart mixer, 4-burner range with oven beneath and deck oven, as well as mobile pan racks, accessible hand sinks with hands-free faucets, prep counters with sinks, digital scales and balance scales.
Digital scales, balance scales and mixers are included in the baking lab's equipment package.The pastry kitchen features much of the same equipment, as well as a dough sheeter, marble-topped mobile worktable, 5-quart mixers and induction burners. A climate-controlled area holds a chocolate tempering machine. These labs support the retail bake shop and Layers Bakery, which sells pastries, cakes, chocolate confections and cookies.
ICI also features a lecture hall that includes a demonstration kitchen with an island counter, double-basin undermount sinks, regular sinks, a reach-in refrigerator, a reach-in refrigerator/freezer and an induction range top. Remote LCD control screens give instructors the capacity to broadcast lectures and cooking demonstrations through the building's own network or across public channels.
Fowler Dining Room and the Outdoor Training Center
The facility's open and exposed full-service restaurant, Fowler Dining Room, attracts community members and Myrtle Beach visitors. Here, students learn fine-dining meal preparation as well as buffet and cafe service and how to properly serve each to the public. A chef's counter with seating at the open kitchen provides a designated space for students to learn how to engage customers while they cook.
The kitchen contains a walk-in cooler, walk-in freezer and dry goods storage. The back of the house includes a pasta extruder, meat grinder, high-speed blender, 30-quart mixer, convection oven, prep tables, a pair of emersion circulators and a batch ice cream freezer.
An outdoor barbecue training center features a health department-licensed kitchen to allow students to learn barbecue cooking. The covered area has an exhaust hood on each side to remove excess smoke if required. The barbecue menu features hog sausage, brisket, chicken and vegetables.A cooking suite features several refrigeration units, three six-top ranges, five conventional high-mass (650 degree F) ovens and two infrared broilers, as well as a double French/flattop, plancha and two-basket fryer. Equipment along the side of the suite includes a double-stacked combi oven with a smoker and a sous vide probe, a hickory wood-fired chargrill for grilled steaks, chops, seafood and chicken, a hearth oven for baking artisan pizzas and breads and roasting vegetables and fish.
"I removed the tilt skillet and brought in a double-burner stock range instead for making stocks," Bonaparte says. The future equipment list includes a 40-gallon braising pan.
The main hall of the building was designed to host large public functions. Here, students learn to handle food and service for convention-type occasions.
The outdoor Robert R. Durant BBQ Training Center features a health department-licensed kitchen to allow students to learn barbecue cooking. This area includes sinks, refrigerators, as well as a wood-fed grill, kamado-style ceramic charcoal grill, rotisserie, pellet smoker, broiler and an Argentinean grill to cook whole hogs. "A heavy-duty screen door fully encloses the barbecue area so we can keep out bugs and critters," Bonaparte says. "The covered area has an exhaust hood on each side to remove excess smoke if required. The pit has no fan, but exhaust fans create a natural draft."
As word spreads about ICI, Bonaparte says he receives many inquiries about the equipment selection and the teaching approach. "Public interest in and support for the ICI has been broad-based, from visiting high school students to CEOs of major companies and public officials," Eaddy confirms.
Facts of Note:
Opened: October 2016
Enrollment: 150 students; ICI can accommodate 450
Scope of Project: Two hot food prep classrooms; two baking/pastry kitchens; a demonstration/lecture kitchen; Fowler Dining Room, a full-service restaurant open to the public; a chef's table in a glassed-in area to the side of the kitchen; Layers Bakery, a retail operation; a main hall for events; and offices for both permanent and adjunct staff
Size: 30,000 sq. ft., including 2,500 sq. ft. for restaurant
Seats in Restaurant: 112 in restaurant; 8 at chef's table; 12 at chef's counter; 52 in lecture hall; 290 if needed in main hall for functions
Average Check, Fowler Dining Room: $15, lunch; $23, dinner
Average Costs, Layers Bakery: 50 cents for cookies; $1.50 for bon bons and chocolate truffles; $2 for croissants; $3.50 to $5.50 for European desserts
Total Annual Sales: Fowler Dining Room, $30,000 (projected); Layers Bakery, $15,000 (projected) The facility can be used for education only, not for profit.
Daily Transactions/Covers: Fowler, 60; Layers Bakery, 75
Hours: Lunch, 11:30 a.m. until 2 p.m. with 15-minute seating intervals; dinner, Wednesday and Thursday, 6 p.m. until 8:30 p.m., with 15-minute seating intervals
Restaurant Menu Specialties: Fresh fish and seafood and dishes with locally sourced ingredients; barbecue. The lunch and dinner menus change often because the restaurant operates as two different classes: American Bistro and Restaurant Capstone for dinner and chef's table and chef's counter, including tasting menus. Layers Bakery features fresh bread, pastries, cookies, cakes, soups, salads and sandwiches.
Staff: 1 manager and 4 FTEs
Total Project Cost: $15 million
Equipment Investment: $1.5 million
Website: www.hgtc.edu
Key Players
Owner: Horry Georgetown Technical College, Conway, S.C.
Executive Chef: Joseph Bonaparte, CCE, CCC
Assistant Chair/Instructor: Kathleen Hassett
Chefs/Instructors: Tom Mullally, Eric Wagner, Lindsey McInville, Geoffrey Blount, Sean Christensen, Nathan Hashmonay, Gregory Ferguson
Architect: Mozingo + Wallace Architects LLC, Myrtle Beach, S.C.; Gerald C. Wallace III, AIA
Interior Design: Mozingo + Wallace Architects LLC and LS3P Associates LTD, Charleston, S.C.
Foodservice Consultant: Crabtree McGrath Associates Inc., Georgetown, Mass.; John Sousa, president
Equipment Dealer: Lance Restaurant Supply, Little River, S.C.
General Contractor: Monteith Construction Corp., Wilmington, N.C.; John Hawthorne, vice president, project supervision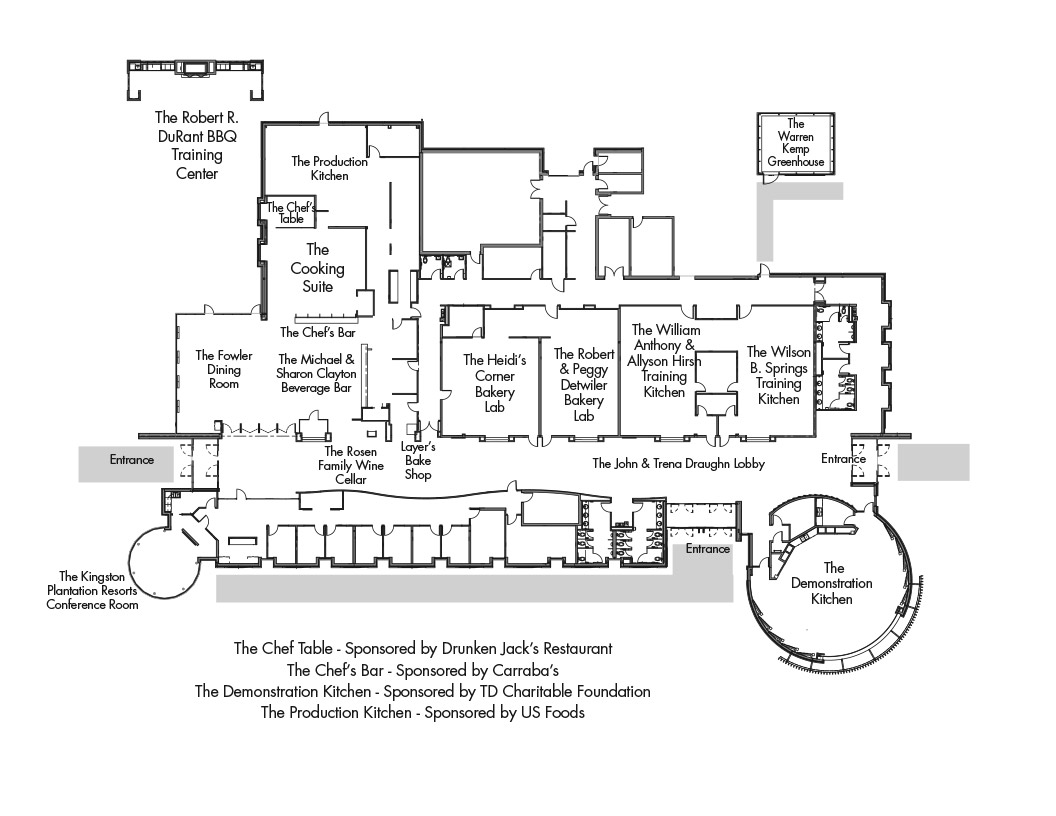 Fowler Dining Room
International Culinary Institute (ICI) of Myrtle Beach Foyer
ICI prep area
Demonstration kitchen