How does a forest management major with no culinary education become a chef working in some of the top fine-dining restaurants in a major city? Jack Mazzacavallo will tell you it comes from having an open mind, a knack for the trade and a deep desire to learn.
Jack Mazzacavallo, Campus Sous Chef, Central Washington University, Ellensburg, Wash.
After graduation from the University of Washington in 2012, Mazzacavallo decided that he preferred the hustle and bustle of an urban kitchen to the quiet of an open forest and spent the next seven years honing his culinary skills at several Seattle restaurants. Surprisingly, after being named one of the city's hot new chefs in 2018, Mazzacavallo decided that a stable working environment might just trump potential celebrity chef status, so he left Seattle and became a sous chef atCentral Washington University (CWU) last fall.
Q: Why did you become a chef?
A: Eleven years ago, while I was in school, I started working in restaurants to pay the bills and have some extra spending money, and I found I had a knack for it and I enjoyed the work. So, after graduating I continued to work in restaurants full time. I worked my way up. One thing led to another, and I found myself in a career as a chef.
Q: After building your career as a chef in fine-dining restaurants in Seattle, what made you shift to college foodservice?
A: I had been looking for a change of pace for a while. I turned 30 this past year and started to look at my long-term outlook, and it was hard to see how fine dining was going to play into that. Working in independent restaurants, you don't really receive a lot of benefits, the pay isn't that great, and your hours are long. So, I was trying to figure out a way to use the skills that I had, the knowledge that I had picked up, and in a way that I could still be proud of, work with some integrity. A lot of chefs get into sales, but that didn't appeal to me either.
Q: There is a lot of discussion about whether college dining influences the commercial sector and, if so, to what extent. What are your thoughts after your first few months on campus?
A: I don't know how much college dining is influencing fine dining. There's always going to be an extent of that because whatever institutions have the largest purchasing power are going to influence what's on the market. In terms of the food we're trying to create, the ideas we're trying to sell here, I think commercial restaurants have the bigger influence on us. What students see when they go out to eat, they bring those expectations back to us.
Q: What attracted you to the role at CWU?
A: Initially, it was the job stability, the pay and the benefits, and the hours. But the more I considered the position, the more I realized that the dining department [at CWU] is trying to make some big positive changes on campus, to improve the quality of foodservice on campus. Being part of a team that has that influence on the food quality and the overall experience the students have was intriguing to me.
Q: What was your first week like?
A: Oh man, it was intense. The phrase they use around here is, "It's like drinking water from a fire hose." You know, you're trying to take in a lot of information about how everything works, how all the systems are connected, who works for whom. There was a lot to absorb. The first weekend, we had a lot of events back to back to back, such as dinners and barbecues. At one of the events I had either done or overseen most of the cooking. I wasn't really expecting a response from customers. I got the food out and I was just happy that it was over. But then I started getting a lot of positive feedback from administrators that people were happy with the food, that it was different than what they had had before. That made me feel good about what I was doing. I discovered that, at CWU, more of an effort is made to provide feedback and it's more constructive than what you may get from your bosses in the private sector.
Q: How will you add to the program?
A: I think I bring with me a different layer of depth in terms of food, ingredients and techniques. In fine dining you are always thinking about different ways to cook and present and sell the same ingredients and flavor combinations people have been eating for years. That creative mindset is something this campus hasn't seen in a while. And since our executive chef also comes from a fine dining background, he has that same mindset. So, I'm here to support him in that overall goal.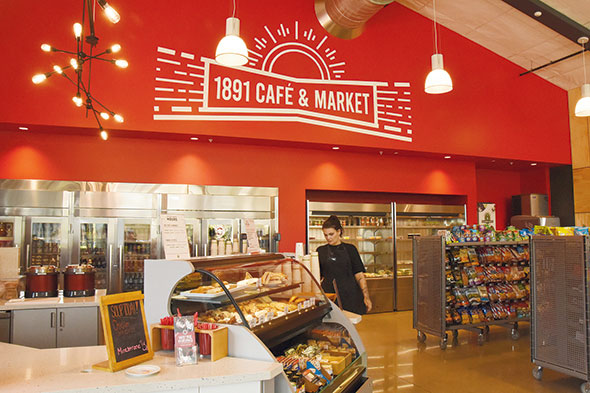 Northside Commons, a 6,000-square-foot dining facility on the Central Washington University campus, opened in the fall of 2019. It features a Panda Express restaurant and the 1891 Café and Market, an upscale market with grab-and-go items.
Q: What have you been able to contribute so far?
A: Mostly in recipes and staff training. In Holmes Dining Room, we've completely overhauled two concepts from scratch, so those have entirely new recipes that came from myself or Joe Ritchie, the executive chef. Beyond that there have been some changes around how we're preparing menu items, how we're running some concepts differently with the same menus as before by tweaking operational procedures to make them more efficient.
Q: What are your student customers like?
A: They are all over the board. Some of them are definitely more savvy than others. But overall, there have definitely been a lot of requests for more fresh ingredients, healthier options, which are things we are trying to incorporate. One of the first major changes I've been a part of was finding a produce purveyor and bringing in more fresh produce. That is huge, even if it doesn't necessarily get noticed right away on the front end.
This facility is taking the lead on Dining Services' efforts to use more sustainable packaging and utensils.
Q: Is that change part of a movement to bring more local and sustainable foods into campus?
A: That is definitely a goal, as we move forward and change more concepts. We'd like to see fresher, more sustainable options become the standard on campus, but that's challenging given our size and our location. In Seattle, you can get anything you want, any time you want. Here in Ellensburg, we're limited to the purveyors we have. A lot of the independent distributors aren't going to want to come out here just for us. The produce company was kind of an exception. It saw an opportunity to use us to try to get into the local market, so it's nice to have that influence. Hopefully as we try to bring more local, sustainable options on campus they can also infiltrate the local community.