Katie Green recalls laughing as a teenager filing invoices at Refrigerated Specialist Inc. (RSI) when her father suggested that once she started at the company, she'd likely never leave. His words proved true. She fell in love with the company and the foodservice industry and now has 18 years under her belt at RSI. She also serves as co-chair for the Young Executive Council of the Commercial Food Equipment Service Association (CFESA).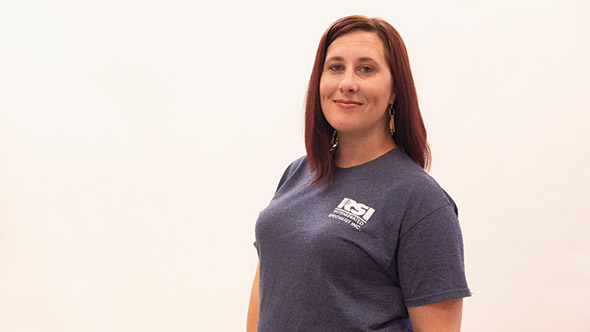 Katie Green, Customer Service Manager, Refrigerated Specialist Inc., Mesquite, TexasRSI will break ground on its new world headquarters this year, which will bring RSI sister companies Cooking Equipment Specialists and Sani-Servant under the same roof.
Q: How did you end up at RSI?
A: My father was a technician at RSI, so, really, I have spent my whole life with the company in one capacity or another. As a child, I remember going to jobsites with him and watching him work, climbing on rooftops and giving him tools out of his tool bag. Today, you wouldn't see that, but it was exciting at the time.
I began filing invoices at age 16 after school and have kind of just grown from that. I literally started at the bottom and paid my dues through various positions to land where I am today.
Q: What does your day-to-day look like?
A: My day-to-day is not cookie cutter. Typically it involves finding solutions to problems we are encountering. I deal with processes and procedures, as well as oversee the in-house side of the service department. It could be from customers, technicians or our accounting or parts department. It involves a lot of working with our leadership team to streamline and work on solutions for specific situations or maybe a reoccurring problem. I also do most of the marketing for RSI and sister companies Cooking Equipment Specialists (CES) and Sani-Servant (SSD). I enjoy dabbling in marketing, even though it isn't my primary job. Basically, I try to focus on the bigger picture and figure out how we can make things run smoother for us and for our customers.
Q: What kind of operators do you service and where do they need the most help?
A: We work with chain restaurants, hospitals, schools, corporate clients, arenas and some individual mom and pops; basically any commercial kitchen, and being in the Dallas/Fort Worth area, there are plenty to go around. There really hasn't been a change in what they need — basically they need their equipment up and running as soon as possible or their install complete without complications — and in a perfect world we could do that 100 percent of the time.
Communication is key. That isn't anything mind-blowing or specific to this business, that is a fact of life. Communicate in the right way with your customers and it goes a long way in the relationships you build for your business. The more education, tips and training we can give, the better. That's one thing that can set a service agency apart from their competitors and something that's becoming more and more important to our customers.
Q: How has your role as a service agent changed?
A: In my time in this industry, I feel like the service agent role has definitely evolved a bit. More of our big chain restaurant customers, and even some manufacturers, have been using third-party call centers to dispatch and track their service calls. Service orders are generated through these online portals and then sent to us. The portal can also track how long it takes us to accept the call, get to the site, repair the equipment and bill the customer, along with many other things. It's making our performance levels measurable.
Ten years ago maybe we had one customer using these types of services. It started to pick up about five to seven years ago and it's been really increasing in just the last couple years. What these third-party service portals don't measure, however, is the case-by-case scenarios and specific reasons that you may fall outside of the guidelines they have preset. There are too many variables to consider.
I don't see third-party facilities going away, but I do think that as they evolve, they need to think about how they can measure some of those variables that affect the service company performance metrics. Many service companies struggled — for lack of a better word — emotionally with this concept because of the view that it was adding another unnecessary link in an already complicated chain. I will admit that I was one of those people. But, I don't necessarily think all the trends are bad. I actually embrace change and enjoy challenges. Change isn't always a bad thing. Shaking up an industry isn't always a bad thing. It makes the ones that are passionate about the industry dig deeper to see how they can come out on top.
Q: How do you feel the foodservice equipment and supplies industry has changed?
A: I think the industry is starting to work better together. I think it is a slow build, but I think over the last couple of years we are making strides to bring all the major players together to try and hash out some of the problems that we have all dealt with. Having that community is nice.
We are competitors generally, but why not come together to solve our common problems and let our individual equipment or services sell themselves? It doesn't mean we are sharing the things that set us apart in the competitive sense, it is sharing the things that we struggle with between each sector. We have taken the first steps with the combined summit that include CFESA, NAFEM and FEDA that happened in March 2018. My hope is to continue that dialogue with service agents and other industry members. We share a lot of the same concerns and challenges.
Q: What are some of the concerns and challenges?
A: For me as a service agent, those haven't changed all that much. It is all about getting our customers' equipment up and running to its full potential, in a timely manner, to minimize loss of product and profit. They also want it done at a reasonable price. That last part is subjective depending on the customer.
Industry wide it's about finding technicians, and quality ones at that. That is an industry problem and it isn't anything that those reading this magazine are not aware of. We are really working together to try and get more attention drawn to this industry because technicians are in demand. Getting more creative within each organization and reaching out to the local communities is really our best bet. For example, CFESA is offering three scholarships this year to individuals who are either in the beginning of their foodservice technical career or are looking to pursue a career in the technical service side of the commercial foodservice industry.
Q: What kind of tech training happens at RSI?
A: We do a ton of training. At RSI, we have what we call RSI University, where every Friday, our newer techs participate in classroom-like setting and get hands-on learning in refrigeration, cooking equipment and more over the course of six months. Each tech can move at their own pace, and then as they progress, they will have the opportunity to move up to a ride-along with a senior tech and receive more hands-on training in the field. After four or six months they'll be able to go out on their own. This program has paid off well for our techs, as they earn invaluable skills. It also pays off for us because when you invest in your team, it breeds loyalty.
Q: How do you recruit new techs?
A: This is a constant challenge for us, and for many service agencies nationwide. In the last few years at CFESA events we have come together to try to address this ongoing issue, and to come up with ways to draw more attention to the industry. Word of mouth is a big one, such as techs talking to those they come across that are already in this industry or that they know that may flourish as a commercial foodservice tech.
We look to find people who are at least somewhat mechanically inclined or have at least some minor, mechanical training or aptitude and then let them work their way up through our ranks while training them on foodservice equipment with RSI University, factory training and CFESA training. They basically get paid to learn an in-demand skill set without going into debt to do it.