Remembering John Cini, Cini-Little International Inc.
John Cini had the greatest impact on my professional life of any single individual, and an equally important influence on my life in general. He's one of a handful of people who have been a friend of mine for more than five decades.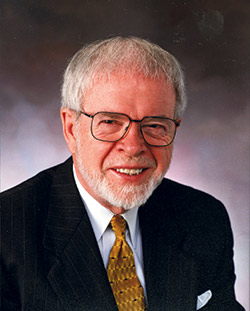 John CiniOur relationship began in a somewhat unexpected way. On Oct. 13, 1963, I was walking from the parking lot of the Hot Shoppes Restaurant Corporation to take a new job as a kitchen designer, and I happened to meet another individual along the way. I introduced myself, and he asked where I was going to work. I said kitchen design, and he laughed and said, "I'm the new head of kitchen design." That began a lifetime friendship with John and his entire family.
John had tremendous talent as a foodservice designer and he approached every project with the idea that "If it's not right, it's not done." Like so many, I was saddened to learn of John's passing this summer. It led me to reflect on his legacy.
With John, the focus was never on the quantity of the work or the cost. It was always about the quality. John was a stickler for perfection. He made sure what we planned and what was constructed was the very best it could be. And we did that collaboratively not only with our internal team but also with the operators and architects we worked with. We often had to help the architects achieve their goals while having to protect what was needed for the project's foodservice operation to be successful. Under John's leadership, for example, we would articulate how any proposal would impact the back of the house.
During our work together, there was a constant review of how the project was going to ensure nothing slipped through the cracks. This made for an extremely good working environment for our team and our clients. Many good working relationships, often based on trust, came from this approach.
John could visualize a project through its completion well before we were there. And he could anticipate what might come up later in a project. He often could see when a client might want to make a change long before the client did. He was able to simultaneously protect the client's interests and ours. By doing so, clients often thought of us and brought us in on other projects. And, in many instances, our track record of collaboration, trust and always making it right for the customer meant the detail was left to our drawings and not the contracts when working with repeat customers.
William Eaton, FFCSI, Chairman of the Board, Cini-Little International Inc. While we had a very strong company, the reputation was based on John Cini. His name always came up first. His thorough approach to managing projects helped facilitate this. And customers knew we would come back after the project was complete to see how it was working and solve any unforeseen problems that may have come up. Over time we also developed relationships with manufacturers and worked with them to resolve any issues our customers might have.
John made sure the work we delivered was always beyond the customer's expectations. That was the way he lived life and the way he built Cini-Little.