At UMass, everything is local, right down to the milk from local farms off campus. It's all fresh and not processed. There are plenty of healthy options too. That's not the case everywhere. Our food looks healthy and fresh; I traveled to a few other schools for swim meets and the food was not as good.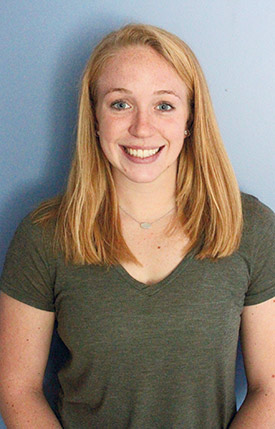 Paige Mitchell Major: Kinesiology on a pre-med track Student Athlete: Swimmer University of Massachusetts AmherstI lived in the southwest area of campus and usually went to Hamphsire and Berkshire dining commons, which were closest to my residence hall. There are a lot of different food formats.
In the mornings, I like Roots Café in Honors [residential hall]. That's nice if you are on the go. I would either stop at Roots on the way to class for a muffin or bagel or I'd meet up at Hamp [short for Hampshire], with several girls from the dorms for breakfast.
My friends from swim would generally plan to eat meals together and catch up on the day. I loved the stir fry at Hamp; they would make that in front of you with either beef, chicken or tofu. There's also always chicken, turkey or steak that they will cut off for you. I always went to the areas where they had turkey or chicken cut off the bone because it was better. I knew that was the fresher option that day. We all took advantage of the grilled cheese bar.
There was always the salad bar to make your own salad but most people don't do that. I like the premade ones at Berk [short for Berkshire], like the chicken Caesar salad; it's more like ordering at a restaurant than if you made it yourself.
Of course, there were some unhealthier options; the pizza was really good.
I was never hungry leaving a dining hall. They would serve things kind of on a two-week cycle. It did not feel repetitive and was always fantastic.
Nobody's making ramen noodles in their room anymore. The only thing I'd ever make in my room would be popcorn. I never bought food and stored it to replace food from dining hall.
Hamp offers grab-and-go breakfast; Berk offers grab-and-go lunch. There is always something different each day, like a buffalo chicken wrap one day and premade PB&J sandwiches another, and they give you all the nutrition information on the sticker. Some coffee shops in some of the bigger, newer buildings have sandwiches — grinders — ready to heat and eat. I grab those and bring them back to my room and eat before or after swimming.
The UMass dining app is something some people use to view what was being served each day at the dining hall or for late night. If we were using an app to order something, it was usually chownow.com to get bubble tea from LimeRed [Teahouse]. Sunday nights sometimes we would do that and order Chinese.
For late-night dining, the one by me, at Berkshire, starts at 9:30 p.m. and goes till midnight or 1:00 a.m. on weekends. That's normally dessert, like an ice cream bar, and snacks like mozzarella sticks, chicken tenders or a soft pretzel bar. It's kind of dangerous; not healthy foods, but fun. It's nice to have a fun little thing. There's always music playing in there and it's fun to go to late night. It's very social.
More on UMass dining from FE&S: UMass' Club dining and UMass' Blue Wall Café
#