Troop Café operates like any other restaurant — almost. While we serve great food, our actual mission is to train U.S. military veterans in foodservice and hospitality with the end goal of transitioning them to jobs in the hospitality/foodservice industry.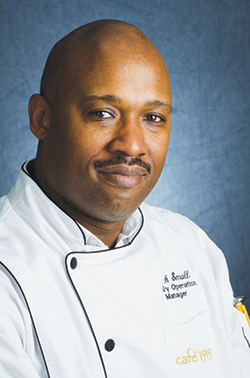 Derek Small, Executive Chef/Director of Training, Troop Café, MilwaukeeTroop Café has been in operation since 2013 as part of the Center for Veterans Issues in Milwaukee. It sits on the ground level of Veterans Manor, a 53-unit housing solution for our nation's veterans. We offer a four-week training program, then connect our graduates with jobs in the community. Our partnerships with facilities such as Potawatomi Hotel & Casino, the Hilton, The Pfister Hotel, and Marcus Corp., among others, gives the veterans a foot in the door.
Community involvement is essential for any restaurant. For us it's both community involvement to create job opportunities and to continually get the word out in the community that we are here, as a restaurant.
Equipment and Training
The training program includes basic culinary skills, and students leave with their Servesafe Food Handler certificates. Equipment-wise, right now we have a fryer and a flattop. We hope to get a combi oven in the near future since that piece of cooking equipment continues to grow in popularity. We're also getting into other cooking technologies such as sous vide, since many restaurants continue to implement that.
Our top three menu items include the Cuban Missile Crisis, which consists of smoked pork, ham, Swiss cheese and pickles on a ciabatta roll with yellow mustard; the Big Boot Burger, a third-pound ground beef patty topped with lettuce and tomato on a toasted brioche; and the Deep Diver Tuna Wrap, made with from-scratch tuna salad, with cucumbers and Parmesan cheese.
We're in the process of creating a room service menu for the attached veteran's housing unit, which would be a great advantage for those who find it hard to leave their rooms in the winter.
Social Consciousness and the Bottom Line
A lot of companies focus only on the bottom line. I understand that and proper financial management is important at Troop Café. Given our unique role, though, we must be equally focused on Troop Café's strong social mission.
The bottom line will always be there, but if you really want to make a stand, you have to be 100 percent for whatever stand you are making.
I believe in helping individuals. I consider myself a lucky veteran — I didn't have any issues transitioning back to civilian life after spending 20 years as a cook in the U.S. Navy. After retiring from the navy in 2008, I spent time working with Goodwill, eventually taking on its Café 1919 project that offers hands-on foodservice training.
Last October, I had the opportunity to get involved with Troop Café, and since I'm a vet myself, this was near and dear to my heart. It's a way to give back to the vet community and help forgotten individuals.