For foodservice operators like me, labor is not getting cheaper. Whether it's healthcare or overtime or even a higher minimum wage, all of these factors are prevelant for today's operators. As foodservice operators, we have to find a way to fight the battle of increased labor costs, and one impactful way of doing that is to limit turnover and improve staff performance.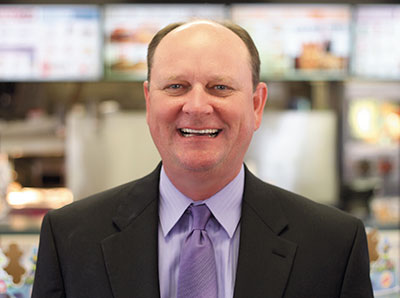 Bennie ArbourI am a Burger King franchisee with 46 units in Florida. But I am not someone who simply bought into the Burger King system. Rather, I have been with the concept for more than 30 years. I started working in the stores and worked my way up the corporate ladder before becoming a franchisee.
As an operator, I have access to lots and lots of information, but in order for that information to have any value, it needs to be actionable. And that's why we went to an integrated dashboard for our company. It gets performance measurement down to a science and it holds everyone accountable, no matter their role.
For our business to be successful, we have to provide guests with an excellent experience. And that starts with the cashiers — our frontline personnel.
So we put a program in place that allows us to see what happens on a cashier by cashier basis. And through the use of technology, we can build reports around certain behaviors and even reward cashiers for taking such steps as upselling.
Everyone understands what it means, and having incentives puts excitement around this. It gets people really focused. For example, prior to implementing this new approach, we were selling 8 cookies a day per restaurant and now we sell 50 to 80 cookies a day per restaurant. That's a tremendous improvement. And now, if the cashiers hit their targets for upselling, we can reward them with a bonus or even a trip.
But this is about more than monitoring cashier performance. It's about taking a holistic look at the business, identifying those metrics that drive the company and measuring performance. Today's systems allow you to track the product you are selling, labor, incentives and more.
By sharing this information with the staff and managers, you empower them to drive incremental improvements. Whether you are a manager or a member of the crew, you have the tools you need to manage your business. As owners or management, we want our teams to be able to achieve the targets and goals set for them and their business.
You need to have the best tools to manage your business today. There are lots of moving parts, and some of them you may not look at every day. These tools really help you manage all aspects of your business, which leads to higher guest satisfaction and greater profitability.
Those incremental improvements are what drive the business forward. If everyone improves, whether it's one section or all sections, then the company is more effective and efficient.
It's not a "me" thing. It's a "we" thing.