A Q&A with Sophie Egan, director of programs and culinary nutrition for the strategic initiatives group, The Culinary Institute of America.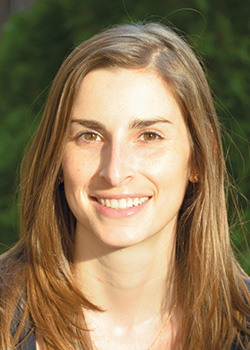 Co-founded and jointly led by Stanford University and the Culinary Institute of America (CIA), the Menus of Change University Research Collaborative (MCURC) is an extension of Menus of Change, the groundbreaking initiative presented by the CIA and Harvard T.H. Chan School of Public Health—Department of Nutrition. Menus of Change has developed 24 Principles of Healthy, Sustainable Menus to provide guidance for the foodservice industry, bringing together expert perspectives from the nutritional and environmental science fields on optimal food choices, trends in consumer preferences and impacts of projected demographic shifts. (For complete information on the 24 Principles, visit www.menusofchange.org.)
Recently established university-specific offshoot MCURC was formed during the past year by a core group of campus dining representatives and faculty from select institutions. Now comprised of 118 members representing 37 colleges and universities, it brings together academic faculty, dining directors, executive chefs and senior university administrators to leverage the unique opportunities of the higher education sector for advancing culinary literacy and promoting the use of the Menus of Change principles.
Sophie Egan, who oversees a portfolio of the CIA's food industry thought leadership programs focused on health and the environment, says the group's vision is to "collaborate on research and education in support of culinary-centric, evidence-based food systems innovation within and beyond universities." She recently shared an update on its progress and implications for the segment.
FE&S: How and why did the MCURC come about?
SE: The real vision came from conversations between Greg Drescher, vice president of Industry Leadership and Strategic Initiatives at the CIA; Shirley Everett, senior associate vice provost for Residential & Dining Enterprises, and Eric Montell, executive director of dining, at Stanford University; and Christopher Gardner, professor of medicine at Stanford. They had been talking about the potential for using campus dining halls as living laboratories and about the uniqueness of cross-campus collaborations that are happening around food at Stanford. They've brought together faculty from different departments — environmental studies and business, for example — along with the chefs and dining team to study critical issues from multiple lenses in a more systems-oriented way. The relationship that exists among these different leaders on campus was the model that we set out to replicate on other campuses.
FE&S: Who are the collaborative's target members?
SE: In the first year, we had 118 members. In order to be a full university member, they needed buy-in from a senior university administrator, their dining director and their executive chef. Ideally, at least one faculty member would also be involved. Those were the four 'buckets' we look for. Now, it's very exciting because just the fact of having a person join this group is generating conversations on individual campuses that never happened before. You're having faculty members say, 'Hey, I'd like to set up an internship in your dining hall for the students in my environmental studies class,' or 'I have this idea for studying values-based language on menus,' or 'Can I set up a business class trial in your dining hall?'
FE&S: You've said MCURC focuses on three main research projects. What will they address?
SE: One is about The Protein Flip and Protein Plays, which are evidence-based infographics and white papers just released by the CIA and developed as part of the Menus of Change initiative. They'll be used by this research group to test the various reactions that students have to messages about choosing more plant-based dishes and shifting away from dishes that might be more focused on red meat or animal protein in general. These documents explain the environmental and health reasons for making the shift and for developing a more nuanced range of menu choices — i.e., less meat versus no meat — so we'll be studying student reactions and behavior changes.
Another project looks at food waste and compares different strategies that campuses are using to reduce it, and the third is about values-based marketing. We're looking at which buzzwords — organic, fair trade, gluten-free, low-carbon, etc. — resonate the most when it comes to language on campus menus and trying to define the metrics around values-based food decisions.
We'll be sharing the status of the research at our all-member meeting in October, which will be held at Harvard University.
FE&S: Beyond moving toward more plant-based menus, how might the initiative impact the college and university segment?
SE: An essential goal of the MCURC is to accelerate the adoption of all 24 Menus of Change principles within each campus dining operation. We use shifting to more plant-based eating patterns as a kind of shorthand because that does touch on a lot of the principles, such as 'think produce first,' 'serve less red meat less often,' and 'move nuts and legumes to the center of the plate.' But the principles cover much more than that. For instance, they encourage shifting away from sugar-sweetened beverages and leveraging culinary strategies to reduce sodium. And they include operational strategies as well, such as creating more water- and energy-efficient kitchen facilities.
FE&S: From your observations so far, what seem to be the biggest challenges that dining directors face when trying to implement Menus of Change principles?
SE: A top priority and challenge is training — how to get employees on board and excited about coming up with new menu ideas that illustrate the Menus of Change principles. It's not meant to be top down but to have the creativity come from them. Another has to do with challenges related to procurement, such as finding enough antibiotic-free chicken or following the produce-first principle year-round in some locations. Another major constraint is trying to shift to healthy beverages on campuses that have soda contracts related to athletic programs. And finding effective strategies to reduce sugar consumption is another. There seems to be an easier time getting Millennials and Gen Z kids excited about eating roasted vegetables now, and operators are presenting them in really delicious ways, but there's something about the transition from home to college wherein a lot of students love the freedom to enjoy sugary cereals and desserts.
FE&S: Will colleges and universities outside of the collaborative benefit from its work?
SE: Yes. While our initial focus is on helping those who are MCURC members to begin implementing change in their dining programs, the goal is to generate best practices for operationalizing the principles. The purpose of our website (www.moccollaborative.org), where members are detailing some of their initiatives, and of our conferences and events will be to share what we learn so that all colleges and universities can take advantage of these insights and start to make their own menus healthier and more sustainable.