Yoshinoya America Inc. is a 1,600-unit global restaurant chain based in Japan, with 90-plus franchisees throughout California and Nevada.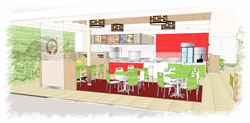 Known for its "meal in a bowl" menu concept, this quick-service operator has entered the fast-casual segment with Asiana Grill Yoshinoya. Customers can choose their protein (beef, chicken, pork, fish, shrimp or tofu), and plate, soup, salad or bun "base," and then watch as staff prepare dishes on a grill, either teppanyaki (seared on a flat grill) or yakitori (charbroiled) style.
Like the quick-service concept, Asiana Grill Yoshinoya also focuses on more healthful and low-fat menu options, including brown rice, edamame and vegetables. Green tea and coffee as well as beer and wine are available.
At 2,500 square feet, Yoshinoya's fast-casual venue will stand larger than its quick-service counterpart. Aside from the first location in Fullerton, Calif., near California State University's campus, executive vice president Manuel Villarreal said the company intends to expand the brand into new markets with several more locations planned for the remainder of this year, including a location in South Los Angeles near USC and a third location in Manhattan Beach, Calif. The company will introduce franchising options in 2013, Villarreal said.