The impact of COVID-19 will result in significant declines in foodservice sales for 2020. While restaurant operators shift focus to exclusively off-premises service to help soften the blow, expect the overall sales decline to be deep and potentially unprecedented.
New Routines
"Many Americans are trying, or relying on, takeout and delivery for the first time," says Daniel Levine, director of New York City-based The Avant-Guide Institute, a global trends consultancy. "However, once they learn that it is easy and enjoyable, they will continue this behavior long after the pandemic is over. I expect takeout and delivery to grow substantially in the long run, along with ghost kitchens to serve it. This will be the big story of 2020. High-end restaurants that never did much carryout business before are dipping their toes in these waters." In New York City, he notes, restaurants are also delivering cocktails from their bars. "It will be interesting to see if and how this evolves."
---
Pre-pandemic Off-Premises Momentum
Total restaurant consumer spending measured $450 billion in sales for the year ending January 2020.
48.5% of spending was off premises, including carryout, delivery and drive-thru ($218 billion).
Off-premises sales drove industry growth in the past year at 4%.
Current widespread closures will likely result in a volume decline even in off-premises sales, however, which in the long run will accelerate the shift to off-premises sales.
Other trends that will likely accelerate include mobile ordering, mobile pay and third-party delivery.
Source: The NPD Group/CREST, year ending January 2020
---
MOOYAH's Ongoing Off-Premises Strategy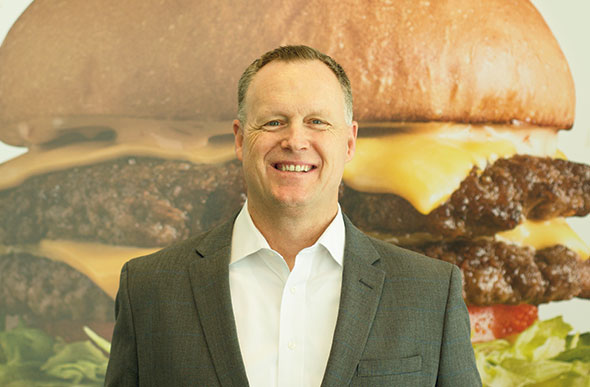 Plano, Texas-based MOOYAH Burgers, Fries & Shakes, a 13-year-old chain with 87 locations, was already positioned to handle 100% off-premises sales when the COVID-19 pandemic hit, says Tony Darden, president and chief operating officer for MOOYAH. Upon joining the chain in May 2019, Darden began leveraging the brand's digital strategy, including updating the functionality of its two-year-old app.
Q: How did your off-premises strategy shift due to COVID-19?
A: Even before the COVID-19 mandates happened, we shifted everything to packaged-to-go. On March 13, we started free delivery, something we planned to implement on March 31 as part of our new app promotion. We pulled it forward, as this was the right thing to do. In our minds, pivoting to 100% off-premises was easy, since we were pretty much set up for this business model.
We have dedicated space for off-premises orders in our newest business models, otherwise we just move tables and make room in other locations. We have a separate entrance and area where drivers pick up deliveries, which keeps customer pickup lines down. Today, it's all about convenience, and a brand that will be successful is one that is accessible to consumers when they need it.
Q: Have you altered your back-of-the-house operations?
A: We did redo our deployment system for hourly team members as well as provide direction to franchisees as to when team members should be deployed for more positions. Due to an upsurge in app orders, we needed to increase back-of-house staff. This not only made us more efficient, but also ensured team members were in the right positions at the appropriate times.
We also added kitchen display systems for the first time, which helped us improve throughput and accuracy. Instead of calling orders, these are displayed on screens at the grill, fryer and build stations, so staff can see what was ordered and make any modifications. When everything is thought through from an end-to-end perspective, it removes the bottleneck from the kitchen to the register. We were purposeful in reconfiguring our back-of-house deployment system for hourly team members prior to implementing delivery through our app.
Off-Premises Equipment & Supplies
Grill
Oven
Fryer
Refrigerators and freezers
Prep tables
Food processors
Sink
Takeout containers and lids
Paper or plastic bags
Eating utensils, napkins, lids and cups
Insulated food delivery bags
Portion cups with lids
Food packaging
Condiment packets