Whether it serves as an ingredient in a dish or flavor for a beverage, acai berries, pitaya (dragon fruit), guava and other fruits are adding nutrients, as well as unique flavor profiles, to today's restaurant menus. Jackfruit has even entered the plant-based realm as a substitute for pulled pork.
Superfruit Drivers
Christopher Hynes was first introduced to acai berries when he visited Brazil years ago, and he was immediately hooked. "I found out these were available in the U.S., so when I created Superfruit Republic in Denver five years ago, they became the centerpiece of our menu," he says. Superfruit Republic serves up smoothies and bowls at two Denver-area locations.
Fruits earn "superfruit" status based on the nutrients they pack. Acai and pitaya are two that many scientists feel hold superfruit elements, and both are a part of almost every bowl Superfruit Republic sells. And while acai has made headway in terms of recognition among U.S. consumers, Hynes estimates that 60 percent of his customers are not familiar with the berry. "This will change in the next three to four years, and acai will become as ubiquitous as burgers," he predicts.
Q: What trends do you see within the superfruit segment?
A: Superfruits are continuing to grow. People are looking toward these varieties because they are healthier and add nutrition. While many operators who incorporate acai use just 10 percent, our bowls include 90 percent of this ingredient. It's not only nutrient dense but has lots of fiber, antioxidants, iron and vitamins.
Q: How does the cost of these fruits play into their use?
A: Cost is an issue, and this is why many operators use a smaller amount of acai in their dishes. We charge just a bit more. Our portion sizes are smaller —either 12 or 16 ounces for our bowls — but customers are getting pure acai bowls, rather than mostly strawberries, bananas and blueberries.
Q: Are there any other unique fruits?
A: We considered graviola (also known as soursop or Brazilian paw paw, native to Central and South America), which has become prevalent in the last year. But we're sticking with what we have for now.
---
2020 Prediction: Yuzu
Growth of unique fruits continues, according to Amanda Topper, associate director, Foodservice for U.K.-based Mintel. She finds operators incorporating more unique fruits in different dishes and beverages. In line with the rise of Japanese cuisine, she expects yuzu, a citrus fruit similar to a mandarin orange, and umeboshi (pickled) fruits to appear on more U.S. menus this year. "Yuzu grew 43 percent as an ingredient in beverages from Q3 2016 to 2019, and it's a great stand-in for traditional citrus fruits, such as lemon and lime," she says.
Several operators now have yuzu drink items, Topper points out. The Coyote Cafe in Santa Fe, N.M., offers a Green Lotus cocktail made with cucumber-infused soju, yuzu gastrique, Japanese lime and salt powder. Pok Pok in Portland, Ore., serves up its Yuzu-Honey Whiskey Hot Toddy made with yuzu honey, tea and bourbon. A third example is at Sushi-San in Chicago, which offers a Yuzu Margarita, with yuzu taking the place of traditional lime.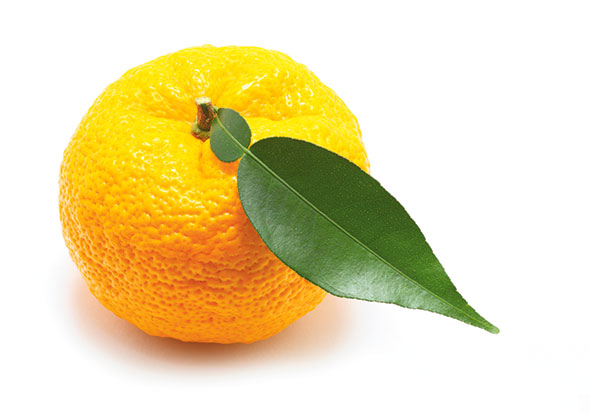 Yuzu is a citrus fruit similar to a mandarin orange
"Yuzu beers, as a Japanese menu item claim for beer, are also increasing on menus and have increased directionally from 2016 to 2019," says Topper. SushiSamba, which has two U.S. locations — one in Las Vegas and the other in Miami — offers a Yuzu Salt Session Ale on its menus. Firkin in Libertyville, Ill., menus a Hitachino Yuzu Lager from the Kiuchi Brewery.
Chamoy, a Mexican pickled fruit sauce, is also popping up in cocktails, such as margaritas, and with seafood dishes like shrimp cocktail and ceviche. "Other Mexican influence can be seen with tamarind and prickly pear," says Topper. "Prickly pear is growing directionally as a beverage flavor mostly in margaritas but also lemonade, soda, juice and mojitos."
---
Two to Watch: Ume & Pomelo
One fruit that has made the watch list recently is ume, a Japanese sour plum-like fruit. "It provides a bright purple color to drinks, making them Instagrammable, plus has the sour flavor that many are looking for in their food/drink," says David Henkes, Technomic's Advisory Group senior principal. Technomic has been tracking ume in both food and adult beverages over the past year. Juneberry, also known as serviceberry and sometimes saskatoon, has also earned mentions in savory entrees as well as cocktails, says Henkes.
Pomelo is in the inception phase on its Menu Adoption Cycle, according to Datassential. While it is currently on less than 1 percent of U.S. menus, mentions of the fruit have increased 46 percent from 2014 to 2019. A citrus fruit similar to a large grapefruit, pomelos grow in south and southeast Asia.
---
Fruit Meat
Along with the rise of plant-based dining, Mintel reports interesting use of fruits as meat alternatives. For example, Ducks Eatery in New York City created a smoked watermelon "ham" and a cantaloupe burger using age-old cooking methods like smoking, brining and fermenting.
---
Top 5 Funkier Fruits Growth
Unique fruits that are growing by double digits in terms of menu mentions:
Acai Berry: 55.6%
Jackfruit: 42.1%
Prickly Pear: 20.0%
Lingonberry: 18.2%
Goji Berry: 13.6%
Source: Technomic, Ignite menu data, Q3 2014-Q3 2019