Goucher College set a goal to reduce the number of food offerings and consolidate residential dining operations into one centralized dining facility. A master plan identified Mary Fisher Hall, the first building constructed on Goucher's Towson, Md., campus in 1942, as the best location. This new building led the relocation of the campus to Towson from Baltimore. Pearlstone Student Center sits in the middle of the building and includes the bookstore, post office, Passport Café, Office of Student Engagement, Geen Community Center and the Safe Space. Three residential wings extend from Mary Fisher Hall: Bacon House, Dulaney House and Hooper House.
Part of the plan to reimagine the main residential dining hall was to provide an enhanced dining experience that meets a growing student population's dining demands and serves as a campus gathering place. The new vision included front-of-the-house just-in-time cooking and menu customization, as well as a diverse selection of menu offerings.
The all-you-care-to-eat project includes a retail market component and involved renovations to three levels. "Given the complexity of the existing building conditions, the renovation was phased primarily by level, starting with the basement and moving up to the first and second levels," says David Friendlich, general manager for Palo Alto, Calif.-based Bon Appétit Management Co., the dining services provider at Goucher.
The design supports goals set by Goucher and Bon Appétit to offer authentic, made-from-scratch, freshly prepared menus that support just-in-time service. "This, paired with the desire for exhibition cooking, allowed for a smaller production kitchen while at the same time required increased firepower at each platform in order to produce the volume demands during peak periods," says Kerri Fitzgerald, principal, Ricca Design Studios, based in Greenwood Village, Colo.
The design team also outlined an allergen-free platform. Kosher also functions as its own platform, supported by a kosher kitchen and support area. Students can find vegetarian and vegan options throughout the dining hall.
The building layout and existing components presented the design team with daunting challenges and a need for creative solutions. "Mary Fisher Hall was a particularly tricky renovation given the existing building conditions," Fitzgerald says.
Low ceilings with open web joists, a large central fireplace surrounded by structural, load-bearing walls, jogged floor elevations within a single level and other building features drove many of the overall design decisions. "As the design phases progressed, the entire design team had to be flexible to additional building needs that presented more challenges, such as extra structural support or new mechanical chases," Fitzgerald says. "When building constraints are tight, even something as seemingly minor as furring out a wall can have larger layout implications."
A Multilevel Challenge
The basement level contains a loading dock, receiving area, bulk storage with a walk-in cooler for produce, a walk-in cooler for meat, a walk-in freezer and dry storage, and a three-compartment pot wash sink. This level also includes cold and hot prep kitchens with equipment including slicers, two blast chillers, a double-stacked combi oven, a chargrill, a flattop griddle, two 100-gallon steam-jacketed kettles and a tilt skillet.
Project designers took advantage of the available basement square footage for the cold and hot prep kitchens, as well as the kosher kitchen because the main dining level (level 2) did not have enough space for a full back-of-the-house kitchen. "This wasn't a problem because we knew each platform would largely produce its own just-in-time menu offerings," Fitzgerald says.
The kosher kitchen contains two fryers, a double-stacked convection oven, a six-burner range, a steamer and chargrill. "As with any kosher facility, this included conversations among the mashgiach, Bon Appétit and Ricca to ensure that the design would meet operational needs for kashrut status," Friendlich says.
Staff package food from the basement level in pans and deliver it to the main dining room platforms, which all have finishing kitchens.
"Part of the college's foodservice operations included in-house catering, so it worked well that bulk food production occurred in the basement," Fitzgerald says. "Catering shares the cold and hot prep kitchen for production, staging takes place in an adjacent room, and then menu items are rolled right out to the dock for delivery in vans or from carts to events around campus."
The Main Level
The main level contains all-you-care-to-eat concepts including Nosh (kosher station and allergen-free station); Season/Stack/Stock (salad bar, deli, soups); Oasis (demonstration area); Breakfast Bar (all-day breakfast); Fire (pizza and pasta); Char/Home/Carve (grille, entree, carvery); Explore (global bowls) and Craft (Mongolian stir-fry).
The new dining hall emphasizes transparency throughout; customers can watch the production of hot foods.
"Since the back-of-the-house kitchen and support are located on a different level than the lower-level kitchen, it is critical that each platform could support itself with cooking equipment and refrigerated storage for backup throughout a meal period," Fitzgerald says. "Given the nature of just-in-time cooking and the level of made-to-order, exhibition-style service, the stations have more self-contained cooking capacity than most dining projects, which allows for ample menu flexibility and constantly fresh product for guests."
Nosh features menu items that are kosher and also exclude the "big eight" allergens: milk, eggs, fish, shellfish, tree nuts, peanuts, wheat and soybeans. Hot and cold holding equipment display international cuisines with a twist such as sweet potato Caribbean curry and tahini roasted cauliflower.
"This platform is located in an area that is fairly isolated, and we serve menu items on paper plates to follow kosher guidelines," Friendlich says.
The Season/Stack/Stock platform features myriad ingredients for customers to build their own salads or opt for a prepared salad such as beet salad with goat cheese and orange vinaigrette. Stack offers deli sandwiches that staff press or toast to order. Stock offers at least two soups at each meal period.
Oasis serves as a demonstration kitchen where chefs give cooking lessons for different cuisines and also hold cooking-related events, such as how to create gingerbread houses.
Breakfast Bar serves breakfast all day with menu items including cereals, milk, dairy-free milk, waffles, bagels, house-made breads and juice. This area contains a built-in refrigerated well and long counter space for displaying items that include jams, jelly, cream cheese, peanut butter, sunflower butter, plates, bowls, milk and cereal.
Fire platform displays a large hearth oven that bakes four types of pizza daily and a frontline induction cooking station specializing in Mediterranean and pasta dishes. Photo courtesy of Whiting-Turner Contracting Co.; Photo by Siddalee Photography
Fire platform features a large hearth oven that staff use to bake four types of pizza daily and a frontline induction cooking station where cooks specialize in making Mediterranean and pasta dishes.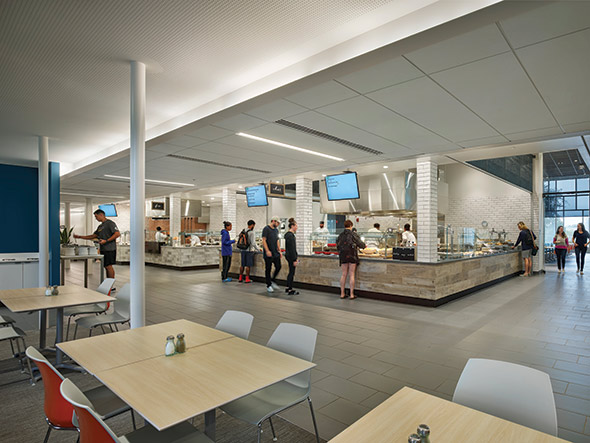 Home offers menu items such as slow-roasted beef brisket, jasmine rice, steamed vegetable medley and tofu and mushroom stew.
Char/Home/Carve contains a chargrill, a flattop, a six-burner range with an oven beneath and a steamer. Grilled menu items here include vegan cauliflower burgers, eggplant steaks, chicken breast, Canadian bacon steaks, hot dogs and tofu. A double fryer cooks onion rings and curly fries. This platform also features induction cookers so students can make their own omelets. At Home, menu items rotate weekly, such as slow-roasted beef brisket, jasmine rice, steamed vegetable medley and tofu and mushroom stew, as well as vindaloos with pork, cauliflower or tofu. Home serves six types of yogurt, cottage cheese and granola.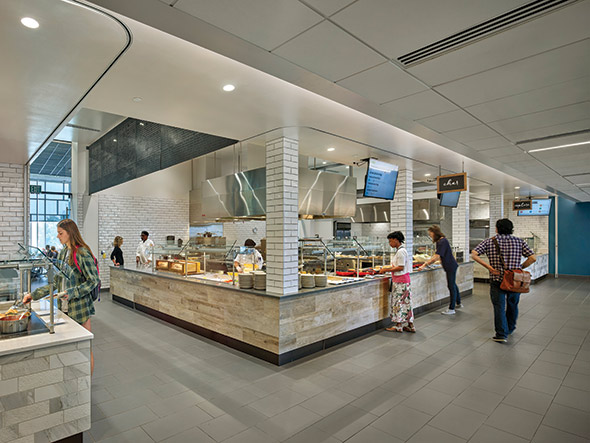 Equipment at Char includes a chargrill, a flattop, a six-burner range with an oven beneath and a steamer.
Explore's menu items feature global flavors in bowls such as sushi rice salad, spice lemongrass tofu, roasted bok choy and sauteed udon with vegetables. Staff prepare these weekly rotating menu items on a flattop with an oven beneath, two two-burner ranges, cold wells and a steamer.
Craft features Mongolian grilled stir-fries where guests choose their vegetables, proteins and sauces.
After customers check out at the cashier, they find hot and cold beverage selections at a beverage bar.
Bakery, Retail Market and Energy-Saving Features
The main dining level also contains a full production bakery. Staff prepare bread, pastries and dessert using a double-stack deck oven, four convection ovens, two bread slicers and a proof box. Two walk-in coolers and a walk-in freezer store product. Baked goods are sent to all foodservice areas on campus and to catered events.
This floor also contains dry storage, a pot sink, a chemical room, a dish room and racks for storage and prep.
"Aside from equipment in the Mongolian grill and bakery, most of the equipment is very flexible to allow for future trends and ever-changing menu offerings," Fitzgerald says. "For example, hearth ovens have been used for thousands of years to produce cuisines from around the world. It's about being creative with what you put in it — not just pizza."
A retail student market sits next to an atrium and seating area on the first floor. This area contains a kitchen with two reach-in refrigerators, a grill, a flattop, a double fryer, an ice cream station, two conveyor pizza ovens, two combi ovens, two cold and warming wells and a pot sink. Staff use the equipment to prepare salads, sandwiches and a few hot dishes such as chicken masala and flank steak. The market also offers beverages, chips, locally sourced beef jerky, bars, candies, gum and cough drops.
From the project's inception, the design team focused on sustainable and energy-saving practices, including Bon Appétit's partnerships with local farmers and waste management strategies such as composting and recycling. Energy-efficient equipment includes demand-control ventilation with automatic dampers that allow for independent modulation of exhaust airflow at each hood; a remote refrigeration rack system; alternative refrigerants for reduced global warming potential; waste oil recovery system for use as biofuel; a dishmachine with energy-efficiency and water-conserving features; low-flow faucets; induction equipment; and Energy Star and energy-efficient equipment when available.
In its first year of operation, the dining at Mary Fisher Hall set a new level of expectation for excellence at Goucher College. The food, decor and opportunity to interact with culinary staff provide an experience that feeds minds, bodies and spirits.
Key Players
Owner: Goucher College
Associate director of planning, design and construction, Goucher College: Linda Barone
Vice president, finance and administration, Goucher College: Lynne Lochte
District manager, Bon Appétit Management Co. (BAMCO): Michael Corradino
General manager, BAMCO at Goucher College: David Friendlich
Executive chef, BAMCO: Tulsi Giri
Residential dining manager, BAMCO: Thomas Brown
Architect: Ayers Saint Gross, Baltimore: Eric Moss, AIA, LEED AP, vice president and director of student life practice; Alice Brooks, AIA, LEED AP BD+C, associate principal; Eric Zahn, AIA, senior associate
Interior design: Ayers Saint Gross
Café Bon Appetit foodservice consultants: Ricca Design Studios, Greenwood Village, Colo.; Lenny
Condenzio, FCSI, CEO; Kerri (Ingraham) Fitzgerald, principal; Greg Boguniewicz director
Café Bon Appetit equipment dealer: Clark Food Service Equipment, Lancaster, Penn.
Construction: Whiting-Turner Contracting Co., Baltimore: John Lawrence, project manager
About the Project
Goucher College: A private college with student enrollment of 1,500 undergraduates
Scope of project: Renovation to consolidate three kitchens in three different buildings to one building
Opened: August 2018
Total Size: 54,325 sq. ft.
BOH kitchen/storage/catering/prep: 8,500 sq. ft.
Servery: 1,645 sq. ft.
Bakery/dish/storage/BOH: 1,655 sq. ft.
Seating: 2,430 sq. ft.
Queuing/circulation: 3,000 sq. ft.
Servery/beverage counter: 350 sq. ft.
Support/BOH: 140 sq. ft.
Retail space/checkout: 445 sq. ft.
Seats: 430 seats, residential dining; 140 seats, retail dining
Residential dining hours: Mon.-Fri.: Lunch, 11 a.m. to 2 p.m.; light lunch, 2 p.m. to 5 p.m.; dinner, 5 p.m. to 8 p.m. Sat. and Sun.; brunch, 11 a.m. to 2 p.m.; dinner, 5 p.m. to 7:30 p.m.
Student market hours: Breakfast, 7:30 a.m. to 9:30 a.m.; lunch, 11 a.m. to 5 p.m.; dinner, 5 p.m. to 9 p.m.
Menus: 8 platforms: Nosh (kosher station); Season/Stack/Stock (salad bar, deli, soups); Oasis (demonstration area); Breakfast Bar (all-day breakfast); Fire (pizza and pasta); Char/Home/Carve (grill, entree, carvery); Explore (global bowls); Craft (Mongolian stir-fry)
Staff: 60
Total project cost: $21.5 million
Equipment investment: $3.26 million
Daily transactions: 2,400