Seniors living in the nursing home/long-term nursing facility Health Care Center at Ohio Living Westminster-Thurber (OLWT) in Columbus, Ohio, weren't satisfied with the traditional foodservice offering. There were few menu choices and no sight lines into the kitchen. The culinary team's response to the residents' dissatisfaction: Heritage Square Grill, which features a display kitchen that sits between two dining rooms and offers increased menu options. Since its opening two years ago, residents feel more connected through the culinary action.
"Many dining rooms serving seniors requiring round-the-clock healthcare rely solely on food coming from a behind-the-scenes main kitchen," says John Andrews, division director of Culinary and Nutritional Services for Ohio Living. "In contrast, we know that seniors want choices and freshly prepared, cook-to-order food. Our project goal was to provide a wider variety of menu choices prepared literally 20 feet from the dining rooms."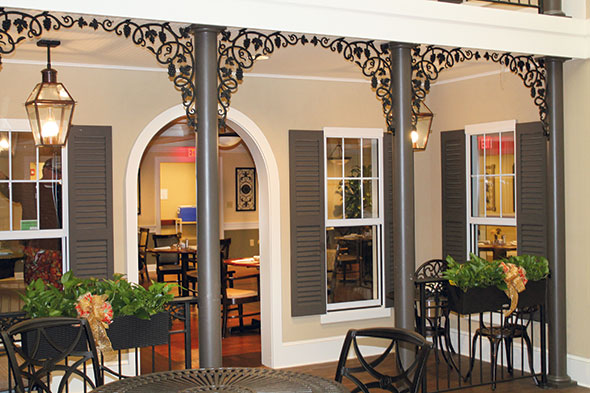 Interaction with culinary staff offers another welcome benefit for the seniors. "My background is working at restaurants and in hotel dining," says Jason Koprivich, director of Culinary and Nutritional Services at OLWT. "We wanted to create a destination restaurant for the residents here. They now have more contact and interaction with our cooks on a regular basis and feel they are part of the culinary activity."
When residents and their guests arrive at the dining rooms, they enter an environment featuring linen-covered tables, comfortable seating, and modern and elegant decor. The roomy dining areas accommodate wheelchairs and walkers. Both dining rooms attach to a 2,500-square-foot atrium covered by a glass ceiling that resembles a New Orleans-style courtyard. Wrought-iron tables and seats in the atrium accommodate up to 15 people.
"The ambience in the dining rooms and atrium helps residents feel like they aren't stuck in their rooms and can feel as comfortable as possible in this home," Koprivich says. "And even if residents are hearing or sight impaired, the feeling of the open space and smell of food being freshly prepared near their tables is welcome."
A server greets and seats residents and their guests as they arrive at the dining rooms. A printed menu details the offerings, including photographs of many of the regular selections. Staff take orders and place residents' requests on an 8-inch-by-11½-inch ticket that lists regular menu items as well as the daily chef's special. Residents' tickets include their name and dietary restrictions. "Residents usually select menu items from a printed menu, though they can make special requests," Koprivich says. "It might take a couple days for us to get food like T-bone steaks and burritos, but we'll do it."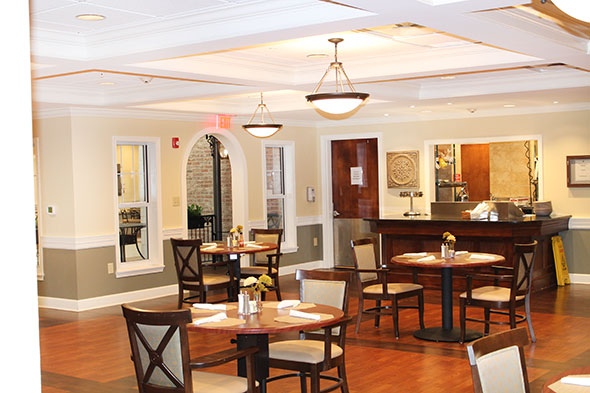 The dining rooms offer a comfortable yet elegant ambience.
The open kitchen enables residents and their guests to watch as culinary staff prepare their selected menu items. Diners can also interact with cooks as they cut vegetables and assemble ingredients at a prep counter that extends from the open kitchen into the dining rooms. Servers deliver meals on china plates.
Food Preparation
Food for all 13 Ohio Living facilities arrives at a loading dock at the campus' assisted living building located 300 feet from the Health Care Center. Staff place deliveries in a walk-in cooler, a walk-in freezer and dry storage. Staff from the Health Care Center come to this building to pick up menu items and transport them on carts back to their facility.
In addition to storage, the other area that diners can't see is a warewashing space with a three-compartment sink and an upright dishwasher. This area sits on the opposite side of the wall containing the cookline.
An upright dishwasher cleans and sanitizes Heritage Square Grill's dishes and serviceware.
At the prep counters that extend into the dining rooms, culinary staff take ingredients from refrigerated rails. Here they cut vegetables and fruit and prepare salads, sandwiches, fresh fruit platters and side dishes such as coleslaw. They also prepare ingredients for the hot cookline. Culinary team members use a high-speed blender to make salad dressings.
On the hot cookline, staff use a 32-inch flattop griddle for cooking pancakes, fried eggs, grilled cheese sandwiches and quesadillas. Additional equipment includes a chargrill for cooking burgers, hot dogs and chicken breasts as well as a four-burner saute range for making breakfast omelets to order and pasta marinara, chicken marsala and pan-fried tilapia for lunch and dinner. The pasta marinara and chicken marsala finish cooking in the countertop combi oven. The oven also cooks pizzas — staff stretch the dough and add sauce near the cook line. Staff use a blender to make puree and the fryer to cook potatoes, french fries, fish and chicken wings. Culinary team members also use a small combi oven to heat vegetables and freshly prepared entrees.
Cooks use a combi oven, undercounter refrigerators and fryers to prepare many menu items at Heritage Square Grill.
The only menu items the staff do not produce in the Heritage Square Grill's kitchen are the chef's specials, which come from the larger, main OLWT kitchen in the assisted living facility. Chef's specials produced in the main kitchen are served to residents in both the assisted living facility
and the nursing home/long term care facility that houses Heritage Square Grill.
Chef's specials are available at breakfast, lunch and dinner. Menu items include fried chicken, biscuits and corn, a gyro platter, Greek salad and fresh pita, lasagna, and stuffed peppers. These dishes rotate based on a five-week menu cycle. "The chef's specials broaden diners' menu selections and add a surprise each day to the menu," Koprivich says.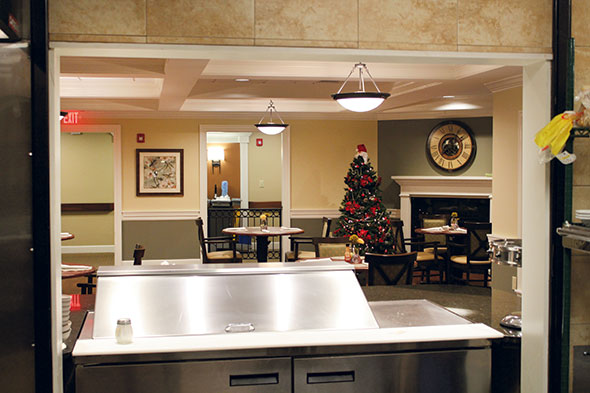 Cooks work at a counter with a refrigerated rail that overlooks the dining room.
Each day, cooks in the main kitchen at the assisted living facility prepare about 70 menu items for Heritage Square Grill and deliver them in large hotel pans that are placed on a steam table in front of the cook line. In keeping with the service style for all menu items, servers dish up chef's specials on china plates and bring them to the tables.
The equipment lineup at the assisted living facility includes a 120-quart floor mixer and slicer; 2 double-stacked steamers for cooking vegetables; a 64-inch flattop for quesadillas and pancakes; an 8-burner saute station for soups and sauces; and 2 double fryers for french fries, fried fish and chicken wings. Staff here also use four convection ovens to bake roast beef, pork, chicken and desserts.
Room Trays, Serving Alleys and Training
Staff at Heritage Square Grill also prepare room trays for 20 to 30 residents the same way they prepare menu items for residents in the dining rooms. Nurses and nurses' aides take patients' orders — they also have sheets with the residents' names and dietary needs — and submit ticket orders to the culinary staff. To assemble trays, culinary staff place hot food on a plate that sits on a hot pellet covered by a tray lid. Cold and ambient menu items are also arranged on the trays, which nursing aids take directly to the rooms. "Nurses also help residents who need help eating in the dining rooms," Koprivich says.
"We installed a serving alley behind the kitchen, which provides a pass-thru to the dining rooms," Koprivich says. The alleys contain refrigerators for milk and juices, a coffee machine and juice dispenser. "I designed an area completely separate from the kitchen so servers don't have to come to the hot food line to fill orders," he says. "Servers work quickly to service 100 people in less than one hour. The only time servers are in the kitchen is to drop off dirty dishes after service."
To keep food waste at a minimum, cooks prepare menu items to order rather than prepare food that diners may or may not choose from a serving line. A made-to-order kitchen requires trained cooks, which presented a challenge to the Heritage Square Grill project given the Columbus, Ohio,
region's low unemployment and resulting shortage of qualified employees. Andrews and Koprivich decided to take an unusual approach and partner with Rouxbe, an online culinary school, to provide cooks with foodservice training.
"I submitted the partnership idea to Ohio Living's manager of innovation," Andrews says. "She fields 'homeless ideas' — ideas that will benefit the organization but don't fit into the regular budget categories. She received approval from the foundation, and we're giving this a try."
"Experienced cooks and those who come to work here with little or no culinary experience will be able to get training and certification," Koprivich says. "This will help people step up their careers." Approximately 30 employees will undergo the training.
The response to Heritage Square Grill remains extremely positive. "For most people living in a nursing home environment, food is the last thing they control," Koprivich says. "They are often sad because they have to be in a place that isn't their home. So we want to give them a culinary experience much like they've had when eating at restaurants. They're interested in food shows on TV and like to feel part of a culinary show here. Each day, they have something to look forward to and can socialize with other residents and the cooks. That's the least we can do for residents."
Facts of Note
Ownership: Ohio Living Westminster-Thurber
Ohio Living: 13 communities; 4,000 residents
Ohio Living Westminster-Thurber: The Health Care Center unit that contains Heritage Square Grill houses 100 residents who can eat in their rooms or in two dining rooms. The Ohio Living Westminster-Thurber retirement community also offers independent living, which includes two apartment buildings housing 300 people, a four-star restaurant, a pub and a grab-and-go quick-service station, and assisted-living, which has a building housing 120 people with a full-service bistro-style restaurant for residents as well as on-floor dining and main kitchen.
Heritage Square Grill Opened: April 2016
Scope of Project: A cook-to-order display kitchen serving two dining rooms and a back-of-the-house space for storage, prep and tray line assembly
Size: Display kitchen, 448 square feet; each dining room, 600 square feet
Seats: 50 in each dining room
Average Check for Non-Resident Guests: $7 for breakfast, $9 for lunch, $12 for dinner
Transactions: 120/day for breakfast, lunch and dinner; 9,000/year
Hours: 7 a.m. to 7 p.m.
Menu Specialties: 15 entrees, including tilapia Provençal, penne marinara and chicken marsala, as well as burgers, chicken wings, omelets with 10 toppings and made-from-scratch desserts
Staff: Total on the Westminster-Thurber campus, 70; in the Health Care Center, 8 full-time equivalents, including 3 cooks, 1 dishwasher and 3 servers
Total Project Cost: $1 million, including the atrium in front of the kitchen
Equipment Investment: $100,000 (front of the house and back of the house)
Website: www.ohioliving.org
Key Players
Owner: Ohio Living
Executive Director: Leslie Belfance
Administrative Director, Health Care Center: Tara Arnett
Division Director of Culinary and Nutritional Services, Health Care Center: John Andrews
Director of Culinary and Nutritional Services: Jason Koprivich
Assistant Director of Culinary and Nutritional Services: Kari Kessel-White
Executive Chef: Patrick Serpico
Architect: JMM Architects, Columbus, Ohio
Equipment Dealer: TriMark SS Kemp, Cleveland