Display cooking brings lively interaction to the JPS Health Network in Fort Worth, Texas. The JPS Cafeteria brims with activity as staff prepare stir fry and lo mein on the Mongolian grill, made-to-order pasta dishes on an induction cooktop, and bake pizza in a brick oven. "We want to move away from all stereotypes of hospital food being just ordinary and make it exceptional," says Neal Lavender, executive director of Food and Nutrition Services.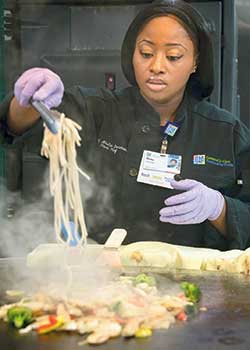 Misha Dameron, sous chef, cooks and assembles a made-to-order pasta dish at JPS Cafeteria. Photos courtesy of JPS Health Network, d.b.a. John Peter Smith Hospital, Tarrant County Health District; photograph by Kevin Fujii, JPS Health NetworkThe JPS Cafeteria's lunch menu also offers entree choices including a nacho bar, fish tacos, barbecue ribs and brisket, pecan crusted catfish, carne Asada and Southwestern soups. "We recently started featuring Flatbread Fridays with a variety of Italian meats and vegetarian choices, which was spearheaded by Misha Dameron, our sous chef," says Bettina Jones, retail manager, Food and Nutrition Services. Staff also prepare stir fries on a
Mongolian grill.
JPS Cafeteria also features menu choices such as rosemary grilled chicken, broccoli and carrot slaw, a pasta action station, a full salad bar, miso salmon, and from-scratch soups. The criteria for each serving of healthier soups is to contain under 225 calories, less than 35 percent total fat, less than 25 mg of cholesterol and less than 600 mg of sodium. The criteria was developed by the clinical RD team.
Kitchen Upgrades
A refurbished kitchen supports the cafeteria, other retail services and patient services. Completed in the fall of 2016, the kitchen's upgraded and expanded equipment includes several steamers, combi ovens, a cold merchandiser, fryers, flattop range, steamtables, and additional hot holding cabinets.
"The refurbishment provided us with more dependable, energy efficient equipment and allowed more flexibility with our menu," Lavender says. "The new equipment also made possible a steady flow of food production and to help cook and finish food properly. We were able to enhance the quality of our food and offer more healthful menu items. We also added a salad bar action station to the front of the house."
Staff also produce menu items for themed special events including Texas State Fair day, Cinco de Mayo and St. Patrick's Day. JPS' approach resonates with customers, as sales continue to exceed budget by about 10 percent each month. Jones credits the special events and new features for such positive results. "This is all very well received by our customers and staff have fun with it," she says.
The main cafeteria offers hot breakfast entrees and items from the grill from 6:30 a.m. until 10 a.m. and full service at lunch from 11 a.m. until 2 p.m.
Capturing grab-and-go business and evening meal services, the Café Express area operates from 6:30 a.m. until 7 p.m. Menu offerings include pasta to go, sandwiches, wraps, parfaits, desserts, salads, snacks, branded coffee, sodas and a variety of specialty drinks. The JPS Cafeteria also supports a satellite location, the Corner Spot kiosk. Open Monday through Friday from 7 a.m. until 2 p.m., this operation resides in the Patient Care Pavilion to provide foodservice offerings for the emergency department and nearby lobbies. The kiosk sells wraps, salads, sandwiches, gourmet desserts, snacks, specialty drinks and branded coffee.
During National Nutrition Month, Food and Nutrition Services staff teamed up with the Clinical RD team and the Health & Wellness dietitian to introduce customers to healthy dining options such as grilled fish on Fridays, quinoa at the action station and whole fruit at every station. The variety of choices and reasonable pricing encouraged customers to select these healthy options. A recipe showdown allowed customers to taste new menu items and vote on their favorites, which were later added to the menu. "We offered display cooking on the action stations, eat well promotions, as well as offered information about healthy eating at the RD booth," Lavender says. Some of these featured menu items appear at stations throughout the year.
Wellness also received a nod in the vending machines. "We have more than a hundred vending machines on our campus and throughout the clinics that we outsource," Lavender says. "During National Nutrition Month we asked our vendor to support us with our healthy eating initiative. We placed signage on the machines that reminded our customers about better choices and called attention to items such as granola bars, diet sodas, healthy calorie snacks, and bottled water varieties. The signage still appears on the machines."
Patient Services' New Menu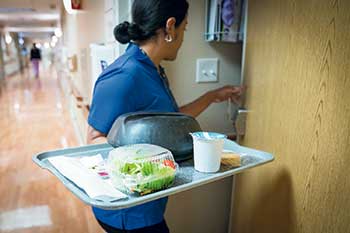 Rosa Jaurequi, a JPS Health Network Nutritional Services staff member, delivers lunch to a new mother at JPS Health Network's main hospital in Fort Worth, Texas.With an eye toward patient satisfaction, Lavender, along with Erica Estrella, patient services manager for JPS Health Network, recently introduced a new Select Menu program with the Nutrition Services team. Serving approximately 426 patients per meal, patients review a menu with a large variety of food selections.
JPS Patient Service staff pick up menus and the diet office enters the information into a computerized system. Closer to meal service, tickets are printed, which then determine the menu selections staff plate via the tray-assembly line. The tray-assembly line is much like a pod system. Staff place cold food items on the tray during service. Other staff place hot food items on china plates that use retherm pellet bases to keep food at safe temperatures. JPS Patient Service staff delivers trays to patients on each floor within minutes of assembly time. Nearly 1,200 patient trays are delivered daily.
"We deliver menus, pass and pick up trays, as well as do intake analysis for the patients while working in tandem with nursing," Lavender says. "At the start of the program we updated our menus to include choices patients like based on their feedback. Items such as fajitas, oven-roasted turkey, flank steak, and several scratch recipes are just some of the great choices our kitchen produces daily."
For the Select Menu service to launch correctly, much of the kitchen equipment was upgraded and expanded to include several steamers, combi ovens, a cold merchandiser, fryers, flattop range, steamtables, and additional hot holding cabinets. "Many pieces of equipment were reconfigured and measured appropriately to fit under our large hood embankment," Lavender says.
Patient satisfaction scores have improved dramatically since the start of the new program. "We're on an ongoing journey with our patient satisfaction program to be the best and measuring key metrics like temperature, quality and service along the way," Lavender says. "We have top-down support from our leadership here at JPS Health
Network. They are amazing, inspirational leaders and I am very proud to be a part of an all-star team."