Associate Director of Retail Operations
University of Michigan, Ann Arbor
Educational background: Bachelor's degree in Spanish and Women's Studies from University of Michigan
Years in foodservice: 8 (7 of them with Michigan Dining)
Age: 28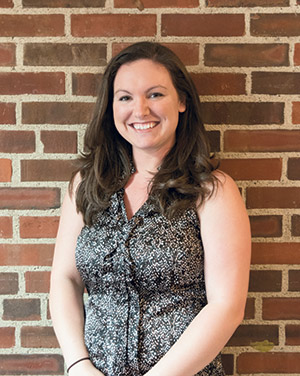 Susan CramerFE&S: Tell us about your industry experience.
SC: I started as a student employee and worked my way up through positions, including server, student manager, assistant manager and manager before taking my current position. Currently, I supervise 12 retail cafes and restaurant operations throughout the UM campus.
FE&S: What led you to the campus dining segment?
SC: I started with a part-time student job, but it came really naturally to me and was fun. An opportunity presented itself for a full-time position before I graduated, and at the time I wasn't really sure what I wanted to do. I thought if nothing else I could take a break and do this for a while, but I found that it just naturally fit my skill set.
I enjoy supervising so I just took it from there, and ever since, it has felt like a natural progression. I think the lightbulb went on that this could actually be a career path when I switched from assistant manager to manager. The salary started to get to a point where I was more comfortable thinking of it as a permanent role and I started to see my skills stretched and real value in what I was doing.
FE&S: What impresses you most about the state of campus dining today?
SC: We're constantly surprising and exceeding expectations. When we see students and parents on campus, it's amazing how surprised and delighted they can be. The quality of our programs has changed so dramatically just over the past several years. That's true from the cafes to catering to residential dining.
There's definitely an increase in reputation and perception by the community and I can only imagine it's going to continue to grow. The students keep pushing us to be better and that's a really unique thing about this segment. When you have bright, intelligent, engaged folks telling you what they want, of course you're going to try to give it to them and continue to improve.
FE&S: Is it tough competing against local retailers for students' business?
SC: Absolutely — especially at campuses like ours that are directly integrated with the city. It is a different pressure than more secluded or remote campuses have, and the only way we can succeed is to make sure we offer great food and service.
We have locally roasted coffee and are now on par with many local coffee shops in the area. We may not be roasting on-site, but we're still participating in the local story and offering comparable, well-crafted beverage selections. We can tell people what the blend is, and our staff knows the different flavor profiles.
We can't go down in price, but we can serve really good products, be in a convenient location and tell our story. Student expectations today are very high, especially when they feel like they're already paying a lot to come here, so being convenient isn't enough. We have to be competitive in quality and experience.
FE&S: What's the best career advice you have been given?
SC: At a professional development seminar I attended, the speaker said you only really need to be about 70 percent ready for your next job. I always worried that I didn't have enough experience, but that helped me change my perspective and realize that to apply or search for the next job I didn't need to already have done it; what I needed was 70 percent of the skill set required and the opportunity and ability to learn.
It opened up my mind to not holding back on what I could achieve by not putting that up roadblock in front of myself.
FE&S: What's an important lesson you've learned about working in this segment?
SC: That you have to get on board with change. Things are always changing, especially in a campus community when the student body literally changes over every four years and the leadership of the university can change, bringing a new mentality and goals. It doesn't matter if you disagree or want it to stop — it's going to keep changing and not wait for you to catch up.
FE&S: What trends and future directions in campus dining are most exciting to you?
SC: We see a very high focus on clean labels and sustainability, from local vendors to composting and recycling. We've recently gone to fully compostable materials in all of our retail units and cafes; we have nothing that has to be thrown away.
We also have a strong emphasis in our department on small plates and attractive plate presentations. Even in the cafes, we standardize how every dish coming out should look.
Transparency is also a huge trend. Knowing that our students and staff really care about what's in their food, we need to not only have an answer for them but to be thoughtful before we even create our menu items.
FE&S: Where do you see the biggest need for change or improvement?
SC: We see a big opportunity to do a better job of telling our story. Yes, we use local vendors, we have composting, we care about where the food comes from and how it's presented, our chefs are certified, etcetera. We're doing all these things, and we need to make sure that our customers know it.
From the bigger picture, I think the greatest need or opportunity is for dining to continue to integrate more with campus life. Oftentimes we're kind of seen as a necessity: students have to eat, they have to participate in a meal plan. Instead of just being convenient and necessary, it would be great to be seen as a destination, the best of the best on campus.
It would also be great to be able to engage more with students in things they're really interested in, such as coffee training. That's a big opportunity for us going forward.
FE&S: What's one of the biggest professional challenges you have overcome?
SC: Moving from a peer to a supervisory position is one, but part of that has been managing with an age gap. Right now, I have a few staff members who are more than double my age. I've been in this role for almost three years and I think that now I'm in a great place, but it took a lot of time, trust building and getting to know each other to get to this point.
I now have staff across the age spectrum — some younger than me, some a little older and some close to retirement — and it's good to be able to say that we're all in a really great spot.
FE&S: What are you most proud of?
SC: I started in this role in April of 2015, and in August of that year I had to open three new cafes in the same month. Not only did we come out of it successfully, but they're still doing great. It was harrowing — a little like boot camp in how to open a restaurant/cafe — but it was also an awesome experience. Since then, we've opened two more new concepts.
FE&S: What are some exciting new concepts at UM?
SC: One of the three that we opened, which was a renovation, is a farm-to-table fast-casual restaurant with a full coffee bar. That's been an awesome hit with students. We have a Beans & Greens Wrap on the menu that people call the rainbow wrap because there are so many veggies in it. Those kinds of things are exciting — feeding people with their eyes, letting them see how beautiful and healthy these foods are.
My operations are also getting ready to launch bagged whole bean coffee from our roaster, and two years ago we launched a loose-leaf tea program featuring tea from a farm in Traverse City, Mich. It's cool to be able to tell students that that their tea is grown in the same state that they're paying tuition to.
FE&S: Complete this sentence as it relates to your campus dining program: "I really wish we could ..."
SC: ...implement some form of a hospitality program at UM. I know that's something that makes other schools' programs really successful with their student staff, internship programs, etcetera. Those students feel really engaged with their jobs because they can directly see an impact, and we spend a lot of time trying to get our student employees to understand what transferrable skills they're using for their future careers and find value in it.
FE&S: What keeps you in this industry?
SC: I love how many professional development and networking opportunities there are and the fact that I'm always seeing a new group of people. Every four years almost the entire student body changes.
It's a very unique opportunity to test things, to stay on trend. You're not worried about things going stale because you have a new group of people to surprise and delight every four years — really every year. I look forward to that and to continuing my professional development. I'm thinking of getting my MBA and feel like there are so many opportunities and things I can do with this experience.