Inspiration and unique flavor combinations can augment beverage sales.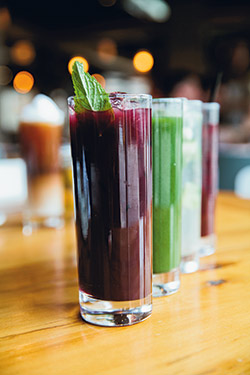 Photo courtesy of Beatrix, photo by Anjali PintoWhile cocktails, wine and beer certainly take the lion's share of most beverage programs, restaurants and other foodservice operators find they can bump up beverage sales by offering non-alcoholic, artisan-inspired options.
Scratch-made drink options represent one way to differentiate, according to Datasessential. Restaurants that take the time to make an agua fresca or lemonade from scratch stand out. Additionally, a restaurant could carry over the flavor profiles of food to the drink menu to go a step further in creating a connection to a cuisine or concept.
Non-Alcoholic Artisanal Beverages
Indikitch, a two-location Indian fast-casual concept in New York, serves up a homemade mango lassi, which is essentially a mango-infused milkshake with coconut, milk or yogurt and,
usually, ground cardamom.
Also in New York, at The MasalaWala, Executive Chef Chhimi Dorje uses a tandoor oven for his non-alcoholic Mango Panna, inspired by a drink originally consumed by farmers who worked in Northern India's heat. "The farmers would drink this with their lunch to keep the body temperature balance, and the drink is thought to be a digestive," says Dorje.
To make Mango Panna, Dorje first roasts mangoes over direct flame or in a tandoor oven until the skin chars. Once the mangoes cool, he peels them to extract the pulp, then combines the pulp with sugar, water, ice, toasted and powdered cumin seeds, rock or black salt and mint leaves.
Clover Food Lab, a vegetarian fast-food concept in Boston, focuses on seasonal produce for its 100 percent scratch-made food and beverages. The restaurant has showcased options like a hot honey ginger beverage in the winter and a concord grape drink that makes use of the local concord grape crop in the summer and fall.
Literally named Lemonade, this Culver City, Calif.-based healthy, fast-casual chain features a half dozen lemonades on its menu at any time, with unique flavors like coconut apple and kaffir lime or watermelon rosemary.
Water and Soda
Memphis, Tenn.-based Lyfe Kitchen, the healthy and organic fast-casual concept by former McDonald's execs, serves a variety of waters infused with different herbs, vegetables and even seeds. The Cucumber Mint includes fresh cucumber juice, mint, lime and agave nectar, while the Hibiscus Beet consists of a hibiscus tea-like infused drink with beet, organic, apple juice, ginger and lemon. The
Orange Ginger Chia pairs fresh-squeezed orange juice with filtered water, lime, ginger mint and chia seeds.
Blaze Pizza, a California-based build-your-own chain, has expanded its drink menu with house-made agua frescas (translation: Mexican fruit-infused waters) with flavors like Prickly Pear and Key Lime Mint. The lower-calorie waters have little or no sugar added and fit the current "clean menu" trend.
Many operators consider installing in-house, reverse osmosis water filtration systems for waters and house-made soda to ensure they're starting off on the right foot.
For sodas, while it's easy enough for restaurants to simply add different flavor infusers to seltzer water, some operators install carbonated tap systems that use filtered water. These systems can be state of the art, right down to brass-coated taps with the aesthetically pleasing look of high-grade beer taps.
High-Level Juice
Cold-pressed juice continues to explode across the country at smoothie/juice shops and fast-casual concepts, and now even full-service restaurants are getting into the game.
Chicago's Beatrix, which recently opened its third location, serves cold-pressed juices garnished like cocktails during breakfast, lunch, brunch and even throughout the evening, and they're also used for alcohol-infused creations. Apple Snap rates as the most popular juice, made with fresh carrot, ginger and apple juices. Regulars also hanker for the Power Greens juice, made with kale, romaine lettuce, fresh mint and pineapple juice, and the Blueberry Boost, which consists of fresh blueberry juice, white grape juice and basil. There's also a Mango Nectar juice with fresh mango, orange and pineapple juices.
"The juicing is done in the back of the house with the prep team using a manual hand juicer, while the bartenders use a citrus juicer at the bar for fresh citrus juices," says John Economos, general manager at Beatrix. "We use a giant, stainless steel juicer with a lever so it's all done manually."
Some of the juice goes into clear, labeled juice bottles for the retail coffee bar area. However, in the main restaurant, the juices earn special treatment and staff serve them chilled in Tom Collins' glasses with basil sprigs, apple wedges and other edible garnishes. The intent is for the drinks to to look like actual cocktails.
Mocktails
A leader in mocktails, Vena's Fizz House in Portland, Maine, infuses its non-alcoholic beverages with everything from artisanal bitters, tinctures, syrups and more. The Kundalinitini features raspberry gomme — a silky textured simple syrup of sorts, blood orange concentrate, ginger syrup, orange bitters and fiery hot ghost pepper extract.
Though one might think it's easy enough to combine juice with club soda, mocktails are anything but simple mixed beverages. They require thought-out pairings and the same traditional bar tools and equipment used for cocktails.
Tonics and "Beers"
At Living Room in South Beach, Miami, mixologists prepare a house-made lavender tonic for cocktails and mocktails alike by blending citric acid, cinchona bark and lemongrass with lavender. Another house-made item, non-alcoholic ginger beer, is made by cooking fresh ginger with water, sugar, lime juice and orange peel for 40 minutes until strained and pureed with more fresh ginger.
While staff make large batches of the tonic and ginger beer in the kitchen, bartenders sometimes use induction burners to cook smaller batches in the bar prep area to create a more sensory-fueled atmosphere for guests.
Requiring some creativity, but only minimal extra equipment and supplies, non-alcoholic beverages of all types are no longer just an afterthought. FE&S