A great beverage menu can no longer stand on its own without a solid selection of craft beers.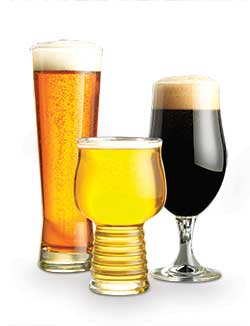 Photo courtesy of Libbey Glass.The craft beer fad is arguably over. That, however, is only because craft beer now represents a permanent and important part of the beverage lineup at most upper-tier bars and restaurants across the country. In fact, craft beer has become just as ubiquitous as the domestic favorites that used to rule the taps.
And the research proves it. After considerable growth during the last several years, craft beer now appears on more than half of menus among restaurants that serve alcohol, according to Datassential. The rise in popularity of craft beer plays a key role in shaping beer menus, from an increase in variety of beer styles to more unique flavors and ingredients.
Establishments serving beer, hard cider, and saison — a lighter, drinkable and sometimes seasonal brew often featuring fruity notes — have seen menu mentions jump 23 percent in the last year, per Datassential. And varieties such as IPA and double IPA continue to become more popular, with each increasing their menu mentions 16 percent and 19 percent, respectively. Other beers growing in popularity include milk stout (+13 percent), pilsner (+11 percent), porter (+8 percent), wheat (+7 percent) and stout (+5 percent), Datassential reports.
Increasingly unique beer flavor profiles help to increase their presence on cocktail menus as well, Datassential suggests. The Moscow Mule, which typically features vodka, ginger beer and fresh-squeezed lime juice, has become one of the fastest-growing cocktails, with a menu mention increase of 47 percent over the past year. Non-alcoholic ginger beer alone has skyrocketed 41 percent in menu mentions. Other popular beer cocktails on the rise include the Michelada, a mix of Mexican beer and clam juice, and a Shandy or a Radler, German beverages featuring beer with lemonade or other citrus.
Botanical Brews
Fernetic beer has hints of coffee and peppermint, along with an 8.4 percent alcohol level. Photo courtesy of Forbidden RootsSome craft breweries continue to experiment with newer, more botanical-inspired flavors. Chicago's self-described botanic brewery and restaurant, Forbidden Root, released Fernetic, a collaboration with the producers of Fernet-Branca.
The Forbidden Root team deconstructed the Italian amaro digestif to reconstruct the 175-year-old family recipe into a unique — and strong — craft beer with an 8.4 percent alcohol level and exotic, spicy notes from ingredients like rhubarb root, saffron and wormwood, along with some of the 27 herbs and spices used by Fernet-Branca.
"Collaborations are always an opportunity to step outside your comfort zone and build off someone else's creative energy," says Forbidden Root Head Brewer BJ Pichman. He describes the beer as having hints of coffee and peppermint on the nose, followed by complex flavors and a soft roasted tone in its dark-colored finish. Bitter notes build to a spicy, creamy middle and dry, woody finish.
Brewpubs on the Rise
A rendering of The Stone Hotel, slated to open in 2018. Photo courtesy of Stone BrewingThe growth of craft beers goes hand in hand with — and, in some instances, even helps spur — the rise of brewpubs. In fact, microbreweries — many now with their own restaurants and other culinary outlets — now give the big beer brands a run for their money.
According to research firm CHD Expert, there are roughly 3,800 brewpubs in the U.S., with the most in New York, Pennsylvania, Florida, California and Ohio. The total brewpub share of the bar landscape takes up about 7 percent. Most of these trendy spots are relatively new compared with longtime neighborhood bars, taverns and sports bars — 64 percent have been in business for 5 or more years and 32 percent have only been open between 2 to 5 years.
Stone Brewing, a microbrewery outside San Diego with a cult following, is building a hotel. Slated to open in 2018, The Stone Hotel is a $26 million, 100,000-square-foot partnership between Stone Brewing and hospitality group Untitled Hospitality. The beer-centric hotel, located across the street from the brewery, will feature a bar-style lobby, oversized guest rooms and custom-designed furniture.
Showcasing Craft Beer
Publik Draft House's open, airy interior creates an inviting atmosphere. Photos courtesy of Publik Draft HouseThe way restaurants, bars and brewpubs showcase their craft beers matters — a lot. Publik Draft House in Atlanta offers between 70 and 80 beers at once, with half of those selections considered craft beers.
"There are so many different craft beers on the market and demand is very high," says Eddie Johnson, co-owner. "We love to get feedback from our customers on what they are looking for while also making sure to carry a wide range so that we have something for everyone."
Lighting represents one essential element in showcasing these beers, says Johnson. "Oftentimes taps will get overshadowed by popular everyday beers. The best design is an education program that is tailored for your staff and particular craft beer."
Cider Frenzy
Cider has seen a resurgence in the last few years, perhaps riding on the coattails of the growing craft beer movement. From 2011 to 2015, the number of 9-liter cases of cider jumped from annual sales of $1.2 million to $15.5 million. In 2015, hard cider sales increased 15 percent to more than $436 million in dollar sales, according to Chicago-based Information Resources Inc. Case sales growth was slightly less than 12 percent in that timeframe.
According to Datassential, menu incidence of hard cider has jumped 20 percent over the last year, even above some types of craft beer.
Cider-specific houses, like brewpubs, have seen a rise in popularity from coast to coast.
Argus Cidery in Austin, Texas, features many sparkling and still cider options at its reservations-only taproom. In Chicago, The Northman, another cider bar, sees regulars flocking for hard ciders made from Michigan and other Midwestern apples. Sociable Cider Werks in Northeast Minneapolis focuses on a revolving draft list at its taproom. And in New York, the Finger Lakes Cider House continues to enjoy strong crowds looking for local brews.
Redefining Waste
Some breweries collaborate with bakeries by offering their leftover grains in a two-part effort to enhance the taste of bread and cut down on food waste. But now, things are flip-flopping, with bakeries supplying brewers with leftover bread to make unique beers.
Microbrewer East End Brewing Co. in Pittsburgh teams with 412 Food Rescue, a food recovery organization connecting restaurants, farmers, bakeries, breweries and distilleries, to collect stale bread from Five Points Artisan Bakeshop for use in a new beer called Loaf made using age-old techniques.
"Many variables are at play in determining how the Loaf beer will taste," says Scott Smith, owner of East End Brewing. "Malt, hops, yeast, even the water chemistry affect this, but of course, the most exciting variable will be what kind of bread we get for this beer. The brewing process will take just one day, but the finished beer will take an additional two to three weeks, depending on how the fermentation goes and what unusual variables may be encountered with the bread." Smith plans to offer the beer in growler shares for customers.
With new beer, design and brewing innovations still unfolding, the craft beer world shows no sign of slowing down. In fact, microbreweries have essentially become a new micro-segment in the food and drink industry, with ramped-up profit and expansion potential.
---
Q&A with Dave Shaw, president of Growler USA
Dave ShawGrowler USA, headquartered in Centennial, Colo., expects expansion to hit triple digits this year. The first location opened in Charlotte, N.C., in 2016. Ten units currently operate in the U.S. and 33 are set to open within the next 18 months. FE&S caught up with Dave Shaw, president, for more details.
FE&S: How do you define the Growler USA concept?
DS: Growler USA truly represents the American craft brewpub movement. We serve only American craft beers — mostly local and regional and always representing the best of what that area has to offer. Each beer menu is different and localized for each pub. Our food menu is chef-inspired with the perfect blend of familiar American classics with a beer-centric twist.
FE&S: How many beers do you offer?
DS: All of the beers served at Growler USA are American craft beers. Depending on location, we have up to 90 beers on draft with additional taps of Kombucha, soda, red and white wines, and more.
FE&S: How do you know what your customers might want?
DS: First, we are actively engaged with the local craft beer community — so that gives us a good starting point. We also listen to our individual customers and ask for their specific preference. We provide tasters of each product they would like to try. All Growler USA beertenders are Cicerone Certified Beer Servers, so they have a key understanding of the principles of beer. Ultimately, our customers decide which beverages we have on tap.
FE&S: What are the key equipment and supplies needed for a great craft beer/beer program?
DS: We have developed a unique and multi-faceted program to handle and serve our beers in a way that delivers the beer to the customer the way that the brewmaster intends. The program involves proper training of the servers, high technology in the cooler, proper line maintenance and much more. We refer to this special customer experience as being "true to the brew."
FE&S: What's the best way to design the bar to showcase the beers?
DS: We pride ourselves on our visually impressive bar presentation with an extra-long tap wall, a mirrored back wall, white marble, black tile and a unique artist-created bar top in each pub. Many times, when people first walk into a Growler USA, the first thing they do is stop, pull out their phone and take a picture.
---
Craft Beer Glassware
Glassware for craft beers should be chosen wisely as the shape and size of the glass have different impacts on the level of carbon dioxide in the brew and on the foamy head.
Goblets — Belgian-style brews and stouts
Footed beer glasses — European ales and lagers
Traditional pint glasses — domestic IPAs and ales
Giant or tall glasses — Pilsners
Tulip glasses — Scottish ales
Hard cider glasses and tasters — craft ciders and flights
Wheat beer glasses — domestic and imported wheat and rye beers

---
E&S for Craft Beer
Beer system
Tapsl Beer towers
Glass rinsers
Beer lines
Keg cooler with keg shelving
Ample underbar glass storage
Dishwasher for glasses and/or a three-compartment sink
POS locations
Hand sink
Towel/soap dispenser
Storage equipment
Glassware
Cleaning supplies
Merchandising items
Source: Troy Jacobsen, Hockenbergs, Eagan, Minn.
On growlers: "A lot of places are doing growlers now, so brewpubs and restaurants need a display cooler to market their pre-filled growlers. On their brewing side, they are using bottle fillers that keep the bottles fresh, and so they can fill ahead of service. Also, it's best to fit an undercounter dishwasher with a growler rack for cleaning the bottles."
On brewpub design: "Along with all of the equipment and supplies, all that's needed is ample seating, chairs, and don't forget the kids' chairs! I see the craft beer craze staying for a while, but a lot of these places will need to be able to expand and change with customer needs. I think that they should have plenty of taps available for multiple flavors and different options. I also believe they need to do their own food. It helps breweries set themselves apart from the competition. And design doesn't have to be over-the-top — it can be very simple."
---
Designing a Culinary Brewery Tasting Room: Moody Tongue
Photo courtesy of Moody TongueChef and Brewmaster Jared Rouben left Chicago's legendary Goose Island Brewery to open his own microbrewery, Moody Tongue, in 2014. Late last year, he opened a tasting room to allow loyal followers a place to enjoy his beers and bites.
Working with designers Jesse and Colleen Neuhaus of Mo Faux Studio, the team carved out 2,000 square feet for the tasting room, adding glass windows for a peek into the brewery.
With space for 75, guests can belly up to the white subway tile-lined bar or take a seat at the dining tables or black leather lounge seating. Shelves lined with books — some dating back to the early 1900s — flank the fireplace.
"We have a small kitchen between the brewery and tasting room where we're literally just baking cakes and shucking oysters," Rouben says. "We went for this pairing because when people celebrate, they often enjoy these things."
A Culinary Institute of America graduate and former fine-dining chef, Rouben worked to make sure the cake paired with certain beers, like the Caramelized Chocolate Churro Baltic Porter. Other year-round beers, such as the Applewood Gold, Sliced Nectarine IPA and Steeped Emperor's Lemon Saison, pair well with the oysters.