Delivery is proving to be the next revenue opportunity.
"Foodservice in the home is the next frontier," says Jack Li, builder at Datassential, an industry food insights agency. "If you haven't started it yet, you're late." However, Li warns, "You can't look at it as another form of takeout. You need a mindset change." He explains that the delivery experience should equal that of dining in a restaurant and notes that a bad experience can hurt the brand. "You are extending your brand experience into the home," he says.
An explosion of restaurants — mostly chains — starting delivery services represents a way for these operators to reach those customers who no longer want to make the trip to eat in their restaurants and as a way to augment their bottom lines. Thanks to mobile technology, consumers now feel comfortable ordering almost anything for delivery to their front doors — including food, with the expectations for food quality evolving accordingly. The new delivery paradigm continues to evolve far from the older pizza-in-a-box model. In fact, non-pizza brands account for the biggest growth within the delivery category. Consumers now want the option of a variety of menu items, and they want restaurant-quality food. That means fresh menu items that travel well, arrive at the perfect temperature and taste delicious.
Aside from ensuring quality, foodservice operators wanting to start a delivery initiative need to address a variety of functional and logistic issues. Operators need to address prep, staff, packaging, an ordering system that includes payment and a delivery system. One size does not fit all, so each operator must weigh the advantages and disadvantages of available options.
Start the process
Determining the ordering method, the menu and the prep process are three musts when considering delivery. Most operators adding delivery services rate each of their menu items for quality standards throughout the delivery process, including holding time before being picked up and travel time to the front door. This begins with a rigorous testing process for each menu item. Some fried foods, in particular, do not hold up well. As a result, it is unlikey that all dine-in menu items will make it to the delivery menu.
Packaging represents another key consideration. Many operators continue to upgrade their traditional Styrofoam clamshells to more sophisticated versions that vent the steam of hot items or keep cold items chilled, keeping everything the correct temperature. Insulated temperature-specific bags are also preferred for delivery.
While some operators produce food for delivery in their existing lines, others opt for additional lines and even separate refrigerators and hotboxes for items going out the door. Most of the operators adding delivery-specific areas and equipment are chains, and they include this in the design of new units. Another design element is a separate area for pickup to keep the delivery process separate from the dining area or in-house counter pickup.
A few operators still use a telephone ordering system, but most now have online ordering capabilities. This integrates ordering seamlessly into the point-of-sale system, helping the staffers working the line differentiate between dine-in and delivery orders. Most online systems include the technology to inform the customer when to expect delivery of their order.
The delivery process
The delivery system Native Grill & Wings uses first identifies an available driver, then sends a note to the customer confirming the order and providing an estimated arrival time. Photo courtesy of Olo How to deliver orders is one of the biggest decisions. The entry of third-party online ordering systems (TOOS) continues to play a key role in the growth of delivery sales among non-pizza restaurants. Delivery services like UberEats, DoorDash and GrubHub have jumped into the arena, and many chains use these companies. This method can run into two potential potholes. One is food handling. Unless the delivery system is used to handling food, from both a quality and food-safety standpoint, it becomes difficult to guarantee the order will arrive at its destination in optimal condition. The other downside is that, in most cases, the consumer orders from the website or app of the delivery system that offers a variety of menus from different restaurants. The risk for operators is a loss of contact with the consumer and not being able to build and maintain customer loyalty.
The other option for delivery is to do it internally. This allows for control of customer relationships and food quality. The logistics of operating a fleet, including the insurance, can be expensive, though. It also can take the focus off the core business of producing a food experience.
Delivery initiatives tailored to the brand
The following are examples of operators who have taken different paths to creating delivery initiatives.
Ando
Any new initiative comes with its own extreme examples. Count Ando among them in the delivery space. This delivery-only online restaurant serving Midtown Manhattan is the brainchild of David Chang, the founder of the well-known Momofuku Noodle Bar in New York City as well as a number of restaurants in three countries. Each item on the Momofuku menu was put through lengthy testing to ensure that quality was maintained throughout the delivery process.
Data and analytics available from online technology allow the team to monitor operational efficiencies as well as customer satisfaction. To date, Chang operates one dedicated delivery kitchen in Midtown with service limited to that area. UberRUSH delivers the food to customers. The company intends to expand but has yet to announce its plans.
Native Grill & Wings
Native Grill & Wings initiates delivery orders through the chain's own app, which helps the wing-centric concept maintain a closer relationship with patrons. The chain does, however, outsource delivery.This 36-year-old casual-dining brand specializes in chicken wings. The menu of this Chandler, Ariz.-based concept also includes burgers, sandwiches and pizza. Steve Snyder, IT and systems manager, says Native Grill & Wings is in the "infantile stages" of online ordering and delivery. Even so, the 31-unit chain has already tracked increased business and anticipates hiring additional personnel to handle the volume.
Staff place food in hotboxes if there is any wait time between production and delivery. Delivery people pick up orders at the same station that handles takeout orders. After carefully reviewing the delivery menus of some of its larger competitors, Native decided to offer 100 percent of its dine-in menu for delivery.
Native uses an online ordering system dedicated to supporting chain restaurants. When a consumer orders from the restaurant's menu, the online system immediately sends a communication to delivery vehicles in the area. When the system locates an approved driver, the consumer receives a message that outlines delivery time and pricing and asks for confirmation.
Snyder says, "The challenge was that third-party delivery systems represent the customer, not the restaurant." With this system, though, customers order directly through the Native app, allowing the chain to retain control over customer loyalty and the customer experience.
Boston's Restaurant & Sports Bar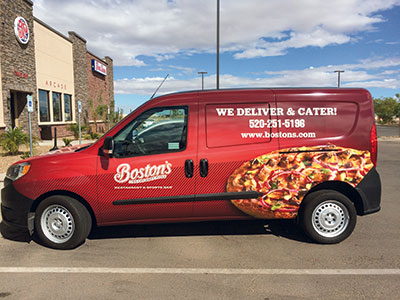 Boston's Restaurant & Sports Bar elected to travel the internal delivery route. The company purchases its own trucks, which also serve as billboards that promote the company's delivering and catering program.Boston's has two concepts under one roof: casual dining and sports bar. System wide, the company has 375 units in Canada, 30 in the U.S. and 12 in Mexico. Tim Matousek serves as the company's vice president of U.S. operations.
Matousek says the U.S. management team has been working on a catering and delivery initiative for a year. Their initial thought was that, because of the expense, internal delivery would be prohibitive. But after reviewing results of analytics, they discovered that it would only take 1.3 deliveries a day to break even. From then on, it was full steam ahead.
Boston's design prototype already allows for an area dedicated to prep and storage for delivery items. The restaurant had used these areas for takeout orders and continues to update these spaces to accommodate the delivery process. The parent company in Canada had already sourced improved packaging with vents to release steam. The U.S. units now use their Canadian counterpart's packaging choices.
The delivery menu features 85 percent of the dine-in version. "There are just some foods that don't travel well," Matousek says. "We don't want to put an inferior product out there that doesn't represent us." Items that didn't make the cut include some desserts, some fries and any fried product that cools too quickly and may become soggy.
Initially, the company intends to stay with its telephone ordering system. It will roll out online ordering next year. Boston's has opted for internal delivery. The units have purchased affordable vehicles which double as billboards, promoting delivery as they drive around.
The catering service was launched in November to take advantage of holiday parties. Native will introduce delivery in mid-January, targeting people hosting Super Bowl parties.
Crushed Red Urban Bake & Chop Shop
Operators can generate brand awareness by including their logos on packaging for delivery and catering orders, as Crushed Red does.Crushed Red features chopped salads with organic dressings as well as individual pizzas, soups and light desserts. The company currently operates six units, including three in its hometown of St. Louis.
Looking to increase sales over the prior year, the company built a new restaurant that has an additional line with a cold table. It runs completely independent of the main lines.
When it came to the menu, founder Chris LaRocca says, "We had to rethink every product we had. Plus, we had to come up with packaging." Aided by a manager who had been a national director of baking at Panera for 17 years, he rented an office and ordered from half a dozen competitors. They looked at the order process, the payment procedures and the packaging and even took temperatures of the food. "If we were going to move down this road," he explains, "we had to be better than the competition, and trying to be better than national companies is a tall order."
The testing resulted in a catering-only product called Folded Flats. These are basically cold sandwiches made from pizza dough. "It looks like a pita," LaRocca says. Crushed Red offers five versions of the Folded Flats, which come in packages of ten. They have clever names — a Sriracha chicken with black olives, greens and bacon is an Angry Bird.
Production fits in to the existing dine-in schedule. Staff produce everything for catering in the morning. The team comes in at 8 a.m. and assembly takes place in the dining room, with the goal of having everything ready to go out the door by 11 a.m. when the lunch rush commences. Each unit has a separate single-door refrigerator for delivery salads.
The catering/delivery menu also contains the same variety of salads on the main menu. If a customer orders multiple large salads, Crushed Red considers that catering. The chain classifies an order of individual salads as delivery. Crushed Red requires a minimum order of $50 for catering. Any individual delivery order less than $16 will be subject to a delivery charge.
Crushed Red handles its own delivery. "No one is going to handle my food with the integrity that I'm going to handle it," LaRocca explains. "There is no loyalty when you go to third party. They are not going to handle food the way it needs to be handled. They could be delivering auto parts for all they care."
Despite the challenges, foodservice-quality food at home is, as Li says, the next frontier and has the potential to bring in additional revenue in a highly competitive market.
Best Practices for Food Delivery
Each delivery order should include three goals: a satisfactory experience for the customer, a seamless operational experience for the brand and a system that brings in additional revenue. Do not undertake a delivery program without careful consideration of each element from start to finish. Here's a to-do list:
The Menu First and foremost, items must hold and travel well. Test each item to determine if it can hold heat and not become soggy, ooze or lose shape. Staff should also be able to quickly prepare items for delivery.
The Packaging Most operators suggest upgrading the old clamshell packaging to stronger, non-leak alternatives. Do not mix hot and cold items. Operators also recommend exterior delivery bags that hold heat or preserve cold. Upgrade old, flimsy plastic flatware to the sturdier, better-looking versions now available. Brand all packaging with graphics and logos to extend the marketing into the home. Branded napkins are one way to do this. Branding becomes especially important when a third party handles the ordering.
In-House Staff Most operations have dedicated delivery-focused and delivery-trained staff.
Design and Equipment If delivery plays a significant role in a restaurant's growth plans, it will succeed more seamlessly with a separate prep line, separate refrigeration and separate holding units.
Ordering and Delivery Consider customer loyalty, product quality at delivery, food safety and expense when deciding among TOOS, a behind-the-scenes delivery system or self-delivery.