Today the natural maturation of the foodservice equipment and supplies industry is paired with a more sophisticated operator base armed with more information than ever before. This continues to force change in the supply chain, including consolidation among dealers and manufacturers. How long will this period of consolidation last? How does it affect the way various-sized dealers and factories go to market? What will the supply chain look like in the future? Read on for these answers and more.
Dealer Consolidation Triggers
Everyone seems to agree that the size and shape of the dealer community will change considerably in the not-so-distant future. "Some larger companies seem to have a charge and a vision. And other dealers will continue to look to grow," says Joe Schmitt, president of Rapids Wholesale, a Marion, Iowa-based dealer. Schmitt is also president of the Foodservice Equipment Distributors Association.
The fact that the dealer community includes a sizable number of family-run businesses has long been a hallmark of this part of the foodservice industry. What's worth noting is that so many will now entertain conversations about selling their businesses. This remains in stark contrast to the recent recession where so few dealerships changed hands or even closed their doors.
"They did what they had to do to keep their businesses afloat," Schmitt says. "It's easy for people to hang on, and the factories enable that to happen. A few factories enforce some purchasing minimums, but by and large the factories enable the dealers to sell their products as one-offs. Others used that time to retool their businesses."
This approach helps some dealers to stay afloat. Barely. "When you look at some of these small dealerships, there's little to no value left," Schmitt says. "Some of them are interested in selling, but their annual revenues are less than some of our salespeople. So they have to figure out ways to hang on."
Generally speaking, two main factors continue to drive many dealers' desire to sell their businesses. The first factor: succession planning, or a lack thereof, for many of the family-run businesses. Some family businesses have no heir apparent but do have owners who want to transition into the next phase of their lives and, in doing so, ensure company employees have a safe landing place.
"When you get from second- to third-generation family businesses, you get a large number of folks in their 50s and 60s who are starting to ask what their succession planning looks like," says Darren Anderson, president of Lonestar Restaurant Supply, an Austin, Texas-based dealership. In other words, if a business remains in a strong position, do owners want their children working in it? Probably. If the business finds itself in a less-than-desirable position, the opposite likely becomes the case.
In some instances, the newer generations want no part of the businesses their parents and grandparents built. "They look at their parents and say, 'I don't want to work like that,'" says Fred Clark, president of Clark Associates, a Lancaster, Penn.-based dealer.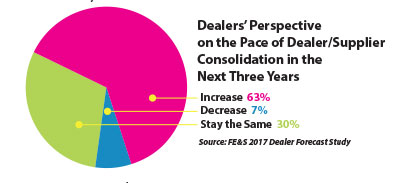 The second factor fueling the dealer community's merger and acquisition mania relates to the foodservice equipment and supplies industry's general maturation process and its individual members moving away from selling features and benefits to compete mainly on price. "The natural progression of any market is toward commoditization," Anderson says. "If you are not adding value, pricing drops. The system favors the big guys because they can innovate. If you can't innovate, then you might consider selling your business."
On the buy side of the equation, two factors generally motivate the purchasing entity. First, is the company making the purchase to add customers, revenue, and so on? Or is the deal more strategic for the purchasing company, meaning management wants to fill in a perceived gap that's either product or geographical in nature? Either way, a strong desire to grow remains an underlying reason to deal.
"If you are not growing fast enough, either at the rate of the economy or your industry, then you are effectively shrinking," Anderson says. "The middle folks are having difficulty innovating, and they are the companies that are selling. Either they don't have a succession plan or don't have a plan to add value to their customers."
To some, dealer consolidation represents the natural evolution of a maturing industry. "On the dealer side it is inevitable. All industries do this, whether it is office supplies or butcher shops. They have all gone through it," Clark says.
Impact of Dealer Consolidation
While everyone agrees consolidation among dealers and manufacturers will shape the industry in the coming years, the conversation gets interesting when people start weighing in on the impact to the dealer community.
For example, 40 percent of dealers see consolidation among their ranks as being positive, while 45 percent view this trend as negative, according to FE&S' 2017 Dealer Forecast Study. The study also shows 15 percent of dealers as being neutral on the issue. Over time, however, dealers' perspective on consolidation seems to have shifted. Only two years ago 52 percent of dealers had a positive view on consolidation.
"I don't know if it's good or bad. Every change has its pros and cons," says Jameel Burkett, president of Burkett Restaurant Equipment and Supplies, a Toledo, Ohio-based dealership.
Those with a favorable view of dealer consolidation believe it will lead to greater efficiencies that will result in better pricing, per FE&S' 2017 Dealer Forecast. Proponents also feel consolidation will result in bigger, stronger dealers that will eventually eliminate what they term "rogue dealers," smaller, fly by night companies that compete only on price and do not invest in inventory, their employees, etc.
"[Consolidation] is good in a sense that dealers get economies of scale. They can serve their customers in more regions than they typically could," says Jeff Couch, president of the Preferred Marketing Group, a California-based independent manufacturers' rep firm. Couch also serves as president of the Manufacturers' Agents Association for the Foodservice Industry. "And technology enables them to better serve their customers by better tracking inventory, etc. It allows them to invest in their businesses and provide more services for their customers."
Those with a less-than-positive view of dealer consolidation feel this trend limits competition, leaves operator customers with less choice and creates an uneven playing field with manufacturers.
From an independent design consultant's perspective, working with large and small dealers has its own pluses and minuses. "When we work on a large project and a smaller dealer gets the job, they really pay attention to it and do a good job," says James Camacho, president of Camacho, an Atlanta-based foodservice consulting firm. He also serves as president of the Foodservice Consultants Society International — The Americas. "Conversely, if something happens at that company, they often don't have the bench depth to pick up the slack. With the larger dealers, if you get a bigger project, it's only one of many they are doing at the time, and you don't get the service at the time."
In other words, for dealers, as well as manufacturers, bigger does not necessarily translate into better. "When the larger companies get big they are not usually as quick or nimble to develop a new product or service," Couch says.
Some feel continued dealer consolidation could pave the way for broadline distributors to consume a larger slice of the foodservice equipment and supplies pie. "These broadliners are looking for ways to increase their revenue," Burkett says. "The more products they add, the more they can increase their revenue because they are calling on these customers every day."
Stuck in the Middle?
For the purposes of this article, the definition of large dealers includes those companies with revenues that exceed $100 million annually. Small dealers post annual revenues of $20 million or less. Dealers with less than $100 million in annual revenues but more than $20 million generally fall into the mid-sized dealer category. According to FE&S' 2016 Distribution Giants Study, 50 dealers fall into that mid-sized category, including several interviewed for this story — Burkett, Chefs' Toys, Lonestar, Rapids and The Sam Tell Companies.
Many industry observers feel the dealers in danger of getting really pinched are the mid-sized companies. That's because mid-sized dealers seem caught betwixt and between: not big enough to develop the more sophisticated infrastructure larger dealers have but not flexible enough to compete with smaller dealers. "The top 10 grow at a much faster rate than the other dealers are growing," Burkett says.
And that's true. According to FE&S' 2016 Distribution Giants study, the top 10 dealers grew at a rate of 14.9 percent in 2015. In contrast, the remaining dealers in the study grew at a rate of 8.1 percent. "Their scale, buying power and reach is allowing the bigger dealers to enter new markets and take business from someone else," Burkett adds.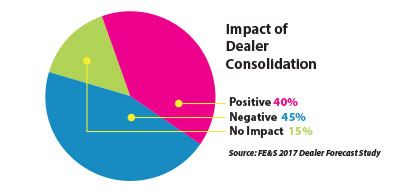 Growing their businesses remains the operators' driving force, and the more proactive dealers align themselves to be able to service the customers wherever they go. "Customers want the path of least resistance," Burkett says. "They have more and more to do, and you are seeing more corporate purchasing. The more they can do business with one vendor it can make their business more efficient."
It all comes down to providing value on the customers' terms. "We as dealers are going to have to do a better job differentiating ourselves, our value proposition and asking the question, Why us?" Burkett says. "We can look at ways that we can get into other industries to add value to our customers. Why can't dealers sell food or office supplies? You just have to look at it from a business perspective."
In Rapids' case, growth will come through a variety of avenues, including design/build projects, its chain restaurant solutions group and other avenues. "We are looking for ways to disrupt our current space to say we are unique, nimble and can help in other ways. So we look at our size as an advantage," he says.
"We've looked at a variety of options for our company, trying to develop our unique value proposition and more," Schmitt continues. "We feel we are posturing ourselves for success. If you have a unique value proposition, then you will always be happy."
Some dealers continue to double down in the area of foodservice design because it allows them to grow closer to and evolve with their customers. As one of their operator customers grows from an independent or a single unit into a chain or even a multiconcept business, many dealers will naturally want to grow with them and offering design can help facilitate such a process. "It's the old sales analogy: Do you want the order or want the business? The way these people are thinking is that we want their business and want to keep serving them wherever they grow," Couch says. "And some of these dealers can grow into an international company. As their customers grow outside of the U.S. they will want to grow with them."
For example, Chef's Toys further enhanced its design competency in January 2016 when the company acquired design firm Michael Blackman & Associates. "We want to keep the customers with us because if someone else designs the project they will specify things we may not stock or buy correctly," says Steve Dickler, president of Chefs' Toys. "We will change out as many items as we can to what we buy and service to help customers make the right choice."
Regardless of how dealers look to leverage design, it seems as if this will continue to occur for the foreseeable future. "I see a pattern that will allow consultants and equipment dealers to really come together," Anderson says.
Traditional consultants remain very aware of the fact that more dealers continue to enter the design. "We are getting more competitors for our consulting services," Camacho says. "Some of the larger dealers have people on the streets letting customers know they have people on staff who can help with design. And I think that's something the larger dealers have over the smaller ones."
Manufacturer Consolidation
Just as the dealer community continues to experience a period of consolidation, the same applies to foodservice equipment and supplies manufacturers. Increased competition, both domestic and foreign, represents one key factor driving factory consolidation. "And the basis of that competition is not just lower cost," says Kevin Fink, a longtime member of the foodservice equipment manufacturing community and president of the North American Association of Food Equipment Manufacturers (NAFEM). "It's also on innovation and design aesthetics. I also think consolidation on one side of the channel begets consolidation on the other side of the channel."
Despite the consolidation among the factories, room for additional mergers and acquisitions exists. "As much consolidation as we have had, we are still a highly fragmented industry," Fink adds. "In NAFEM, which represents companies that manufacture both equipment and supplies, the average size of the member is $10 million. So, for every conglomerate there are still lots of independents."
Just as in the dealer community, strengthening economies of scale may drive additional manufacturers to participate in merger and acquisition activity. For example, bringing new products to market requires approval from a variety of agencies, including the Department of Energy, Underwriters Laboratory, and so on. "That is a huge burden on smaller manufacturers," Fink says. "And if they want to export they have to get certifications in those countries, and the expense runs in the hundreds of thousands of dollars. It's very hard to get that scale."
Developing and maintaining a network of independent manufacturers' reps could get trickier, too, for smaller manufacturers as the larger ones consolidate rep groups. "One of the things smaller players have difficulty with is access. And that's become more pronounced in the last 10 years," Fink says.
Whether continued manufacturer consolidation helps or harms the foodservice industry depends largely on who you ask. For example, according to FE&S' 2017 Dealer Forecast Study, 42 percent of dealers feel factory consolidation will benefit the industry, compared to 40 percent that disagree and 18 percent who remain neutral.
Marc Tell, president of The Sam Tell Companies, a Farmingdale, N.Y.-based dealership, outlines one manufacturer consolidation scenario that should, theoretically, benefit the operator. "It gives the operator the opportunity to spend more money with fewer players. And if you spend more money with someone you get a better deal," he says.
And a better deal should result in better support. As a result, Rapids now looks to align with consolidated factories when it makes sense for the operator customer. "We tend to view not only the initial sale but the ongoing cost of repair and maintenance as a significant cost for the customer," Schmitt says. "And if we can consolidate the number of factories, reps, service agents and so forth, that makes things more efficient."
In theory, manufacturer consolidation can offer some benefits to the supply chain too. "It is good in that it helps us keep our margins higher because of the commoditization of the industry," Anderson says. "If they get bigger they should be able to pass on the products at a lower cost."
Unfortunately, that's not often the case. "We have not seen the value of the conglomerate. Each acquired company still continues to run as an independent," Burkett says. "You should have one person to talk to and that's helpful. But that's only happening in one instance. Everything else is still happening in a more independent style."
Lonestar's Anderson offers mixed reviews on manufacturer consolidation. "It is helping us deliver product more efficiently to the marketplace, but our margins are siloing because the manufacturers are not always passing along their operational efficiencies to us," he says. "We are polluted by the rebates, the ability to buy off list and so forth."
Dickler of Chefs' Toys puts things more succinctly: "Pure consolidation does not cause the problems, to me. It's bad management that can cause the problems."
Some industry observers also feel continued manufacturer consolidation results in lagging product research and development efforts. "All of this public money tying up these manufacturers has them going quarter to quarter," Clark says. "They are screwing down the money so tight that it is driving out all of the research and development. They will only do what a chain specifically asks for, and that's a shame. Anything they do in research and development, they expect a return from it right away."
Brad Wasserstrom, president of The Wasserstrom Company, a Columbus, Ohio-based dealer, adds, "I think there's a give and take that's happening with R and D in the industry. Some companies have the budget to do it, but the question is how do you accomplish it in a way that the customers support it? You have to do the research at the end-user level to determine what will make it work."
This speaks to one factor that will go a long way toward determining the success of a factory merger or acquisition: understanding how much industry knowledge to keep. Cutting too many people can lead to brand erosion and ultimately commoditization of the products because it can significantly thin the corporate knowledge base. When that happens, sales become less about features and benefits and more about price.
As a result, the role of the rep continues to expand. "The rep groups carry a much greater burden than they used to," Wasserstrom notes. "They carry more lines than they ever have, and a number of reps have had their commissions cut. So the way they are compensated is different, and that means they had to take on more lines."
In fact, 74 percent of dealers say that reps are an important part of their business, per FE&S' 2017 Forecast Study. "It was always said to me that the only constant in the market is the rep. They don't turn over the lines or the people," Couch says. "We have had more than 70 percent of our lines for 30 years."
Not only do reps continue to take on more lines, their territories keep expanding. "Reps are going together to cover larger territories," Camacho says. "These groups are aligning with other groups, joining together and even getting bought out. So it's everywhere in our industry."
Dealers also report many factories continue to cut back on their inventory levels, which puts additional operational pressure on the distribution chain. In fact, 53 percent of dealers report manufacturer consolidation has had a negative impact on inventory, according to an FE&S study on industry consolidation conducted in November 2016. "We have become the warehouse for the manufacturers who now think a three- to five-week lead time is acceptable," Dickler says. "And that goes down the entire supply chain. Our salespeople know who will deliver the product quickest and push the order that way. They want to look good in the eyes of their customer, and getting the products to them fastest will help."
Many dealers acknowledge that if factories continue to grow via acquisition, manufacturers might sell directly to the operators more than they already do, skipping the distributor in an effort to shorten the distance it takes to get a piece of equipment or a supply item from the factory to the plate. "Why shouldn't they?" Tell asks rhetorically. "I have to become the architect of my own success."
If dealers and factories start to compete more regularly for customers, though, Tell feels dealers will maintain a few advantages. "Companies like mine are better prepared to vertically integrate than manufacturers," he says. "It's incumbent upon me to create value for my customers, and if my company does not provide value it will go away."
Operator Evolution
A variety of factors continue to affect the customer base dealers serve, which could also trigger consolidation. For example, the ongoing emergence of e-commerce as a viable and, at least in the customer's eyes, valued part of the supply chain, represents one significant and often-discussed factor shaping the flow of products from factory to foodservice operator.
"There's no question that e-commerce is here to stay. There are customers out there that want to buy on price. That's important to them and I understand it," Tell says. "The more complicated relationships favor the dealer/distributor. Complicated relationships are those that offer more than just a price — importing, warehousing, portal ordering and more. It's program selling. It's a way to stay relevant and provide value."
Increasing online sales affect more than margins, however. Many industry observers feel manufacturers don't have a good sense of what markets, in terms of both geography and operators, are growing. "They may see shipments growing to an online dealer in a given market and feel that geographic segment is growing, which may not be the case," Couch says. "There's no way to track what operator segment that's going to or what part of the country."
For some, walking away from the sales of smallwares and light equipment is not an option. "Building the relationship and focusing on account management will always be a part of our equation. Building that replenishment business is part of our equation, but it's difficult," Schmitt admits. "At the end of the day, though, it's all about servicing the account and if you can deliver what you say you can."
The emergence of e-commerce has led some dealers to reevaluate their go-to-market strategies. "It forced us to restructure our sales process and sales cycle," Schmitt says. "Our target audience tends to be non-independent restaurants, including B&I, healthcare, etc. We view those segments as having professional buyers, and we are professional sellers. We tend to focus on independents through our low cost of delivery methods."
Because of the increased amount of information now available to operators, they come to their supply chain partners better prepared than ever. "The internet is the biggest game changer. Customers know the pricing, the availability, technical aspects and more," Dickler says. "They might even know more than our salespeople because they have been spending time online researching."
Arming customers with more information can be positive, though. "An educated customer is very good because they will let you know about products that you might not be selling that could be a good seller for your company," Dickler says. "They also give us good feedback about the products they work with. But they are sometimes not as knowledgeable about other reasons why you might want to choose one product over another."
Some dealers use the rise in foodservice equipment and supplies related e-commerce to their advantage in other ways. "You can see how others price items, and that can let you know whether you are buying right," Dickler adds.
Will customers' growing preference for online sales ultimately result in the death knell for smaller or mid-sized dealers? Not likely, at least in the short term. Sales of supplies and smaller, plug-and-play appliances will go to the internet, but larger purchases such as combi ovens will go to the local dealer, Couch projects. "There will always be a place for the small, independent dealer," he adds.
Some dealers continue to look for ways to develop private-labeled products that allow them to compete on price in the online marketplace. But those efforts can prove costly and consume lots of time and energy. And that turns the conversation back to value.
"What are you going to give up if it's all about price? We are trying to make a value play: you will pay a little more, but you will get more," Schmitt says. "Some customers appreciate the service and others don't. We have stopped matching the prices from the internet dealers. Our profits are up in our cash-and-carry store because we have tried to steer clear of that."
The internet, however, is not the sole reason for the price pressures the industry faces. "Everyone is willing to do the same jobs for less," Fink points out. "Dealers have gone from making money on the sale of equipment to making their money on the buy side."
In a less obvious way, shifts in the dealer community also reflect changes in their customer base. For example, while the overall number of restaurants remains relatively flat, per data from The NPD Group, chain locations continue to make small but steady gains at the expense of independent operators.
Private equity firms now play a much larger and more active role in the chain restaurant space, which helps to fuel this trend. "Publicly traded chain restaurant companies may not be buying multiple chains, but private equity is and it changes the face of the customer base," Wasserstrom says.
On the non-commercial side, large healthcare organizations continue to merge in response to the Affordable Care Act and other market forces. This impacts their foodservice operations, which become larger enterprises once combined.
The net result of these factors? The emergence of a more sophisticated foodservice equipment and supplies buyer. "Large operators are requiring more. They want more from the products and services they buy," Fink says. "Whether it is technology, training or installation, they are refining their requirements. They don't simply want a stainless steel box that keeps things cold. Operators will continue to choose their suppliers carefully and by the way they want — not the way our industry wants to support them."
More corporate buyers will define value in different ways, which could include multiregional distribution points, better reporting or education options. "They are going to say, if you can't provide that, you can't service us," Wasserstrom adds. "In a lot of ways bigger is better, but bigger is better only if you are smart about it."
Conclusion
So what does the future hold? "You are going to see mergers and people going out of business. It's inevitable," Clark says.
Dickler agrees. "Consolidation will continue because, for the foreseeable future, money is cheap," he says, referring to low interest rates which make it easier for companies to fund their acquisition activities. "And there's so much margin pressure. For dealers, all of the money is made on the buy side. The more you buy, the better pricing you as a dealer get. So it takes the volume to drive the pricing down."
Exactly how long the foodservice equipment and supplies industry will remain ripe for consolidation remains anyone's guess. The next great frontier for mergers and acquisitions in the equipment and supplies industry may include international distribution or even dealer and manufacturer combinations, according to Tell. "We are running out of acquisition targets in the distributor space," he adds.
Many experts project the big will continue to get bigger and the small will find their own unique space, with both ends possibly forcing out the middle. "They either have to get into the niche side of the business — design work, bid work, etc. — or the e-commerce side of the business will take them out," Clark says.
Burkett's version of the future looks something like this: "Dealers will operate in a national level, like Lowe's and Menards in the home improvement field. Then you will have the smaller, niche players," he says.
And don't rule out an outside competitor entering the industry and turning equipment and supplies distribution on its ear.
In fact, companies like Amazon are already doing this. "Amazon is continuously looking for ways to diversify its business and grow," Burkett says.
Among all this uncertainty only one thing remains certain: "We think we have seen a lot of shakeup in the industry, but we have not seen anything," Burkett says.
And these changes will impact more than dealers and factories. "The world has gotten smaller, and roles are changing," Fink says. "We have rep distributors, designer dealers and even the separation of service and parts sales. What people did to get their business to where they are today won't make them successful in the future."