Fresh ... local ... small-batch ... artisan ... natural ... "better for you." Those are all concepts that have driven restaurant menus for the past few years, but these days they're equally appropriate phrases to use when describing the beverage menu. In an effort to differentiate themselves, restaurants and bars keep expanding beverage programs with creative new drinks, served in glassware that ranges from traditional to ultra-contemporary.
The Craft Beer Pub: Growler USA
Glassware that keeps a 3/4-inch head on the beer earns preferential treatment at Growler USA.The popularity of craft beers shows no sign of abating. As of 2015, there were more than 4,200 craft breweries operating in the U.S., according to the Craft Brewers Association, an industry trade group. "There's been huge growth in local beers," says Warren Solochek, president of the foodservice practice at The NPD Group. "Small breweries and specialty breweries have just been screaming hot, and that's coming at the expense of the national brands."
One chain capitalizing on that popularity is the Centennial, Colo.-based Growler USA chain. Billing itself as "America's Microbrew Pub," the franchised Growler USA operates seven locations across the country from North Carolina to Hawaii, with 35 more units in the planning stages. Each Growler USA location features 100 taps, most of which pour craft beers from the area surrounding each restaurant.
Ron Curnutt, executive vice president of operations for the chain, says Growler USA's beer delivery system serves the beer "as close to the way that the brewer intended as possible." To accomplish that — and to handle the sheer volume of beer each restaurant carries — Growler USA designed the beer system from the ground up. Curnutt says that Growler USA spent about a year and a half working with its equipment provider to create the system. The tap system features high-grade 304 stainless steel construction "so that no metal attributes or flavors are being passed on to the beverages," he says. "We use mixed gases that vary depending on the actual altitude of the location so that we can dial in the carbonation levels and keep them as close to the way the brewer intended." Growler USA installs pressure regulators on every keg to ensure that the beer neither takes on nor loses carbonation.
Because each craft beer has its own unique flavor and color, Growler USA shuns the one-size-fits-all approach to beer steins. "Glasses are selected to enhance the different attributes of the beer," Curnutt says. The chain mostly uses glasses designed to keep a head on the beer approximately 3/4 inches. That allows some of the oils in the beer to evaporate "and you'll get an olfactory sense that goes along with the taste," he says.
Charlotte-NC-LocationGrowler USA taps pour many locally sourced craft beer varieties. Photography courtesy of Growler USAGrowler USA's emphasis on craft beverages extends into the nonalcoholic side of the bar menu as well. "Our original store is in Eugene, Oregon," Curnutt says, "and we had kombucha on tap there. There were a number of local providers and we would have people come in regularly to fill up their growlers with kombucha and take it with them." Craft kombucha is now a core offering in all Growler USA locations. Additionally, franchisees have the option of carrying other locally produced nonalcoholic beverages, such as soda, root beer or cold-brewed coffee.
The Modern Bar: Mezcaleria Las Flores
If the idea of a bar that serves only craft beers seems "overspecialized," then Chicago's Mezcaleria Las Flores might be termed "hyperspecialized." Located in the city's hip Logan Square neighborhood, it offers a selection of wines and beers but, as its name implies, it specializes in drinks made with the Mexican spirit mezcal. At any given time, Mezcaleria Las Flores lists around 100 different varieties of mezcal on its menu. The bar also offers a selection of cocktails, which change seasonally.
At Mezcaleria Las Flores, the serving pieces become an essential part of the experience. Jay Schroeder, head bartender and partner, says that he "made a perilous commitment early on. No matter what, when we do new drinks, I want new serviceware." That means a new glass for each seasonal cocktail.
A few recent concoctions include the "Just Basics," a mezcal, pisco and grapefruit combination served in a glass that resembles the veladora religious candle found throughout Mexico, and the "Dat $tick," made with mezcal, coffee liqueur and cognac and served in a jewel-toned enamel mug. Although Schroeder says he has "been crawling through serviceware catalogs from different providers, looking for anything that might be related" to the type of glasses he uses, he has also brought some authentic pieces back in his suitcase from recent trips to Mexico. The downside to these one-of-a-kind pieces he brings back, he says, is that "they break and walk away a little bit. We have a drink that's served in a dry gourd, one of the original drinking vessels of southern Mexico. Oddly, those have walked off a surprising amount."
Schroeder finds traditional equipment, like the heavy-duty blender and commercial food processor, indispensable in making the ingredients that go into his uncommon drinks. In his cocktails, Schroeder says, "90 percent of your ingredients have to be a liquid and the other 10 percent have to be dry." To make those dry ingredients, "We're lucky to have an oven with low-temperature settings on it," he says. "You can basically dual-purpose the oven as a dehydrator." But for making his house-made salts or other ingredients that go on the rim of the glasses, he goes low-tech — and that means an old-style mortar and pestle. "There's no good piece of mechanized equipment in any kitchen that can grind something to a powder," Schroeder says. "You have to do it by hand."
Schroeder also uses his equipment to run a zero-waste cocktail program. In an idea lifted from London mixologist Tony Conigliaro, he processes large quantities of juice, such as pineapple or citrus, and freezes it in vacuum bags. "We pull them out of the freezer and let them thaw during early service," he says. "That way, everything stays super fresh and we don't throw anything away. That's been a real game-changer."
The Retro Cocktail Lounge: Bryant's Cocktail Lounge
Mexican spirit mezcal finds its way into many specialty drinks at Mezcaleria Las Flores.Calling Bryant's Cocktail Lounge in Milwaukee "traditional" may be a bit of an understatement. The "Cocktail Lounge Etiquette" rules on Bryant's website prohibit "yelling, swearing, and drunken renditions of Frank Sinatra's 'My Way.'" "We're a classic cocktail lounge that's been here since 1938," says John Dye, owner.
Unlike most cocktail lounges, Bryant's has no drink menu — and never has. "But we do have a Rolodex of over 500 drinks," Dye says. "Every time you visit Bryant's, it starts with a conversation with your server or bartender. We come up with a drink that fits whatever description you give us of your mood or what you're looking for. It's a unique system but it's worked well for many years."
Dye's arsenal of tools contains "a lot of smallwares — bar spoons and shaker tins," he says. "Those are the two things I would say that you need to build any cocktail." Even with items as seemingly insignificant as those, he finds that he's often caught between low-cost, not particularly well made items and expensive, consumer-oriented items, which can often be price-prohibitive to buy in the quantities necessary for bar usage.
He also believes in the basics when it comes to glassware, noting that if a bar has the four main types of glasses — Collins, cocktail, highball and rocks — it can produce just about any type of traditional cocktail.
Mezcaleria Las Flores' head bartender loves authentic glassware, even though it sometimes leaves with customers.The back bar at Bryant's was fabricated in 1971 after a fire at the lounge so, Dye says, "we're pretty well locked into what we can do" in terms of adding any new equipment or renovating front of the house, even when health code revisions demand a change. That said, if he could add anything to the bar, his eye would be on a new cocktail station, which he says are becoming more important in today's bar scene. "There have been some innovative cocktail stations coming which have refrigerated drawers and compartments to keep everything right at hand," he says. "If I were to build a new bar, that would definitely be included."
For Dye, the most important part of a successful bar comes down to the most basic part — the ingredients. Quality ice "is vital to any cocktail program," he says, claiming that only a few ice machine manufacturers make really high-quality ice. With today's emphasis on fresher and more natural ingredients, starting with quality liquor is also vitally important. "It's important not to go cheap. If it's even a simple, well-made cocktail, people are willing to pay a price for that," says Dye. "It's becoming more appreciated and more expected. That will take you a long way."
The Human Factor
At Mezcaleria Las Flores, even a beer bottle can be turned into a glass. Photography courtesy of Mezcaleria Las FloresNo matter what type of drinks a bar serves, no matter how much glassware or equipment it has, one factor is indisputable in a bar's success: its staff. John Laloganes is a Chicago-based sommelier, author, educator and beverage consultant who's a strong advocate for staff training in all aspects of beverages.
"You need to invest in the human resources component," Laloganes says. "Start requiring, encouraging or paying for people to get [beverage] certifications. Then you, as an operator, can create the position of certified trainer within your operation. This is the person designated to teach people how to properly wash glasses, how to properly pour beer. More people do not pour properly than pour properly. Simple little things like this will make a huge difference."
The Growler USA chain sends its servers and "beer tenders" through the independent Cicerone certification program so, as Ron Curnutt says, "they can have discussions with customers and help guide them to a selection they might find enjoyable."
A no-drink-menu mantra keeps things lively at Bryant's Cocktail Lounge. Photography by Dan Bishop PhotographyAnother consultant, David Commer, president of Commer Beverage Consulting in Lewisville, Texas, says that staff involvement is critical to a bar's success. "I've had conversations with different chains about selling beverages," he says, " and so often behind the scenes we create this really cool stuff, but we don't bother to engage the staff. If the staff's not excited about it, it doesn't matter how cool it is. They won't sell it."
Jay Schroeder at Mezcaleria Las Flores echoes that sentiment. "I have made it a personal goal, and I train my staff, to always be pouring different things," he says. If he sees one of his servers touch the same bottle three times in one shift, he reminds them, "You [have to] pour something else. Let me refresh your memory: We need to know all this stuff and we need to be pouring all of it because it's all here for a reason."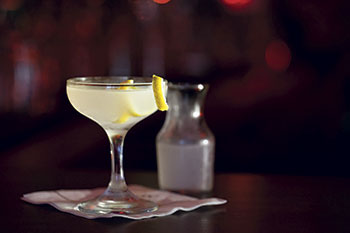 Two requirements for a great cocktail are quality ice and quality liquor, says Bryant's Cocktail Lounge owner John Dye. Photography courtesy of Bryant's Cocktail Lounge