Producing food that's delicious represents only part of the equation. Making food look good represents an equally important consideration. And the need to produce high volumes of food or hold menu items for any significant length of time only compounds the difficulty of that job. We asked experts in producing, plating and serving food to give us their best practices for making plates that look good and hold up well, whether they're fresh out of the kitchen, being served at an off-site location, or being delivered by car.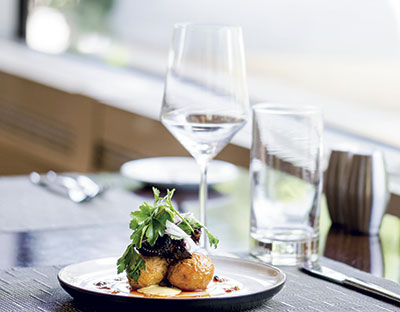 Octopus, saffron aioli, parsley, caper relish, papa brava from Vinifera. Photo courtesy of Vinifera Wine Bar & BistroWhatever the type of foodservice operation, the look of a plate is important — and that applies as much to quick-service restaurants as it does to fine-dining locations. The design of the food on the plate carries out and amplifies the restaurant's concept. "The visual representation is always going to be the first impression that the guest is going to get," says Richard Falbo, executive chef of the Vinifera Wine Bar & Bistro at the Westin Hotel in Reston, Va.
For inspiration, some chefs use classical artistic techniques and principles, or even visit art galleries. The time-honored tradition of having one major focal point on the plate and having everything else point to it still has its adherents. But Falbo designs his plates using the photographer's concept of the "rule of thirds." "You break down your picture into three main components," he says. "There might be a far component, a middle component and a near component. Something's always going on in the foreground and something's always in the background."
Costanzo Astarita takes a more holistic view on plate design. The co-owner and executive chef of Baraonda Ristorante & Bar, Villaggio Gastro Italian and Publik Draft House, all in Atlanta, advises younger staff members to "Think of the plate as a picture frame. The border on the plate would be the picture frame and everything in there will be the picture."
The house specialty chicken dish from Baraonda has a variety of colors, textures and shapes which combine in harmony on the plate. Photo courtesy of Baraonda Ristorante & BarBoth chefs agree that artistic design should never overwhelm; simplicity is key, especially during rush periods. Two of Astarita's restaurants, Baraonda and Publik, are near Atlanta's historic Fox Theatre, so they're often slammed in the early evenings before performances. His strategy for handling the pre-theater rush starts with sauces being held in a bain marie. Staff partially blanche or cook vegetables and then flash-sear the ingredients in a saute pan. As a result, the vegetables are ready to go while the culinary team prepares the center-of-plate protein.
For these dinners, "it's not going to be an elaborate presentation," Astarita says. "It's going to be a very simple, very clean presentation." For example, in the case of a fish entree, the vegetables may go on the bottom of the plate and the sauce poured around them. Staff then place the fish on top of the vegetables with a minor decoration, such as a drizzle of olive oil. On a show night, Astarita says, he or one of his sous chefs will be on the line, "making sure that everything that goes out gets finished with a final presentation, whether it's cheese on top, truffle oil, or some other type of decoration."
In terms of equipment, when it comes to holding food for any length of time, it's the combi oven to the rescue. Its ability to keep product moist while maintaining temperature makes the combi oven the ideal piece of equipment for this application. What's more, its versatility allows for a variety of prep procedures that can pay off in time savings and flavor down the road. "We can turn off all the moisture, crank the heat up and get a really good caramelization on [food] that we'll reheat later," says Falbo.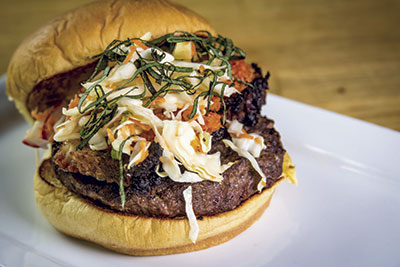 Food presentation closes in as an art form at Publik Draft House. Photo coutesy of Publik Draft House.Astarita's arsenal for keeping food hot includes portable induction tops and holding ovens, which he uses both on- and off-site. One caveat for using holding ovens in remote locations, however, is the amount of electricity necessary to power them. "We had an instance where we were doing a fundraiser for 80 people," he recalls. "We had some portable stoves and [the holding oven], and the circuits couldn't support them." His jerry-rigged solution was to put a pan of water and canned heat flamed inside the holding oven to keep the food hot. "That's how we got by, but it was a little nightmarish."
Step up to the Plate
Few people can say they actually "wrote the book" on a particular topic, but when it comes to plating, chef Elaine Sikorski can make that claim. As author of Plating to the Image and an assistant professor at Chicago's Kendall College School of Culinary Arts, she's an authority on how to make plates look their best. While many of her culinary students aim for the white-tablecloth world, Sikorski teaches some basics of plating that apply to almost any type of foodservice environment. "Regardless of the price point, 'visual flavor' is real," she says. "People's expectations are set by what they see."
First and foremost, Sikorski says, you have to respect the food's inherent quality and flavor — "the reality of the food," she calls it. "If you're trying to create a 'look' [on the plate], you'll sacrifice the best qualities of the food to get that look," she says. "Respect the quality of the food more than the look of the food." For that reason, she disdains the overly fussy, tweezer-assisted plate design sometimes found in high-end establishments. "If I have to work that small, I'm not serving food anymore," she laughs.
A modern plating approach from chef Elaine Sikorski's Plating to the Image textbook. Photo courtesy of John Wiley & Sons Inc.Simplicity is key in plate design, Sikorski says, who uses the example of the classic "basic black dress" with her classes. "You have a great outfit. It's a little black dress," she says. "You want to make it a little fancy? Choose one great piece of jewelry to wear." For a plate, the equivalent to that piece of jewelry becomes a simple, classic accompaniment such as a spiral-cut vegetable or a tuile.
When it comes to placing the food on the plate, Sikorski says that making a plate look perfectly symmetrical and filling every inch of it isn't the be-all, end-all rule that it might have once been. "There's been a big shift from one central focus with circles and symmetry to a linear presentation that's asymmetrical," Sikorski says. "And leave a little white space."
Operators — particularly those doing high-volume production — need to be realistic about what they can produce while keeping the integrity of the finished product, according to Sikorski. "A lot of newer recipes are garnished with some type of salad or cold element," she says. "If you're doing a lot of turnout and plating ahead, those types of dishes aren't a great idea because that garnish is going to wilt."
The most important part of any plate design, Sikorski says, remains the most basic: a clean plate. "You always need to have a clean plate," she says, "even after you put the food down on it."
Catering to Customers
Even quantity plating can look simple and elegant, as in this beet salad from Vinifera. Photo courtesy of Vinifera Wine Bar & BistroCaterers are the experts when it comes to holding and plating high volumes of food. But can they teach restaurants and other foodservice operations a few tricks about dealing with high-volume holding and plating? Jody Birnbaum thinks so. As president of Caterconsult Inc., in Buffalo Grove, Ill., she works with caterers and restaurants to fine-tune operations.
According to Birnbaum, the best caterers make their buffet tables a little smaller, spread them out strategically and refresh product frequently. "You can't have a buffet for 100 people with 1 station. If you're really limited on space, then make that station two-sided. Or make it so that it starts at each end and works people toward the middle," she says.
On those serving stations, Birnbaum suggests avoiding the common approach of lining chafers in a row, which gives the impression of sameness. She recommends changing the setup to provide visual variety and appetite appeal. "Instead of putting food in hotel pans, which fit inside the chafer, where the water keeps boiling away, caterers will use a flat tray that sits on top of the steam," Birnbaum says. This way, steam hits the tray and keeps the food warm while also adding some height variety to the station setup. She also feels that restaurants tend to use too much fuel in chafing dishes. "It just boils the heck out of the food. Turn the heat down if you're going to use two," she says.
When it comes to tabletop equipment, Birnbaum recommends double-wall insulated metal bowls and trays for keeping salads and proteins chilled. Another suggestion for keeping food cold are 16-inch by 143/4-inch plastic sheets that contain an FDA-compliant food-grade compound that operators can freeze and refreeze. Place a large napkin or cloth over these ice-like sheets and then the serving tray or bowls on top of that.
Keep serving areas neater by using tongs instead of serving forks and spoons. "It's incredible what a seven-inch tong can do, especially on salads and entrees," Birnbaum says. She's also a big fan of tiered stands, which give the station "a level and a look," and can be used for appetizers, breads or desserts.
Uber Food
The growing popularity of third-party delivery services such as Uber Eats, Amazon Prime Now and Caviar opens up another new set of issues for operators. Restaurants that have handled their own deliveries have always maintained complete control over how the food was packaged and delivered. But with an outside party handling delivery, some of that control becomes lost.
Chef Astarita's restaurants participate in the Uber Eats delivery service. So he has developed some strategies to ensure optimal appearance and flavor through the delivery process, such as leaving salads undressed. The key to keeping entrees looking and tasting good, says Astarita, is separate packaging. "Let's say we have a veal scaloppini in a mushroom and Marsala sauce," he says. "We will put the veal and sauce in one container and the vegetables in a different container."
He also feels that smaller containers can help lessen the possibility of jostling during travel. Astarita's restaurants converted back to plastic containers for Uber Eats deliveries after trying eco-friendly alternatives. "We've tried the ones made with paper or bamboo. We find that the seal is not good enough and we had leakage," he says.
Thinking Outside the (Hot) Box
Using a hot box to hold food for later service requires a little rethinking of your menu choices. Chef Richard Falbo shares his tips for what works (and what doesn't work) in a hot box:
Skip the delicate garnishes or components on the plate that could wilt. Don't use ingredients that are crunchy as they can tend to get soggy.
Consider doing larger chunks of protein, like steaks with mashed potatoes or large whole chicken breasts with a stiff risotto, so that they remain at the correctly cooked temperature.
Keep the skin on the chicken breast to give color, but more importantly help keep it juicy.
Rethink your saucing strategy. If you need a sauce, it's better to do it tableside than on the plate that's going to be held in the hot box, as it can dry out or "skin over" and look unappetizing.
Consider a vinaigrette-based sauce if you must do a sauce in advance; it will retain a moist appearance.
Save