Fewer bodies required in more efficient back-of-house designs.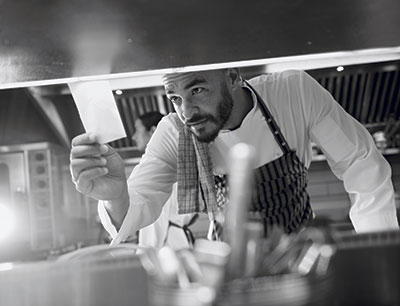 Labor issues ae top of mind for operators in every segment, from both a supply and a cost perspective. The problem is double-edged: Labor pools are reportedly shrinking, and due to ongoing minimum-wage legislation, labor costs could rise exponentially in many states.
According to the National Restaurant Association (NRA), the foodservice industry employs 14 million people, having added 1.8 million jobs since the end of the recession. However, Bruce Grindy, NRA's chief economist, says job vacancies are becoming more difficult to fill. He adds that the gap between monthly hires and job openings is rapidly shrinking.
The minimum wage issue has become a hot button for the public and a hot potato for operators. A few states have raised the minimum already. Oregon, for example, has raised it to $9.75 per hour and will go further by 2022. The cost of labor can be as much as one-third of revenues. If regulated wages rise and restaurateurs want to keep the same ratio, the only solution is to reduce headcount. But, how can operators to do that and retain the quality of food and service?
Whether the problem is due to a shrinking labor pool or the need to cut back, there will soon be fewer bodies in the back of the house. Savvy operators are already thinking ahead and planning how to reengineer their kitchens to work more efficiently, with fewer staff, while still fulfilling customer expectations.
The Challenge of Doing More with Less
In addition to labor issues, consumers now demand more when they eat out. They are far more conscious of responsible sourcing, ingredients, and sustainability, not to mention allergies and genetically modified organisms. There is no question of cutting back quality, service or response to consumer concerns. The only answer is to reengineer the back of the house to make it more productive and efficient with fewer people.
Commercial and noncommercial operators who have already undertaken reengineering projects reveal that the strategy requires a sharp look at the menu, the space and the equipment. Many have legacy menus that include unpopular or unprofitable items. Since the menu drives productivity and design, the ideal becomes optimizing it by focusing on less labor-intensive menu items and retaining popular and profitable items.
Spatial concepts continue to evolve too. The new approach reduces the total footprint to execute prep with fewer steps in a shorter timeframe. Instead of adding linear feet to a footprint, designers seek more efficient ways to position the line and equipment in a smaller space.
Luckily, technology has advanced by leaps and bounds, almost as if anticipating labor issues. New multitasking equipment provides greater efficiency, allowing an operator to do more with less. While the investment may be significant, designers report fast return on those investments.
Georgie Shockey, principal at Ruck-Shockey Associates, is an operations management consultant to the hospitality industry based in Texas. The top items she considers when undertaking a reengineering project include:
Menu optimization
Flow and circulation of all areas
Multitasking equipment, such as ovens that prepare melts, pizzas and sandwiches or reheat refrigerated foods
Use of cook-chill (advance preparation)
Movement from storage to prep to service
Dishroom configuration to help loading/unloading
In healthcare, revamping tray meal assembly areas to reduce labor
FE&S spoke with several commercial and noncommercial operators who have undertaken reengineering strategies. While noncommercial operations, like hospitals and hotels, have different volumes to deal with, they all must address the same issues surrounding saving labor.
Huddle House's Innovative Prototype
Huddle House is addressing the labor issue head on. The Atlanta-based casual-dining chain operates 367 units in the U.S., 29 of which are company operated. Huddle House assembled a cross-functional team specifically to create a new, more efficient back-of-house footprint. The team includes trainers, development, marketing and culinary people. Top priorities include determining a spatial layout to optimize productivity and testing new equipment that enhances production.
"We're taking a holistic approach to our kitchen design," says Alan Rogers, director of operations services for Huddle House. "We want to make sure we're optimizing throughput capacity and operational efficiencies."
Rogers says time and motion studies provide direction for the preparation of existing menu items and related processes. The goal is to save steps, which will save time. Instead of increasing linear footage, he explains, they look at the flow of the lines and figuring how to use both sides of a line, which will result in fewer steps and greater productivity.
"Technology is a big enabler for allowing us to do more with less," Rogers says. New equipment, such as cheese melters or high-capacity convection ovens, will not only save labor but will enhance product quality. In fact, innovative equipment may foster the addition of new items to the menu. It should also aid in consistency of preparation.
One of the most important aspects of the design phase is to ensure that the changes don't complicate the operation, which would be counterproductive. "You have to consider how change will affect teams and departments," Rogers explains, adding that the cross-functional team adds great value to that discussion.
In addition to building new units according to the labor-saving prototype, the reengineering team is creating a strategy for migrating the new technology and spatial changes to franchise units. Rogers says that the design phase of the new prototype has been exciting. It has been rewarding to work on the ultimate goal, which is to "enhance productivity and efficiency, increase capacity — and look for a great ROI," he says.
The first prototype should be completed in early 2017. There are 24 units on the drawing board. Rogers notes, "We are definitely a growth company and are looking to expand our unit count."
Boston's Kitchen of the Future
Boston's Restaurant & Sports Bar has two concepts under one roof: a casual dining restaurant and a sports bar, separated by a wall. Operating 375 units in Canada, 30 in the U.S. and 12 in Mexico, the concept was founded in 1964 in Edmonton, Alberta, when Gus Agioritis immigrated to Canada from Greece. According to restaurant lore, the only English he knew was 'Boston,' so that's what he named his first restaurant, the Boston Pizza and Spaghetti House. Years later the concept migrated to the U.S. The menu focuses on pizza, pasta, burgers and wings.
The idea of reengineering the kitchen for better productivity and efficiency also started in Canada before making its way to the states. Tim Matousek, vice president of U.S. operations, attended a franchise partner meeting in Toronto and was introduced to "The Kitchen of the Future." That evolved into an initiative to address significant labor shortages in the provinces through innovative design. Matousek stays in close contact with U.S. franchisees to ensure he's aware of issues important to them, as well. Two current issues include shrinking labor pools and increases in the minimum wage. Thus, he took the Canadian redesign ideas south.
"We're looking at our menu and seeing how we can simplify," Matousek says. "Whether it's elimination, automation or combining several items." In terms of elimination that means identifying ways to use one item for multiple dishes. Execution revolves around how how to simplify by eliminating employee hours and trimming the number of cooks needed to fill orders. From in-house dining to takeout and delivery, the goal is to simplify every item on the menu.
Technology, specifically in the form of automation, may prove one solution to eliminating labor hours and dollars in the kitchen. Take, for example, a dough press for pizza. Presently, preparing dough takes two people. The new equipment would prepare, pre-weigh and press out the dough, reducing labor to one person and, Matousek notes, nearly eliminating human error in weighing.
In similar fashion, Boston hopes to find a new way to handle the cooking and holding of pasta in order to cut that process from two people to one.
Matousek says they plan to start testing the new equipment in October at the chain's company-operated unit in Dallas, where new equipment, recipes and training are tried out. They will also conduct tests in franchise units around the U.S. to get a feel for how the solutions work in different regions of the country.
Charlotte Hospital Replaces Kitchen Built in 1952
The Carolinas Medical Center in Charlotte, S.C., is part of the Carolinas HealthCare System. A year ago, the kitchen, originally built in 1952, was completely gutted back to the concrete in order to build a new design by John Egnor, president of JME Hospitality, a hospitality industry consulting and design firm based in New Jersey. According to Egnor, when the hospital was built, it had 300 beds. It grew to 800, with the same old kitchen serving all rooms. During the year-long gut job, meal prep took place in a temporary kitchen outside the building.
Egnor believes that design should be function-based. In order to accomplish that, the designer must understand the role of every person in the kitchen. "That's where some people fail," he says. "They don't take the time to learn the jobs and how they fit in the design they are trying to create. You have to know what the dishwasher does, what the cold prep does, what the short-order cook does, what the production cook does. Once you know that, you can design something to help them work better."
Sharon Cox, who was in charge of the kitchen during the renovation, recalls a study Edgar conducted to track how many footsteps it took to complete a task. Through design and new equipment, that number was cut in half.
Reducing kitchen square footage also increased efficiency. Egnor believes, after years of experience, that people work better in the kitchen in a smaller space. He feels proximity creates better interaction, with people supporting and helping each other, thus making them more productive. Cox concurs. She points to improved employee engagement and satisfaction as the reason the new kitchen works well.
Egnor created a flow that eliminated cross traffic by placing storage on a separate floor, which now holds a four-to-five-day supply of items. Cox says freeing that space has helped organize the kitchen elements. The old kitchen was cluttered, she says, making it hard to find things.
The tray line was shortened and built to be flexible, used as a tray line for part of the day and for a la carte when needed. The line is fed by cold and hot prep stations located on either side. An old elevator that goes to the hospital floors was rehabbed to accommodate a cart sent from the kitchen and delivered to the units. Cox notes the innovation allows staff to spend more time in direct contact with patients.
On the question of labor, Cox says that, initially, the new room-service plan was thought to require the hiring of more people. With the efficiencies created by the new design, however, they have not had to hire any additional labor.
Advance Preparation: the Old Cook-Chill
The cook-chill process has been around for many years with varying success. Now, with new equipment, many view that project as a solution to reduced labor. One operator, Jane Ewing, executive director, nutrition and dietetics in the Indiana University Health system, uses cook-chill, or as she calls it, "cook-to-inventory." Ewing directly oversees the Methodist and University Hospitals in downtown Indianapolis and handles coordination and standardization for the other facilities in the system.
Ewing started with a very old, antiquated system that was not functional. "We were able to get the resources allocated to update and modernize," she says. They replaced a pair of large 150-gallon kettles with combi ovens and a blast chiller. Racks of food are rolled from the oven directly into the chiller. They cook and chill soups, gravies and some casserole items. The goal is to prepare more items in-house, replacing the need for purchasing precooked items.
Like others involved in labor-saving strategies, she began by revising the menu. "We reduced the number of items, keeping the most popular ones. We've been able to reduce our floor stock and our pantry stock." Ewing also plans to make master sauces to use in a multitude of recipes. This advance prep will mean the cooks don't have to make everything from scratch.
She can envision the cook-chill process helping with labor issues. "There will be labor saved," Ewing says. "especially when we start shipping the product to other facilities."
At the Carolinas Medical Center, the plan will add cook-chill in the second phase of the revamp. The capacity exists, they have just not started it yet.
They key to successfully responding to labor issues lies in analyzing the menu, making more effective use of space and identifying new labor-saving technology. As JME's Egnor says, "It's not rocket science. It's not a mystery. It's practicality. You have to be practical in how you look at it and how you construct the design."