Steering clear of what hasn't worked for other campus food truck startups and gearing up for future student growth, Virginia Tech's dining services team has jump-started two food trucks. Kitchens deliver on speed of service and flexible menus.
Virginia Tech Dining Services' leaders had been working for years to bring a food truck concept to their portfolio. When Virginia Tech's president announced plans to increase enrollment by 5,000 students over the next 7 years, starting in the fall of 2015, dining services needed to make plans to accommodate a larger campus population. "With this growth and having our dining centers at capacity, Dining Services needed a fast infusion of capacity to our dining program during peak hours in an innovative, cost-effective manner," says Ted Faulkner, director of Dining Services. "We had to address this new demand versus needed demand long before new brick-and-mortar venues can be built."
With new circumstances, the time had come to move forward and venture into the food truck business. Faulkner and Bill Hess, associate director for Dining Services, were as ready as they could be. During their extensive and thorough food truck research phase, Faulkner and Hess visited several college campuses and cities with trucks, called many colleagues and looked at trucks exhibited at The NAFEM Show and at the National Restaurant Association's annual trade show. Now they had to decide on a supplier and nail down plans for design, staffing and names.
The food trucks selected allow dining services to offer food to students, faculty and staff in several underserved areas of the sprawling 2,600-acre campus. This includes an area with a new 1,600-seat classroom building, another area housing sororities and fraternities, an alumni mall and a main campus thoroughfare. The mobile units also serve pop-up dinners, accommodate fans attending Hokie football games and have a presence at large student gatherings, such as Gobblerfest, a campus and community event that draws 10,000 people to kick off the academic year. The food trucks also support a catered, multicourse plated meal on Dining Services' remote 10-acre farm and are available to support emergency needs on campus.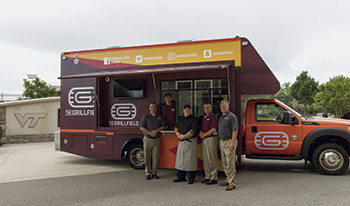 Visiting The Grillfield: (from left) Gabe Petry, operations manager; Robert Obst, food truck chef de cuisine (in the window); Randall Van Dyke, Dietrick Dining Center executive chef; Ted Faulkner, director of Dining Services; and Bill Hess, associate director for Dining Services.Truck names came about through brainstorming sessions with students and a voting process in which students could express their suggestions either electronically or via paper ballots. The 70 names eventually were narrowed down to the winners: The Grillfield, which is a take on the historic oval Drillfield, located in the center of campus, and Periodic Table, which refers to the science and research mission of the university. The Student Government Association held a spring event called Extreme Makeover: Campus Edition in which the student body could select and vote on where they would like the food trucks to operate.
"During the conceptual phase of the purchase process, the one big consistent feedback we heard from other university food truck operators was, 'We designed our truck to offer a cooked-to-order menu, but quickly found ourselves overwhelmed,'" Hess says. "With that in mind, the trucks' kitchens are laid out and equipped to primarily be a delivery platform for menu items that are primarily prepared at our Dietrick Dining Center and held on the truck for service."
Menu Flexibility and Staffing
Robert Obst, chef de cuisine, Virginia Tech Food trucks, visits the Periodic Table.The truck designs allow flexibility in menu selections and staffing, while allowing efficient and quick throughput. "The trucks' unique designs allow for a relatively large working space for the kitchen crew and separates the cashier/server from the workings of the kitchen," says Hess. "The equipment allows us to easily adjust menu offerings while two point-of-sale systems allow for efficient handling of customer transactions during peak times and special events."
Each truck contains a flattop grill with undercounter refrigeration, a fryer and dump station, a steam table, a hot holding cabinet, an open-top cold sandwich table and a beverage cooler. Periodic Table's grill is a little smaller than The Grillfield's to accommodate a pasta rethermalizer that allows staff to finish and quickly batch-cook menu items such as noodles.
The menu was set early in the planning phase by Faulkner, Hess and the Dining Services culinary team. "We knew we wanted to do street food," Faulkner says. "And we knew we didn't want to commit to any one cuisine, so the trucks' names are generic." The Grillfield menu features varied selections, such as smoked pulled pork tortas and a buffalo cauliflower tortilla. The Periodic Table menu includes items such as a Thai peanut pork rice bowl and a tempura-fried cheesecake (See the Facts of Note sidebar for the complete menu lineup).
The trucks also feature electronic and cellular connectivity capacity to handle two POS systems that staff can use from a fixed position or as hand-held devices.
"Purposeful placement of equipment for optimal flow is paramount on a food truck to minimize employee crossover and collision points while allowing exceptional efficiency and throughput," Faulkner says. "The layout allows the truck to reach 100 transactions per hour with a well-trained staff of 4 to 5 truck crew members."
Logistics, Energy-Savings and Operations
The Grillfield and The Periodic Table deliver menu variety and convenient service to campus customers.The service line is set up to provide a constant flow counterclockwise and goes from cooked-to-order and fried items to hot finishing. Food is then handed to the cold side for any additions. Staff then place menu items on a heated shelf and hand to customers.
The three-compartment sink and hand sink are located as far from the service line as possible and prevent staff members' cross contact with soiled dishes and serviceware. "Major equipment was laid out in a way to keep employees from being back-to-back as much as possible," Hess says.
An expeditor stationed at the cold sandwich table calls an order and final-checks it before passing it to the server. The server adds beverages to complete the order and passes the entire order to the customer. "The kitchen service line, while constrained by the weight balancing requirements of a truck, is designed to allow an orderly flow to the service line," Hess says.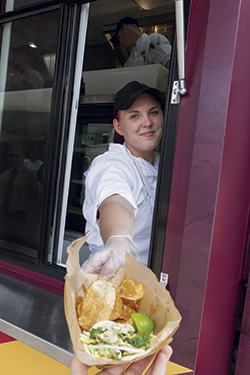 Kristin Lilley, lead associate, serves tortillas at The Grillfield. Among the many features Faulkner and Hess discovered during their research was service counter height. "The typical food truck built on a cargo van chassis has a window height of over five feet, which makes the hand-off of goods from server to customer a challenge," Hess says. "Our trucks have a unique step-down slide that allows the server and customer to be at eye level or very close to it."
Cold weather often presents challenges for keeping the interior of the service area of the trucks at a comfortable level for staff. At Virginia Tech, the temperature during four or five months of the academic year can be cold at times. To address cold-weather service, these trucks contain panel insulation in all walls and the floor to add thermal protection. During service times when the windows are open the trucks are equipped with heated air curtains above the entry door and above each service window to keep the crew as comfortable as possible. On the food production side the water lines are heat wrapped, and the fryer oil container has a heated pad to keep the oil from solidifying when the vehicles are not in service.
For energy savings, staff can plug the high-efficiency diesel engine and the 100-pound generators on each truck into an existing power grid through shoreline power connections. Equipment is Energy Star–rated when appropriate.
Both trucks have full video and sound capabilities, including a digital menu board and exterior speakers. Security is provided by two interior and three exterior cameras tied to a digital recorder. Nighttime effects include exterior LED scene lighting and eight-color changeable LED lighting along the bottom of the truck to give a floating effect.
Since this is Virginia Tech's first venture into food trucks, Faulkner and Hess are assessing operations to see what additional enhancements can be made and what new possibilities exist. "We'll make adjustments to the program as needed based on customer feedback and transaction data," Hess says. As they've discovered over the years with their renowned dining services, both flexibility and inviting input from staff and customers are the keys to success.
Key Players
Owner: Virginia Tech Dining Services
Director of Dining Services: Ted Faulkner
Associate Director for Dining Services: Bill Hess
Executive Chef of Dining Services: Randall Van Dyke
Interior Design: On The Move Inc.; Robert Mikalonis
Food Truck Consultants: On The Move Inc.
Equipment Dealer: Lone Star Restaurant Supply, Austin, Texas
Construction: On The Move Inc. and Shook Enterprises
Facts of Note
Opened: August 2016
Virginia Tech: 31,500 students, including graduates and undergraduates; 24,100 students have dining monies available for dining services (9,100 on-campus students; 9,800 off-campus dining plan holders; 5,200 off-campus students with dining dollars). Altogether, 80 percent of Virginia Tech students have an account with dining services. Foodservice is offered in 47 restaurant-type concepts within 8 buildings. This includes one all-you-care-to-eat dining hall. Including the pair of food trucks, the concepts number 49.
Scope of Project: Two food trucks
Size: Working area inside each truck is 120 sq. ft.
Average Check: $7 projected
Total Annual Sales: $700,000 projected for both trucks
Transactions: 100,000 projected
Hours: Lunch on both trucks, 10:30 am until 2:30 p.m.; dinner on one truck, 5 p.m. until 9 p.m.; late night on one truck, 8 p.m. until midnight, Thursday through Saturday; special events as needed
Menu Specialties: The Grillfield menu features The Pork (smoked pulled pork tortas); The Cauliflower (buffalo cauliflower tortilla); The Chicken (chicken banh mi tortas); The Fish (pescado asado tortilla); The Beef (beef barbacoa tortilla); and The Dessert (cinnamon-sugar churro tots with Nutella). At Periodic Table: The Veggie (vegetable madras curry yaki-ramen); The Beef (bulgogi beef rice bowl); The Chicken (lemongrass chicken yaki-ramen); The Smoked Pork (smoked pork belly yaki-
ramen); The Pork (Thai peanut pork rice bowl); The Dessert (tempura fried cheesecake)
Staff: Includes a chef de cuisine (lead manager); 7 salaried supervisory staff; approximately 40 to 50 part-time student-wage positions. Each truck shift includes 4 to 5 employees in the truck and a prep cook in the Dietrick kitchen.
Total Project Cost: $600,000
Equipment Investment: $550,000
Website: http://www.dining.vt.edu
Photographs by Jed Froelich and Victoria Boatwright